Kabukiza Theatre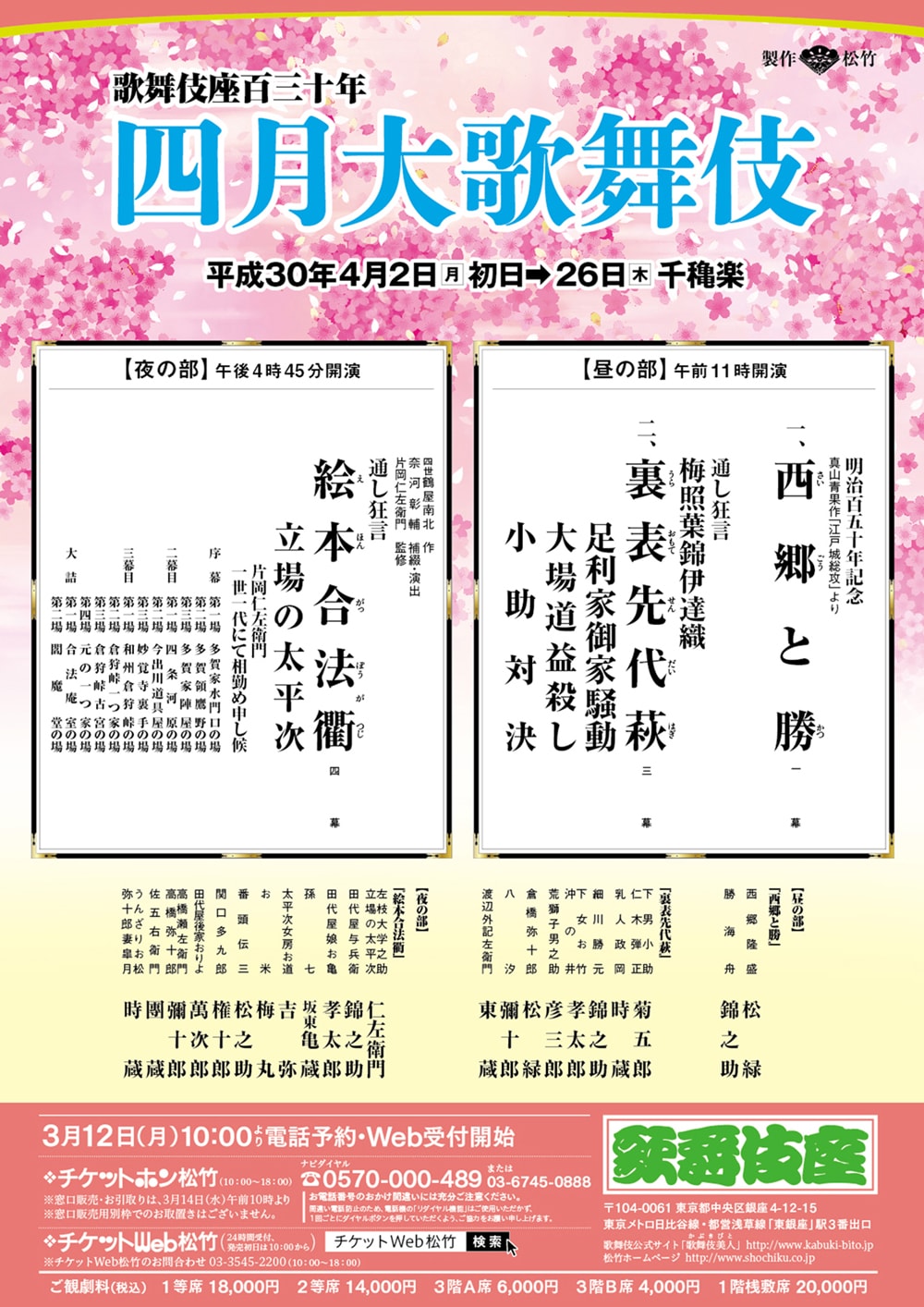 April

at the Kabukiza Theatre

Daily: Apr 2 (Mon) - Apr 26 (Thu), 2018

Matinee:11:00 AM

Evening show: 4:45 PM

On sale: from Mar 12 (Mon), 2018 10:00AM(JST) 2018:03:12:10:00:00

Box Seat: 20,000 / First Class: 18,000 / Second Class: 14,000 / Upper Tier A: 6,000 / Upper Tier B: 4,000
Unit: Japanese Yen (tax included)

Kabukiza Theatre (at TOKYO) Theatre Information
The year 2018 is the 130th year since the opening of the first Kabukiza Theatre.
The Matinee opens with a so-called 'New Kabuki' play featuring the heroes of the Meiji Restoration and commemorates its 150th anniversary. The next to be performed is a full-length performance of an epic play portraying one of the most famous family feuds in the Edo Period, featuring Onoe Kikugorō.
In the Evening Show, there is a thrilling full-length production of a play whose plot features the usurpation of a daimyo family's headship and its final revenge, featuring Kataoka Nizaemon.
SAIGŌ TO KATSU
[ Saigō Takamori and Katsu Kaishū ]
CAST :
Saigō Takamori

Onoe Shōroku

Katsu Kaishū

Nakamura Kinnosuke
STORY :
In preparation
UME MOMIJI NISHIKI NO DATEORI - URAOMOTE SENDAI HAGI
[ Both Sides of the Date Clan Troubles ]
CAST :
Kosuke, a servant / Nikki Danjō

Onoe Kikugorō

Masaoka, a nurse

Nakamura Tokizō

Hosokawa Katsumoto

Nakamura Kinnosuke

Otake, a maidservant / Okinoi

Kataoka Takatarō

Arajishi Otokonosuke

Bandō Hikosaburō

Kurahashi Yajūrō

Onoe Shōroku

Yashio

Bandō Yajūrō

Watanabe Gekizaemon

Nakamura Tōzō
STORY :
In preparation
EHON GAPPŌ GA TSUJI -Tateba no Taheiji
[ The Villainous Taheiji ]
CAST :
Saeda Daigakunosuke / Tateba no Taheiji

Kataoka Nizaemon

Tashiroya Yohē

Nakamura Kinnosuke

Okame, Tashiroya's adopted daughter

Kataoka Takatarō

Magoshichi

Bandō Kamezō

Omichi, Taheiji's wife

Kamimura Kichiya

Oyone, Sagoemon's daughter and Okame's sister

Nakamura Umemaru

Denzō, a head clerk

Kataoka Matsunosuke

Sekiguchi Takurō

Kawarasaki Gonjūrō

Oriyo, Tashiroya's widow and Yohē's adopted mother

Ichimura Manjirō

Takahashi Sezaemon / Takahashi Yajūrō

Bandō Yajūrō

Sagoemon

Ichikawa Danzō

Unzari Omatsu / Satsuki, Yajūrō's wife

Nakamura Tokizō
STORY :
In preparation