Kabukiza Theatre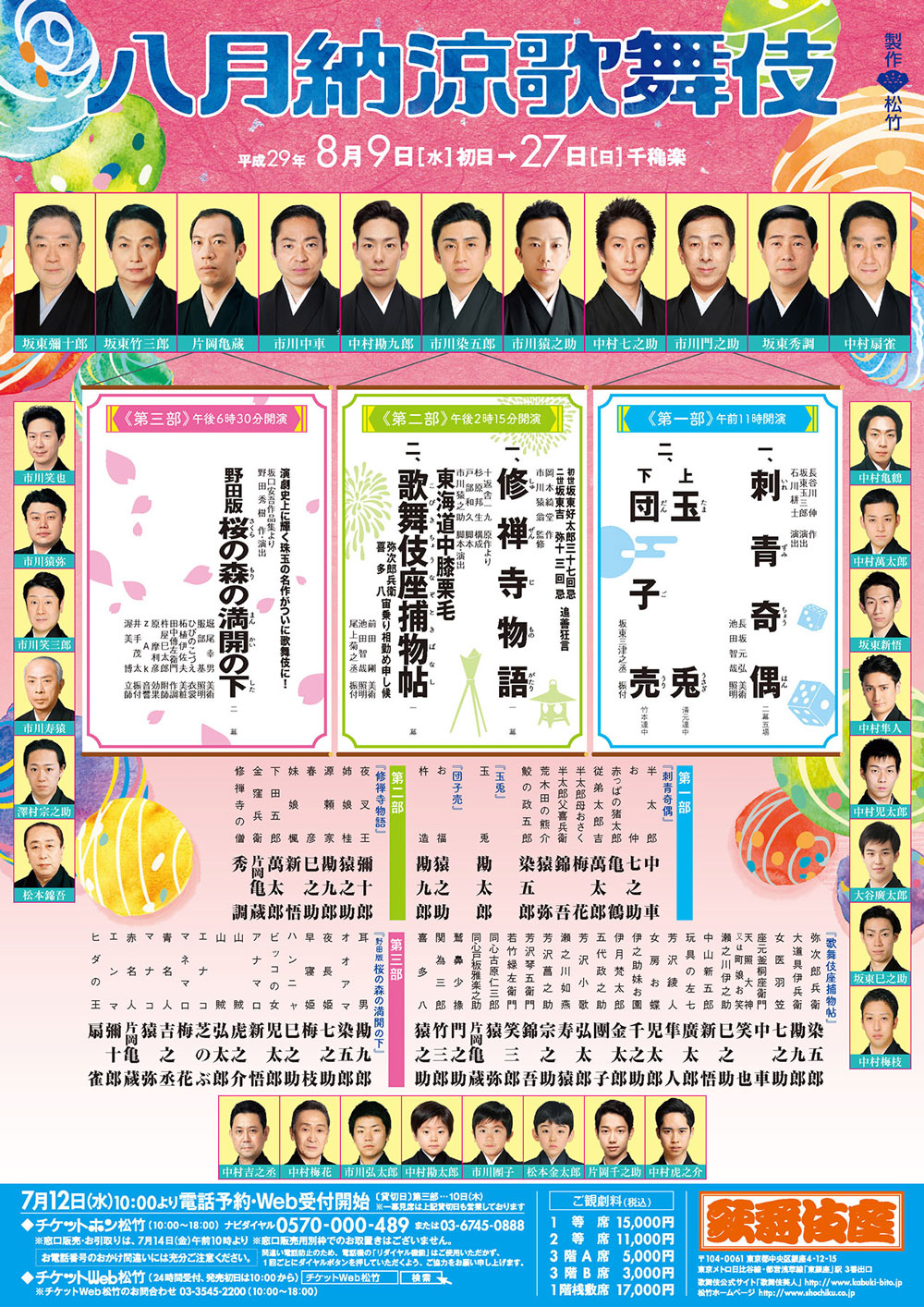 August

at the Kabukiza Theatre

Daily: Aug 09 (Wed) - Aug 27 (Sun), 2017

Part1: 11:00 AM

Part2: 2:15 PM

Part3: 6:30 PM

Time Schedule

On sale: from Jul 12 (Wed), 2017 10:00AM(JST) 2017:07:12:10:00:00

Box Seat: 17,000 / First Class: 15,000 / Second Class: 11,000 / Upper Tier A: 5,000 / Upper Tier B: 3,000 Unit: Japanese Yen (tax included)

Kabukiza Theatre (at TOKYO) Theatre Information
This month's performances are divided into three parts. In Part 1, you can see a masterpiece of 'New Kabuki' and two classical dances. In Part 2, the first play commemorates the 37th anniversary of the death of Bandō Kōtarō I and the 13th anniversary of the death of Bandō Kichiya II.The next play is the sequel to a popular work staged last year. Finally, the play in Part 3 is a masterpiece by Noda Hideki, an acclaimed playwright and director of modern theater. It is a kabuki adaptation of a well-known short story. This program features the most talented stars in kabuki today. Compared to other kabuki performances, the length of each show is shorter and the ticket prices are very reasonable. The program is perfect for tourists and customers who have never seen kabuki before.
IREZUMI CHŌHAN
[Tattooed Hantarō]
CAST :
Hantarō

Ichikawa Chūsha

Onaka

Nakamura Shichinosuke

Same no Masagorō

Ichikawa Somegorō
STORY :
First performed in 1932, this is a so-called 'New Kabuki' ('Shin Kabuki') play by Hasegawa Shin. Hantarō was born in Fukagawa in Edo (the old name for Tokyo), but he now lives in Gyōtoku in Shimōsa Province after having to leave Edo on account of a quarrel. The argument was caused by his weakness for gambling. Hantarō rescues a waitress called Onaka who was trying to drown herself. Onaka is touched by his purity and they marry. Hantarō still loves gambling and they continue to lead a poor life. Meanwhile, Onaka discovers that she has a severe illness and, while she still lives, she inscribes a tattoo of a pair of dice on Hantarō's right arm, reminding him always of her wish that he give up gambling. However, desperate for the money to pay for Onaka's medicine, Hantarō goes again to a gambling house where he is caught cheating and severely beaten. Masagorō, who operates the gambling house, hears that Hantarō would like to do something good for his dying wife so he bets all his money on a gambling game with Hantarō. Hantarō wins the game. He receives the money from Masagorō and hurries home to his wife.
TAMA USAGI
[The Rabbit in the Moon]
CAST :
Tama Usagi

Nakamura Kantarō
STORY :
This is a dance with musical accompaniment provided by the Kiyomoto Narrative Ensemble. It is the night of a full autumn moon. Looking up at the round moon, we see the shadow of a rabbit making rice dumplings. Before long, it springs out, landing in a field of pampas grass. It proceeds to demonstrate how it makes rice dumplings with a pestle and mortar. After this, it begins to relate a famous children's tale about Mt. Kachikachi, in which a 'tanuki' racoon dog comes to blows with a rabbit. The story mixes in the antics of an elderly man and woman. On this moonlit night, the rabbit seems in festive mood and continues to make merry through the night.
DANGO URI
[The Dumpling Peddlers]
CAST :
Ofuku

Ichikawa Ennosuke

Kinezō

Nakamura Kankurō
STORY :
This short, energetic dance with Gidayū musical accompaniment portrays a husband and wife making and selling rice dumplings on the streets of Edo. The popular couple demonstrate how they make the rice dumplings in an acrobatic way. The making of rice dumplings is often associated with having a baby or the prosperity of one's descendants, so it is considered to bring good fortune.
SHUZENJI MONOGATARI
[The Tale of Shuzenji]
CAST :
Yashaō

Bandō Yajūrō

Katsura, Yashaō's elder daughter

Ichikawa Ennosuke

Minamoto no Yoriie

Nakamura Kankurō

Haruhiko

Bandō Minosuke

Kaede, Yashaō's younger daughter

Bandō Shingo

Shimoda Gorō

Nakamura Mantarō

Kanakubo Hyōe

Kataoka Kamezō

A priest of Shuzenji Temple

Bandō Shūchō
STORY :
First performed in 1911, this modern play by Okamoto Kidō is probably the greatest classic of the 'New Kabuki' category, a perfect blend of old kabuki technique and modern ideas of drama. A mask carver has been ordered to make a portrait of Yoriie, the second shogun in Kamakura. He despairs of his artistic powers, however, because no matter how many times he tries, the mask always shows the signs of death. Finally, he learns that the mask holds the secrets of the tragic fate of Yoriie and his own daughter.
Tōkai Dōchū Hizakurige:Kobikichō Nazotoki Banashi
[Yajirobē and Kitahachi on the Tōkaidō Highway - The Curious Casebook of the Kabukiza]
CAST :
Yajirobē

Ichikawa Somegorō

Kitahachi

Ichikawa Ennosuke
STORY :
"Tōkai Dōchū Hizakurige" is a comical story of a fictional journey made by Yajirobē and Kitahachi who travel from Edo along the Tōkaidō Highway. The story was a great bestseller during the Edo period. It has often been performed as kabuki and is popular as a comedy reflecting the topics of each epoch since the Shōwa era. Yajirobē and Kitahachi have gone on a pilgrimage to the Ise Shrine, and, after experiencing many hardships such as being blown up by giant fireworks in the Ise fireworks festival, and encountering a whale on their way to Las Vegas, they finally make it back to Edo (the old name for Tōkyō). Now penniless after their travels, they have no choice but to work as black-robed stagehands at the Kabukiza Theatre. The Kabukiza Theatre is filled with big crowds day after day, and the run of the lively performance is extended again and again. But signs of unrest are found backstage and bad rumors of the actors appearing in the performance seem to be spreading. Yajirobē and Kitahachi blunder onto the stage again and again and, as ever, are scolded. One day, an actor falls on stage at the packed Kabukiza Theatre. The whole city of Edo is in uproar at this unprecedented and serious incident. People suspect Yajirobē and Kitahachi because of their blunders on stage, so the pair tries to find the real culprit to clear themselves of suspicion.
NODA-BAN: SAKURA NO MORI NO MANKAI NO SHITA
[Noda-version: Under the Blossoming Cherry Trees]
CAST :
Mimio

Nakamura Kankurō

Ōama

Ichikawa Somegorō

Yonaga-hime

Nakamura Shichinosuke

Hayane-hime

Nakamura Baishi

Manako

Ichikawa Enya

Akameijin

Kataoka Kamezō

Enma,Lord of Hell

Bandō Yajūrō

King of Hida

Nakamura Senjaku
STORY :
This work, based on the novels of Sakaguchi Ango, was written by Noda Hideki for his theatrical company and is adapted for kabuki for the first time. Deep in a forest of cherry trees, it is said that something bad happens under the trees in full bloom. Is it because dead bodies are buried there, or is it the work of demons? It is the Era of Emperor Tenji (7th century). The king of Hida summons three master sculptors called Mimio, Manako and Ōama, and orders them to compete with each other in carving a Buddhist statue. This statue is to protect the king's daughters, Yonaga-hime and Hayane-hime. However, each of the sculptors has something to hide: Mimio is a fraud because he took the position of a master sculptor by killing his master. Manako is actually a bandit wrongly taken to be a master sculptor after he murdered the real master while stealing. Ōama is a suspicious man of unknown origin. The three men are ordered to complete their Buddhist statues in three years. One day, Hayane-hime is found dead hanging from a cherry tree, and at the same time the Emperor Tenji passes away in the capital. The king of Hida grieves at the news of these two deaths. However, when Yonaga-hime sees her younger sister's corpse a smile comes to her lips. Finally, the three years pass and the sculptors complete their Buddhist statues. However, each individual's intentions become entangled…