How to buy tickets
Reserve Online *Currently, tickets are only available by phone.

Shochiku Multilingual Online Ticket
Reserve by Phone
+81(0)3 6745-0888
10:00 AM - 5:00 PM (JST)
*Tickets are currently only available by phone.
The operator will reserve tickets for your desired performance and seat.
*English speaking staff available.
*Tickets for the same day cannot be reserved by phone. Please purchase those tickets from the theatre box office.
*Please make reservations up until the day before of the performance date.
Single Act Tickets
*Single Act Seats are currently not for sale.
A kabuki program is usually made up of several different plays and dances, but at the Kabukiza Theatre and occasionally at other theatres, 'Single Act Seats' are available so that you can watch just one of the acts.
At the Kabukiza Theatre, tickets for each act start selling at different times so please check the time before coming to the theatre. People start lining up earlier than the time the tickets start selling so please be careful!
Check the details on how to buy the single act tickets HERE
*Single Act Tickets will be sold on the day of the performance
(They cannot be reserved or purchased in advance).
*Payment in CASH ONLY, no credit cards accepted.
*Children under 6 years old may not use Single Act Seats.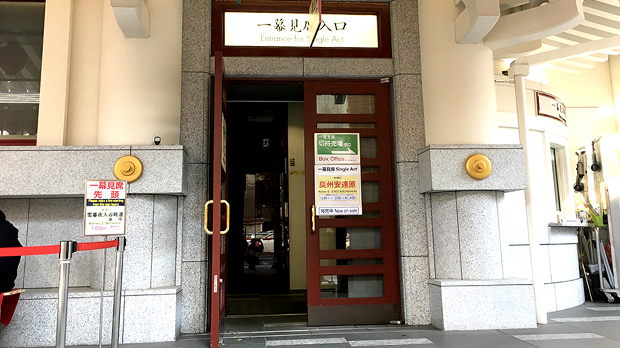 Purchace directly at the Box Office
Tickets for kabuki performances (whole show) could be purchased at the Box Office below:
•Kabukiza Theatre
•Shinbashi Enbujo Theatre
•Minamiza Theatre
•Osaka Shochikuza Theatre
If seats are left, you could also purchase tickets at the door at the last moment before the curtain rises, and even after the performance begins!
(During Box Office business hours)
*Box Office for the Kabukiza Theatre is located on the 2nd basement in the Kobikichō Square.