Kabukiza Theatre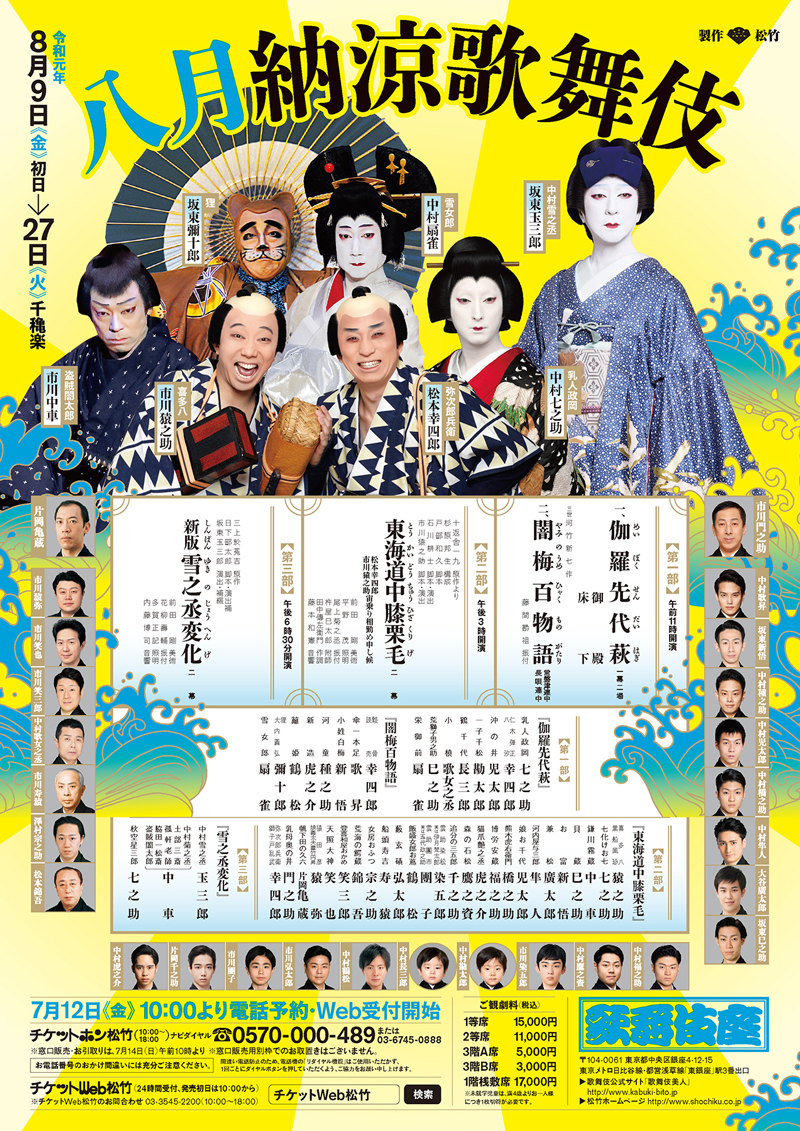 August

at the Kabukiza Theatre

Daily: Aug 09 (Fri) - Aug 27 (Tue), 2019

Part 1: 11:00 AM

Part 2: 3:00 PM

Part 3: 6:30 PM

Time Schedule

On sale: from Jul 12 (Fri), 2019 10:00AM(JST) 2019:07:12:10:00:00

Box Seat: 17,000 / First Class: 15,000 / Second Class: 11,000 / Upper Tier A: 5,000 / Upper Tier B: 3,000
Unit: Japanese Yen (tax included)
*Children over the age of 4 must purchase tickets to enter.

Kabukiza Theatre (at TOKYO) Theatre Information
In August, the Kabukiza Theatre will present enjoyable programs by popular young actors, also featuring the star Bandō Tamasaburō. In Part 1, you can see a masterpiece of the 'jidaimono' (history play) genre, together with an interesting dance in which many horrible ghosts appear. In Part 2, we present a brand-new work, the fourth in a series of humorous and popular plays. Finally, in Part 3, you can enjoy a play portraying the revenge of the kabuki actor Yukinojō, featuring Bandō Tamasaburō, kabuki's top female role specialist, who also directs the play.

MEIBOKU SENDAIHAGI
[ 'Precious Incense and the Bush-clover of Sendai' ]
CAST :
Masaoka, the wet-nurse

Nakamura Shichinosuke

Nikki Danjō / Yashio, a lady-in-waiting

Matsumoto Kōshirō

Senmatsu, Masaoka's son

Nakamura Kantarō

Tsuruchiyo

Nakamura Chōzaburō

Arajishi Otokonosuke

Bandō Minosuke

Sakae Gozen

Nakamura Senjaku
STORY :
This is a 'jidaimono', a history play set in the Medieval Japan, but it is based on the attempt to take over one of the most famous samurai households in the Edo Period, a scandal that caused a sensation in its day. Young Tsuruchiyo is made heir after the lord of the Date House is forced into retirement because of his profligate ways. Masaoka, the young boy's wet-nurse, is afraid that he will be assassinated and refuses all male contact, insisting on making all his meals herself. In an attempt to kill Tsuruchiyo, the villains send a gift of poisoned cakes, and Masaoka only manages to protect the boy by sacrificing her own son. The loyal retainer Otokonosuke who has been on guard beneath the apartments, finds a suspicious rat, but fails to capture it. This is actually Nikki Danjō, the arch villain of the play, who used sorcery to disguise himself as a rat. With his magic powers, he suddenly disappears.
YAMINOUME HYAKUMONOGATARI
[ 'The Game of a Hundred Lights' ]
CAST :
Skeleton / Hawker of broadsheets

Matsumoto Kōshirō

Ōuchi Yoshihiro / Racoon Dog

Bandō Yajūrō

Snow Woman

Nakamura Senjaku
STORY :
This is a dance drama based on a traditional popular game in which people would light one hundred lanterns and tell ghost stories. At the conclusion of each story a light was extinguished. When the last remaining lantern was put out, it was believed, a real ghost would appear.
TŌKAIDŌCHŪ HIZAKURIGE
[ 'Yajirobē and Kitahachi on the Tōkaidō Highway' ]
CAST :
Kitahachi

Ichikawa Ennosuke

Yajirobē

Matsumoto Kōshirō

Itsuki Bontarō

Ichikawa Somegorō

Godai Masanosuke

Ichikawa Danko

Nanabake Oshichi

Nakamura Shichinosuke

Kamakawa Kirizō

Ichikawa Chūsha
STORY :
"Tōkaidōchū Hizakurige" is a comical story of a fictional journey made by Yajirobē and Kitahachi who travel from Edo (the old name for Tokyo) along the Tōkaidō Highway. It was a best-selling comic novel during the Edo period, and was often performed as kabuki. It became popular as it reflected the topics of each epoch in a comical way. Yajirobē and Kitahachi, who work as stagehands at the Kabukiza Theatre, make blunders on stage again and again and are frequently turned down by women. Furthermore, they are head over heels in debt after dealing with their rent arrears. Having difficulty with everything, they set out again on a pilgrimage to the Ise Shrine with money that they get by chance. On their way, they encounter the young warrior Bontarō and his footman Masanosuke. Their aim is to pray to the Sun Goddess in Ise for an heir to the warrior's house and for his mother's recovery from illness, so the four decide to travel together.
SHINPAN YUKINOJŌ HENGE
[ 'New Version: An Actor's Revenge' ]
CAST :
Nakamura Yukinojō

Bandō Tamasaburō

Nakamura Kikunojō
Dobe Sansai
Koken, a sage
Wakita Isshōsai
Yamitarō, a thief





Ichikawa Chūsha

Akizora Hoshisaburō

Nakamura Shichinosuke
STORY :
'Yukinojō Henge' is a historical novel written in 1934 by Mikami Otokichi and has been adapted for the cinema and the theatre several times. The story first takes place in the latter half of the Edo period. Matsuuraya Seizaemon, the top shipping agent in Nagasaki, was loved by the local people for his gentle personality. However, duped by the Nagasaki magistrate Dobe Sansai and Hiromiya Tōbē, he meets a tragic end. His son Yukitarō leaves Nagasaki promising to avenge his death. Twenty years later in Edo, Yukitarō has studied under the master Nakamura Kikunojō, and has become tremendously popular as the leading actor Nakamura Yukinojō who specialises in female roles. To avenge his father's death, he learns the secrets of swordsmanship from his master Wakita Isshōsai. Sansai's daughter Lady Namiji, who is much favoured by the shogun, sees Yukinojō on stage and is captivated. Taking advantage of this, Yukinojō drinks alone with her so as to get close to Sansai, the man who caused his father to die in agony.