Kabukiza Theatre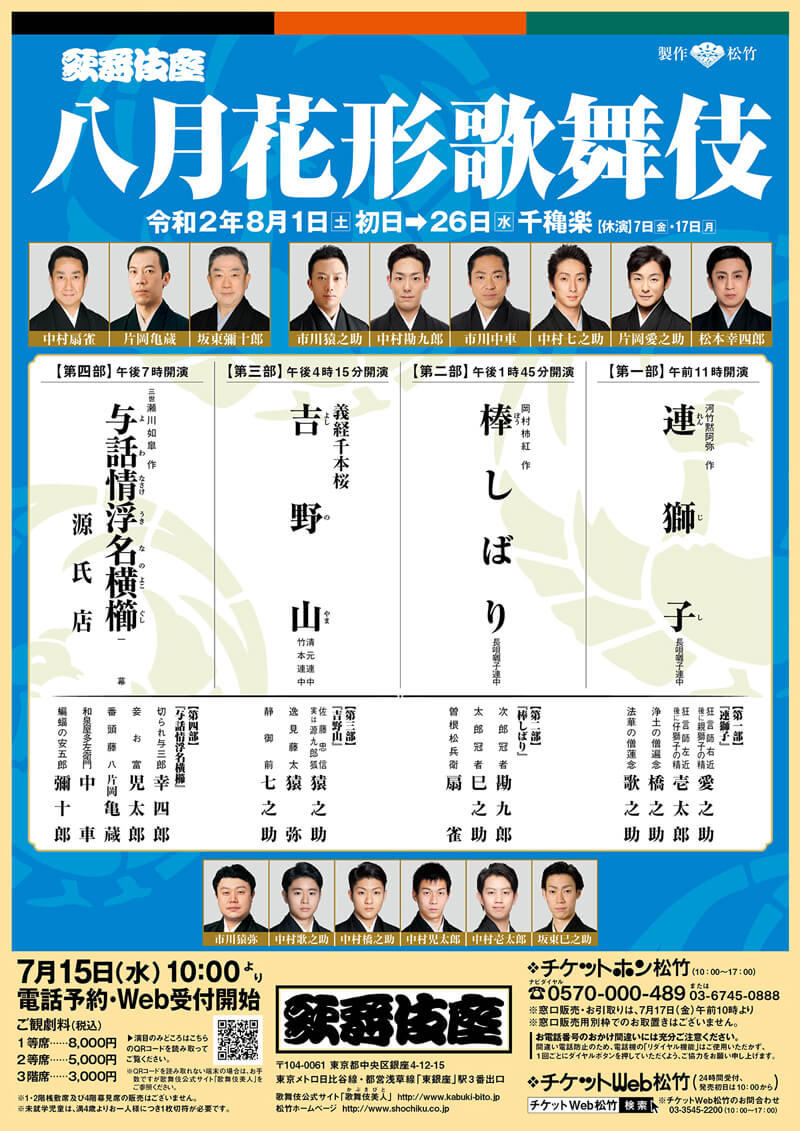 August

at the Kabukiza Theatre

Daily: Aug 01 (Sat) - Aug 26 (Wed), 2020

◇ Time Schedule

[Important notice]
Notification of the cancellation of August 5th (Part 3) performance(Aug 5th)

*No performance on the 7th (Fri) and the 17th (Mon).
*The theatre will open 40 minutes before the performance starts.

Time Schedule

On sale: from Jul 15 (Wed), 2020 10:00AM(JST) 2020:07:15:10:00:00

First Class Seat: 8,000 /Second Class Seat: 5,000 /
Upper Tier A/B (3F): 3,000
Unit: Japanese Yen (tax included)
*All Box Seats (1F/2F) and Single Act Seats are not for sale.
*Children over the age of 4 must purchase tickets to enter.

Kabukiza Theatre (at TOKYO) Theatre Information
Kabuki is being performed again after a five-month absence at the Kabukiza. For the first time, the program is divided into four parts. We have taken steps to ensure your safety with thorough countermeasures to prevent infection of the novel coronavirus so that you can feel at ease when you come to the theatre.
You can expect star actors to perform energetically in four notable masterpieces. Please enjoy yourselves at the Kabukiza on a hot summer day!


PART 1 START 11:00 AM
RENJISHI
[ 'Parent and Child Lion Dance' ]
CAST :
The actor Ukon, later,The spirit of the parent lion

Kataoka Ainosuke

The actor Sakon, later,The spirit of the lion cub

Nakamura Kazutarō

Hennen, a priest of the Pure Land sect

Nakamura Hashinosuke

Rennen, a priest of the Nichiren sect

Nakamura Utanosuke
STORY :
A dance adapted from a tale of the legendary shishi, a mythical lion-like beast.
Two entertainers dance the tale of the legendary shishi (lion-like beasts) that live at the foot of a holy Buddhist mountain. Later, the shishi themselves appear and perform their dance with the wild shaking of their long manes.
The dance portrays a parent shishi forcing its cub to undergo harsh training in order to grow up strong.
This theme is based on the legend that the shishi will push its cubs over a steep cliff as a test of their strength, only nurturing those cubs strong enough to climb up by themselves.
PART 2 START 1:45 PM
BŌ SHIBARI
['Battle of Ideas for Sake' ]
CAST :
Jirōkaja

Nakamura Kankurō

Tarōkaja

Bandō Minosuke

Sone Matsubē

Nakamura Senjaku
STORY :
A dance play based on a classical Kyōgen farce. The master, Sone Matsubē, is irritated that his two servants always drink his sake while he is out. He plots with one of these servants, Tarōkaja, to trick the other servant, Jirōkaja, and talks him into demonstrating his skill at stick fighting, tying him to the stick. The master then ties up Tarōkaja as well.
However, despite the fact that they are tied up, the two successfully drink up their master's sake and end up dancing exuberantly.
PART 3 START 4:15 PM
Yoshitsune Senbon Zakura
YOSHINOYAMA
['Mt. Yoshino' from 'Yoshitsune and the Thousand Cherry Trees' ]
CAST :
Satō Tadanobu, in reality the fox, Genkurō

Ichikawa Ennosuke

Hayami no Tōda

Ichikawa En'ya

Shizuka Gozen

Nakamura Shichinosuke
STORY :
This is a beautiful dance filled with mystery and excitement set amidst the dazzling cherry blossoms of Mt. Yoshino. Shizuka and Tadanobu are on their way to find Shizuka's lover, the military commander Yoshitsune. He has become a fugitive and has had to leave Shizuka behind in the care of his retainer Tadanobu.
However, this Tadanobu is actually a magic fox in disguise. He has transformed into human form in order to be with a drum that Shizuka carries, the skins of which are made from the hides of the fox's parents.
PART 4 START 7:00 PM
YOWA NASAKE UKINA NO YOKOGUSHI
[ 'Scarfaced Yosaburō' ]
CAST :
Scarfaced Yosaburō

Matsumoto Kōshirō

Otomi, Tazaemon's mistress

Nakamura Kotarō

Tōhachi, the head clerk of Tazaemon's shop

Kataoka Kamezō

Izumiya Tazaemon

Ichikawa Chūsha

Yasu, the Bat

Bandō Yajūrō
STORY :
On the beach, Yosaburō, the spoilt son of a wealthy family, meets Otomi, the mistress of a gang boss, and falls in love with her at first sight. The affair is soon found out by the gang boss and Yosaburō gets beaten up, suffering wounds all over his body. Thinking that Yosaburō died, Otomi throws herself into the sea.
3 years later, Yosaburō, who has become a petty thief, and his mentor Yasu, the Bat, go to blackmail the mistress of a wealthy merchant only to discover that it is Otomi, who had also survived. In one of the most famous scenes in kabuki, Yosaburō pours out his resentment against Otomi and the fate that has destroyed his life. Then Otomi learns the secret about her situation...