Kabukiza Theatre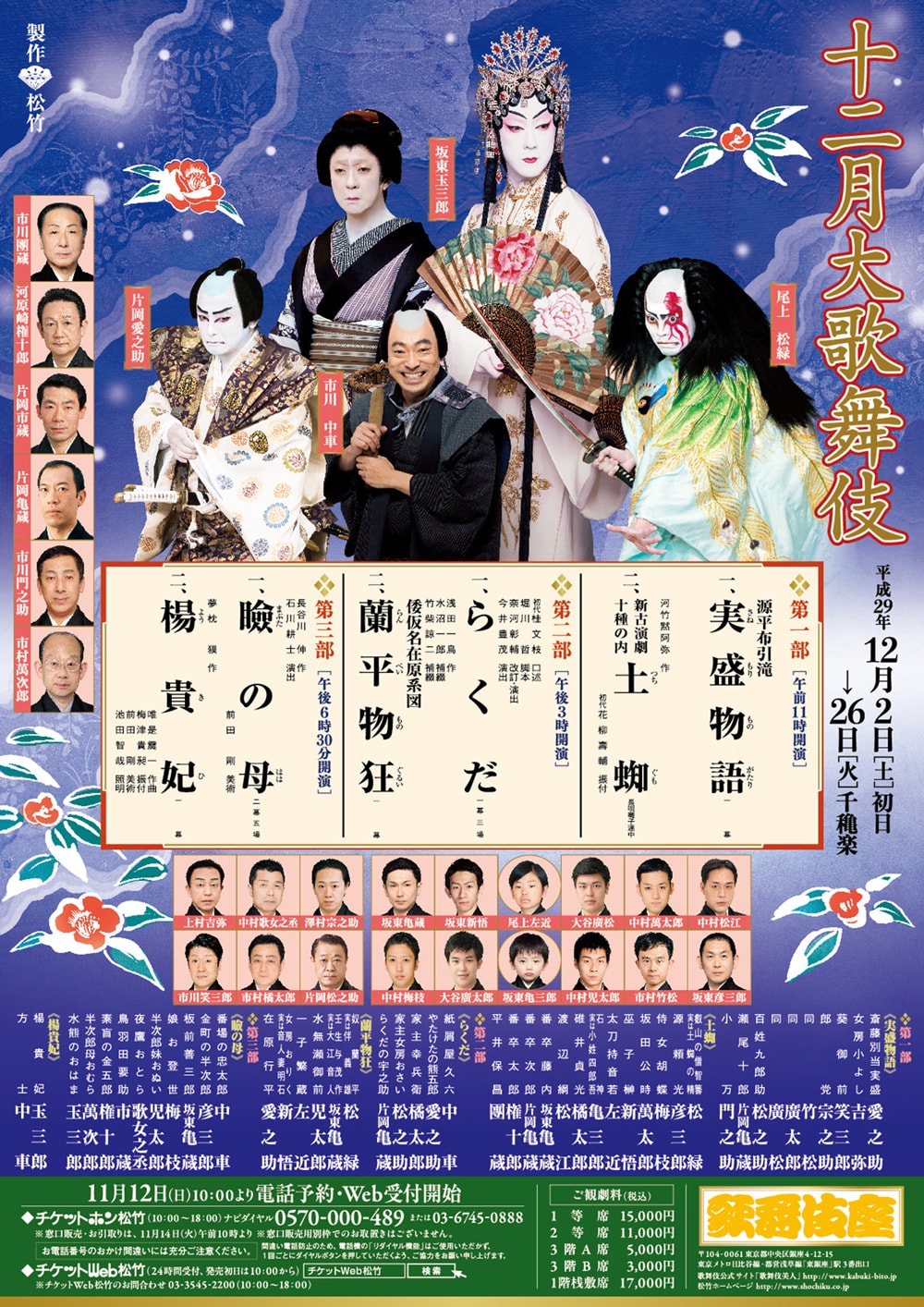 December

at the Kabukiza Theatre

Daily: Dec 02 (Sat) - Dec 26 (Tue), 2017

Part 1: 11:00 AM

Part 2: 3:00 PM

Part 3: 6:30 PM

Time Schedule

On sale: from Nov 12 (Sun), 2017 10:00AM(JST) 2017:11:12:10:00:00

Box Seat: 17,000/
First Class: 15,000 / Second Class : 11,000/
Upper Tier A: 5,000 / Upper Tier B: 3,000
Unit: Japanese Yen (tax included)

Kabukiza Theatre (at TOKYO) Theatre Information
This month's performances are divided into three parts.
In Part 1, you can see a history play that is considered a masterpiece and an exciting dance.
In Part 2, the first play is a popular dramatization of a 'rakugo' comic story. The next play is one act of a history play in which a spectacular fight scene is staged.
Finally, in Part 3, you can see a masterpiece of 'New Kabuki' and a dance performed by Bandō Tamasaburō.

This program features the leading star of 'onnagata' female roles, Bandō Tamasaburō, together with Onoe Shōroku, Kataoka Ainosuke, and Ichikawa Chūsha, the most talented young stars in kabuki today. Compared to other kabuki performances, the length of each show is shorter and the ticket prices are very reasonable. The program is perfect for tourists and customers who have never seen kabuki before.
SANEMORI MONOGATARI
[ The Tale of Sanemori ]
CAST :
Saitō Bettō Sanemori

Kataoka Ainosuke
STORY :
This is a jidaimono history play set at the end of the Heian Period (12th century).
The play's subject concerns the early days of the rivalry between the Genji and the Heike military clans. Lady Aoi, widow of the Genji clan's leader Kiso Yoshikata, is pregnant and is in hiding at the house of a man named Kurosuke. Knowing that Lady Aoi is there, Sanemori, a warrior who was once of the Genji clan but has now joined the Heike, comes to Kurosuke's house with the Heike warrior Seno-o. Should Lady Aoi's child be a boy, it could become the future head of the Genji clan, and so Sanemori is ordered to kill the baby if it is indeed male. But to everyone's surprise, the 'baby' turns out to be a woman's severed arm. Seno-o is amazed and does not believe it, but Sanemori (who is concealing something) assures him that there is a similar event in history. The highlight of this play is when Sanemori recounts how he severed the woman's arm. In this section, the actor is accompanied by the Gidayu narrator and shamisen player, leaving him free to use gestures and a fan in his heroic description.
TSUCHIGUMO
[ The Earth Spider ]
CAST :
The priest of Enryaku-ji Temple, Chichū, in reality, the spirit of the earth spider

Onoe Shōroku
STORY :
This dance drama was adapted from a play in the classical Nō repertoire. It was written for kabuki by Kawatake Mokuami and was first performed at the Shintomi Theatre in Tokyo in 1881. The stage set called 'matsubame' and the costumes are closely based on the original Nō play, but the dance by the lady attendant named Kochō, and the story of the priest Chichū's ascetic training is original to this kabuki version.
The samurai lord Minamoto no Yorimitsu is famous in legend for destroying demons. Yorimitsu is ill in bed. Since no medicines seem to work, the cause is thought to be some evil curse that has been placed upon him. Distinguished priests visit him and pray, but they do no good. Then, another priest appears mysteriously at night to pray for his health. However, suspicious of the priest's strange form, Yorimitsu cuts at him with his heirloom sword named 'Hizamaru'. The priest turns out to be the spirit of an earth spider which has the ambition to rule the country, beginning first by destroying Yorimitsu. It was this spider who had caused Yorimitsu's illness in the first place. The spider's plan to kill Yorimitsu is defeated by his retainers in an exciting fight.
RAKUDA
[ A Party with a Dead Man ]
CAST :
Kyūroku, the waste paper collector

Ichikawa Chūsha

Kumagorō, the reckless man

Kataoka Ainosuke
STORY :
This is a popular dramatization of a 'rakugo' comic story.
A petty gang boss named Rakuda has died after eating blowfish. Kumagorō, one of his gang members, finds him and hopes to bury him, but has no money. When he tries to get the neighbors to contribute, everyone is overjoyed that such a nuisance is dead, but they won't contribute a cent towards his burial.
Finally, Kumagorō pulls in a passing waste paper collector named Kyūroku and forces him to carry around Rakuda's body and threaten to make it dance if the neighbors won't pay up. They get a great sum of money and start drinking together. But as he drinks, the hapless Kyūroku becomes surprisingly aggressive.
RANPEI MONOGURUI
[ The Madness of Ranpei ]
CAST :
Ranpei, a footman, in reality, Tomo no Yoshio

Onoe Shōroku

Ariwara no Yukihira

Kataoka Ainosuke
STORY :
This is an act of a 'jidaimono 'history play' set in the Heian period (9th century).
Ariwara no Yukihira has returned to the capital after a long time and lies sick in bed remembering his lover whom he left behind in exile. Ranpei, who serves Yukihira, brings a woman to him who resembles her, and this pleases Yukihira. At the news that a rogue has escaped, Yukihira orders Ranpei's son Shigezō to arrest him. Worried too much about Shigezō, Ranpei is absent-minded and unable to fulfill what Yukihira orders him to do. As Yukihira gets angry and thrusts a sword at him, he begins a queer dance, claiming to go mad at the sight of a sword. In reality, he is Ban no Yoshio who serves Yukihira in order to avenge his father. But he is unmasked by a trick of Yukihira's and his retainer Ōe no Otondo.
Once unmasked, Ranpei performs one of the most spectacular fight scenes in kabuki that includes a struggle on top of a high ladder held up on the 'hanamichi' runway. Such fight scenes are called 'tachimawari'. Ranpei shows many kinds of 'tachimawari' techniques as he battles against a large number of pursuers in this scene. For this reason, the play has become famous as a typical work in which we can enjoy 'tachimawari'. Eventually, however, so that his son Shigezō can achieve distinction in service, he gives Shigezō the treasure he took away from Yukihira and decides to let Shigezō arrest him.
MABUTA NO HAHA
[ The Remembered Mother ]
CAST :
Banba no Chūtarō

Ichikawa Chūsha

The proprietress of the restaurant Mizukuma, Ohama

Bandō Tamasaburō
STORY :
First performed in 1931, 'MABUTA NO HAHA' is a play by Hasegawa Shin, a playwright who specialized in gritty realistic representations of the lower classes in the Edo period (1603-1868).
Chūtarō is a rough gangster, but has always regretted not knowing his mother. When helping his colleague Hanji, Chūtarō sees the protective love of the mother towards Hanji and decides to search for his own.
After one year or more, he believes he has found her in the person of Ohama, the mistress of a restaurant named Mizukuma. He visits Mizukuma to meet and to talk about himself to Ohama. However, in order to protect the reputation of her daughter who is to be married, she refuses to acknowledge him. After he leaves, Otose, Ohama's daughter, guesses that the visitor was the half-brother of whom she had heard in the past, and blames her mother for her cold attitude. Ohama regrets her behavior and they decide to call him back again. But he is already long gone. Aware that a ruffian is chasing after Chūtarō to beat him up, Ohama and Otose go after him in haste, calling out his name while searching for him. Having fought the ruffian off, Chūtarō hides by the roadside and overhears the voices calling him but does not reply. Unable to meet his mother, he closes his eyes and tries to imagine her as the beautiful woman he remembers, rather than the horror of reality.
YŌKIHI
[ Yang Guifei ]
CAST :
Yang Guifei

Bandō Tamasaburō

A fortune teller

Ichikawa Chūsha
STORY :
Based on a classical Nō play, this is a new dance showing Yang Guifei, the consort of the Tang Emperor whose beauty nearly toppled the empire.
The play is set after her death and shows a magician sent by the grieving Tang Emperor to find her spirit in the land of immortals.
The main theme of the dance is eternal love, here expressed beautifully on stage.