Kabukiza Theatre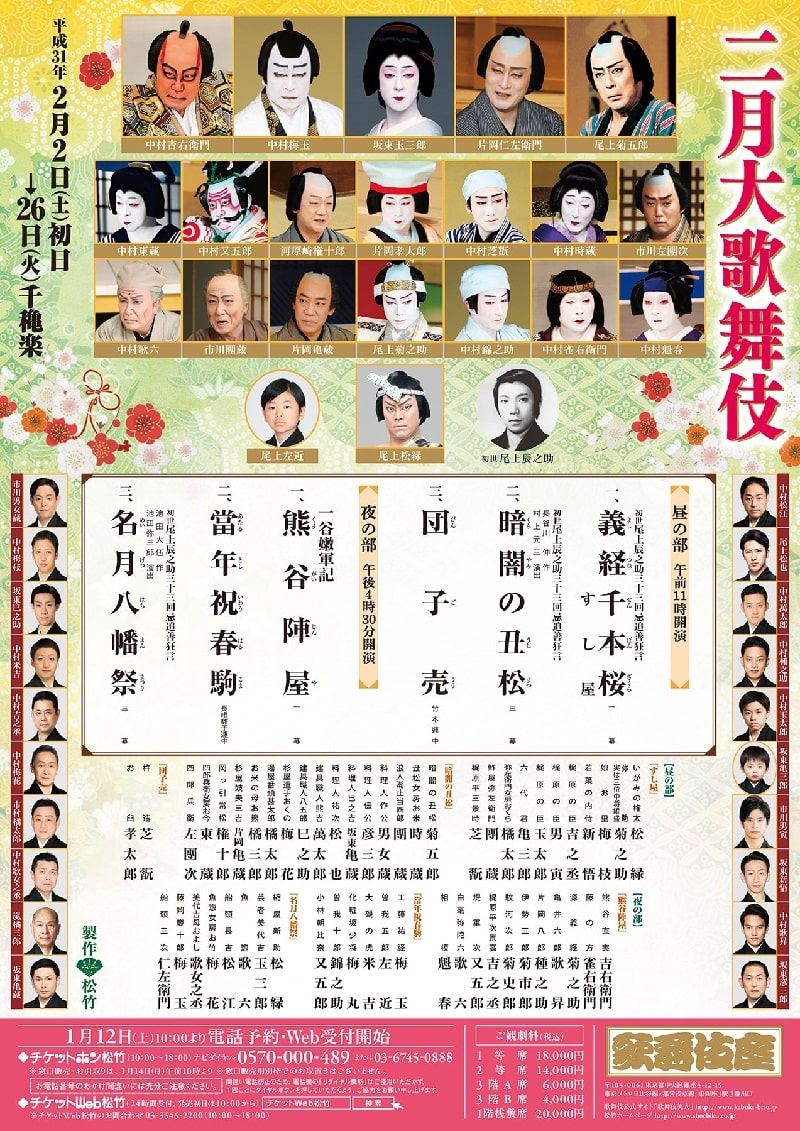 February

at the Kabukiza Theatre

Daily: Feb 02 (Sat) - Feb 26 (Tue), 2019

Matinee:11:00 AM

Evening Show: 4:30 PM

Time Schedule

On sale: from Jan 12 (Sat), 2019 10:00AM(JST) 2019:01:12:10:00:00

Box Seat: 20,000 / First Class: 18,000 / Second Class: 14,000 / Upper Tier A: 6,000 / Upper Tier B: 4,000
Unit: Japanese Yen (tax included)

Kabukiza Theatre (at TOKYO) Theatre Information
This month, commemorating the 33rd anniversary of the death of Onoe Tatsunosuke I, three works associated with him will be performed by his son Onoe Shōroku and actors of his generation who have contributed to kabuki: Onoe Kikugorō, Kataoka Nizaemon, Nakamura Baigyoku and Bandō Tamasaburō.
YOSHITSUNE SENBON ZAKURA
Sushiya
['The Sushi Shop' from 'Yoshitsune and the Thousand Cherry Trees']
CAST :
Igami no Gonta

Onoe Shōroku

Yasuke, in reality, Taira no Koremori

Onoe Kikunosuke

Osato, Yazaemon's daughter

Nakamura Baishi

Yazaemon, the owner of the sushi shop

Ichikawa Danzō

Kajiwara Heizō Kagetoki

Nakamura Shikan
STORY :
Defeated by the Genji, the Heike clan commander Koremori disguised as Yasuke lives with the sushi shop owner Yazaemon. Yazaemon owes Koremori's father a debt of gratitude. One day, Yazaemon's son Gonta, a local bully, comes home, and soon after, Koremori's wife and child who are searching for Koremori also appear miraculously at the sushi shop. Gonta hands over Koremori's severed head and Koremori's family to the Genji commander as bounty. Yazaemon stabs his own son Gonta in anger. Before he dies, however, Gonta reveals that Koremori's head is a substitute and that he sacrificed his own family to save the real Koremori and his wife and child.
KURAYAMI NO USHIMATSU
[Ill-fated Ushimatsu]
CAST :
Kurayami no Ushimatsu

Onoe Kikugorō

Oyone, Ushimatsu's wife

Nakamura Tokizō

Yūji, a cook

Onoe Matsuya

Shiodome Tōshirō, a masterless samurai

Ichikawa Danzō

Oima, Shirobē's wife

Nakamura Tōzō

Shirobē

Ichikawa Sadanji
STORY :
This is a modern masterpiece by Hasegawa Shin first performed in 1934. The cook Ushimatsu is forced to kill the evil mother of his wife Oyone. Ushimatsu flees, but entrusts Oyone to Shirobē, his trusted workmate. One year later, he encounters Oyone who has become a prostitute in an inn. She tries to explain that Shirobē treacherously sold her into prostitution, but Ushimatsu refuses to listen to her. In despair, Oyone commits suicide. Finally, Ushimatsu goes to kill Shirobē as he is in the public bath.
DANGO URI
['The Dumpling Peddlers']
CAST :
Kinezō

Nakamura Shikan

Ousu

Kataoka Takatarō
STORY :
This dance with Gidayū music portrays a couple making and selling rice dumplings on the streets. They demonstrate how they make the rice dumplings in an acrobatic way. The making of rice dumplings is often associated with the prosperity of one's descendants, so it is considered to bring good fortune.
Ichinotani Futaba Gunki
KUMAGAI JIN'YA
['Kumagai's Battle Camp' from 'The Chronicles of the Battle of Ichinotani' ]
CAST :
Kumagai no Jirō Naozane

Nakamura Kichiemon

Lady Fuji

Nakamura Jakuemon

Minamoto no Yoshitsune

Onoe Kikunosuke

Tsutsumi no Gunji

Nakamura Matagorō

Byakugō no Midaroku

Nakamura Karoku

Sagami, Naozane's wife

Nakamura Kaishun
STORY :
In a battle between the Heike clan and Genji clan, the Genji warrior Kumagai no Naozane attacks and supposedly kills Taira no Atsumori. Naozane comes back to his battle camp and describes to his wife, Sagami, and to Lady Fuji, Atsumori's mother, the manner in which Atsumori died. He presents the severed head of Atsumori to his lord Minamoto no Yoshitsune for inspection. However, the head is, in reality, that of Naozane's own son. Yoshitsune had given Naozane a chance to spare Atsumori because he was the son of the former Emperor and suggested to Naozane indirectly that he sacrifice his son as a substitute for Atsumori. After doing so, and feeling the transience of human existence, Naozane rejects the life of a warrior to become a Buddhist priest.
ATARU TOSHI IWAU HARUKOMA
[The Soga Brothers with Hobbyhorses]
CAST :
Kudō Suketsune

Nakamura Baigyoku

Soga no Gorō

Onoe Sakon

Soga no Jūrō

Nakamura Kinnosuke

Kobayashi no Asahina

Nakamura Matagorō
STORY :
'Harukoma' is a performance by entertainers who used to go from door to door with a wooden horse's head in their hands to celebrate the New Year. The Soga brothers, Jūrō and Gorō, disguise themselves as entertainers and break into the mansion of Kudō Suketsune to avenge their father's death.
MEIGETSU HACHIMAN MATSURI
[The Autumn Hachiman Festival]
CAST :
Chijimiya Shinsuke

Onoe Shōroku

Miyokichi, a geisha

Bandō Tamasaburō

Uosō

Nakamura Karoku

Fujioka Keijūrō

Nakamura Baigyoku

Sanji, a boatman

Kataoka Nizaemon
STORY :
Miyokichi is a popular geisha in the Fukagawa district whose lover is Sanji, a worthless boatman. On the occasion of the Hachiman festival, she attempts to raise money for Sanji by asking for it from the merchant Shinsuke. Shinsuke brings the money that he made by giving up everything he had, in order to make her his own. However, when Shinsuke arrives he finds that she has already received the money from another patron and so has no further interest in him. When he learns that he has been deceived, Shinsuke kills Miyokichi in a beautiful and gruesome scene in the rain. After all is done, the full moon of the autumn festival appears.