Kabukiza Theatre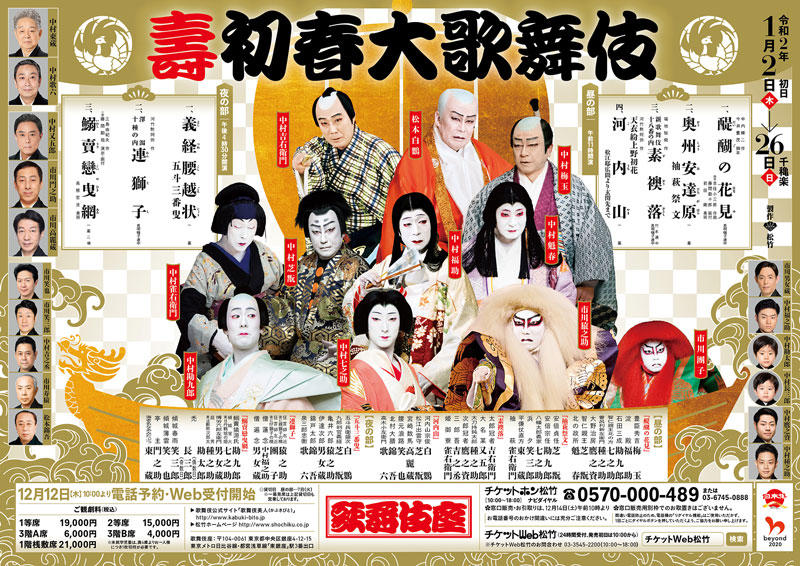 January

at the Kabukiza Theatre

Daily: Jan 02 (Thu) - Jan 26 (Sun), 2020

Matinee:11:00 AM

Evening Show: 4:30 PM

*Reserved seats for the Matinee are sold out on the 7th (Tue). (Single Act Seats will still be available.)

◇ Time Schedule

Time Schedule

On sale: from Dec 12 (Thu), 2019 10:00AM(JST) 2019:12:12:10:00:00

Box Seat: 21,000 / First Class: 19,000 / Second Class: 15,000 / Upper Tier A: 6,000 / Upper Tier B: 4,000
Unit: Japanese Yen (tax included)
*Children over the age of 4 must purchase tickets to enter.

Kabukiza Theatre (at TOKYO) Theatre Information
In January the Kabukiza will welcome you with brilliant decorations typical of the New Year.
The works being performed include a story by Kawatake Mokuami filled with the atmosphere of Edo (the old name for Tokyo) which is an indirect criticism of the samurai class, a history play portraying the tragedy of a woman married to a rebel, a play in which the drunken protagonist dances, and a 20th century masterpiece by Mishima Yukio, one of Japan's most representative authors of the post-World War II era.
The dances being performed include one portraying the flower-viewing banquet held by Toyotomi Hideyoshi, a humorous dance-drama depicting an intoxicated manservant, as well as the brilliant and powerful "Parent and Child Lion Dance."


DAIGO NO HANAMI
[ 'Cherry Blossom Viewing at the Daigoji Temple' ]
CAST :
Toyotomi Hideyoshi

Nakamura Baigyoku

Yododono

Nakamura Fukusuke

Ishida Mitsunari

Nakamura Kankurō

The wife of Prince Tomohito

Nakamura Shichinosuke

Prince Tomohito

Nakamura Shikan

Kita no Mandokoro

Nakamura Kaishun
STORY :
This is a dance portraying the famous blossom-viewing party held by the warlord Toyotomi Hideyoshi in the 3rd lunar month of 1598 in the garden of Daigoji Temple in Kyoto.
It was a grand banquet to which Hideyoshi's family, many daimyō lords, their wives and retainers were invited.
ŌSHŪ ADACHIGAHARA
Sodehagi Saimon
[ 'Sodehagi's Address to the Gods' from 'The Adachi Plain in Ōshū' ]
CAST :
Abe no Sadatō

Nakamura Shikan

Abe no Munetō

Nakamura Kankurō

Minamoto no Yoshiie

Nakamura Shichinosuke

Taira no Kenjō Naokata

Nakamura Tōzō

Sodehagi

Nakamura Jakuemon
STORY :
The emperor's brother Tamakinomiya has been abducted and his guardian Taira no Kenjō Naokata is to bear the blame for that. Naokata's daughter, Sodehagi, was formerly disowned for having had an illicit affair with a masterless samurai. Now, hearing of her parents' difficulties, Sodehagi returns to their house. Outside the door she apologizes to her parents by reciting a ballad. Then, a court noble arrives and blames Naokata. Finally, Naokata takes responsibility and kills himself, after which Sodehagi also kills herself. Minamoto no Yoshiie, who is the general of the punitive force against the rebel, appears and finds out that the court noble is, in reality, Abe no Sadatō, who is the rebel and Sodehagi's husband. He parts from Sadatō promising to meet again on the battlefield.
SUŌ OTOSHI
[ 'The Dropped Coat' ]
CAST :
Tarōkaja

Nakamura Kichiemon

The lord

Nakamura Matagorō

The Princess

Nakamura Jakuemon
STORY :
Delivering a message for his lord, the servant Tarōkaja visits his lord's uncle. But in the uncle's absence, his daughter serves saké for Tarōkaja. A large amount of drink makes him tipsy and he begins a dance in which he describes a famous battle. In reward for the dance, he receives a formal coat from the daughter. When he returns to his lord's house, Tarōkaja tries to hide the formal coat so that his greedy lord won't get his hands on it. However, Tarōkaja, still rather drunk, drops his brand-new coat and his lord succeeds in taking it away after all. Finally, the dance ends with them both scrambling for the coat.
Kumo Ni Magō Ueno No Hatsuhana
KŌCHIYAMA
[ 'The Tea-ceremony Priest Kōchiyama' from 'Ueno's First Cherry Blossoms Mistaken for Clouds' ]
CAST :
Kōchiyama Sōshun

Matsumoto Hakuō

Matsue, Lord of Izumo

Nakamura Shikan

Miyazaki Kazuma

Ichikawa Komazō

Takagi Kozaemon

Nakamura Karoku
STORY :
The tea priest Kōchiyama is a skilled thief and extortionist, and he is now on a special mission that is also a money-making scheme. He disguises himself as a high-ranking priest to try to gain the freedom of a girl held by a powerful samurai lord after she refuses to become his mistress. Kōchiyama not only succeeds in his mission to rescue the girl but manages to extort a fair amount of cash for himself.
YOSHITSUNE KOSHIGOE JŌ
Goto Sanbasō
['Gotobē's Sanbasō Dance' from 'Yoshitsune's Letter sent from Koshigoe']
CAST :
Gotobē Moritsugu

 Matsumoto Hakuō 

Minamoto no Yoshitsune

 Nakamura Shikan 

Kamei no Rokurō

 Ichikawa Ennosuke 

Izumi no Saburō Tadahira

 Nakamura Karoku 
STORY :
Though set in the 12th century, this history play in fact concerns Toyotomi Hideyori and his retainers who will be crushed by the military dictator Tokugawa Ieyasu. Minamoto no Yoshitsune is suspected by his brother Yoritomo of being a traitor, despite his distinguished service in destroying their rival Heike clan. He indulges in drinking after being turned down by his brother. His retainer Kamei no Rokurō remonstrates with him, but he will not listen. Another loyal retainer Izumi no Saburō leads in Gotobē, who is disguised as a swordsmith of hilt ornaments, to recommend as a strategist for the battle against Yoritomo, but his evil retainers make Gotobē drunk. Yoshitsune is enraged at Gotobē's drunkenness and Saburō exits mortified. Gotobē performs the Sanbasō dance while fighting off the Takeda footmen before leaving the mansion.
RENJISHI
['Parent and Child Lion Dance']
CAST :
The actor Ukon, later, the spirit of the parent lion

 Ichikawa Ennosuke 

The actor Sakon, later, the spirit of the lion cub

 Ichikawa Danko 
STORY :
A dance adapted from a tale of the legendary shishi, a mythical lion-like beast.
Two entertainers dance the tale of the legendary shishi or lion-like beasts that live at the foot of a holy Buddhist mountain. Later, the shishi themselves appear and perform their dance with wild shaking of their long manes. The dance shows a parent shishi forcing its cub to undergo harsh training in order to grow up strong. This theme is based on the legend that the shishi will push its cubs over a steep cliff as a test of their strength, only nurturing those cubs strong enough to climb up by themselves.
IWASHIURI KOI NO HIKIAMI
['The Sardine Seller and the Net of Love']
CAST :
Sarugenji, a sardine seller

 Nakamura Kankurō 

Hotarubi, a courtesan,
in reality, the Princess of Tankaku Castle

 
 Nakamura Shichinosuke 

The master of the house of the pleasure

 Ichikawa Monnosuke 

Ebina Naamidabutsu

 Nakamura Tōzō 
STORY :
This is a modern comic play by novelist Mishima Yukio which recreates the leisurely atmosphere of early 18th century kabuki. A sardine seller famous for his vigorous sales' calls falls in love with a beautiful courtesan who is actually a princess who ran away from her family after falling in love with the calls of a sardine seller. Not knowing her true identity, the sardine seller disguises himself as a wealthy patron in order to be with her. What will happen when they discover their mutual love for each other?