Kabukiza Theatre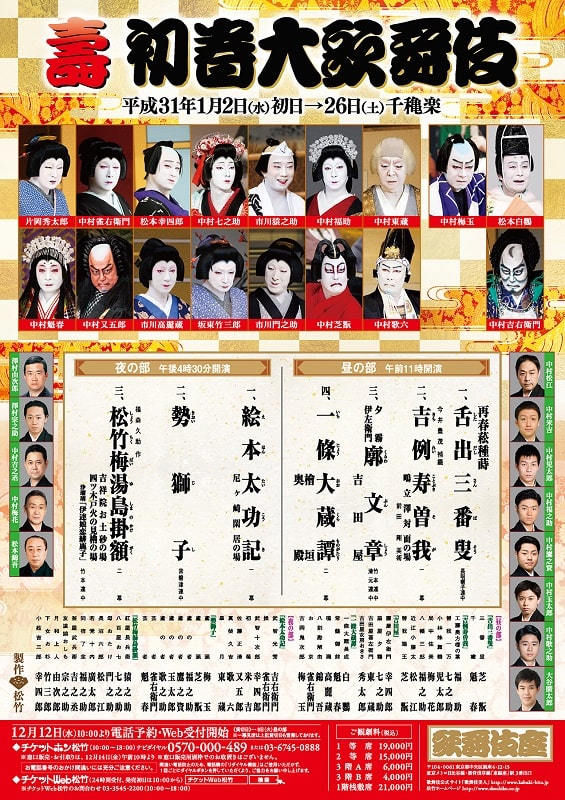 January

at the Kabukiza Theatre

Daily: Jan 02 (Wed) - Jan 26 (Sat), 2019

Matinee:11:00 AM

Evening Show: 4:30 PM

*Reserved seats for the Matinee are sold out on the 8th (Tue). (Single Act Seats will still be available.)

Time Schedule

On sale: from Dec 12 (Wed), 2018 10:00AM(JST) 2018:12:12:10:00:00

Box Seat: 21,000 / First Class: 19,000 / Second Class: 15,000 / Upper Tier A: 6,000 / Upper Tier B: 4,000
Unit: Japanese Yen (tax included)

Kabukiza Theatre (at TOKYO) Theatre Information
At this time of year when many traditional events to celebrate the New Year are held, the Kabukiza Theatre is filled with a gorgeous atmosphere and the programs are auspicious and lively. Festive dances, 'jidaimono' history plays and 'sewamono', a category of plays portraying the lives of ordinary people in the Edo period (1603-1868), will be performed both in the Matinee and the Evening Shows. It will be a very good opportunity to experience kabuki and Japanese culture.
SHITADASHI SANBASŌ
[ The Sanbasō with his Tongue Sticking Out ]
CAST :
Sanbasō

Nakamura Shikan

Senzai

Nakamura Kaishun
STORY :
Based on the ritual performance named 'Okina' in the Nō, Sanbasō is a vigorous dance that is also an important prayer for prosperity. There are many variations that have evolved in kabuki and as its common title suggests, it is said that this particular dance originally featured Sanbasō sticking out his tongue, an action both humorous and considered lucky.
KICHIREI KOTOBUKI SOGA
[ Meeting in the snow ]
CAST :
Naginoha, Kudō's wife

Nakamura Fukusuke

Soga no Ichiman

Nakamura Shichinosuke

Soga no Hako'ō

Nakamura Shikan
STORY :
This piece is an act of a history play based on the legend of the Soga brothers' vendetta and performed as a festive play to celebrate the New Year.
Kudō Suketsune's wife Naginoha comes to Ōiso to visit Izusan Shrine and Hakone Shrine on behalf of her busy husband. Ichiman and Hako'ō appear to avenge their father who was killed by Suketsune. Naginoha tells them to wait for the chance and gives them the pass to enter the hunting ground which Suketsune left her.
KURUWA BUNSHŌ
Yoshidaya
[ Love Letters from the Licensed Quarters ]
CAST :
Fujiya Izaemon

Matsumoto Kōshirō

Yūgiri of the Ōgiya, a courtesan

Nakamura Shichinosuke

Kizaemon of the Yoshidaya

Nakamura Tōzō

Okisa, Kizaemon's wife

Kataoka Hidetarō
STORY :
This is a dance drama portraying a scene in the pleasure quarters in Osaka at the New Year in the Edo Period.
The young lover Izaemon has been disowned by his family for loving the courtesan Yūgiri. He now has nothing but a paper kimono. He visits the Yoshidaya brothel to meet Yūgiri. It has been a long time since they last met and they have a jealous quarrel. After that, they make up, and the news comes in that Izaemon's parents have given them permission to marry.
ICHIJŌ ŌKURA MONOGATARI
Higaki, Okuden
[ The Tale of the Aristocrat Ichijō Ōkura ]
CAST :
Ichijō Ōkura Naganari, a lord

Matsumoto Hakuō

Tokiwa Gozen, his wife

Nakamura Kaishun

Naruse

Ichikawa Komazō

Okyō

Nakamura Jakuemon

Yoshioka Kijirō

Nakamura Baigyoku
STORY :
This is a 'jidaimono' history play set in the 12th century.
The Genji retainer Kijirō and his wife Okyō believed that Lady Tokiwa, the widow of the Genji leader Yoshitomo, had given up on her clan's struggle against the enemy Heike, but they rejoice to find that she secretly prays for the Heike's downfall. Yatsurugi Kageyu, one of the retainers of her current husband, the aristocrat Ōkura, discovers this. When he declares that he will tell Kiyomori about Lady Tokiwa's secret, he is killed by Ōkura. Though Ōkura seems to be nothing more than a fool, this is actually an elaborate disguise to survive in this turbulent world.
EHON TAIKŌKI
Amagasaki Kankyo
[ 'The Retreat at Amagasaki' from 'Picture Book of the Taikō Chronicles' ]
CAST :
Takechi Mitsuhide

Nakamura Kichiemon

Misao, Mitsuhide's wife

Nakamura Jakuemon

Takechi Jūjirō, Mitsuhide's son

Matsumoto Kōshirō

Satō Masakiyo

Nakamura Matagorō

Mashiba Hisayoshi

Nakamura Karoku

Satsuki, Mitsuhide's mother

Nakamura Tōzō
STORY :
This is a 'jidaimono' history play portraying General Akechi Mitsuhide's life after his rebellion.
Mitsuhide has killed his lord Oda Harunaga and taken over the country, but after a few days, he is in danger of losing all that he has gained to his rival general Hisayoshi. Mitsuhide intends to attack Hisayoshi with a bamboo spear, only to find that he has fatally wounded his own mother. His mother and wife reprimand him for the disloyal act of killing his lord, but he refuses to repent. His will of steel is only broken when his son arrives to report on the battle and dies from his injuries.
KIOI JISHI
[ The Spirited Lion ]
CAST :
Fireman chief

Nakamura Baigyoku

Fireman chief

Nakamura Shikan

Geisha

Nakamura Jakuemon

Geisha

Nakamura Kaishun
STORY :
This dance depicts the Sannō festival in Edo (old Tokyo) with its lively lion dance and other entertainments. The festival is full of handsome firemen and attractive geisha who perform a series of graceful dances. One of the highlights of this dance is the story of the Soga brothers avenging their father's death.
SHŌCHIKUBAI YUSHIMA NO KAKEGAKU
[ The Greengrocer's Daughter, Oshichi ]
CAST :
Beniya Chōbē

Ichikawa Ennosuke

Oshichi, daughter of the greengrocer

Nakamura Shichinosuke

Kichisaburō, a page

Matsumoto Kōshirō
STORY :
This is a 'sewamono' play adapted from a real event from the 17th century.
The greengrocer's daughter Oshichi flees from the army of Minamoto no Noriyori into Kisshōin Temple in Hongō-Komagome. Oshichi loves Kichisaburō, a page of this temple, but instead her mother betrothes her to a money lender to whom they owe money.
As Noriyori sends his retainer to take her as his mistress, Beniya Chōbē hides her above the building's transom and sprinkles sand on the pursuers which softens everything.
On a snowy winter night Oshichi climbs up to the fire watchtower and beats the drum to make the gates open in order to go to Kichisaburō.