Kabukiza Theatre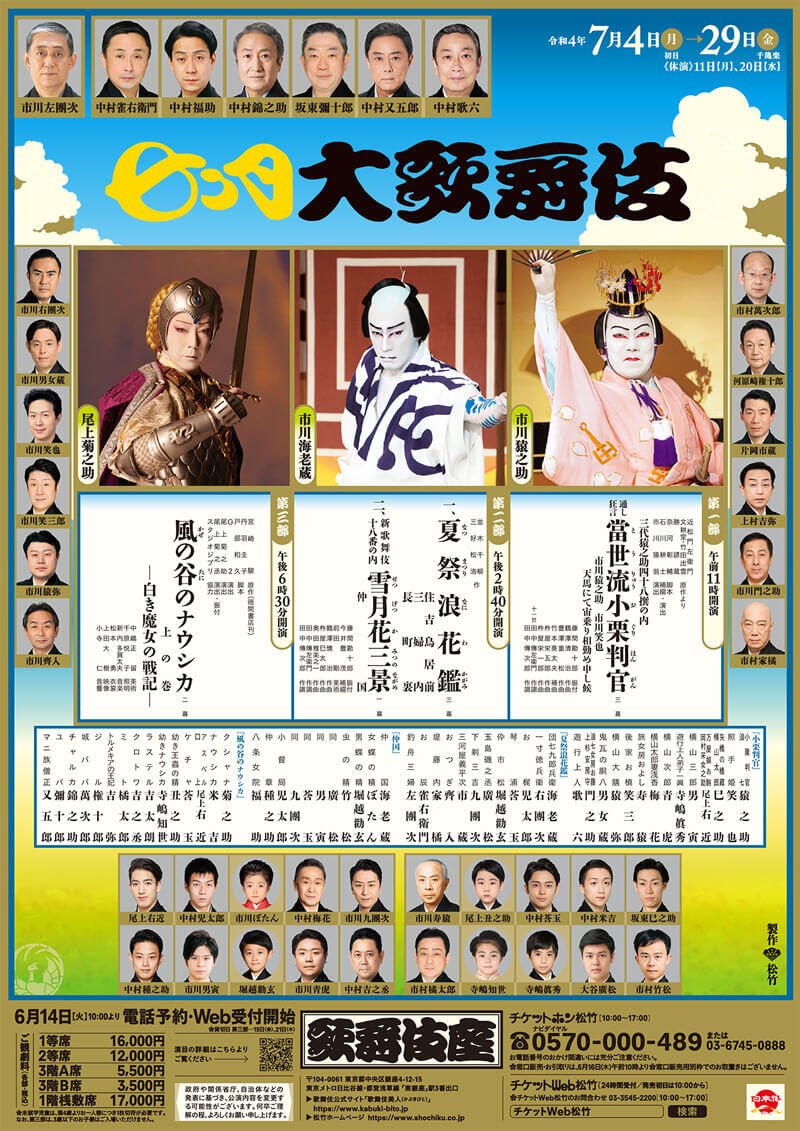 July Program

at the Kabukiza Theatre

Daily: Jul 04 (Mon) - Jul 29 (Fri), 2022

Part 1: 11:00 AM

Part 2: 2:40 PM

Part 3: 6:30 PM

*No performances on the 11th (Mon) and the 20th (Wed).
*Reserved seats for Part 3 are sold out on the 15th (Fri) and the 21st (Thu).
*The theatre will open 40 minutes before the performance starts.

[Important Notice]
●Notification of the cancellation of July 23 - 29 performances (July 22)

●Notice about the Kabukiza Theatre's operations from 2022
●Precautionary Measures at the Kabukiza Theatre from 2022


●(Updated)Notification of the cancellation of July 21st and 22nd performances (July 20)

●(Updated)Notification of the cancellation of July 19th Part 2, Part 3 performances (July 19)

●(Updated) Notification of the cancellation of July 18th-19th Part 1 performances (July 18)



On sale: from Jun 14 (Tue), 2022 10:00AM(JST) 2022:06:14:10:00:00

Box Seat: 17,000 /First Class Seat: 16,000 /Second Class Seat: 12,000 /Upper Tier A : 5,500 /Upper Tier B : 3,500
Unit: Japanese Yen (tax included)
*Part 1, Part 2: Children over the age of 4 must purchase tickets to enter.
Part 3: Children aged 3 or under may not enter. Those over the age of 4 must purchase tickets to enter.

*Single Act Seats are not for sale.
*All sections of the auditorium will generally be sold in two-seat blocks, with every third seat vacant.
*Tea will not be offered at the Box Seats. Please refrain from eating at seats as well.


Kabukiza Theatre (at TOKYO) Theatre Information
*No English supporting guide available.
In Part 1, you will see a popular masterpiece from "the Forty-eight Plays Selected by Ichikawa Ennosuke III" with spectacular staging and a flight through the air. The work is filled with high romance as its turbulent events unfold. In Part 2, a popular play is performed set in old Osaka in midsummer. It portrays valiant commoners who make every effort for the son of their benefactor and his lover. In addition, a powerful dance drama is staged depicting the love of nobles, the highlight of which is a pretty dance by the spirits of butterflies. In Part 3 "Nausicaä of the Valley of the Wind", which was adapted for kabuki in December 2019 and which received critical acclaim, will be performed for the first time at the Kabukiza Theatre, this time focusing on Princess Kushana.
Performance Time:
11:00 AM - 12:17 PM
(Intermission: 30 minutes)
12:47 PM - 1:40 PM
TŌRYŪ OGURI HANGAN

['The Modern Story of Oguri Hangan']
CAST :
Oguri Hangan/Namishichi

Ichikawa Ennosuke

Princess Terute

Ichikawa Emiya

Yabase no Hashizō/Yokoyama Tarō

Bandō Minosuke

Okoma, a daughter of Yorozuya's master/Okamura Unemenosuke


Onoe Ukon

Isshin, a disciple of Saint Yugyō

Terajima Maholo

Saint Yugyō

Nakamura Karoku
STORY :
By order of the Shogun, Oguri Hangan becomes engaged to Princess Terute, the daughter of the lord of Hitachi domain, Yokoyama Gunji. The domain was to be handed down to Oguri, but Gunji's brother Yokoyama Daizen and his sons, who plot to usurp the domain, steal the deeds and an heirloom from Gunji's mansion, kill Gunji and confine Princess Terute there. Daizen conspires further to assassinate Oguri, and leads out the unruly horse Onikage, but Oguri manages to tame it with his excellent equestrian skill. Discovering the truth that Daizen and his sons killed Gunji, he determines to avenge Gunji's death. Meanwhile, as she shelters from danger, Princess Terute is helped out by chance by the fisherman Namishichi who formerly served Oguri. As Namishichi is very faithful, he promises to reunite her with Oguri. Finally, they have a reunion at an unexpected place but ...
Performance Time:
2:40 PM - 4:40 PM
NATSU MATSURI NANIWA KAGAMI
Torii Mae, Sabu Uchi, Nagamachi Ura
['The Summer Festival in Old Osaka - Sumiyoshi Shrine, Sabu's House and the Back Lane at Nagamachi']
CAST :
Danshichi Kurobē

Ichikawa Ebizō

Issun Tokubē

Ichikawa Udanji

Okaji, Danshichi's wife

Nakamura Kotarō

Ichimatsu, Danshichi's son

Horikoshi Kangen

Otatsu, Tokubē's wife

Nakamura Jakuemon

Tsurifune no Sabu

Ichikawa Sadanji
STORY :
This is a 'sewamono' play, a work portraying in a realistic way the lives of ordinary people in the Edo Period (1603-1868). This popular work shows the pride of a chivalrous man in old Osaka. Danshichi, a gallant fishmonger, does everything he can to protect the son of his patron with the assistance of his companions Tokubē and Sabu, and even Tokubē's wife heroically helps out by sacrificing her beautiful face. But in the end, Danshichi is betrayed by his evil father-in-law Giheiji. In the famous climax of the play, Danshichi is forced to kill Giheiji in a muddy field down a lonely back alley. As the two struggle desperately, Danshichi's beautiful tattoos are exposed and they strike a series of magnificent poses.
Performance Time:
5:00 PM - 5:38 PM
SETSUGETSUKA MITSU NO NAGAME
Nakakuni
['The Seasonal Beauty of Snow, Moon and Flowers']
CAST :
Nakakuni

Ichikawa Ebizō

The spirit of a female butterfly

Ichikawa Botan

The spirit of a male butterfly

Horikoshi Kangen

Hachijō Nyoin

Nakamura Fukusuke
STORY :
Though Lady Kogō is loved by Emperor Takakura, she fears the Empress' father Taira no Kiyomori and goes undercover. While she is absent, a period of turmoil ensues caused by famine and epidemic in the capital. Ordered to protect her by the Emperor, Minamoto no Nakakuni sets out for Ōhara with the spirits of insects and butterflies in order to pray for an abundant harvest and peace throughout the Empire. Lady Kogō awaits him there.
Performance Time:
6:30 PM - 7:52 PM
(Intermission: 30 minutes)
8:22 PM - 9:08 PM
KAZE NO TANI NO NAUSICAÄ
Jō no Maki ―Shiroki Majo no Senki―
['The first half of "Nausicaä of the Valley of the Wind" ―The War Chronicles of the White Witch―']
CAST :
Kushana

Onoe Kikunosuke

Nausicaä

Nakamura Yonekichi

Charuka

Nakamura Kinnosuke

Yupa

Bandō Yajūrō

The chief priest of the Mani tribe

Nakamura Matagorō
STORY :
A thousand years have passed since the great industrial civilization was destroyed. The entire earth is now covered with a vast Sea of Decay, giving off noxious fumes among which giant insects swarm. Nevertheless, conflict has not ended, and two big countries, the Kingdom of Tolmekia and the Dorok Principalities, continue to oppose each other.
The Valley of the Wind, a remote and small country, formed an alliance with Tolmekia long ago. Following that alliance, Nausicaä, the daughter of the chieftain, embarks for the battlefront and stands by Kushana, the noble princess of Tolmekia who is called 'The White Witch'. As Kushana is the only one who inherits the blood of the late great King, she is a target for others and her life is in danger. Taking her place, her mother goes insane after drinking poisoned alcohol. With high aspirations and the trust of her subordinates, Kushana stands at the battlefront, and fights not only her enemies, but also the conspiracies of her allies…