Kabukiza Theatre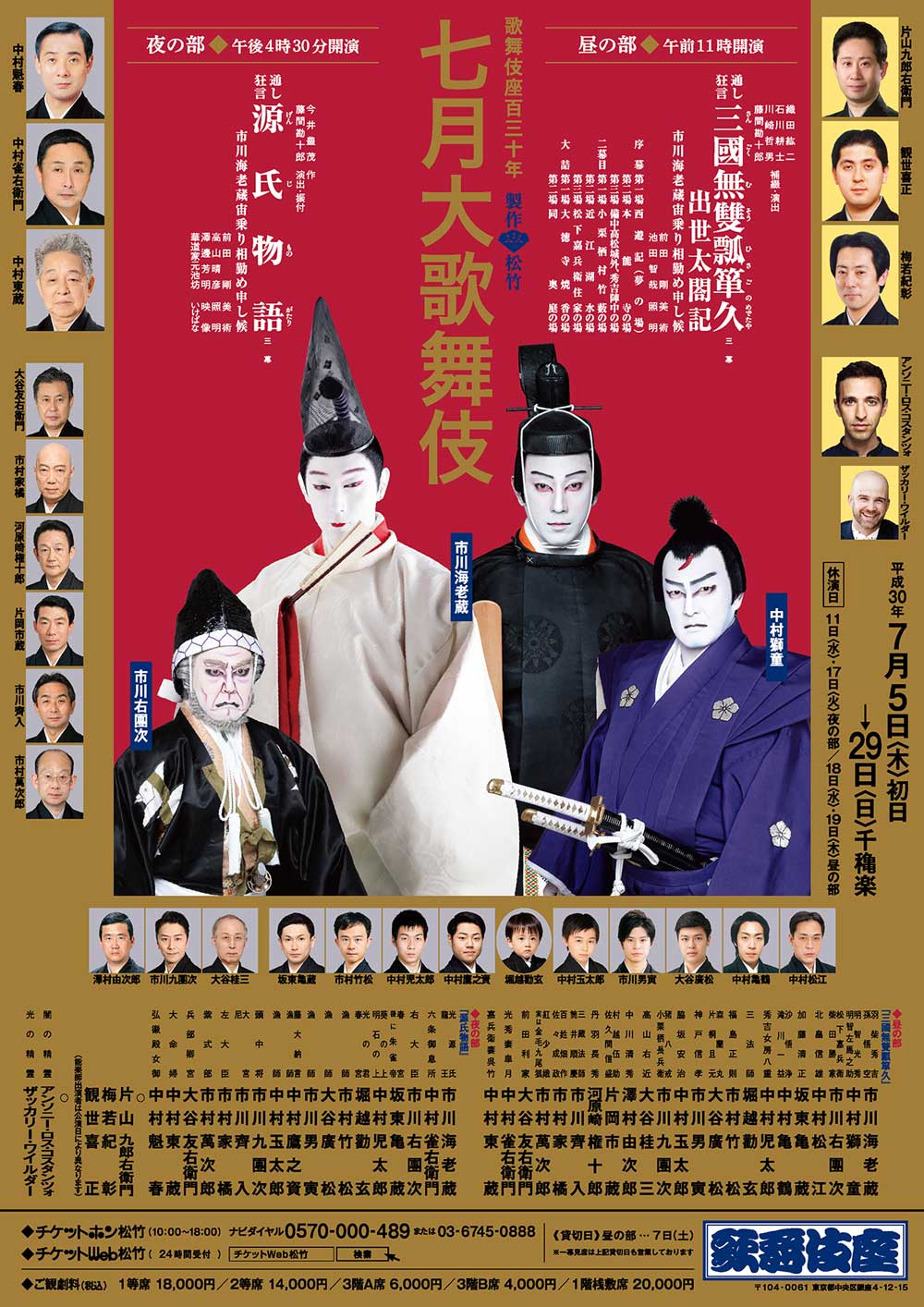 July

at the Kabukiza Theatre

Daily: Jul 05 (Thu) - Jul 29 (Sun), 2018

Matinee:11:00 AM

Evening show: 4:30 PM

*No Evening show on the 11th (Wed) and the 17th (Tue).
*No Matinee on the 18th (Wed) and the 19th (Thu).
*Reserved seats for the Matinee are sold out on the 7th (Sat). (Single Act Seats will still be available.)

Time Schedule

On sale: from Jun 12 (Tue), 2018 10:00AM(JST) 2018:06:12:10:00:00

Box Seat: 20,000 / First Class: 18,000 / Second Class: 14,000 / Upper Tier A: 6,000 / Upper Tier B: 4,000
Unit: Japanese Yen (tax included)

Kabukiza Theatre (at TOKYO) Theatre Information
The year 2018 is the 130th year since the opening of the Kabukiza Theatre.
This month's programs both star one of Kabuki's leading actors, Ichikawa Ebizō. In the Matinee there is a revival of a classic work portraying the historical figure of Toyotomi Hideyoshi. In the Evening Show, the play 'GENJI MONOGATARI' will be staged, based on the literary classic that has been loved for centuries in Japan. The beautiful love story unfolds around the protagonist Hikaru Genji. Both programs are full-length performances that will include the stunt of flying through the air. Both are well worth seeing.
SANGOKU MUSŌ HISAGO NO MEDETAYA
[Chronicles of the Rise of Toyotomi Hideyoshi ]
CAST :
Hashiba Hideyoshi/Sun Wukong

Ichikawa Ebizō

Akechi Mitsuhide/Akechi Samanosuke

Nakamura Shidō

Matsushita Kahē/Shibata Katsuie

Ichikawa Udanji

Yae, Hideyoshi's wife

Nakamura Kotarō

Sanbōshi

Horikoshi Kangen

Satsuki, Mitsuhide's Wife

Nakamura Jakuemon

Kuretake, Kahē's wife

Nakamura Tōzō
STORY :
This is a full-length production of a play portraying the rise of the warlord Toyotomi Hideyoshi.
Oda Nobunaga was about to realize his ambition of unifying Japan, when Akechi Mitsuhide, one of his most trusted generals, raised a rebellion against him. At the time, Hashiba (later, Toyotomi) Hideyoshi was at war with the Mōri clan in Bitchū, but as soon as he heard this news he returned to Kyōto to avenge his lord Nobunaga's death by defeating Mitsuhide. In his youth, Hideyoshi was once apprenticed to a samurai named Matsushita Kahē. Since Kahē supports Mitsuhide's clan, Hideyoshi makes him a present of the boy Jūjirō who was brought up as Mitsuhide's son. This gift placates the old man's anger. However, Hideyoshi discovers from the amulet that Jūjirō was wearing that Jūjirō is, in fact, his own son.
After Nobunaga's death, many of Nobunaga's retainers commend Nobunaga's sons, Nobukatsu or Nobutaka, as Nobunaga's successor, but Hideyoshi objects, saying that Nobunaga's sons don't deserve to be his successor because they didn't avenge their father's death. He persuades them that Nobunaga's grandchild Sanbōshi should be the successor and seizes real power as his guardian.
GENJI MONOGATARI
[ The Tale of Genji ]
CAST :
Hikaru Genji/Dragon King

Ichikawa Ebizō

Minister of the Right

Ichikawa Udanji

Aoi no Ue/Akashi no Ue

Nakamura Kotarō

Hikaru (in childhood)/Crown Prince

Horikoshi Kangen

Murasaki Shikibu

Ichimura Manjirō

Rokujō no Miyasudokoro

Nakamura Jakuemon

Ōmyōbu

Nakamura Tōzō

Kokiden no Nyōgo

Nakamura Kaishun
                              ○
                             Katayama Kurōemon
                             Umewaka Kishō
                             Kanze Yoshimasa
                             *Whichever Nō performer appears depends
                             on the day.
                             ○
Apparition of Darkness

Anthony Roth Costanzo

Apparition of Light

Zachary Wilder
STORY :
This play is an adaptation of the oldest novel in the world written by Murasaki Shikibu more than 1000 years ago, and which is still popular to this day.
As the play begins, Murasaki Shikibu is writing 'The Tale of Genji' in Ishiyama-dera Temple. It is a moving story about the courtier Hikaru Genji who was blessed with shining beauty and talent. He was born an imperial prince in the ancient capital of Kyōto but was the subject of great envy among others at the imperial court. Furthermore, tragedy struck at an early age when he lost his mother. Anxious about his future and wishing to protect him against court intrigue, his father, Emperor Kiritsubo, demoted him to the rank of subject. Not understanding the reason for this, Genji felt abandoned and there was a darkness in the depths of his heart. This mixture of light and darkness inspires Murasaki Shikibu to continue the story.
In this production, Nō performers and opera singers will join the performance to create a new style of kabuki combining the traditional performing arts with the latest technology!