Kabukiza Theatre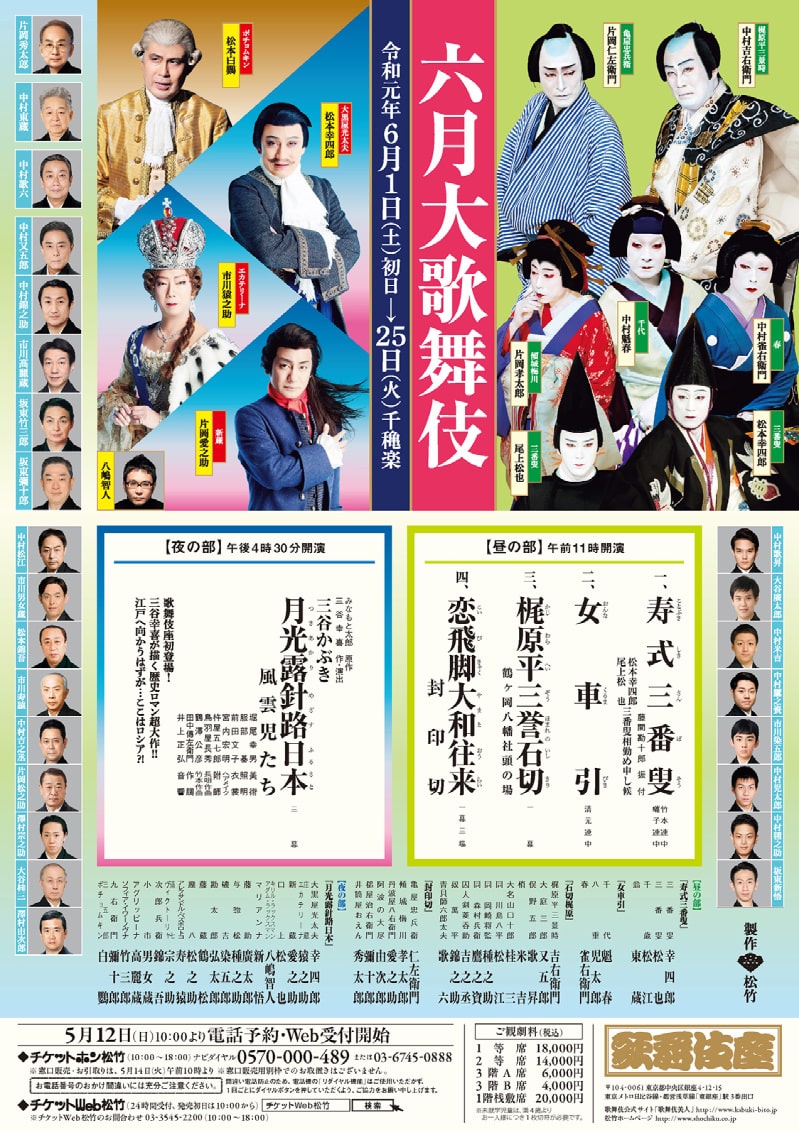 June

at the Kabukiza Theatre

Daily: Jun 01 (Sat) - Jun 25 (Tue), 2019

Matinee:11:00 AM

Evening Show: 4:30 PM

Time Schedule

On sale: from May 12 (Sun), 2019 10:00AM(JST) 2019:05:12:10:00:00

Box Seat: 20,000 / First Class: 18,000 / Second Class: 14,000 / Upper Tier A: 6,000 / Upper Tier B: 4,000
Unit: Japanese Yen (tax included)
*Children over the age of 4 must purchase tickets to enter.

Kabukiza Theatre (at TOKYO) Theatre Information
In the Matinee you can enjoy two impressive plays, a 'jidaimono' history play and a 'sewamono' play which depicts the lives of ordinary people in the Edo era. You can also see two dances, the first a lively performance featuring a pair of Sanbasō characters, and the next an impressive showpiece for three 'onnagata' female role specialists.
In the Evening Show a brand-new kabuki play by Mitani Kōki, a representative playwright and director in contemporary Japan, will be performed. Please look forward to seeing how a popular manga will be adapted for kabuki.

KOTOBUKI SHIKI SANBASŌ
[ 'Festival Dance' ]
CAST :
Sanbasō

Matsumoto Kōshirō

Sanbasō

Onoe Matsuya

Okina

Nakamura Tōzō
STORY :
‵Sanbasō'is an important celebratory dance, a ritual featuring the old man Okina (actually a divine character) and a pair of vigorous Sambasō characters. The old man is a symbol of abundant harvests, eternal youth and a peaceful reign. As the Sanbasō stamps and shakes his bells on stage, he prays for agricultural fertility and prosperity for all. A good work of congratulation to open the all-star program this month.
ONNA KURUMABIKI
[ 'Women Pulling a Carriage Apart' ]
CAST :
Chiyo

Nakamura Kaishun

Yae

Nakamura Kotarō

Haru

Nakamura Jakuemon
STORY :
A loyal farmer named Shiratayū who served Sugawara no Michizane (Kan Shōjō) has three sons: Matsuōmaru who serves Fujiwara no Shihei, Umeōmaru who serves Kan Shōjō, and Sakuramaru who serves the Emperor's brother. Slandered by Shihei, Shōjō is exiled to Tsukushi and the three fall out. Their respective wives, Chiyo, Haru and Yae, meet together in front of the Yoshida Shrine in Kyoto. They describe in dance how they pull a cart in footmen's costume and how they cook to celebrate their father-in-law's 70th birthday.
KAJIWARA HEIZŌ HOMARE NO ISHIKIRI
[ 'The Stone-cutting Feat of Kajiwara' ]
CAST :
Kajiwara Heizō Kagetoki

Nakamura Kichiemon

Ōba Saburō

Nakamura Matagorō

Matano Gorō

Nakamura Kashō

Kozue

Nakamura Yonekichi

Manpei, a footman

Nakamura Kinnosuke

Rokurodayū, a mother-of-pearl craftsman

Nakamura Karoku
STORY :
This play is one act from a 'jidaimono' history play set in the 12th century. The Taira general Kajiwara is asked to test the sharpness of a sword by slicing two live human beings in half. The sword is a priceless heirloom belonging to the enemy Genji clan, and he deliberately fails the test in order to keep it from falling into the hands of his Taira clan. A miracle has convinced Kajiwara to change sides. Kajiwara finally demonstrates the true power of the sword by cutting a large stone basin in two.
KOI BIKYAKU YAMATO ŌRAI
Fūinkiri
[ 'Breaking the Seal' from 'The Love Messenger to Yamato' ]
CAST :
Kameya Chūbē

Kataoka Nizaemon

Umegawa, a courtesan

Kataoka Takatarō

Tanbaya Hachiemon

Kataoka Ainosuke

Tsuchiya Jiemon

Bandō Yajūrō

Oen, proprietress of Izutsuya

Kataoka Hidetarō
STORY :
The main character Chūbē is performed in the 'wagoto' acting style. 'Wagoto' is representative of plays from the Kamigata area (Kyoto/Osaka). Often partnering courtesans, such characters are handsome male leads with gentle natures who also exhibit a slightly comical side.
In the pleasure quarters, the most important possessions were money and reputation. In danger of losing his lover, the courtesan Umegawa, the money courier Chūbē breaks the seals on a package of money entrusted to him after being taunted by a rival, even though the use of such money is punishable by death.
Mitani Kabuki
TSUKIAKARI MEZASU FURUSATO
Fūunji tachi
[ 'Heading for Home under the Moonlight' adapted from the manga 'The Lucky Adventurers' ]
CAST :
Daikokuya Kōdayū

Matsumoto Kōshirō

Shōzō/Catherine

Ichikawa Ennosuke

Shinzō

Kataoka Ainosuke

Prologist

Onoe Matsuya

Kirill Laxman/Adam Laxman

Yashima Norito

Marianna

Bandō Shingo

Tōsuke

Ōtani Hirotarō

Yosomatsu

Nakamura Tanenosuke

Isokichi

Ichikawa Somegorō

Ikuhachi

Kataoka Matsunosuke

Seishichi/Viktoriya

Sawamura Sōnosuke

Jirobē

Matsumoto Kingo

Koichi

Ichikawa Omezō

Agrippina

Ichikawa Komazō

Kyūemon

Bandō Yajūrō

Sangorō/Potemkin

Matsumoto Hakuō
STORY :
This is a brand-new kabuki play written and directed by Mitani Kōki, and adapted from 'Fūunji tachi,' a historical manga by Minamoto Tarō.
In 1782 when Japan pursued a policy of national isolation, the merchant vessel Shinshōmaru sailed out from Ise to Edo (the old name for Tokyo) and was caught in a violent storm, losing its sail and rudder. The crew, 17 men under the captain, Daikokuya's son Kōdayū, lost control and the vessel was left to drift on the open sea.
After 8 months they land on Amchitka island in the territory of Russia. Kōdayū starts his life there puzzled by the foreign language and culture. Some of the crew dies, but Kōdayū survives and sets sail for the Russian mainland in the vessel they make for themselves.
They go further into Russia to carry out procedures of departure. People help them wherever they go and they finally manage to have an audience with Empress Catherine.