Kabukiza Theatre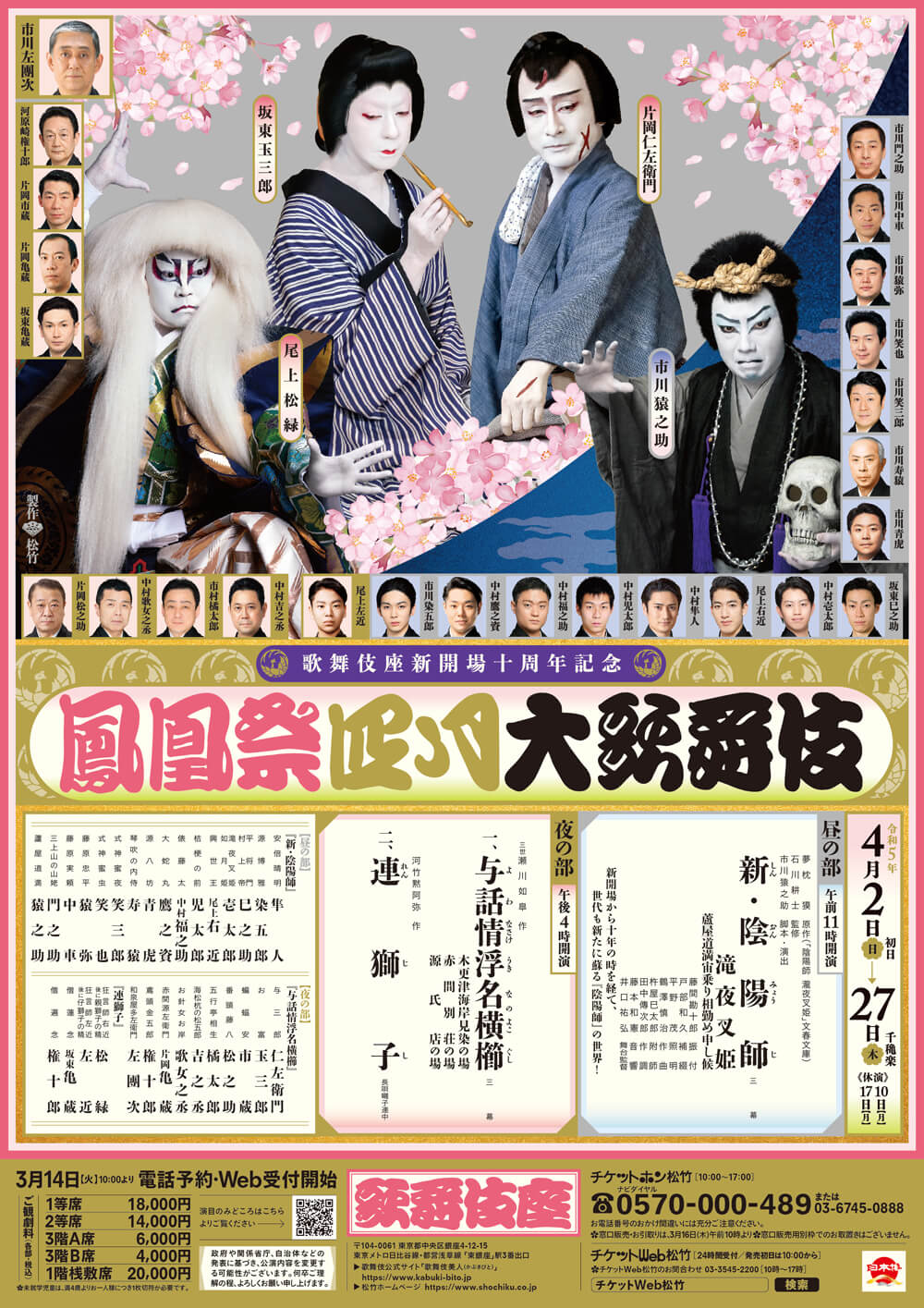 The Kabukiza Theatre celebrates its 10th anniversary since its reopening in April 2013.
In the Matinee we present a new kabuki production which was first performed in September 2013, but this time with a cast of actors from the younger generation. Please enjoy the world of "The Court Astrologer" including a 'chūnori' flight through the air as its highlight.
In the Evening Show you will see a masterpiece of the 'domestic play' category which portrays the checkered destinies of a man and a woman who meet by chance and fall in love, plus a representative work of kabuki dance in which a parent lion with a white mane and a lion cub with a red mane swing their wigs vigorously.
Performance Time:
11:00 AM - 11:56 AM
(Intermission: 35 minutes)
12:31 PM - 1:27 PM
(Intermission: 25 minutes)
1:52 PM - 2:52 PM
SHIN ONMYŌJI
Takiyasha Hime

['The Court Astrologer, a new version']
CAST :
Abe no Seimei

Nakamura Hayato

Minamoto no Hiromasa

Ichikawa Somegorō

Taira no Masakado / Emperor Murakami

Bandō Minosuke

Princess Takiyasha / Princess Kisaragi

Nakamura Kazutarō

Prince Okiyo

Onoe Ukon

Kikyō no mae

Nakamura Kotarō

Tawara no Tōda

Nakamura Fukunosuke

Orochimaru

Nakamura Takanosuke

A mountain witch at Mt. Mikami

Ichikawa Monnosuke

Ashiya Dōman

Ichikawa Ennosuke
STORY :
In the 10th century, Taira no Masakado rebels against the Imperial Court and gains control of the eastern provinces with Prince Okiyo. Ordered by the Emperor, Tawara no Tōda subjugates Masakado with an arrow which the wizard and astrologer Ashiya Dōman gave him, but Masakado's severed head gets lost. Abe no Seimei, the young court astrologer who is popular in the capital, and his friend Minamoto no Hiromasa fear Masakado's vengeful ghost. One day, they encounter a lady who names herself Itotaki. Hiromasa falls in love with her at first sight, but she is in reality Masakado's sister Princess Takiyasha. Aided by Orochimaru, Seimei confronts those who plot to revive Masakado in the capital where mysteries occur one after another.
Performance Time:
4:00 PM - 4:43 PM
(Intermission: 20 minutes)
5:03 PM - 5:59 PM

YOWA NASAKE UKINA NO YOKOGUSHI

['Scarfaced Yosaburō']
CAST :
Yosaburō

Kataoka Nizaemon

Otomi

Bandō Tamasaburō

Kōmori Yasu

Kataoka Ichizō

Akama Genzaemon

Kataoka Kamezō

Kingorō, chief of a firefighting brigade

Bandō Kamezō *

Izumiya Tazaemon

Kawarasaki Gonjūrō *





*The cast has been changed from the initial announcement.
STORY :
On the beach, Yosaburō, the spoilt son of a wealthy family, meets Otomi, the mistress of a gang boss, and falls in love with her at first sight. The affair is soon found out by the gang boss and Yosaburō gets beaten up, suffering wounds all over his body. Thinking that Yosaburō died, Otomi throws herself into the sea. 3 years later, Yosaburō, who has become a petty thief, and his mentor Yasu, nicknamed 'the Bat', go to blackmail the mistress of a wealthy merchant, only to discover that it is Otomi, who also survived. In one of the most famous scenes in kabuki, Yosaburō pours out his resentment against Otomi and bemoans the fate that has destroyed his life. Then Otomi learns the secret about her situation...
Performance Time: 6:34 PM - 7:29PM

RENJISHI

['Parent and Child Lion Dance']
CAST :
The actor Ukon, later, the spirit of the parent lion

Onoe Shōroku

The actor Sakon, later, the spirit of the lion cub

Onoe Sakon

Rennen, a priest of the Nichiren Sect

Bandō Kamezō

Hennen, a priest of the Pure Land Sect

Kawarasaki Gonjūrō
STORY :
A dance adapted from a tale featuring the legendary 'shishi', a mythical lion-like beast. It is based on the idea that a 'shishi' will push its cubs over a steep cliff as a test of their strength, only nurturing those cubs strong enough to climb up by themselves. Two entertainers dance the tale of the legendary 'shishi' that live at the foot of a holy Buddhist mountain. The dance portrays a parent 'shishi' forcing its cub to undergo harsh training in order to grow up strong. In the finale, the 'shishi' themselves appear and perform their dance with the wild shaking of their long manes.