Kabukiza Theatre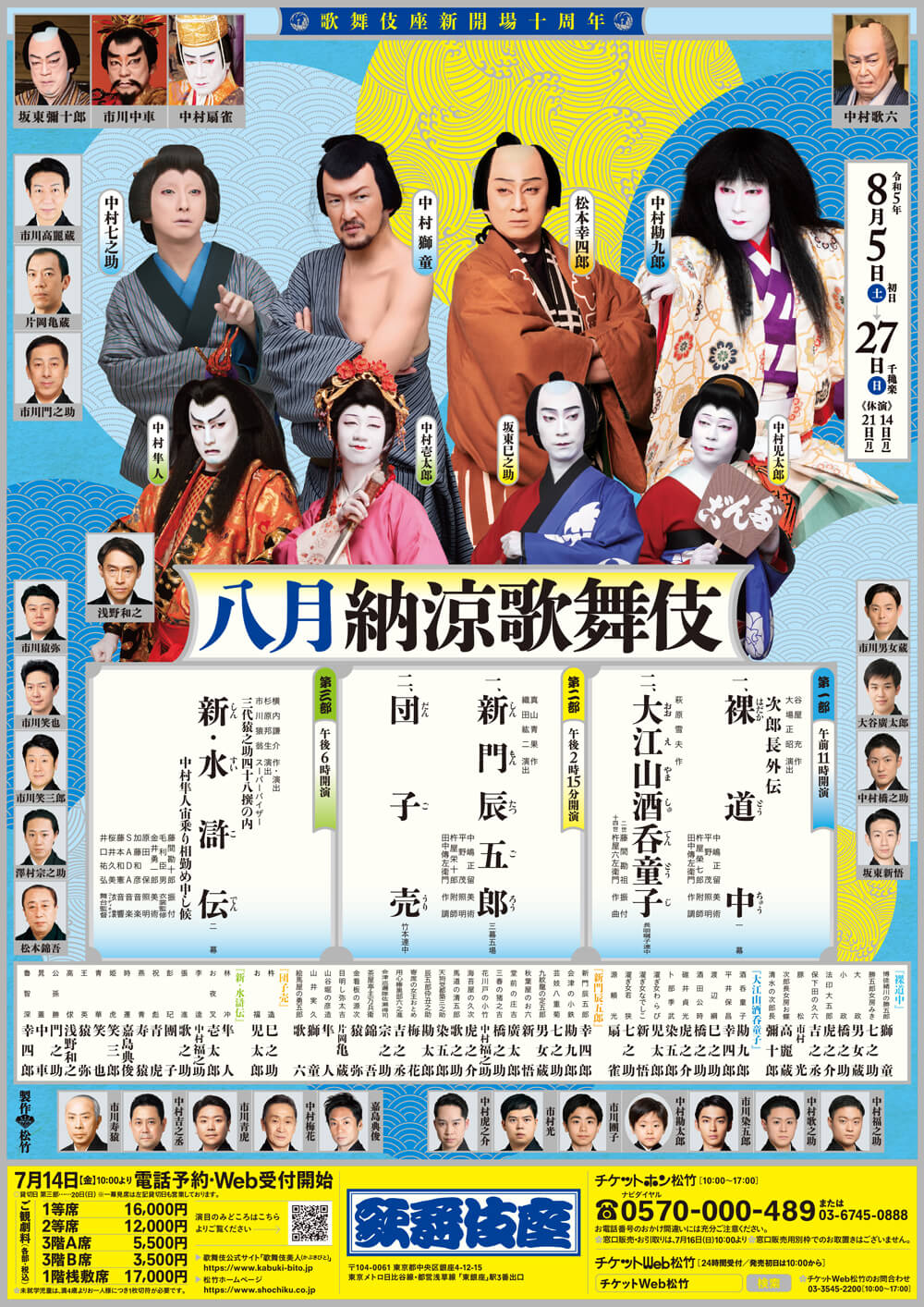 August Program

at the Kabukiza Theatre

Daily: Aug 05 (Sat) - Aug 27 (Sun), 2023

Part 1: 11:00 AM

Part 2: 2:15 PM

Part 3: 6:00 PM

*No performances on the 14th (Mon) and 21st (Mon).
*Reserved seats for Part 3 are sold out on the 20th (Sun). (Single Act Seats will still be available.)

[Important Notice]
●Precautionary Measures at the Kabukiza Theatre



On sale: from Jul 14 (Fri), 2023 10:00 AM(JST) 2023:07:14:10:00:00

Box Seat: 17,000 /First Class Seat: 16,000 /Second Class Seat: 12,000 /Upper Tier A: 5,500 /Upper Tier B: 3,500
Unit: Japanese Yen (tax included)
*Children over the age of 4 must purchase tickets to enter.

*Tea will not be offered at the Box Seats.


Kabukiza Theatre (at TOKYO) Theatre Information
The August Program will be divided into 3 parts.
In Part 1, you will see a play that will be performed as kabuki for the first time. Please enjoy the outcome that awaits the protagonist, who is fond of gambling. This is followed by a dance drama based on the legend of a demon's defeat and destruction.
In Part 2, you will see a play portraying a firefighter of Edo which will be performed for the first time since 1976, as well as a lively dance depicting a couple peddling rice dumplings.
In Part 3, a popular play based on "The Water Margin", one of the Four Great Chinese Fantasies, will be performed. It will include a 'chūnori' flight through the air, as well as stylized fight scenes and spectacular staging tricks typical of kabuki.
Performance Time: 11:00 AM - 11:49 AM
Jirochō Gaiden
HADAKA DŌCHŪ

[''The Naked Journey', an apocryphal story on Shimizu no Jirochō']
CAST :
Ogawa no Katsugorō, a gambler

Nakamura Shidō

Miki, Katsugorō's wife

Nakamura Shichinosuke

Ochō, Jirochō's wife

Ichikawa Komazō

Shimizu no Jirochō

Bandō Yajūrō
STORY :
Katsugorō, who lives in Ogawa village in Owari Province, cannot stop gambling and lives in poverty. He wears only a short coat, while his wife Miki must go around in nothing but an undershirt and waistcloth. As usual, they are quarrelling again today, on the day of the annual autumn festival. Shimizu no Jirochō, to whom he owes a debt of gratitude, visits them by chance with his wife Ochō and asks them for a night's lodging. Katsugorō is surprised at their reunion and plans to treat them somehow, and …
Performance Time: 12:24 PM - 1:18 PM
ŌEYAMA SHUTENDŌJI

['The Demon of Mt. Ōe']
CAST :
Shutendōji

Nakamura Kankurō

Hirai Yasumasa

Matsumoto Kōshirō

Minamoto no Raikō

Nakamura Senjaku
STORY :
This is a dance drama adapted from the legend of Shutendōji, a demon who loves drinking and lives on Mt. Ōe. Every night, Shutendōji abducts women from the capital and devours their flesh during the day. Ordered to slay this monster, Minamoto no Raikō goes to Mt. Ōe with his retainers disguised as mountain priests. The demon appears before them in the shape of a child. Knowing that Shutendōji loves drinking, Raikō wisely gives him alcohol to take away his power before slaying the demon.
Performance Time: 2:15 PM - 4:12 PM
SHINMON TATSUGORŌ

['Shinmon Tatsugorō']
CAST :
Shinmon Tatsugorō

Matsumoto Kōshirō

Aizu no Kotetsu

Nakamura Kankurō

Yaegiku, a geisha

Nakamura Shichinosuke

Yamanoi Sanehisa

Nakamura Shidō

Emaya no Yūgorō, a retired man of the "Wo" Group

Nakamura Karoku
STORY :
This play is set at the end of the Edo period, when conflict raged between one faction that favored the opening of Japan to foreign countries, and another faction that favored the exclusion of foreigners. This dispute even continued between the Tokugawa shogunate and the Imperial Court. In the play, Shinmon Tatsugorō, head of the "Wo" Group in Asakusa, the 10th firefighting brigade in Edo, has come to Kyoto at the request of the Mito domain to which he is indebted, in order to accompany the shogun who hopes to open the country. The group led by Tatsugorō becomes popular among the people in Kyoto. The Aizu domain which has defended Kyoto becomes jealous of this, and the two domains become further estranged. Tatsugorō shelters a young samurai of the Tengutō Party from the Mito domain at the house of the geisha Yaegiku, with whom he is familiar. This results in an incident. Tatsugorō is thus involved in a political dispute in Kyoto and …
Performance Time: 4:32 PM - 4:45 PM
DANGO URI

['The Dumpling Peddlers']
CAST :
Kinezō

Bandō Minosuke

Ofuku

Nakamura Kotarō
STORY :
This dance with Gidayū music portrays a couple making and selling rice dumplings on the streets. They demonstrate how they make the rice dumplings in a lively way. The making of rice dumplings is often associated with the prosperity of one's descendants, so it is considered to bring good fortune.
Performance Time: 6:00 PM - 7:15 PM
Intermission: 30 minutes
7:45 PM - 9:05 PM
SHIN SUIKODEN

['The New Water Margin']
CAST :
Rin Chū (Lin Chong)

Nakamura Hayato

Oyasha

Nakamura Kazutarō

Hō Ki (Peng Qi)

Ichikawa Danko

Kō Kyū (Gao Qiu)

Asano Kazuyuki

Kōson Shō (Gongsun Sheng)

Ichikawa Monnosuke

Chō Gai (Chao Gai)

Ichikawa Chūsha

Ro Chishin (Lǔ Zhìshēn)

Matsumoto Kōshirō
STORY :
This play is set in the 12th century in China during the Northern Song dynasty. Rin Chū, the most evil scoundrel in China, is imprisoned as punishment for committing many crimes. Chō Gai, who has brought together a band of villains under his leadership and who has a stronghold in Ryōzanpaku, hears rumours of Rin Chū's imprisonment and orders his right-hand man Kōson Shō to rescue him. However, Rin Chū does not get along with the comrades in Ryōzanpaku, such as Oyasha and others, and spends day after day drinking alcohol. The young heir of the neighbouring town Dokuryūkō attacks them, supported by the tough Imperial army led by Kō Kyū, a senior statesman of the Imperial Palace. Though his stalwart comrades head off to battle, Rin Chū remains unconcerned. Hō Ki, Rin Chū's former pupil while he was an instructor at the military academy and now a soldier of the Imperial army, secretly presents him with calligraphy that reads 'Be just and do Heaven's will', which Rin Chū had previously given him. He urges him to withdraw, but Rin Chū treats Hō Ki cruelly. Meanwhile, the Imperial army plans to destroy Rin Chū and Ryōzanpaku but …