Kabukiza Theatre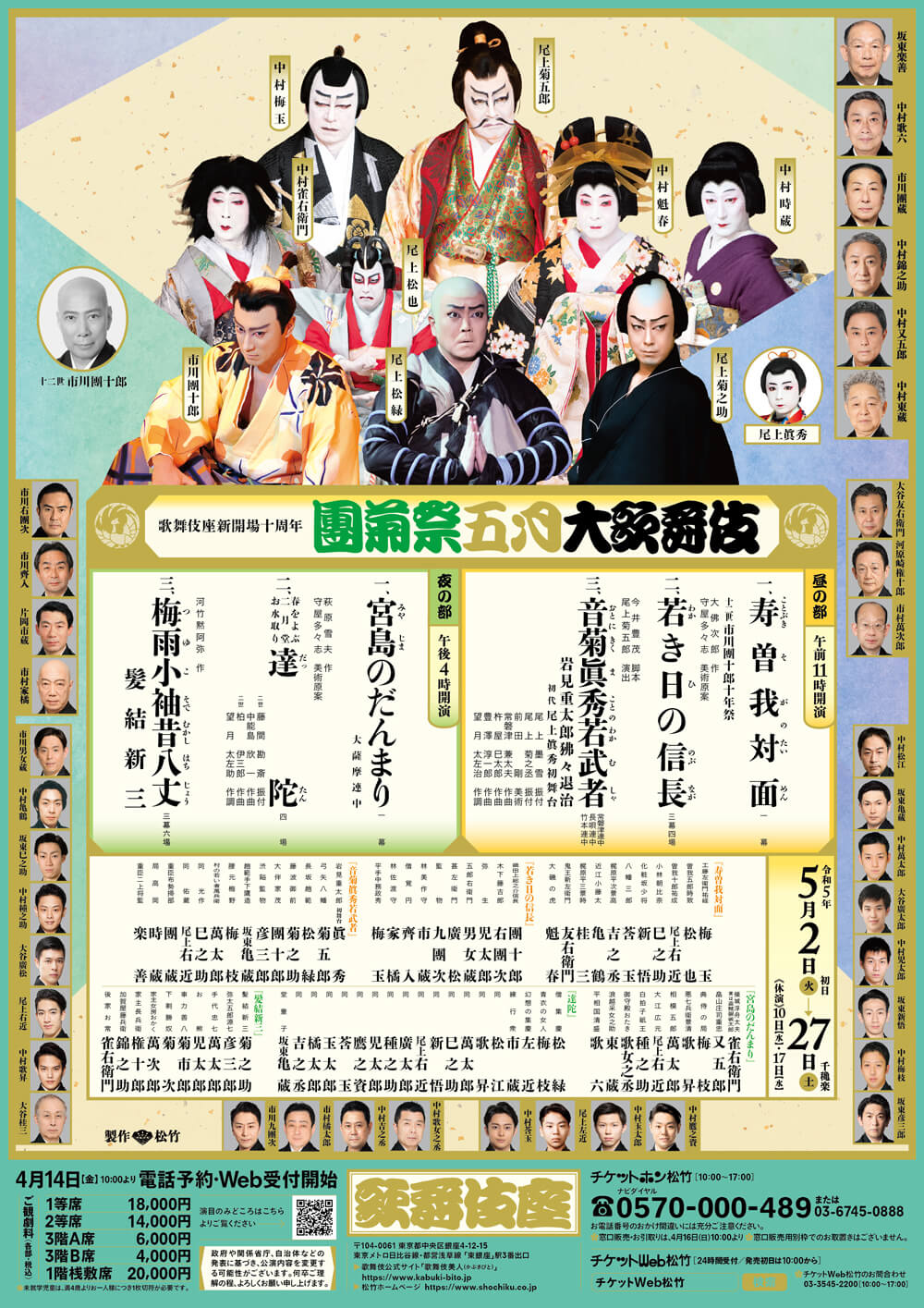 May Program

at the Kabukiza Theatre

Daily: May 02 (Tue) - May 27 (Sat), 2023

Matinee:11:00 AM

Evening Show: 4:00 PM

*No Matinee and Evening Show on the 10th (Wed) and 17th (Wed).

(Updated) Notification of the changes made to the May and June performances(Apr 21)


On sale: from Apr 14 (Fri), 2023 10:00 AM(JST) 2023:04:14:10:00:00

Box Seat: 20,000 /First Class Seat: 18,000 /Second Class Seat: 14,000 /Upper Tier A: 6,000 /Upper Tier B: 4,000
Unit: Japanese Yen (tax included)
*Children over the age of 4 must purchase tickets to enter.

*Single Act Seats are not for sale.
*Tea will not be offered at the Box Seats.


Kabukiza Theatre (at TOKYO) Theatre Information
The May Program at the Kabukiza Theatre, which celebrates its 10th anniversary since its reopening, is called 'Dan-Kiku Sai' (the 'Dan-Kiku Festival'). This was first held in April and May, 1936, at the Kabukiza Theatre in honor of the actors Ichikawa Danjūrō IX and Onoe Kikugorō V who were active in the Meiji period and who lay the foundation of modern kabuki. The 'Dan-Kiku Festival' has been an annual festive event at the Kabukiza Theatre since 1977. Plays and dances associated with both acting families are included in the line up in this year's 'Dan-Kiku Festival' production. In the Matinee, you will see a play commemorating the 10th anniversary of the death of Ichikawa Danjūrō XII, and a play in which Onoe Maholo I makes his stage debut.
Performance Time: Matinee 11:00 AM - 3:10 PM
*Performance time is subject to change
KOTOBUKI SOGA NO TAIMEN

['The Auspicious Confrontation of the Soga Brothers']
CAST :
Kudō Saemon Suketsune

Nakamura Baigyoku

Soga no Gorō Tokimune

Onoe Matsuya

Soga no Jūrō Sukenari

Onoe Ukon

Kobayashi no Asahina

Bandō Minosuke

Ōiso no Tora

Nakamura Kaishun
STORY :
This scene is one act of a history play based on the legend of the Soga brothers' vendetta. In the Edo period, plays about the vendetta carried out by the Soga brothers, Gorō and Jūrō, were performed at times of celebration. 'Soga no Taimen', in which the brothers meet their nemesis, has its roots in the earliest of these plays. This play has ceremonial aspects and features each of the important kabuki character types, including the bombastic 'aragoto' style of Gorō and the soft 'wagoto' style of Jūrō.
Performance Time: To be announced
WAKAKI HI NO NOBUNAGA

['The Young Nobunaga']
CAST :
Oda Kazusa no suke Nobunaga

Ichikawa Danjūrō

Kinoshita Tōkichirō

Ichikawa Udanji

Yayoi

Nakamura Kotarō

Hirate Nakatsukasa Masahide

Nakamura Baigyoku
STORY :
This classic of post-war kabuki was written especially for Danjūrō XI by the popular novelist Osaragi Jirō. The play shows Oda Nobunaga as a youth, before he became the callous, hardened warrior that conquered Japan. Pressures from within and without force Nobunaga to act aloof from political affairs. His true intentions are hidden from even his closest friends, but his deception leads to the death of his advisor, Hirate.
Performance Time: To be announced
OTO NI KIKU MAKOTO NO WAKAMUSHA

['The Renowned, Proper Young Warrior']
CAST :
Iwami Jūtarō

Onoe Maholo, making his stage debut

God of War

Onoe Kikugorō

Nagasaka Chōhan

Onoe Shōroku

Lady Fujinami

Onoe Kikunosuke

Ōtomo Iemochi

Ichikawa Danjūrō

Fuse Kamon, a senior retainer

Ichikawa Danzō

Takaoka, the chief lady-in-waiting

Nakamura Tokizō

Futakami Shōgen, a senior retainer

Bandō Rakuzen
STORY :
This play is based on the legend of the hero Iwami Jūtarō who slayed a baboon and a giant serpent. Onoe Maholo, who is making his stage debut, plays the role of Iwami Jūtarō. He performs a lovely dance dressed as a girl in the first half, and performs a stylized fight scene with a baboon in the latter half. Top-ranking actors including his grandfather Onoe Kikugorō perform with him to celebrate his stage debut.
Performance Time: Evening Show 4:00 PM - 8:25 PM
*Performance time is subject to change
MIYAJIMA NO DANMARI

['Fight in the Dark on Miyajima Island']
CAST :
Ukifunedayū, a courtesan, in reality, the thief, Kesatarō

Nakamura Jakuemon

Hatakeyama no Shōji Shigetada

Nakamura Matagorō

Ōe no Hiromoto

Onoe Ukon

Hei Shōkoku Kiyomori

Nakamura Karoku
STORY :
A 'danmari' is a special scene in kabuki which shows people groping in the dark for a treasure or a banner. In this play, the 'danmari' takes place at the Itsukushima Shrine. The thief Kesatarō, disguised as a courtesan, and the warriors of the Genji and Heike clan search for a scroll in the darkness. At the end of the play, Kesatarō exits the stage in a most unique style called 'keisei roppō'. While the upper half of his body performs a manly 'ryōte roppō' (roppō with two hands), his lower half performs a 'hachimonji' (a courtesan's special style of walking in the shape of the character 'eight').
Performance Time: To be announced
DATTAN

['Purification Austerities']
CAST :
Jūkei, a priest

Onoe Shōroku

A woman in blue

Nakamura Baishi

Shūkei in illusion

Onoe Sakon

A servant boy of Tōdaiji Temple

Bandō Kamezō
STORY :
It is the Kamakura Period, and the Shuni-e ceremony is being held in the Nigatsu-dō Hall at Tōdai-ji Temple in Nara, famous for its Great Buddha.
The ceremony is managed by the priest Shūkei. As he reads out the obituary, the family register of deaths of those who had a connection to Tōdaiji Temple, a woman in blue suddenly appears. She is, in reality, his old lover Wakasa. She expresses her attachment to him and he recollects beautiful, sweet and painful memories of the time spent with her. However, he shakes off his worldly passions and practices purification austerities with other ascetics in a shower of falling sparks from their torchlights.
Performance Time: To be announced
TSUYUKOSODE MUKASHI HACHIJŌ
Kamiyui Shinza

['Shinza, the barber']
CAST :
Shinza, the barber

Onoe Kikunosuke

Yatagorō Genshichi

Bandō Hikosaburō

Chūshichi, a sales clerk

Nakamura Mantarō

Okuma

Nakamura Kotarō

Okaku, Chōbē's wife

Ichimura Manjirō

Chōbē, the landlord

Kawarasaki Gonjūrō

Kagaya Tōbē

Nakamura Kinnosuke

Otsune, a widow

Nakamura Jakuemon
STORY :
Shinza is a barber who goes from door to door. However, he kidnaps Okuma, the beautiful daughter of a wealthy household, and even resists the efforts of Yatagorō Genshichi, the most prestigious strongman in town, to get her release. Then Shinza's landlord Chōbē visits Shinza's place to settle the matter. Chōbē has negotiated with the family and they have agreed to pay thirty gold coins for Okuma's return. Shinza is delighted and sends Okuma home. Shinza asks about the money but Chōbē tricks him out of half the money in a hilarious exchange. However, Genshichi cannot let the insult to his reputation go unpunished. The play ends as the two fight it out, presumably a fight to the death.