Kabukiza Theatre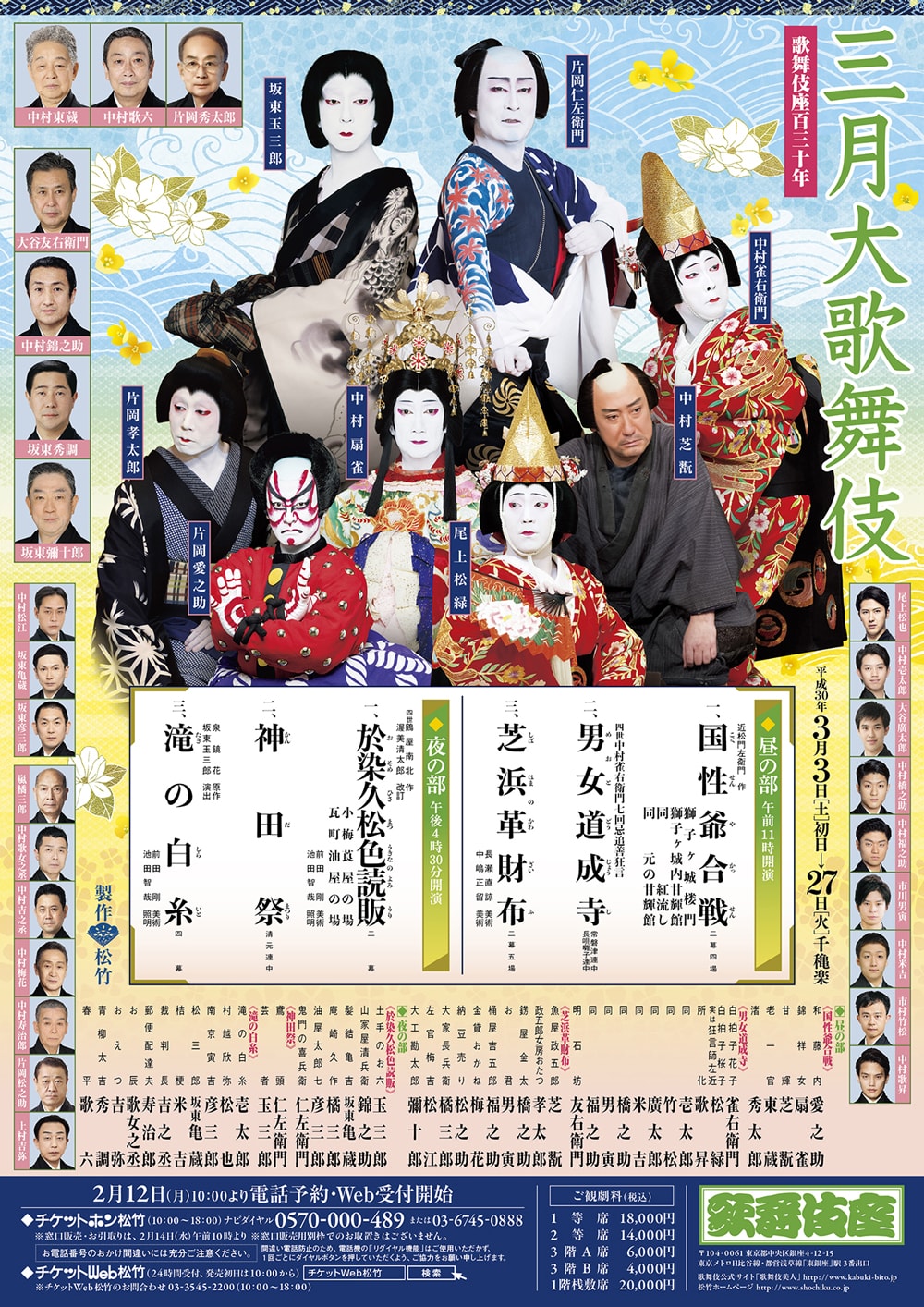 March

at the Kabukiza Theatre

Daily: Mar 03 (Sat) - Mar 27 (Tue), 2018

Matinee:11:00 AM

Evening show: 4:30 PM

※Matinee is sold out for the reserved seats on the 18th (Sun).

Time Schedule

On sale: from Feb 12 (Mon), 2018 10:00AM(JST) 2018:02:12:10:00:00

Box Seat: 20,000 / First Class: 18,000 / Second Class: 14,000 / Upper Tier A: 6,000 / Upper Tier B: 4,000
Unit: Japanese Yen (tax included)

Kabukiza Theatre (at TOKYO) Theatre Information
The year 2018 is the 130th year since the opening of the Kabukiza Theatre.
The Matinee opens with an epic tale featuring the real-life hero, Zheng Chenggong. The next to be performed is a work which belongs to a group of popular dances featuring the legend of Dōjōji Temple, commemorating the 7th anniversary of the death of Nakamura Jakuemon IV. The last item is an adaptation of a Rakugo story. (Rakugo is a traditional Japanese form of storytelling.)
In the Evening Show, Kataoka Nizaemon and Bandō Tamasaburō appear in an exciting tale of extortion written by the famous playwright Tsuruya Nanboku IV, and then in a bright and showy dance. The final play to be performed is an adaptation of a masterpiece written by the early 20th author Izumi Kyōka.
KOKUSEN'YA KASSEN
[ The Battles of Coxinga ]
CAST :
Watōnai

Kataoka Ainosuke

Kinshōjo

Nakamura Senjaku

Kanki

Nakamura Shikan

Rōikkan

Nakamura Tōzō

Nagisa

Kataoka Hidetarō
STORY :
Originally written for the puppet theatre, this is the oldest history play in the puppet repertory with a tradition of continuous performance. Written by Chikamatsu Monzaemon, this exotic play on an epic scale is based on the true story of a warrior from Japan who fought in China to restore the Ming dynasty after its fall. Watōnai (whose name means "neither Chinese nor Japanese") is the son of a Chinese official and a Japanese mother. The plot is a touching drama that depicts Watōnai going with his parents to try to enlist the aid of his sister Kinshōjo, now the wife of the powerful Chinese general Kanki. She eventually agrees, but can only do so by making a terrible sacrifice.
MEOTO DŌJŌJI
[ Male and Female Dōjōji ]
CAST :
Hanako, a 'shirabyōshi' dancer

Nakamura Jakuemon

Sakurako, a 'shirabyōshi' dancer, in reality, Sakon, a kyōgen performer

Onoe Shōroku

Akashibō

Ōtani Tomoemon
STORY :
The original 'Musume Dōjōji' is based on the legend of a woman who transformed into a serpent out of jealousy, and destroyed the temple bell that hid the man she loved. In that version the woman changes her costume one after another while showing various kinds of love through dance. In this version, however, there are two dancers, one of which is eventually revealed to be a man in disguise. The two portray the romantic feelings of a loving couple. The dance reaches its climax when the two reveal their true characters.
SHIBAHAMA NO KAWAZAIFU
[ The Leather Purse of Shibahama ]
CAST :
Masagorō, a fishmonger

Nakamura Shikan

Otatsu, Masagorō's wife

Kataoka Takatarō

Kantarō, Masagorō's friend and a carpenter

Bandō Yajūrō
STORY :
This is a play adapted from a Rakugo story. A man who is a drunk and a good-for-nothing picks up a leather purse full of coins while out fishing. He happily takes it home and celebrates by holding a big drinking party. The next morning, he asks for his purse but his wife insists that it was all a dream. Feeling ashamed of himself, he changes his attitude and starts working hard. Three years later when the couple is living comfortably, the wife confesses to him that she must apologize for something...
OSOME HISAMATSU UKINA NO YOMIURI
[ The Love Story of Osome and Hisamatsu ]
CAST :
Dote no Oroku

Bandō Tamasaburō

Yamagaya Seibē

Nakamura Kinnosuke

Kimon no Kihē

Kataoka Nizaemon
STORY :
This is a play written by Tsuruya Nanboku IV, and these scenes in particular reflect the decadence and corruption found in the underbelly of ordinary society at that time. The scenes portray two outwardly charming characters who are filled with wickedness. There are several typical 'role types' that appear in kabuki, and 'akuba' (wicked lady) is one of them. Oroku is an 'akuba' and although beautiful, she is truly wicked.
Trying to extort 100 gold coins, Oroku and her husband Kihē visit a pawnshop carrying a dead body. The two insist that her brother died from an injury he incurred in a quarrel with its apprentice. However, the dead body suddenly becomes conscious and the extortion ends in failure. Although disappointed, the two leave the pawnshop without flinching in the slightest.
KANDA MATSURI
[ The Kanda Festival ]
CAST :
The head of a 'tobi' firefighting gang

Kataoka Nizaemon

A geisha

Bandō Tamasaburō
STORY :
The gallant commoners of Edo's neighborhoods loved nothing better than a festival, and this performance is a dance based on one of the biggest festivals in Edo (the old name for Tokyo). In this dance, a gallant fireman and a geisha appear on stage and show their 'Edo-style' spirit. In the end, a young man comes out and a beautiful fighting scene unfolds on stage.
TAKI NO SHIRAITO
[ The Water Magician ]
CAST :
Taki no Shiraito

Nakamura Kazutarō

Murakoshi Kin'ya

Onoe Matsuya

Haruhei

Nakamura Karoku
STORY :
This play was adapted from Izumi Kyōka's novel 'Giketsu Kyōketsu' ('The Righteous and the Chivalrous') in 1895.
Taki no Shiraito, a female entertainer who is a member of a troupe, meets Murakoshi Kin'ya. Though his house has gone to ruin and he is now a groom, he dreams of becoming a lawyer. She promises to supply him with his school-expenses. Three years later, she is robbed of the money she intended to send to him. She becomes distracted and kills a married couple in a nearby house. Appearing in court as a murder suspect, she is shocked to find Kin'ya, who for the first time after he graduated university, is sitting in the seat of a public prosecutor.