Kabukiza Theatre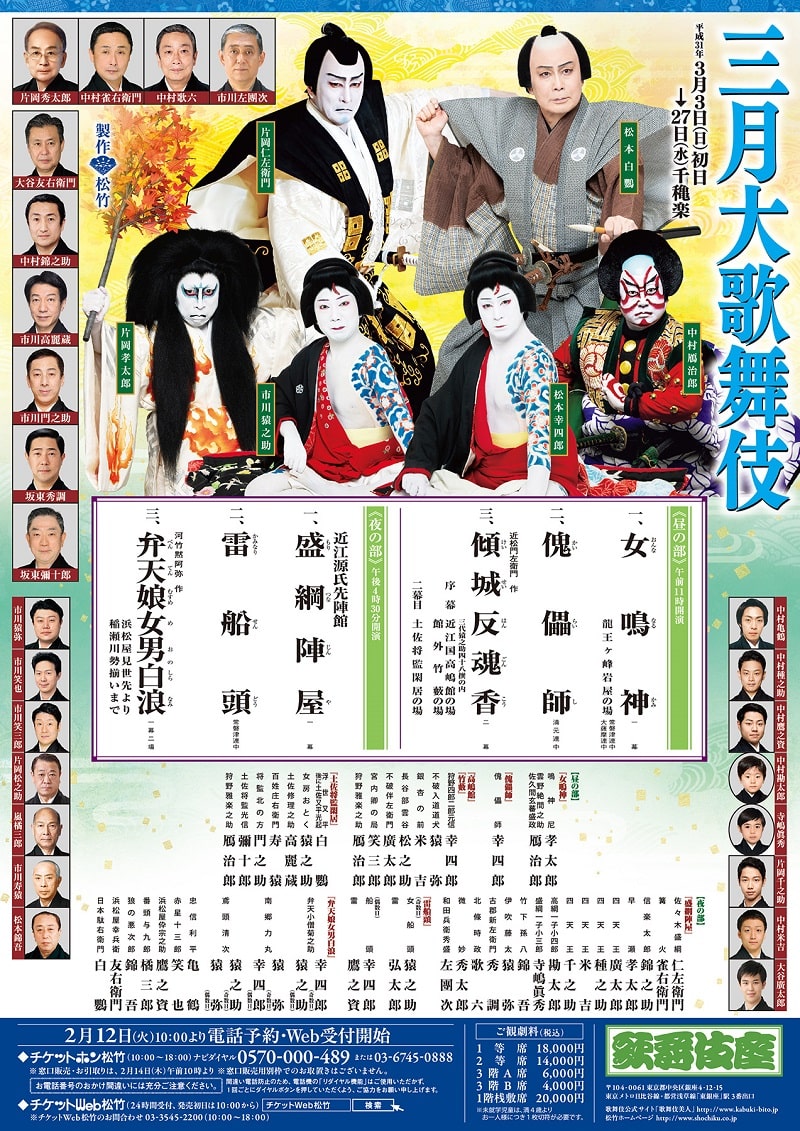 March

at the Kabukiza Theatre

Daily: Mar 03 (Sun) - Mar 27 (Wed), 2019

Matinee:11:00 AM

Evening Show: 4:30 PM

◇ Time Schedule

※The cast will be different in the Evening shows on even-numbered days and odd-numbered days.

Time Schedule

On sale: from Feb 12 (Tue), 2019 10:00AM(JST) 2019:02:12:10:00:00

Box Seat: 20,000 / First Class: 18,000 / Second Class: 14,000 / Upper Tier A: 6,000 / Upper Tier B: 4,000
Unit: Japanese Yen (tax included)
*Children over the age of 4 must purchase tickets to enter.

Kabukiza Theatre (at TOKYO) Theatre Information
This month, the matinee begins with a parody of the popular play 'Narukami', followed by a dance, and then a 'sewamono', a category of plays portraying the lives of ordinary people in the Edo period (1603-1868). The 'sewamono' play includes a very rarely performed scene. In the Evening Show a masterpiece of the 'history play' genre is performed, after which will be a popular 'sewamono' play that casts two star actors each for three main roles, and a dance. It is a perfect opportunity to enjoy kabuki in spring in Tokyo.
ONNA NARUKAMI
[ The Priestess Narukami ]
CAST :
Priestess Narukami

Kataoka Takatarō

Kumono Taemanosuke/ Sakuma Genba Morimasa

Nakamura Ganjirō
STORY :
This is a parody of NARUKAMI [The Thunder God], one of the oldest plays in the kabuki repertory, but in this version the leading character is played by an 'onnagata' female role specialist.
To place a curse on her father's killer Oda Nobunaga, the priestess Narukami imprisons the rain gods in a pool beneath a waterfall, causing a severe drought. A handsome young man named Kumono Taemanosuke appears who happens to resemble her former fiancé. Having been seduced by his story, she is convinced that he is her former lover and she exchanges cups with him in token of marriage-vows. However, in reality, he is a spy sent by Nobunaga to break her power. When she realizes that she has been betrayed, she flies into a rage and fights against Sakuma Genba Morimasa who comes to arrest her.
KAIRAISHI
[ The Puppeteer ]
CAST :
Puppeteer

Matsumoto Kōshirō
STORY :
This is a dance depicting an itinerant puppeteer.
He carries a variety of puppets in a box which he suspends from his neck. With this he can perform on the spot, using the puppets to enact many different roles which he demonstrates for us. Finally, he makes some sparrows escape from his box and he dashes off after them.
KEISEI HANGONKŌ
Takashima Yakata, Tosa no Shōgen Kankyo
[ 'Lord Rokkaku's Mansion in Takashima' and 'Stuttering Matahei' from 'The Courtesan and the Hangon Incense' ]
CAST :
<Takashima Yakata,Takeyabu&gt
Kanō Shirojirō Motonobu

Matsumoto Kōshirō

Kanō Utanosuke

Nakamura Ganjirō
<Tosa no Shōgen Kankyo&gt
Ukiyo Matahei, later, Tosa no Matahei Mitsuoki

Matsumoto Hakuō

Otoku, Matahei's wife

Ichikawa Ennosuke

Tosa no Shurinosuke

Ichikawa Komazō

Shōgen's wife

Ichikawa Monnosuke

Tosa no Shōgen Mitsunobu

Bandō Yajūrō

Kanō Utanosuke

Nakamura Ganjirō
STORY :
Scenes from Chikamatsu Monzaemon's play depicting contrasting painters.
Rokkaku Yorikata, the lord of Ōmi Province, summons the painter Kanō Motonobu to his mansion, where Motonobu becomes engaged to Yorikata's daughter Ichōnomae. However, Yorikata's chief retainer accuses Motonobu falsely and Motonobu is bound to a pillar. After he paints a tiger with his blood on a sliding door, the tiger comes to life and gnaws through his rope, enabling him to escape.
The painted tiger runs away and reappears at Tosa Shōgen's retreat. Shōgen's pupil Shurinosuke makes the tiger disappear by brushing over it and, as a reward, he is given a special artist's name. Matahei and his wife come to beg Shōgen for his own artist's name, but their request is turned down. Resolving to leave a farewell portrait before he takes his own life, Matahei paints a picture of himself on a stone washbasin. As he does so, the painting appears on the other side of the basin. Witnessing this miracle, Shōgen finally agrees to give him an artist's name and orders him to rescue Ichō-no-mae.
Ōmi Genji Senjin Yakata
MORITSUNA JIN'YA
[ 'Moritsuna's Battle Camp' from 'The Chronicles of the Battle of Ichinotani' ]
CAST :
Sasaki Moritsuna

Kataoka Nizaemon

Kagaribi, Takatsuna's wife

Nakamura Jakuemon

Hayase, Moritsuna's wife

Kataoka Takatarō

Hōjō Tokimasa

Nakamura Karoku

Mimyō, Moritsuna's mother

Kataoka Hidetarō

Wada Byōe Hidemori

Ichikawa Sadanji
STORY :
This is a 'jidaimono' history play set in the Kamakura Period (1185-1333).
War has broken out between Minamoto no Yoriie in Kyoto and Hōjō Tokimasa in Kamakura. The Sasaki brothers Moritsuna and Takatsuna fight on opposite sides. Takatsuna's son Koshirō is captured and held prisoner by Moritsuna. When a general from Takatsuna's side comes to ask for the boy's return, Moritsuna worries that his brother's love for his son will cause him shame. Soon, the news of Takatsuna's death is reported and Tokimasa arrives with Takatsuna's head .
Moritsuna is ordered to verify that the head is really that of his brother. Before Moritsuna has completely lifted the lid of the head box, Koshirō runs out and commits ritual suicide, saying he will follow his father to the grave. However, looking at the head, Moritsuna sees that it is not Takatsuna. This is all a ruse to fool the enemy. Impressed by Koshirō's brave sacrifice, Moritsuna declares falsely in Tokimasa's presence that the head is indeed that of Takatsuna.
KAMINARI SENDŌ
[ 'The Boatman and the Thunder God' ]
CAST :
Boatwoman

Ichikawa Ennosuke 
(on odd-numbered days)

Boatman

Matsumoto Kōshirō 
(on even-numbered days)
STORY :
As a (boatwoman or) boatman is taking a rest on the banks of the Sumida River, suddenly it starts raining and the thunder god falls from the skies.
This humorous dance depicts a (boatwoman or) boatman and the thunder god carrying his drums and dressed in an animal-skin loincloth.
BENTEN MUSUME MEO NO SHIRANAMI 
[ 'The Hamamatsu-ya Textile Shop' scene and 'The Gathering along the Inase River Bank' scene from 'The Five Thieves' ]
CAST :
Benten Kozō Kikunosuke, a thief

Matsumoto Kōshirō(on odd-numbered days)/Ichikawa Ennosuke(on even-numbered days)

Nangō Rikimaru, a thief

Ichikawa En'ya(on odd-numbered days)/Matsumoto Kōshirō(on even-numbered days)

Seiji, the chief of a fire brigade

Ichikawa Ennosuke(on odd-numbered days)/Ichikawa En'ya(on even-numbered days)

Nippon Daemon, chief of the gang of thieves

Matsumoto Hakuō
STORY :
A beautiful woman is suspected of shoplifting and is beaten. When it is proved that she was not stealing, her servant demands compensation. However, a samurai who happens to be present uncovers her ruse and reveals that the woman is actually a man. The former 'woman' and her accomplice are, in fact, Benten Kozō and Nangō Rikimaru, two members of the same infamous gang of thieves. Even the samurai who supposedly exposed their plot turns out to be none other than Nippon Daemon, the head of this gang. Finally, the gang is hunted down by officers and when they are surrounded, the five gang members remain defiant, delivering elaborate rhythmic speeches dressed in their finest kimonos and accompanied by beautiful music.