Kabukiza Theatre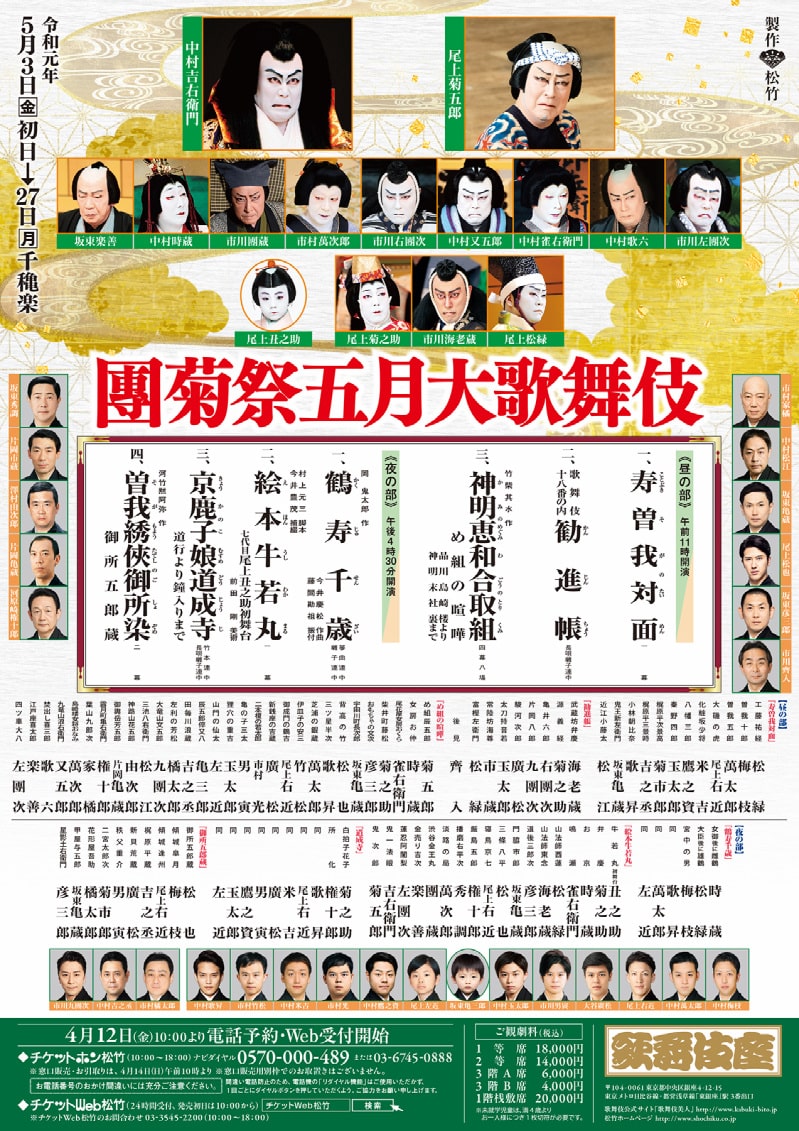 May

at the Kabukiza Theatre

Daily: May 03 (Fri) - May 27 (Mon), 2019

Matinee:11:00 AM

Evening Show: 4:30 PM

Time Schedule

On sale: from Apr 12 (Fri), 2019 10:00AM(JST) 2019:04:12:10:00:00

Box Seat: 20,000 / First Class: 18,000 / Second Class: 14,000 / Upper Tier A: 6,000 / Upper Tier B: 4,000
Unit: Japanese Yen (tax included)
*Children over the age of 4 must purchase tickets to enter.

Kabukiza Theatre (at TOKYO) Theatre Information
Every May the performances at the Kabukiza honor the famous actors Ichikawa Danjūrō IX and Onoe Kikugorō V. Actors who have succeeded to their art play their most successful roles.
In the Matinee, a history play of great stylistic beauty, a play from the Kabuki Jūhachiban, the 'Eighteen Favourite Kabuki Plays' and a 'sewamono' play including an acrobatic fight scene as its highlight will be performed, while in the Evening Show there is a dance celebrating the accession to the throne of His Imperial Highness, a special play marking the debut of Onoe Ushinosuke, an important dance for onnagata (female role specialists) and a 'sewamono' play by Kawatake Mokuami. All are impressive and entertaining works.
KOTOBUKI SOGA NO TAIMEN
[ 'The Revenge of the Soga Brothers' ]
CAST :
Kudō Suketsune

Onoe Shōroku

Soga no Jūrō

Nakamura Baishi

Soga no Gorō

Nakamura Mantarō

Ōiso no Tora

Onoe Ukon

Kewaizaka no Shōshō

Nakamura Yonekichi

Kobayashi Asahina

Nakamura Kashō

Oniō Shinzaemon

Bandō Kamezō
STORY :
This scene is one act of a history play based on the legend of the Soga brothers' vendetta.
In the Edo period, plays about the vendetta carried out by the Soga brothers, Gorō and Jūrō, were performed at times of celebration. 'Soga no Taimen', in which the brothers meet their nemesis, has its roots in the earliest of these plays. This play has ceremonial aspects and features each of the important kabuki character types, including the bombastic 'aragoto' style of Gorō and the soft 'wagoto' style of Jūrō.
KANJINCHŌ
[ 'The Subscription Scroll' ]
CAST :
Musashibō Benkei

Ichikawa Ebizō

Minamoto no Yoshitsune

Onoe Kikunosuke

Kamei no Rokurō

Ichikawa Udanji

Kataoka Hachirō

Ichikawa Kudanji

Suruga no Jirō

Ōtani Hiromatsu

Hitachibō Kaison

Kataoka Ichizō

Togashi no Saemon

Onoe Shōroku
STORY :
Disguised as traveling priests, the fugitive general Yoshitsune and his band of retainers are stopped at a road barrier. The head retainer Benkei claims they are soliciting contributions for the rebuilding of a temple, but the barrier guard Togashi insists that, if so, they must have the temple's book of solicitation. Benkei elaborately improvises the text with an empty scroll. When one soldier points out that one of the group resembles Yoshitsune, Benkei is forced to strike Yoshitsune with his staff. Togashi is convinced that they are the fugitives but, sympathizing with Benkei's loyalty, he tells them to proceed on their way.
KAMI NO MEGUMI WAGŌ NO TORIKUMI
Megumi no Kenka
[ 'The fight between firefighters and sumō wrestlers' ]
CAST :
Megumi Tatsugorō

Onoe Kikugorō

Onaka, Tatsugorō's wife

Nakamura Tokizō

Okura, the wife of Obanaya's master

Nakamura Jakuemon

Shibaichō no Fujimatsu

Onoe Kikunosuke

Omocha no Bunji

Bandō Hikosaburō

Udagawachō no Chōjirō

Bandō Kamezō

Mikoshigatake Yoshigorō

Kataoka Kamezō

Rogetsuchō no Kame'emon

Kawarasaki Gonjurō

Onami, the proprietress of Shimazakirō

Ichimura Manjirō

Kuryūzan Namiemon

Nakamura Matagorō

Takidashi Kisaburō

Nakamura Karoku

Edoza Kitarō

Bandō Rakuzen

Yotsuguruma Daihachi

Ichikawa Sadanji
STORY :
They used to say that fights and fires were the flowers of the city of Edo. This particular play depicts a rivalry between the members of the Megumi firefighting brigade and a group of sumō wrestlers. Ultimately, this is a confrontation between the firefighters, who represent the commoner class, and the samurai patrons of the sumō wrestlers. The fight begins with a minor incident but grows into a situation of such tension that when Tatsugorō, the leader of the firefighting gang, goes to his final fight, he prepares for death and has an emotional parting from his family. The 'tachimawari' (fight scene) between firefighters and sumō wrestlers is very spectacular!
KAKUJU SENZAI
[ 'The Cranes Symbolizing Longevity' ]
CAST :
Female Crane

Nakamura Tokizō

Male Crane

Onoe Shōroku
STORY :
This is a dance first performed in 1928 to commemorate the enthronement of Emperor Shōwa.
The crane is an auspicious bird which is believed to live happily with its partner and to live a thousand years. Two cranes dance together to celebrate a peaceful new era. This will be performed to commemorate the enthronement of the Crown Prince on 1st of May.
EHON USHIWAKAMARU
[ 'The Picture Book of Ushiwakamaru' ]
CAST :
Ushiwakamaru

Onoe Ushinosuke, making his debut

Benkei

Onoe Kikunosuke

Kiichi Hōgen

Nakamura Kichiemon

Yoshioka Kijirō

Onoe Kikugorō


Ichikawa Sadanji

Bandō Rakuzen

Nakamura Tokizō

Nakamura Jakuemon

Onoe Shōroku

Ichikawa Ebizō

and other actors of the troupe lead by Onoe Kikugorō
STORY :
As the Heike clan is at the height of its prosperity, Ushiwakamaru, son of the late Minamoto no Yoshitomo (general of the Genji clan, the Heike's enemy), is on Mt. Kurama where he has become an apprentice swordsman. He is accompanied by his retainer, Benkei and together they embark on a journey to the northern province of Ōshū. Kiichi Hōgen, Ushiwakamaru's master, gives him a book of military strategy as a parting gift. Onoe Ushinosuke will make his debut this month performing the role of Ushiwakamaru.
KYŌKANOKO MUSUME DŌJŌJI
[ 'The Maiden at Dōjōji Temple' ]
CAST :
Hanako, a shirabyōshi court dancer

Onoe Kikunosuke
STORY :
This is the most famous of all kabuki dances and considered to be the pinnacle of the art of the onnagata female role specialist. A beautiful young woman dances under cherry blossoms at a dedication ceremony for a temple bell. During her performance, she describes the many aspects of a woman in love. However, In reality she is the spirit of a serpent, driven to destroy the bell out of jealousy.
SOGA MOYŌ TATESHI NO GOSHOZOME
Gosho no Gorozō
[ 'The Gallant's Kimono Dyed with the Soga Design' ]
CAST :
Gosho no Gorozō

Onoe Matsuya

Satsuki, a courtesan

Nakamura Baishi

Ōshū, a courtesan

Onoe Ukon

Hoshikage Doemon

Bandō Hikosaburō
STORY :
This is a 'sewamono', a play portraying in a realistic way the lives of people in the Edo Period.
This play is set in the Gojōzaka pleasure quarter at its time of greatest splendor. Rival gangs dressed in the height of fashion exchange stately speeches before fighting, speaking lines in the elaborate poetic cadences of Kawatake Mokuami, the last great playwright of classical kabuki. Gorozō is the handsome leader of a gang, but his lover, the top courtesan Satsuki pretends to reject him to save his life. Tragedy strikes when Gorozō is driven to revenge...