Kabukiza Theatre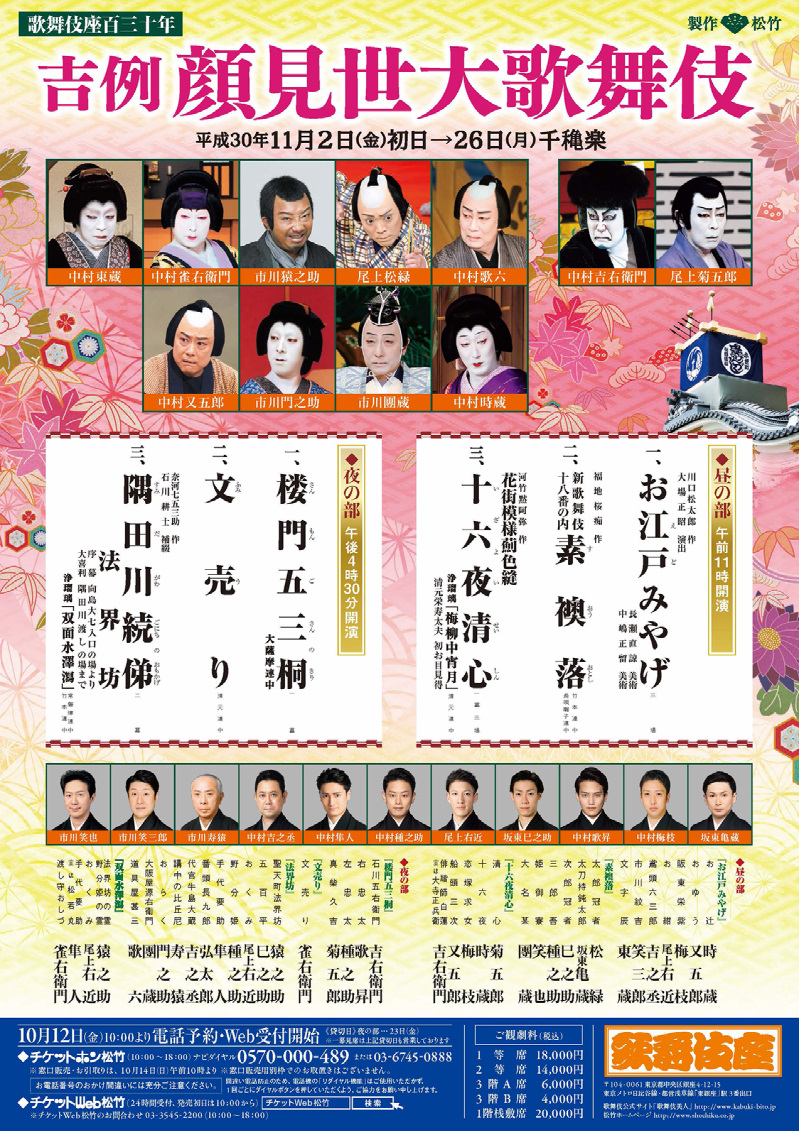 November

at the Kabukiza Theatre

Daily: Nov 02 (Fri) - Nov 26 (Mon), 2018

Matinee:11:00 AM

Evening show: 4:30 PM

Time Schedule

On sale: from Oct 12 (Fri), 2018 10:00AM(JST) 2018:10:12:10:00:00

Box Seat: 20,000 / First Class: 18,000 / Second Class: 14,000 / Upper Tier A: 6,000 / Upper Tier B: 4,000
Unit: Japanese Yen (tax included)

Kabukiza Theatre (at TOKYO) Theatre Information
The year 2018 is the 130th year since the opening of the Kabukiza Theatre. This month is the special 'kaomise' performance (with an all-star cast) and the program features the great stars Onoe Kikugorō and Nakamura Kichiemon. They co-star in Kawatake Mokuami's masterpiece 'IZAYOI SEISHIN' and in 'SANMON GOSAN NO KIRI' which shows a gorgeous temple gate. A 'New Kabuki' play, two dances and a popular sewamono play will also be performed in this month.
OEDO MIYAGE
[ 'A Souvenir of Edo' ]
CAST :
Otsuji

Nakamura Tokizō

Oyū

Nakamura Matagorō

Bandō Eishi

Nakamura Baishi

Okon

Onoe Ukon

Rokusaburō, the head of a 'tobi' firefighting gang

Nakamura Kichinojō

Ichikawa Monkichi

Ichikawa Emisaburō

Mojitatsu

Nakamura Tōzō
STORY :
This 'New Kabuki' play is a light-hearted comedy portraying a fanciful episode from the life of commoners in the Edo period. Two women who travel annually to Edo to sell the cloth that they weave encounter a young couple. Moved by the spirit of romance, Otsuji spends all the money that she has made for a once-in-a-lifetime meeting with a fabulously handsome kabuki actor...
SUŌ OTOSHI
[ 'The Dropped Coat' ]
CAST :
Tarōkaja

Onoe Shōroku

Dontarō, a sword bearer

Bandō Kamezō

Jirōkaja

Bandō Minosuke

Saburōgo

Nakamura Tanenosuke

The Princess

Ichikawa Emiya

The Lord

Ichikawa Danzō
STORY :
Delivering a message for his lord, the servant Tarōkaja visits his lord's uncle. A large amount of drink makes him tipsy and he begins a dance in which he describes a famous battle. In reward for the dance, he receives a formal coat. When he returns to his lord's house, still rather drunk, Tarōkaja is scolded and his greedy lord takes away his brand-new formal coat.
IZAYOI SEISHIN
[ 'The Love of Izayoi and Seishin' ]
CAST :
Seishin

Onoe Kikugorō

Izayoi

Nakamura Tokizō

Koizuka Motome

Nakamura Baishi

Sanji, a boat captain

Nakamura Matagorō

Hakuren, a poet, in reality Ōdera Shōbē

Nakamura Kichiemon
STORY :
The priest Seishin is expelled from his temple after his affair with a prostitute named Izayoi. Hearing that Izayoi is pregnant with his child, Seishin makes up his mind to commit lovers' double suicide with her and they jump into the river. However, Izayoi is saved when she is picked up by the haikai poet Hakuren, while Seishin, being a good swimmer, fails to die. The temple page Koizuka Motome passes by and suddenly suffers from spasms. Finding out that Motome has a large sum of money, Seishin robs him of the cash and inadvertently kills him. Seishin at first makes up his mind to commit suicide, but then has a change of heart, deciding instead to enter the path of evil and live a life of splendor.
SANMON GOSAN NO KIRI
[ 'Goemon on the Temple Gate' ]
CAST :
Ishikawa Goemon

Nakamura Kichiemon

Uchūta

Nakamura Kashō

Sachūta

Nakamura Tanenosuke

Mashiba Hisayoshi

Onoe Kikugorō
STORY :
Though short, this play is one of the most visually spectacular in kabuki. The famous villain Ishikawa Goemon is sitting on top of the large gate of Nanzenji temple enjoying the view of cherry blossoms in full bloom. His enjoyment of the scene is cut short, however, for the general Hisayoshi who has killed his father appears.
FUMI URI
[ 'Love Letter Seller' ]
CAST :
Love Letter Seller

Nakamura Jakuemon
STORY :
This is one of a series of four transformation dances that is now performed independently. A woman appears carrying a branch of plum blossom to which many love letters are tied. She enacts how two courtesans Odamaki and Katsumi compete for a man. Having finished talking, she departs.
SUMIDAGAWA GONICHI NO OMOKAGE
Hōkaibō
[ 'Memories of the Sumida River' commonly known as 'Hōkaibō' ]
CAST :
<Hōkaibō [The Villainous Priest Hōkaibō]&gt
Hōkaibō of Shōtenchō

Ichikawa Ennosuke

Iohei

Bandō Minosuke

Okumi

Onoe Ukon

Princess Nowake

Nakamura Tanenosuke

Yōsuke, a shop clerk

Nakamura Hayato

Ushijima Taizō, magistrate

Nakamura Kichinojō

Oraku

Ichikawa Monnosuke

Ōsakaya Gen'emon

Ichikawa Danzō

Jinza, dealer in used articles

Nakamura Karoku
<Futaomote Mizu ni Omodaka [The Double-faced Ghost]&gt
The Ghost of Hōkaibō / The Ghost of Princess Nowake

Ichikawa Ennosuke

Okumi

Onoe Ukon

Yōsuke, a shop clerk, in reality Matsuwakamaru

Nakamura Hayato

Oshizu, a boatwoman

Nakamura Jakuemon
STORY :
This is a comic play featuring the antics of an evil beggar-priest named Hōkaibō. Hōkaibō is in love with the beautiful and young Okumi who is herself in love with Yōsuke, a servant at her father's shop. Yōsuke is actually an aristocrat searching for his family's lost treasure. He regains possession of it, only to have the scroll stolen by Hōkaibō. Yōsuke accepts Okumi's love, but is also pursued by Princess Nowake, his true fiancée. In a grim but humorous scene at a graveyard, everyone tries to get their hands on Okumi and the scroll. Hōkaibō kills Princess Nowake, but soon he himself is killed by Jinza who helps Yōsuke and Okumi. The last scene is one of the great classics of kabuki dance and is often performed separately. Yōsuke and Okumi try to run off together only to come across a strange figure that looks exactly like Okumi. This is a ghost that is made up of the combined spirits of Hōkaibō and Princess Nowake...