Kabukiza Theatre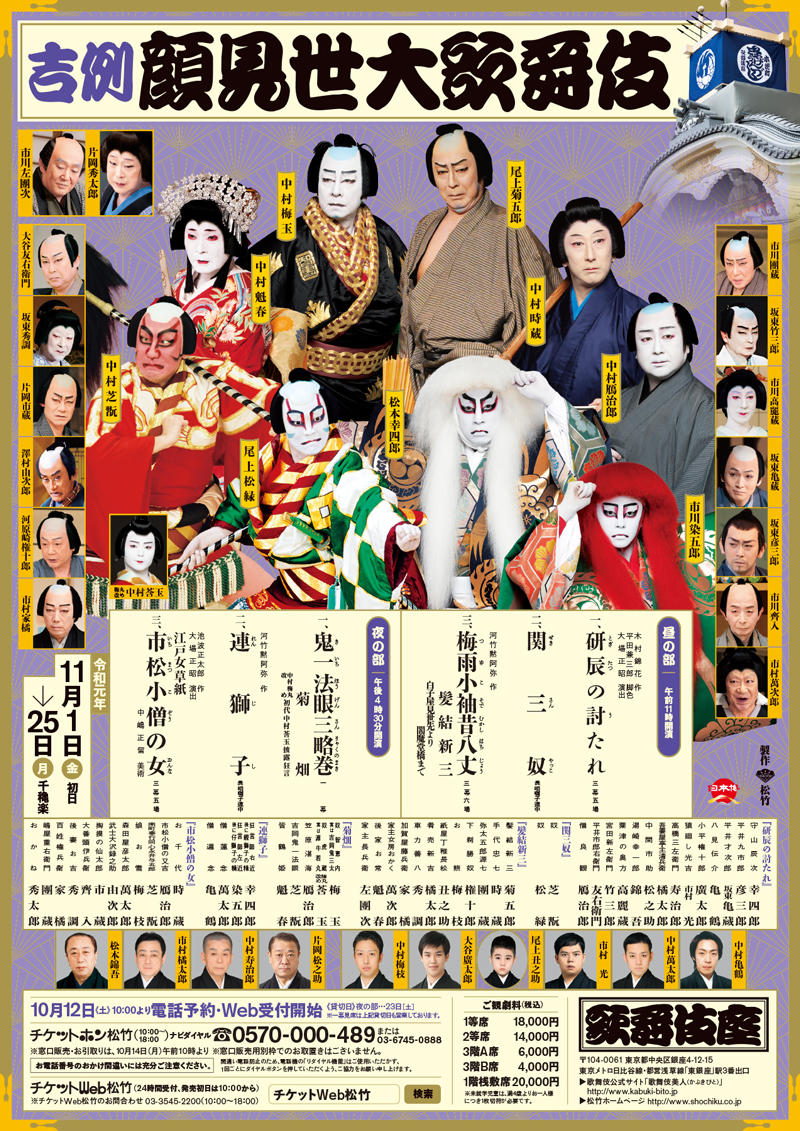 November

at the Kabukiza Theatre

Daily: Nov 01 (Fri) - Nov 25 (Mon), 2019

Matinee:11:00 AM

Evening Show: 4:30 PM

*Reserved seats for the Evening Show are sold out on the 23th (Sat). (Single Act Seats will still be available.)
◇ Time Schedule

Time Schedule

On sale: from Oct 12 (Sat), 2019 10:00AM(JST) 2019:10:12:10:00:00

Box Seat: 20,000 / First Class: 18,000 / Second Class: 14,000 / Upper Tier A: 6,000 / Upper Tier B: 4,000
Unit: Japanese Yen (tax included)
*Children over the age of 4 must purchase tickets to enter.

Kabukiza Theatre (at TOKYO) Theatre Information
The 'Kaomise' (literally, 'face-showing') is an annual theatre event that has continued since the 17th century. It used to be held every year to show all the actors who were going to appear on stage during the following twelve months. It is now a production featuring top-ranking actors, and has become an important event that is particularly associated with this season in people's minds. In the Matinee, there will be a humorous 'New Kabuki' play, a powerful dance and a representative of domestic plays, while in the Evening Show, there will be an elegant history play, a flowery lion dance written by a well-known playwright.

TOGITATSU NO UTARE
['The Revenge on Togitatsu']
CAST :
Moriyama Tatsuji

Matsumoto Kōshirō

Ryōkan, a priest

Nakamura Ganjirō
STORY :
This is a 20th century comedy originally written as one of many plays that questioned the tradition of samurai revenge. A skilled sword polisher gets promoted to a high position in a samurai clan, but cannot stand the constant criticism of the chief retainer whom he finally kills. The man's two sons are forced by the samurai code of revenge, thought to be a virtue, to pursue their father's murderer. However, as the murderer constantly escapes them the brothers must continue their quest endlessly, putting their own lives on hold.
SEKISAN YAKKO
['Seki Sanjūrō's Samurai Footman Dance']
CAST :
A footman

Nakamura Shikan

A footman

Onoe Shōroku
STORY :
There are many dances featuring yakko, the boisterous footmen to samurai lords. They accompanied their masters to the pleasure quarters or formed part of their ceremonial parades carrying ornamental spears decorated with white fringes. This particular dance is named after Seki Sanjūrō, the actor who created it in 1826, and features a vigorous dance in which these ceremonial spears are used.
TSUYUKOSODE MUKASHI HACHIJŌ
Kamiyui Shinza
['Shinza, the barber']
CAST :
Shinza, a barber

Onoe Kikugorō

Chūshichi, a salesclerk

Nakamura Tokizō

Yatagorō Genshichi

Ichikawa Danzō

Otsune, a widow

Nakamura Kaishun

Chōbē, a landlord

Ichikawa Sadanji
STORY :
Shinza is a barber who goes from door to door. However, he kidnaps Okuma, the beautiful daughter of a wealthy household, and even resists the efforts of Yatagorō Genshichi, the most prestigious strongman in town, to get her release. Then Shinza's landlord Chōbē visits Shinza's place to settle the matter. Chōbē has negotiated with the family and they have agreed to pay thirty gold coins for Okuma's return. Shinza is delighted and sends Okuma home. Shinza asks about the money but Chōbē tricks him out of half the money in a hilarious exchange. However, Genshichi cannot let the insult to his reputation go unpunished. The play ends as the two fight it out, presumably a fight to the death.
KIICHIHŌGEN SANRYAKUNOMAKI
Kikubatake
['The Chrysanthemum Garden' from 'Kiichi Hogen's Book of Tactics']
CAST :
Chienai, a footman, in reality, Yoshioka Kisanda

Nakamura Baigyoku

Torazō, a footman, in reality, Minamoto no Ushiwakamaru

Nakamura Umemaru, taking the new name Nakamura Kangyoku

Kasahara Tankai

Nakamura Ganjirō

Yoshioka Kiichi Hōgen

Nakamura Shikan

Princess Minazuru

Nakamura Kaishun
STORY :
This work is a great classic of the history play genre. There is a stylized beauty in both the way of acting and in the costumes. It is full of larger-than-life characters and is performed on a stage full of dazzling color. In a garden of brilliant yellow and white chrysanthemums, we find Kiichi, an elderly strategist working for the dictator Kiyomori, and two footmen, the elegant young Torazō and the powerful Chienai. Kiichi's beautiful daughter Minazuru is deeply in love with Torazō. However, Torazō is, in fact, a young general sent there by the enemy to steal Kiichi's secret book of strategy. Chienai is his retainer. But Kiichi has realized their true identities and the reason why they are there.
RENJISHI
['Parent and Child Lion Dance']
CAST :
The actor Ukon, later, The spirit of the parent lion

Matsumoto Kōshirō

The actor Sakon, later, The spirit of the lion cub

Ichikawa Somegorō
STORY :
A dance adapted from a tale of the legendary shishi, a lion-like spirit. Two entertainers dance, describing the tale of the legendary shishi who are lion-like spirits that live at the foot of a holy Buddhist mountain. The dance shows a parent shishi forcing his cub to undergo harsh training in order to grow up strong. This theme is based on the legend that shishi will thrust their cubs down to the bottom of a ravine and will only nurtures those cubs that are strong enough to climb up by themselves. In the finale, the two shishis themselves appear and perform their dance with the wild shaking of their long manes.
ICHIMATSUKOZŌ NO ONNA
['Ichimatsu Kozō's Wife']
CAST :
Ochiyo

Nakamura Tokizō

Ichimatsu Kozō no Matakichi

Nakamura Ganjirō

Nagai Yogorō, a constable of the town magistrate

Nakamura Shikan

Okane, Ochiyo's wet nurse

Kataoka Hidetarō
STORY :
This is a play written by Ikenami Shōtarō in the late 1970s, set in the Edo period. The draper Jūemon has two daughters: Ochiyo, by his deceased first wife, and Oyuki, by his second wife. Ochiyo is skilled in swordsmanship and Jūemon intends to find a husband for her but his second wife hopes that her own child Oyuki will inherit the business instead, and so husband and wife are at odds.Thinking that if she leaves her father will give up his idea, Ochiyo goes to live at the house of her former wet nurse. Here she meets a pickpocket called Matakichi with whom she becomes intimate. Her fellow swordsman Yogorō promises to mediate between them and Ochiyo's father. Two years later, the now married couple run a successful haberdashery. But when Ochiyo hears that Matakichi has started pickpocketing again, she ....