Kabukiza Theatre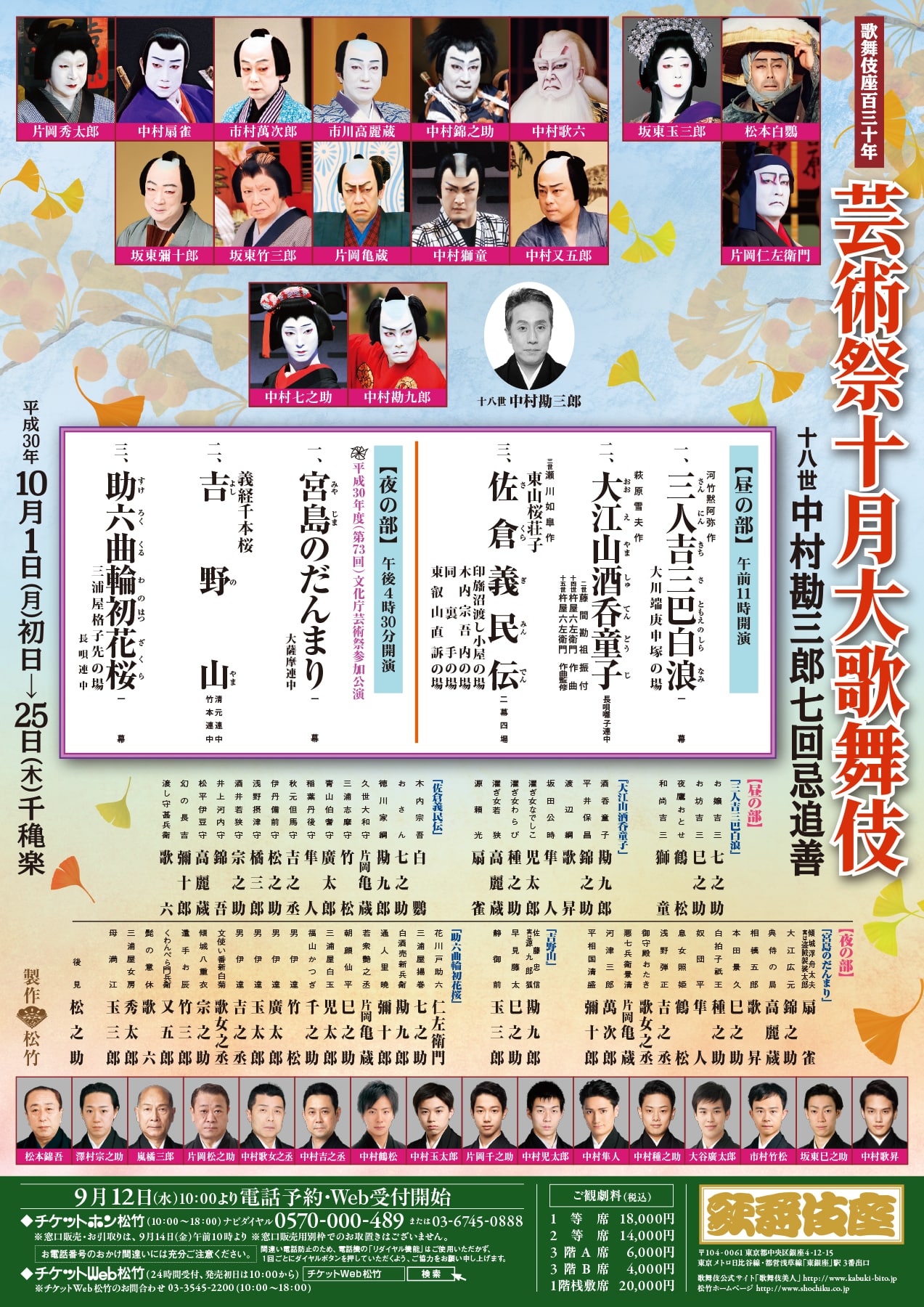 October

at the Kabukiza Theatre

Daily: Oct 01 (Mon) - Oct 25 (Thu), 2018

Matinee:11:00 AM

Evening Show: 4:30 PM

Time Schedule

On sale: from Sep 12 (Wed), 2018 10:00AM(JST) 2018:09:12:10:00:00

Box Seat: 20,000 / First Class: 18,000 / Second Class: 14,000 / Upper Tier A: 6,000 / Upper Tier B: 4,000
Unit: Japanese Yen (tax included)

Kabukiza Theatre (at TOKYO) Theatre Information
The year 2018 is the 130th year since the opening of the Kabukiza Theatre. This month's program commemorates the 7th anniversary of the death of Nakamura Kanzaburō XVIII, so plays and dances associated with him are being performed. The top-ranking actors, Matsumoto Hakuō, Kataoka Nizaemon and Bandō Tamasaburō will appear on stage, while Kanzaburō's two sons, Nakamura Kankurō and Nakamura Shichinosuke, will play important roles both in Matinee and the Evening Show.
SANNIN KICHISA TOMOE NO SHIRANAMI
[ Three Thieves Named Kichisa ]
CAST:
Ojō Kichisa

Nakamura Shichinosuke

Obō Kichisa

Bandō Minosuke

Oshō Kichisa

Nakamura Shidō
STORY:
A woman appears on stage and robs a street walker of her money. The woman is actually a man in disguise. A masterless samurai also appears and the pair starts fighting over the money. Soon, a priest comes between them to calm them down. This priest is actually the disreputable head of a rundown temple. The three eventually notice that they are all thieves who have the same name 'Kichisa', and so they become sworn brothers. Today we can still savor the somewhat decadent atmosphere in the piece that is typical of the late 19th century, and with its famous poetic speeches that sound so melodic, the play is all the more beautiful.
ŌEYAMA SHUTENDŌJI
[ The Demon of Mt. Ōe ]
CAST:
Shutendōji

Nakamura Kankurō

Hirai Yasumasa

Nakamura Kinnosuke

Minamoto no Raikō

Nakamura Senjaku
STORY:
This is a dance drama adapted from the legend of Shutendōji, a demon who loves drinking and lives on Mt. Ōe. Every night, Shutendōji abducts women from the capital and devours their flesh during the day. Ordered to slay this monster, Minamoto no Raikō goes to Mt. Ōe with his retainers disguised as mountain priests. The demon appears before them in the shape of a child. Knowing that Shutendōji loves drinking, Raikō wisely gives him alcohol to take away his power before slaying the demon.
Higashiyama Sakura Sōshi
SAKURA GIMINDEN
['The Story of Sakura Sōgo' commonly known as 'The Story of the Righteous Man of Sakura']
CAST:
Kiuchi Sōgo

Matsumoto Hakuō

Osan, Sōgo's wife

Nakamura Shichinosuke

Tokugawa Ietsuna

Nakamura Kankurō

Matsudaira Izunokami

Ichikawa Komazō

Maboroshi no Chōkichi

Bandō Yajūrō

Jinbē, ferryman

Nakamura Karoku
STORY:
Sōgo cannot stand the suffering of the farmers around him. A series of bad harvests has made things very hard, but corrupt officials refuse to lower taxes or relent in any way. Sōgo goes to Edo to inform the feudal lord himself of these matters, but is turned down by his evil retainers. He decides to bring the case directly to the shogun, a move punishable by death. Hoping to see his family for one last time, Sōgo heads home but there is no boat to cross the river. There was a law that banned boats from crossing the river at night. Sōgo begs the old ferryman to take him across the river. Hearing Sōgo's resolution, the old man cuts the rope tying the boat. The play portrays Sōgo's self-sacrifice in a moving scene where he says farewell to his wife and children, knowing that he may never see them again.
MIYAJIMA NO DANMARI
[ Fight in the Dark on Miyajima Island ]
CAST:
Ukifunedayū, courtesan, in reality Kesatarō, thief

Nakamura Senjaku

Ōe no Hiromoto

Nakamura Kinnosuke

Hei Shōkoku Kiyomori

Bandō Yajūrō
STORY:
A 'Danmari' is a special scene in kabuki which shows people groping in the dark for a treasure or a banner. In this play, the 'danmari' takes place at the Itsukushima Shrine. The thief Kesatarō, disguised as a courtesan, and the warriors of the Genji and Heike clan search for a scroll in the darkness. At the end of the play, Kesatarō exits the stage in a most unique style called 'Keisei Roppō'. While the upper half of his body performs a manly 'Ryōte Roppō' (Roppō with two hands), his bottom half performs a 'hachimonji' (a courtesan's special style of walking in the shape of the character 'eight').
Yoshitsune Senbon Zakura
YOSHINOYAMA
['Mt. Yoshino' from 'Yoshitsune and the Thousand Cherry Trees']
CAST:
Satō Tadanobu, in reality the fox, Genkurō

Nakamura Kankurō

Shizuka Gozen

Bandō Tamasaburō
STORY:
This is a beautiful dance filled with mystery and excitement set amidst the dazzling cherry blossoms of Mt. Yoshino. Shizuka and Tadanobu are on their way to find Shizuka's lover, the military commander Yoshitsune. He has become a fugitive and has had to leave Shizuka behind in the care of his retainer Tadanobu. However, this Tadanobu is actually a magic fox in disguise. He has transformed into human form in order to be with a drum that Shizuka carries, the skins of which are made from the hides of the fox's parents.
SUKEROKU KURUWA NO HATSU ZAKURA
[Sukeroku in the Pleasure Quarters]
CAST:
Hanakawado no Sukeroku

Kataoka Nizaemon

Agemaki, top courtesan of the Miuraya

Nakamura Shichinosuke

Shinbē, a sweet white saké seller

Nakamura Kankurō

A man about town

Bandō Yajūrō

Kanpera Monbē

Nakamura Matagorō

Ikyū, the bearded gallant

Nakamura Karoku

Wife of the Miuraya's proprietor

Kataoka Hidetarō

Soga no Mankō, mother of Sukeroku and Shinbē

Bandō Tamasaburō
STORY:
The Yoshiwara Pleasure quarters in Edo (old Tokyo) are bustling as always. Wearing the most gorgeous kimono, Agemaki, the top courtesan of the Miuraya teahouse, is tipsy and rests in front of the shop. Ikyū, the bearded gallant is in love with her and speaks ill of her lover Sukeroku out of jealousy. Hearing these words, she becomes furious and picks a fight. Just then, Sukeroku himself appears, and after showing off his handsome appearance, he tries to start a fight with Ikyū. This is not a surprise, for Sukeroku is famous for starting fights with people, but this is actually Sukeroku's plan to unsheathe people's swords in order to find out who stole the treasured sword that lead to his father's death. Sukeroku finally sees Ikyū has this very sword and ambushes him....