Kabukiza Theatre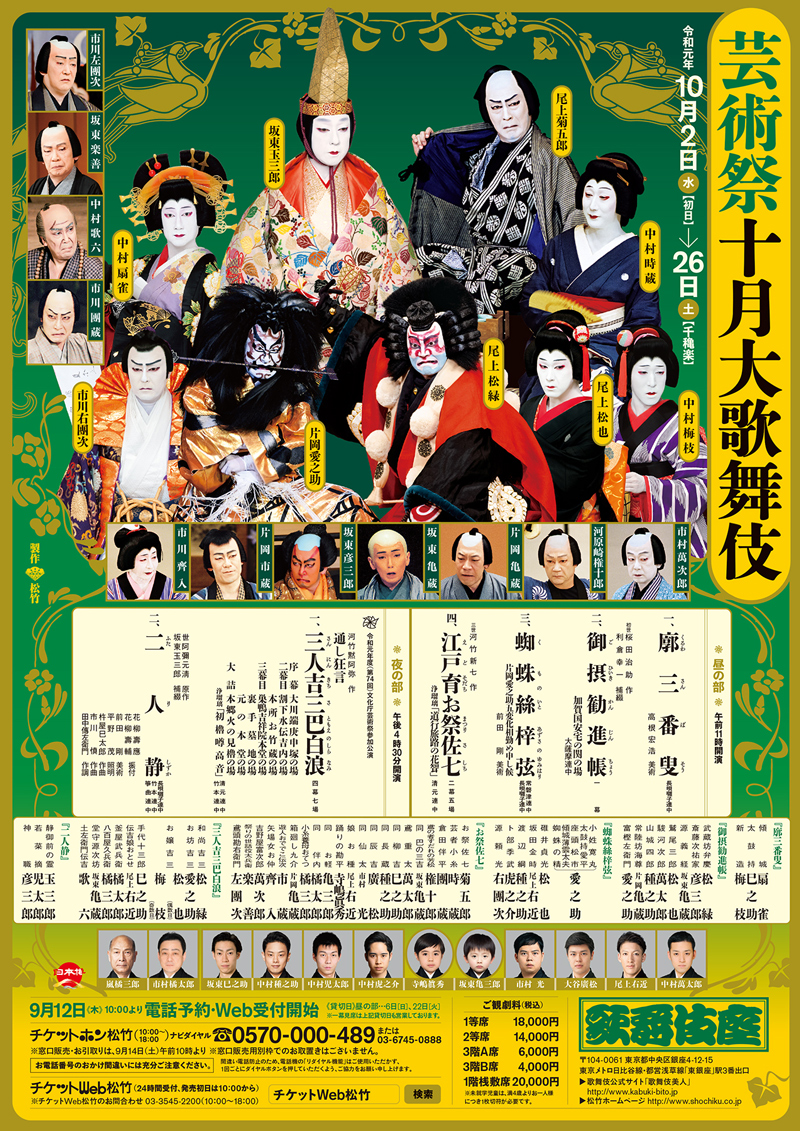 October

at the Kabukiza Theatre

Daily: Oct 02 (Wed) - Oct 26 (Sat), 2019

Matinee:11:00 AM

Evening Show: 4:30 PM

*Reserved seats for the Matinee are sold out on the 6th (Sun) and 22nd (Tue). (Single Act Seats will still be available.)
◇ Time Schedule

[NOTICE] Updated:Performance cancellation due to typhoon#19

Time Schedule

On sale: from Sep 12 (Thu), 2019 10:00AM(JST) 2019:09:12:10:00:00

Box Seat: 20,000 / First Class: 18,000 / Second Class: 14,000 / Upper Tier A: 6,000 / Upper Tier B: 4,000
Unit: Japanese Yen (tax included)
*Children over the age of 4 must purchase tickets to enter.

Kabukiza Theatre (at TOKYO) Theatre Information
You can see a variety of genres of kabuki in October at the Kabukiza Theatre. In the Matinee there will be a masterpiece of the 'sewamono' genre (plays that depict the lives of ordinary people during the Edo Period) called "Edo Sodachi Omatsuri Sashichi", along with a play showing the antique and bombastic 'aragoto' style of acting, plus two dances. In the Evening Show, you can see another 'sewamono' play called "Sannin Kichisa Tomoe no Shiranami," a major work by Kawatake Mokuami who wrote many plays about bandits. The full-length performance will be performed for the first time in fifteen years at this theatre. The Evening Show will conclude with a dance performance by Bandō Tamasaburō, adapted from a masterpiece of the Nō Theatre.
KURUWA SANBASŌ
['Sanbasō in the Pleasure Quarters' ]
CAST :
Courtesan

Nakamura Senjaku
STORY :
'Sanbasō' is an auspicious dance based on the ritual play 'Okina' in the classical Nō Theatre which portrays an old man as a symbol of longevity, and the energetic Sanbasō as a symbol of fertility and prosperity. In kabuki there are many different versions, but this particular one is a parody set in the pleasure quarters, with a beautiful top-ranking courtesan in place of the old man, an apprentice courtesan in place of the old man's attendant Senzai and a 'taiko mochi' entertainer instead of the boisterous Sanbasō.
GOHIIKI KANJINCHŌ
['The Subscription Scroll of Theatre Patrons']
CAST :
Musashibō Benkei

Onoe Shōroku

Togashi no Saemon

Kataoka Ainosuke
STORY :
In the famous play 'Kanjinchō' (The Subscription Scroll), the wise and powerful Benkei gets his master Yoshitsune through a barrier gate by using his wits. This work, 'Gohiiki Kanjinchō', relies on the very old 'aragoto' style of acting for a leisurely and comic version of the same story. Benkei gets his master Yoshitsune through the barrier by pretending to be very weak and allowing himself to be tied up. He cries like a baby when he is tormented by the barrier attendants. But when Benkei recognizes that his master is safe, he explodes with energy, displaying the bombastic 'aragoto' acting style. He breaks the ropes and pulls off the heads of the attendants, tossing them into a barrel and washing them like a bunch of potatoes.
KUMO NO ITO AZUSA NO YUMIHARI
['The Spider's Web and the Catalpa Bow']
CAST :
Hiromaru, a page
Aihei, a jester
Matsuichi, a blind masseur
Usugumo Dayū, a courtesan
The spirit of the spider





Kataoka Ainosuke
STORY :
This is one of the oldest dances in the kabuki repertoire related to the legend of a spider that attacked the medieval warrior, Minamoto no Yorimitsu. Yorimitsu is visited by an evil spider with magical powers. The creature appears in various forms, disguised first as a child, second as a jester, third as a blind masseur and finally as a courtesan. After revealing its true nature, the spider throws out its web, trying to trap the warrior.
EDOSODACHI OMATSURI SASHICHI
['The Festival and Sashichi, a Son of Edo']
CAST :
Omatsuri Sashichi

Onoe Kikugorō

Koito, a geisha

Nakamura Tokizō

Kan'emon, Chief of a fire brigade

Ichikawa Sadanji
STORY :
The energetic fire fighter Sashichi is in love with the geisha Koito. A samurai named Kurata Banpei makes advances towards her and unsheathes his sword. Koito flees, and Sashichi gives shelter to her. Koito's greedy mother-in-law Otetsu tells her a made-up story that Koito's true father killed Sashichi's father. Koito believes this story and is convinced that she cannot marry Sashichi. She leaves a letter to part from him. Abandoned unexpectedly by her, he gets furious, ambushes and stabs her to death.
SANNIN KICHISA TOMOE NO SHIRANAMI
['Three Thieves Named Kichisa']
CAST :
Oshō Kichisa

Onoe Shōroku

Obō Kichisa

Kataoka Ainosuke

Ojō Kichisa

Onoe Matsuya (On even-numbered days)/Nakamura Baishi (On odd-numbered days)

Dozaemon Denkichi

Nakamura Karoku
STORY :
Ojō Kichisa, a thief disguised as a girl, steals 100 gold pieces. Another thief Obō Kichisa happens to witness this act and they struggle for the money. A third thief, Oshō Kichisa, mediates between them. The three become sworn brothers and the money passes into Oshō's hands. Denkichi's son Oshō comes home to give him the money, but he throws it away and it passes into Kamaya Buhē's hands. Obō Kichisa robs it from Buhē and kills Denkichi, unaware that he is Oshō's father. After committing one crime after another, the three thieves are pursued by the police and all the gates in the town are locked. Oshō kills his sister Otose and his brother Jūzaburō who have committed incest, as scapegoats for Ojō and Obō. Ojō pounds the drum that hangs in the fire watch tower to open the town gates and the three thieves meet again under the heavy snow.
FUTARI SHIZUKA
['The Two Shizukas']
CAST :
The spirit of Shizuka Gozen

Bandō Tamasaburō
STORY :
As a woman picks herbs for a shrine ritual, the spirit of Shizuka Gozen possesses her and asks the priest to copy a sutra. As she dances at the priest's request, Shizuka's spirit dances with her, asking him to pray for her soul before disappearing.