Kabukiza Theatre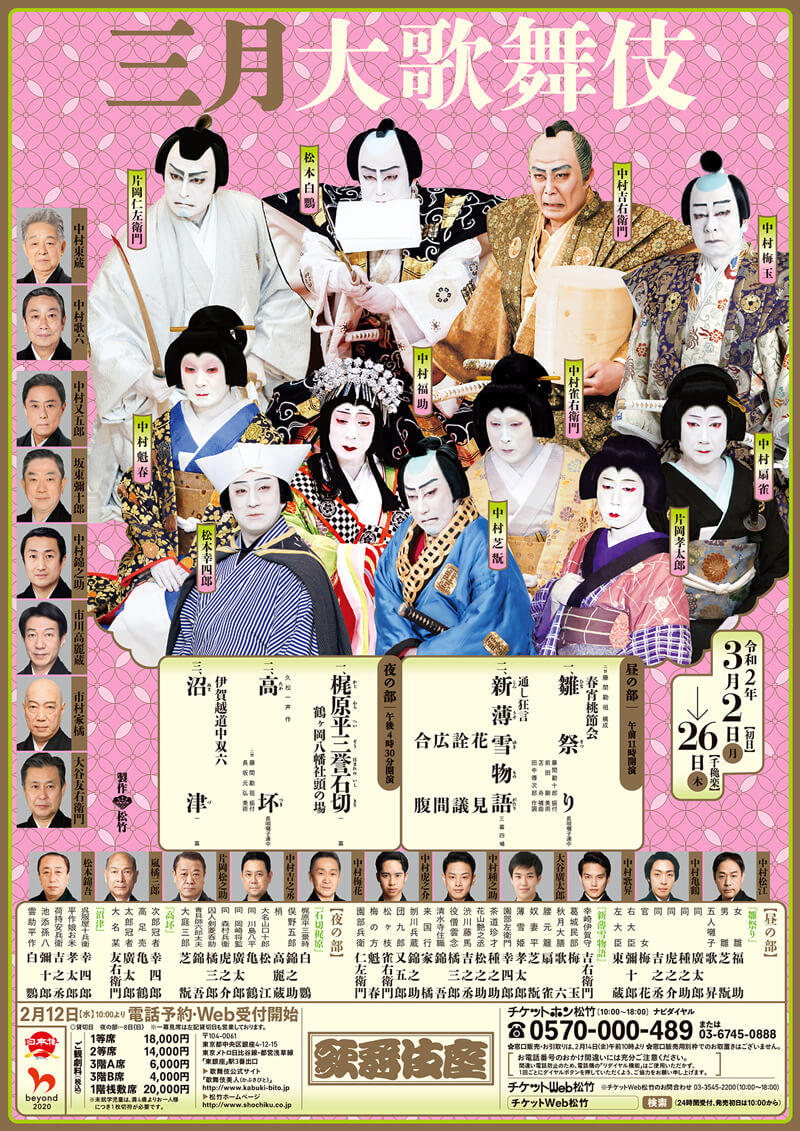 There is a great variety of kabuki works being performed in March at the Kabukiza Theatre.
In the Matinee you can see a masterpiece of the 'history play' category, "Shin Usuyuki Monogatari." It begins with a scene set in Kiyomizu-dera Temple with cherry trees in full bloom, and deals with a young couple torn apart by an intrigue, as well as their parents who sacrifice themselves for their children. Also being performed is a dance based on an annual event in March in Japan.
In the Evening Show you can see two plays. The highlight of the play "Kajiwara Heizō Homare no Ishikiri" is a scene in which the hero cuts a stone basin with a Japanese sword, while in the play "Numazu", the sorrowful parting of a father and son is depicted. Please look forward also to "Takatsuki", a rhythmical dance on tall wooden clogs, inspired by a tap dance!
HINA MATSURI
[ 'Doll's Festival' ]
CAST :
Empress doll

Nakamura Fukusuke

Emperor doll

Nakamura Shikan 

Minister of the Right

Bandō Yajūrō

Minister of the Left

Nakamura Tōzō
STORY :
In the early evening of the Doll's Festival the Empress doll, the Emperor doll, the dolls of the Minister of the Right, the Minister of the Left, the three court ladies and the five musicians line up on a tiered stand. First, the Minister of the Right and the Minister of the Left begin an elegant dance, after which all the rest also join in. In time they begin to dance freely. Hearing the evening bell, they hurry to line up on the stand, but they return to the wrong positions and mix up their belongings for they are drunk on sweet white saké.
SHIN USUYUKI MONOGATARI
Hanami, Sengi, Hiroma, Aibara
[ 'Flower-Viewing', 'Interrogation', 'A Reception Room at Sonobe Hyōe's Mansion' and 'The Self-Sacrifice' from 'The New Tale of Princess Usuyuki' ]
CAST :
Saizaki Iga no kami

Nakamura Kichiemon

Katsuragi Minbu

Nakamura Baigyoku

Akizuki Daizen

Nakamura Karoku

Magaki, a lady-in-waiting

Nakamura Senjaku

Tsumahei, Sonobe Saemon's servant

Nakamura Shikan

Princess Usuyuki

Kataoka Takatarō

Sonobe Saemon

Matsumoto Kōshirō

Hanekawa Hyōzō

Nakamura Kinnosuke

Dankurō     

Nakamura Matagorō

Matsugae

Nakamura Jakuemon

Ume no kata

Nakamura Kaishun

Sonobe Hyōe

Kataoka Nizaemon
STORY :
Saemon, the son of the Sonobe family, and Princess Usuyuki, the daughter of the Saizaki family, fall in love after glimpsing one another under the cherry blossoms of Kiyomizu-dera Temple and are brought together by their servants. The villain Daizen places a curse on a sword presented to the temple by Saemon. By framing the couple, he hopes to destroy their families so they cannot hinder his effort to take over the country. Saemon's servant Tsumahei almost defeats this plan and is attacked by Daizen's henchmen in a spectacular fight scene with water buckets.
Saemon and Princess Usuyuki are charged with treason. Minbu comes to investigate the two, and although they maintain their innocence, Daizen is able to turn the evidence against them. The compassionate Minbu gives them a temporary reprieve, but still must place them under house arrest, each at the house of the other's family, with Saemon at Saizaki's Mansion and Princess Usuyuki at Sonobe's Mansion.
Unable to prove the innocence of the young couple, Sonobe Hyōe and his wife Ume no kata allow Princess Usuyuki to escape. Saizaki appears with a head box which he says contains the head of Saemon and demands that Sonobe cut off Princess Usuyuki's head. Sonobe returns with a head box, having secretly stabbed himself to atone for letting Princess Usuyuki escape. Opening the cover of each head box at the same time, Saizaki and Sonobe notice the letters inside them that apologize for the faults of releasing Saemon and Usuyuki. They make eye contact and laugh at each other. Two fathers have both committed 'seppuku' (ritual disembowelment) and have sacrificed themselves out of love for their children.
KAJIWARA HEIZŌ HOMARE NO ISHIKIRI
[ 'The Stone Cutting Feat of Kajiwara Heizō' ]
CAST :
Kajiwara Heizō Kagetoki

Matsumoto Hakuō

Matano no Gorō

Nakamura Kinnosuke

Kozue

Ichikawa Komazō

Rokurodayū, a mother-of-pearl craftsman

Matsumoto Kingo

Ōba Saburō

Nakamura Shikan
STORY :
This play is one act from a 'jidaimono' history play set in the 12th century. The Taira generals are visiting the Tsurugaoka Hachiman-gū Shrine in Kamakura. Rokurodayū and his daughter Kozue go there to sell a sword. The Taira general Kajiwara is asked to test the sharpness of the sword by slicing two live human beings in half. The sword is a priceless heirloom belonging to the enemy Genji clan, and he deliberately fails the test in order to keep it from falling into the hands of his Taira clan. Though he himself is now a member of the Taira clan, Kajiwara reveals that his true feelings are with the Genji. Finally, he demonstrates the true power of the sword by cutting a large stone basin in two.
TAKATSUKI
[ 'The Dance on the Clogs' ]
CAST :
Jirōkaja

Matsumoto Kōshirō
STORY :
In this relatively modern dance-comedy adapted from the style of classical Kyōgen farces, the servant Jirōkaja is ordered by his lord to buy a "takatsuki," which is a kind of ceremonial saké cup on a stand. Jirōkaja does not understand his lord's orders and is persuaded by a fast-talking geta clog salesman to buy a pair of clogs instead, thinking that this is the stand for which he was sent. After drinking a good amount of saké, he brings his purchase to the lord and responds to the lord's anger with a dance wearing the clogs, a virtuoso routine inspired by tap dancing.
Igagoe Dōchū Sugoroku
NUMAZU
[ 'Numazu Post Station' from 'The Vendetta at Iga Province' ]
CAST :
Jūbē, a draper

Matsumoto Kōshirō

Oyone, Heisaku's daughter

Kataoka Takatarō

Ikezoe Magohachi

Bandō Yajūrō

Heisaku, a porter

Matsumoto Hakuō
STORY :
This play is a dramatization of one of the most famous historical vendettas of the Edo period. This act shows the tragedy of the common people who unintendedly got involved in the vendetta. The kimono merchant Jūbē meets a porter Heisaku as he travels west on business. Heisaku tries to carry Jūbē's luggage, but he is unsteady on his feet and finally gets hurt. Stopping at Heisaku's house, Jūbē falls in love with Heisaku's daughter Oyone at first sight. During his stay there, Oyone attempts to steal Jūbē's Inrō (medicine case) for her husband. They finally find out that, not only are they long-separated family relations, but that they also lie on opposite sides of the vendetta. Their loyalties prevent them from openly acknowledging their relationship, so Heisaku sacrifices his life to get information from his son, and...