Kabukiza Theatre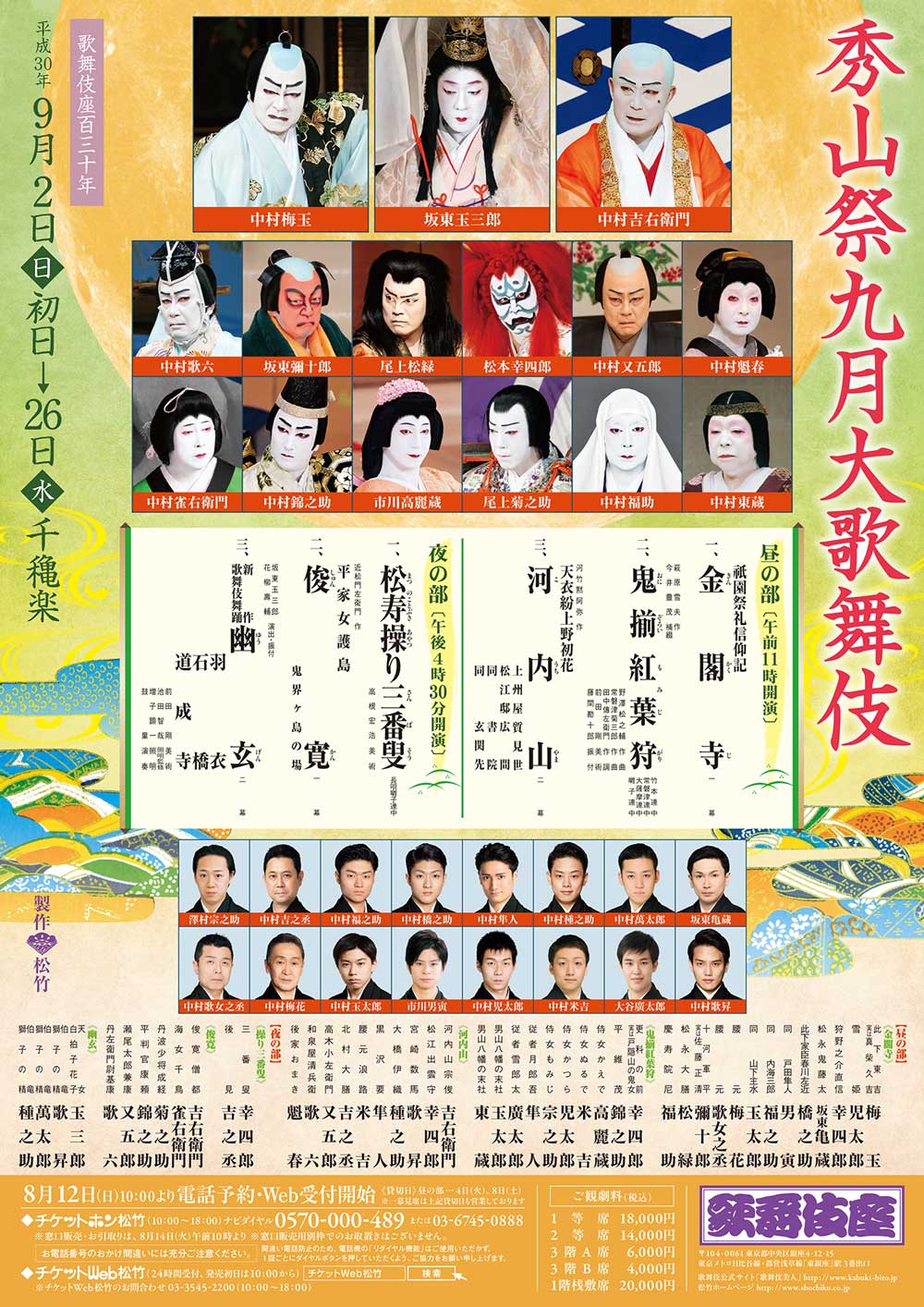 September

at the Kabukiza Theatre

Daily: Sep 02 (Sun) - Sep 26 (Wed), 2018

Matinee:11:00 AM

Evening Show: 4:30 PM

*Reserved seats for the Matinee are sold out on the 4th (Tue) and the 8th (Sat). (Single Act Seats will still be available.)

Time Schedule

On sale: from Aug 12 (Sun), 2018 10:00AM(JST) 2018:08:12:10:00:00

Box Seat: 20,000 / First Class: 18,000 / Second Class: 14,000 / Upper Tier A: 6,000 / Upper Tier B: 4,000
Unit: Japanese Yen (tax included)

Kabukiza Theatre (at TOKYO) Theatre Information
The year 2018 is the 130th year since the opening of the Kabukiza Theatre. This month's program is titled 'Shūzan-sai' (the Shūzan Festival). Shūzan was the pen name of Nakamura Kichiemon I, and to honor his outstanding artistry and talent, his adopted son Nakamura Kichiemon II, who inherits his great art, along with related actors play some of his favorite roles. This year, the brand-new dance 'YŪGEN' featuring Bandō Tamasaburō, will also be performed in the Evening Show.
Gion Sairei Shinkōki
KINKAKUJI
[ 'The Golden Pavilion' from 'The Gion Festival Chronicle of Faith' ]
CAST :
Konoshita Tōkichi, in reality Mashiba Hisayoshi

Nakamura Baigyoku

Yukihime

Nakamura Kotarō

Kanōnosuke Naonobu

Matsumoto Kōshirō

Matsunaga Kitōda

Bandō Kamezō

Sogō Gunpei, in reality Satō Masakiyo

Bandō Yajūrō

Matsunaga Daizen

Onoe Shōroku

Keijuin, shōgun's mother

Nakamura Fukusuke
STORY :
This is a 'jidaimono', a history play portraying the life of warriors in the 16th century.
Matsunaga Daizen has defeated the shōgun and has set up base in the Golden Pavilion. The brilliant strategist Hisayoshi, disguised as a disgruntled retainer named Tōkichi, pretends to enter Daizen's employ to try to sabotage his plans from within.Yukihime is being held prisoner by Daizen. In a famous highlight of the play, she is bound to a cherry tree, but when she draws a mouse in the tree's petals, the mouse miraculously comes to life and chews the ropes that bind her. The role of Yukihime is considered to be one of the most difficult 'princess' roles in kabuki and only the most accomplished actors are allowed to play this role.
ONI ZOROI MOMIJIGARI
[ Demons gather at a Maple-Viewing Party ]
CAST :
Princess Sarashina, in reality the demon of Mt. Togakushi

Matsumoto Kōshirō

Taira no Koremochi

Nakamura Kinnosuke

Kaede, lady-in-waiting to Princess Sarashina

Ichikawa Komazō

Subordinate shrine goddess at the Otokoyama Hachiman

Nakamura Tōzō
STORY :
This is a dance drama by Hagiwara Yukio adapted from the Nō play 'Momijigari'. It includes a spectacular finale featuring a large group of demons.
While Taira no Koremochi, a warrior of the 10th century, is viewing the scarlet maple leaves on Mt. Togakushi in Shinano Province, he comes across a party of women accompanying the beautiful Princess Sarashina. She invites him to join her party and entertains him with a captivating dance, during which he is given so much saké that he becomes tipsy and dozes off. The Princess and her ladies-in-waiting reveal their true identities as demons.
Kumoni Magou Ueno no Hatsuhana
KŌCHIYAMA
[ 'The Tea-ceremony Priest Kōchiyama' from 'Ueno's First Cherry Blossoms Mistaken for Clouds' ]
CAST :
Kōchiyama Sōshun

Nakamura Kichiemon

Matsue, Lord of Izumo

Matsumoto Kōshirō

Takagi Kozaemon

Nakamura Matagorō

Izumiya Seibē

Nakamura Karoku

Omaki, a widow

Nakamura Kaishun
STORY :
The 'tea-ceremony priest' Kōchiyama is a skilled extortionist and he is now working on another scheme to obtain money. He disguises himself as a high-ranking priest in order to gain the freedom of a girl captured by a powerful samurai lord because she will not become his mistress. During his heated discussions, in which the actor speaks the famous poetic cadences of the late 19th century playwright Kawatake Mokuami, Kōchiyama not only succeeds in his mission to rescue the girl but manages to extort a fair amount for himself.
MATSU NO KOTOBUKI AYATSURI SANBASŌ
[ The Marionette Sanbasō ]
CAST :
Sanbasō

Matsumoto Kōshirō
STORY :
Sanbasō is one character in the ritual Nō play 'Okina', which is a kind of prayer for peace and prosperity. The Sanbasō dance appears in many forms and in this particular version, the Sanbasō is shown as a giant marionette. The marionette Sanbasō is taken out of the box by the stage assistant and starts dancing in a sprightly manner.
Heike Nyogo no Shima
SHUNKAN
[ 'The Priest Shunkan' from 'The Heike and the Island of Women' ]
CAST :
The Priest Shunkan

Nakamura Kichiemon

Chidori, a woman diver

Nakamura Jakuemon

Tanba no Shōshō Naritsune

Onoe Kikunosuke

Hei Hangan Yasuyori

Nakamura Kinnosuke

Seno'o no Tarō Kaneyasu

Nakamura Matagorō

Tan Saemonnojō Motoyasu

Nakamura Karoku
STORY :
The priest Shunkan has been exiled to "Devil's Island" for plotting against the dictator Kiyomori. A pardon is given to his fellow conspirators and Shunkan. However, as he hears that his wife has died in Kyoto, Shunkan gives up his place on the boat to freedom so his companion's new wife can accompany her husband back to the capital. The boat leaves and Shunkan is left watching it disappear in the distance, knowing he will be left on the island forever.
Enjoy this masterpiece of the 'jidaimono' history play category.
YŪGEN
Hagoromo
Shakkyō
Dōjōji
[ 'The Feather Mantle', 'The Stone Bridge' and 'Dōjōji Temple' from the dance 'Profundity' ]
CAST :
A heavenly maiden
Hanako, a shirabyōshi dancer

Bandō Tamasaburō
STORY :
In this new dance creation first performed last year, Bandō Tamasaburō expresses the world of Zeami who is credited with having perfected the art of Nō. Together with the professional drumming troupe called Kodō, Tamasaburō performs three graceful dances that are based on Nō plays.
Hagoromo [The Feather Mantle]
A fisherman comes to the pine grove of Miho no Matsubara and finds a feather mantle hanging on a branch. He gives it back to the heavenly maiden to whom it belongs, she puts it on and flies back to heaven.
Shakkyō [The Stone Bridge]
A Buddhist monk tries to cross the Stone Bridge on Mt. Seiryō in China but is stopped. He is told that only those with sufficient merit may cross because on the other side lies the Buddhist paradise. Later there appears a 'shishi' lion, on which the Buddhist deity Manjushiri is normally seen riding. It plays with peonies and dances valiantly.
Dōjōji [Dōjōji Temple]
A 'shirabyōshi' dancer visits Dōjōji Temple to attend the dedication ceremony for a brand-new temple bell. Eventually, she causes the bell to fall as she herself disappears inside it. When it is lifted, she is found transformed into a serpent. It becomes clear that she is the same jealous spirit who destroyed the original bell after being deserted by the man to whom she believed herself betrothed.