Kabukiza Theatre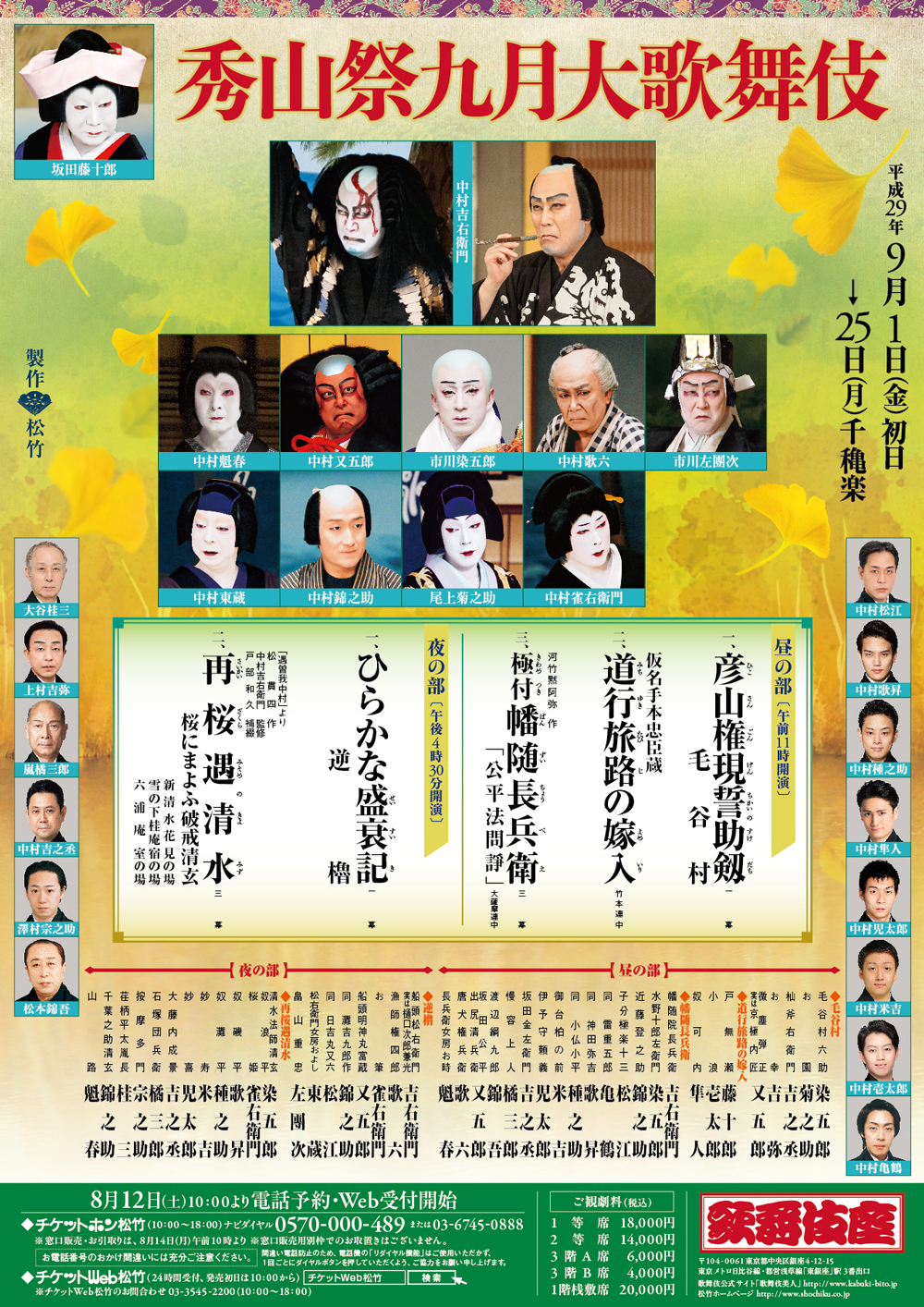 September

at the Kabukiza Theatre

Daily: Sep 01 (Fri) - Sep 25 (Mon), 2017

Matinee:11:00 AM

Evening Show: 4:30 PM

Time Schedule

On sale: from Aug 12 (Sat), 2017 10:00AM(JST) 2017:08:12:10:00:00

Box Seat: 20,000/
First Class: 18,000 / Second Class : 14,000/
Upper Tier A: 6,000 / Upper Tier B: 4,000
Unit: Japanese Yen (tax included)

Kabukiza Theatre (at TOKYO) Theatre Information
This month's program is titled 'Shūzan-sai' (the Shūzan Festival). Shūzan was the pen name of Nakamura Kichiemon I, and to commemorate his life and skill, his descendants play some of his favorite roles. In the Evening Show, however, 'SAIKAI ZAKURA MISOME NO KIYOMIZU' will be performed for the first time at the Kabukiza. This play was written by Matsu Kanshi, the pen name of the present Nakamura Kichiemon II. He originally played the lead in this work, but this time he will direct the play while his nephew plays the lead.
HIKOSAN GONGEN CHIKAI NO SUKEDACHI -Keyamura
[Rokusuke helps his fiancée take revenge - Keyamura Village ]
CAST :
Keyamura Rokusuke

Ichikawa Somegorō

Osono

Onoe Kikunosuke

Mijin Danjō, in reality Kyōgoku Takumi

Nakamura Matagorō
STORY :
This is a jidaimono 'history' play set in the Azuchi Momoyama period (16th century). Rokusuke, a farmer who lives at the foot of Mt. Hiko in Buzen Province, is also a master swordsman. In the Kokura Domain, a proclamation has been issued saying that any man who is able to defeat Rokusuke will be employed as a retainer. One night, as Rokusuke is keeping vigil at Sugisaka Grave after his mother's death, a masterless samurai who calls himself Mijin Danjō passes by with his old mother. Mijin Danjō asks Rokusuke to let him win the sword match. He says he wants to be a good son and use the prize of 500 bales of rice to look after his ailing mother. Touched by his filial piety, Rokusuke promises to do so. After they part, a young samurai serving Rokusuke's former sword master, Yoshioka Ichimisai, is attacked by a bandit. Rokusuke drives the bandit away, but the samurai breathes his last, leaving the boy who accompanied him in Rokusuke's care. A few days later the sword match is held at Rokusuke's house and Rokusuke lets Danjō win the match as promised. Danjō goes off triumphantly. Sometime later, Rokusuke's fiancée Osono (whom Rokusuke has never met) comes to Rokusuke's house disguised as a wandering priest. To Rokusuke's surprise, Yasomatsu, the boy left in Rokusuke's care, turns out to be the son of Osono's sister. Furthermore, Rokusuke finds out that Danjō is, in reality, the wicked villain Kyōgoku Takumi who murdered Ichimisai, Osono's father and Rokusuke's former master. Rokusuke is furious to find out that he has been deceived, and goes off with Osono to seek revenge on Kyōgoku Takumi.
From KANADEHON CHŪSHINGURA -MICHIYUKI TABIJI NO YOMEIRI
[The Bride's Journey]
CAST :
Tonase

Sakata Tōjūrō

Konami

Nakamura Kazutarō
STORY :
This is a dance act from the famous play 'KANADEHON CHŪSHINGURA' (the 'Treasury of Loyal Retainers'). Lord Enya Hangan's attack on the senior official Kō no Moronō affected people even outside his own household. When Honzō, the senior retainer of another lord, stopped Enya from killing Moronō, he thought that he was doing a good thing. But his actions earned him the scorn of Enya's retainers. It also brought personal tragedy to Honzō's daughter who had been engaged to Rikiya, the son of Enya's head retainer, Yuranosuke. This is a short dance scene that portrays Honzō's wife Tonase and their daughter Konami traveling along the Tōkaidō highway to Kyōto on a desperate journey to unite her with Rikiya. The beauty of the journey and the innocent happiness of the young bride contrast with the anxious feelings of the mother, who is aware that this trip will end in tragedy. There is also a humorous encounter with a boisterous samurai footman.
KIWAMETSUKI BANZUI CHŌBĒ
[The End of Banzui'in Chōbē]
CAST :
Banzui'in Chōbē

Nakamura Kichiemon

Mizuno Jūrōzaemon

Ichikawa Somegorō

Kondō Noborinosuke

Nakamura Kinnosuke

Sakata Kimpira/ Detchiri Seibē

Nakamura Matagorō

Tōken Gonbē

Nakamura Karoku

Otoki, Chōbē's wife

Nakamura Kaishun
STORY :
This is a sewamono play, a work portraying in a realistic way the lives of ordinary people in the Edo period. We begin with a play within a play. The Murayama-za Theatre in Edo (present day Tokyo) is in great uproar. The play 'Kimpira Hōmon Arasoi' is interrupted at its climax by a drunk retainer of Mizuno Jūrōzaemon, the leader of a gang of samurai. A chivalrous townsman named Banzui'in Chōbē steps up to the stage and finally has the drunk retainer removed. However, Mizuno Jūrōzaemon himself witnesses this from a box seat and resents Chōbē for publicly shaming one of his gang. Plotting to kill Chōbē, he invites him to a wisteria-viewing party at his mansion. Despite his wife's and his followers' fears that he will be assassinated, Chōbē accepts this invitation and goes alone to Mizuno's mansion. After saké is deliberately spilt on Chōbē's clothes, he is invited to wash in Mizuno's splendid new bathroom. It is here that Chōbē is attacked by Mizuno and his retainers. After putting up a brave fight, Chōbē meets his end.
HIRAKANA SEISUIKI - Sakaro
[The Return to Glory of the Genji Clan - Reverse Rowing]
CAST :
Matsuemon, a boatman, in reality Higuchi no Jirō Kanemitsu

Nakamura Kichiemon

Gonshirō, a fisherman

Nakamura Karoku

Ofude

Nakamura Jakuemon

Myōjinmaru Tomizō, a boatman

Nakamura Matagorō

Nadayoshi Kurosaku, a boatman

Nakamura Kinnosuke

Hiyoshimaru Mataroku, a boatman

Nakamura Matsue

Oyoshi, Matsuemon's wife

Nakamura Tōzō

Hatakeyama Shigetada

Ichikawa Sadanji
STORY :
This is a history play taken originally from the Bunraku puppet theatre, and it combines a historical tale with the daily life of commoners. Matsuemon has married into the family of a country boatman. Having learned the special rowing skills from his father-in-law, he is invited to transport the Genji general Yoshitsune. But Matsuemon is actually the warrior Higuchi Kanemitsu in disguise. In truth, he is a leading retainer of Kiso Yoshinaka, a general from a rival branch of the Genji clan who has been killed by men under the leadership of Yoshitsune. He sees this as a perfect opportunity to take his revenge. However, before he can put his plan into action, his identity is discovered and he gets captured in a spectacular battle on sea and land.
SAIKAI ZAKURA MISOME NO KIYOMIZU
[Priest Seigen becomes depraved, desiring to be reunited with Sakurahime]
CAST :
Seigen, a priest of Kiyomizu Temple/Namihei, a footman

Ichikawa Somegorō

Sakurahime

Nakamura Jakuemon

Chibanosuke Kiyoharu

Nakamura Kinnosuke

Yamaji

Nakamura Kaishun
STORY :
First performed in 1985, this is a new Kabuki production written by Matsu Kanshi (the pen name of Nakamura Kichiemon II). It belongs to a group of works which feature the Priest Seigen and Sakurahime. It is the day on which Minamoto no Yoritomo is to dedicate a sword to Shin-Kiyomizu Temple in Kamakura to ward off evil. Chibanosuke Kiyoharu has been given the duty of arranging this. Egara no Heita Tanenaga is in love with Sakurahime but his feelings are unrequited because she is in love with Kiyoharu. Sakurahime gives Kiyoharu a love letter and they go to a hermitage. Kiyoharu drops the letter, however, and when Tanenaga picks it up he burns with anger. Reading it, he learns about their secret meeting. As they are about to be taken away from the hermitage, Sakurahime's lady-in-waiting Yamaji asserts wrongly that the man having an illicit relationship with Sakurahime is, in fact, Priest Seigen, for the names 'Seigen' and 'Kiyoharu' happen to be written with the same Chinese characters. Though Priest Seigen is astonished at this, since it is the duty of priests to help people, he accepts the disgrace of being a depraved priest and leaves the temple. Sakurahime jumps down from the high platform of the temple, prepared to die. Seigen rescues her and, while tending to her, he comes to love her. Eventually, he urges her to accept his love, but she refuses him and runs away with Kiyoharu. Seigen wanders about with Sakurahime's torn sleeve in his arms. Yamaji's husband, Namihei, a footman, gives shelter to Kiyoharu and Sakurahime in the house of Yamaji's father Sōbē. But pursuers are hot on their heels and they disperse. A wicker basket in which Sakurahime is being carried, is left by chance in Seigen's care at his hermitage in the east of Kamakura. As Seigen embraces her, the footman Isohei arrives and slays him. But Seigen's embittered spirit haunts her.