Kabukiza Theatre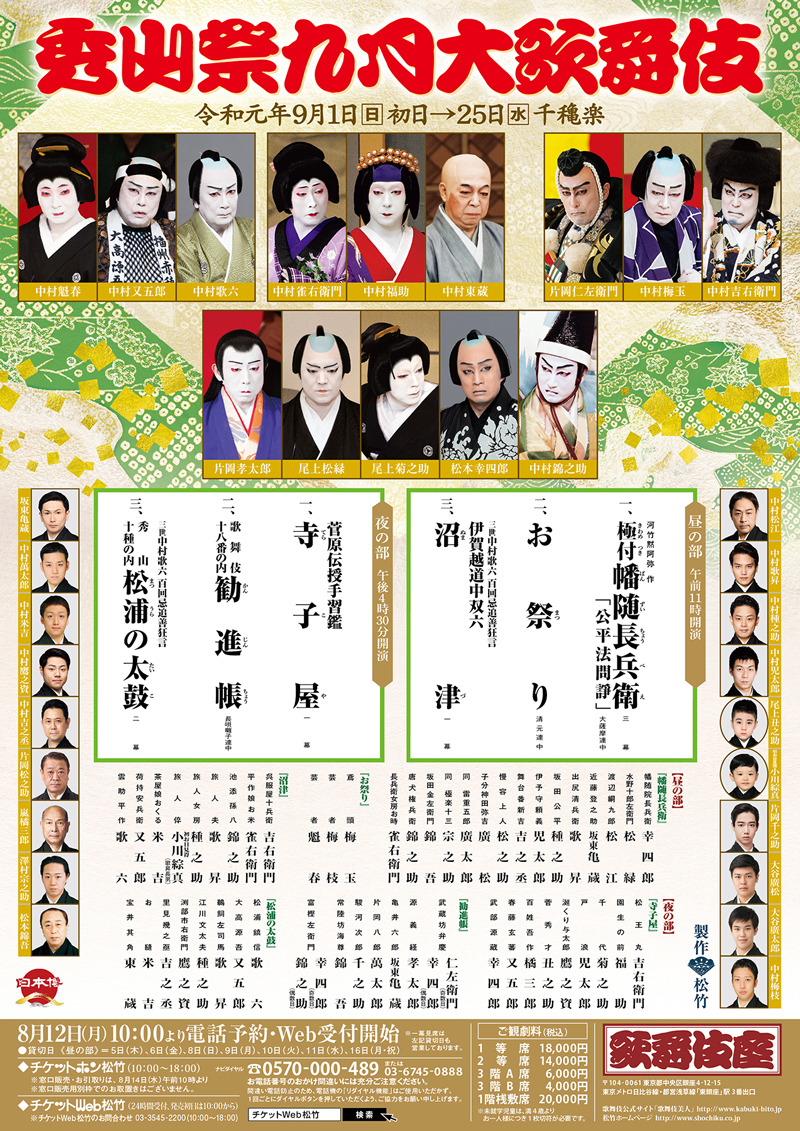 September

at the Kabukiza Theatre

Daily: Sep 01 (Sun) - Sep 25 (Wed), 2019

Matinee:11:00 AM

Evening Show: 4:30 PM

*Reserved seats for the Matinee are sold out on the 5th (Thu),6th (Fri),8th (Sun),9th (Mon),10th (Tue),11th (Wed),16th (Mon). (Single Act Seats will still be available.)

◇ Time Schedule



Time Schedule

On sale: from Aug 12 (Mon), 2019 10:00AM(JST) 2019:08:12:10:00:00

Box Seat: 20,000 / First Class: 18,000 / Second Class: 14,000 / Upper Tier A: 6,000 / Upper Tier B: 4,000
Unit: Japanese Yen (tax included)
*Children over the age of 4 must purchase tickets to enter.

Kabukiza Theatre (at TOKYO) Theatre Information
This month's program is titled 'Shūzan-sai' (the Shūzan Festival). Shūzan was the pen name of Nakamura Kichiemon I, and to honor his outstanding artistry and talent, his adopted son Nakamura Kichiemon II who inherits his great art, along with related actors, play some of his favorite roles. In addition, to commemorate the 100th anniversary of the death of Nakamura Karoku III (Kichiemon I's father), "Numazu" is performed in the Matinee, while "Matsuura no Taiko" is performed in the Evening Show.


KIWAMETSUKI BANZUI CHŌBĒ
[ 'The End of Banzui'in Chōbē' ]
CAST :
Banzui'in Chōbē

Matsumoto Kōshirō

Mizuno Jūrōzaemon

Onoe Shōroku

Tōken Gonbē

Nakamura Kinnosuke

Otoki, Chōbē's wife

Nakamura Jakuemon
STORY :
In the early Edo period, gallant men like Banzui'in Chōbē were leaders among the ordinary townspeople. But this incurred the wrath of members of the samurai class who were theoretically in control. A fight breaks out which is settled by Chōbē at the theatre, but Chōbē's skillful arbitration frustrates the samurai Mizuno. A short time later, Mizuno invites Chōbē to visit his mansion. All of Chōbē's men tell him not to go because it is a trap, but Chōbē decides to meet his end and bids farewell to his wife and son.
OMATSURI
[ 'The Festival' ]
CAST :
Chief of a firefighting troop

Nakamura Baigyoku

A geisha

Nakamura Kaishun
STORY :
The gallant commoners of an Edo neighborhood loved nothing better than a festival. This short dance shows a gallant fireman, the hero of the commoners, and then shows the festival 'shishi' lion running wild in a dance-like fight with the energetic young men of the festival. 
Igagoe Dōchū Sugoroku
NUMAZU
[ 'The Vendetta at Iga Province - Numazu Post Station' ]
CAST :
Jūbē, a draper

Nakamura Kichiemon

Oyone, Heisaku's daughter

Nakamura Jakuemon

Ikezoe Magohachi

Nakamura Kinnosuke

Traveler

Nakamura Kashō

Traveler's wife

Nakamura Tanenosuke

Traveler's son

Ogawa Sōma, (making his first appearance on stage)

Okuru, a waitress

Nakamura Yonekichi

Yasubē, a carrier

Nakamura Matagorō

Heisaku, a porter

Nakamura Karoku
STORY :
This play is a dramatization of one of the most famous historical vendettas of the Edo period. This act shows the tragedy of the common people who unintentionally became involved in the vendetta. The kimono merchant Jūbē meets the porter Heisaku as he travels west on business. They discover that, not only are they long-separated father and son, but that they also lie on opposite sides of the vendetta. Their loyalties prevent them from openly acknowledging their relationship, so Heisaku sacrifices his life to get information from his son about where his enemy may be found...
Sugawara Denju Tenarai Kagami
TERAKOYA
[ 'The Village School' from 'Sugawara's Secrets of Calligraphy' ]
CAST :
Matsuōmaru

Nakamura Kichiemon

Sono'o no mae, Kan Shōjō's wife

Nakamura Fukusuke

Chiyo

Onoe Kikunosuke

Kan Shūsai

Onoe Ushinosuke

Tonami, Genzō's wife

Nakamura Kotarō

Shundō Genba

Nakamura Matagorō

Takebe Genzō

Matsumoto Kōshirō
STORY :
Takebe Genzō was a loyal retainer of Kan Shōjō​, a former imperial minister. Genzō and his wife Tonami now run a small school in the country and are sheltering Kan Shōjō's son and heir, Kan Shūsai. However, Genzō has been ordered to behead Kan Shūsai. Moreover, the retainer Matsuōmaru who knows Kan Shūsai's face is to come to inspect the head. Seemingly by chance, a new student named Kotarō arrives that day who has a more refined bearing, and Genzō takes the terrible decision to kill him in place of his lord's son. Matsuōmaru inspects the head and, surprisingly, confirms it to be that of Kan Shūsai. As it turns out, Matsuōmaru had sent his own son to be sacrificed...
KANJINCHŌ
[ 'The Subscription Scroll' ]
CAST :
Musashibō Benkei

Kataoka Nizaemon (On odd-numbered days)/Matsumoto Kōshirō (On even-numbered days)

Minamoto no Yoshitsune

Kataoka Takatarō

Togashi no Saemon

Matsumoto Kōshirō (On odd-numbered days)/Nakamura Kinnosuke (On even-numbered days)
STORY :
Disguised as traveling priests, the fugitive general Yoshitsune and his band of retainers are stopped at a road barrier. The head retainer Benkei claims they are soliciting contributions for the rebuilding of a temple, but the barrier guard Togashi insists that, if so, they must have the temple's book of solicitation. Benkei elaborately improvises the text with an empty scroll. When one soldier points out that one of the group resembles Yoshitsune, Benkei is forced to strike Yoshitsune with his staff. Togashi is convinced that they are the fugitives but, sympathizing with Benkei's loyalty, he tells them to proceed on their way.
MATSUURA NO TAIKO
[ 'Lord Matsuura and the Drum of Chūshingura' ]
CAST :
Matsuura Shizunobu

Nakamura Karoku

Ōtaka Gengo

Nakamura Matagorō

Onui

Nakamura Yonekichi

Takarai Kikaku

Nakamura Tōzō
STORY :
This play describes events that took place at the same time as the revenge of the forty-seven loyal retainers that was made famous by the play "Chūshingura". Lord Matsuura is disgusted because the loyal retainers do not seem to be interested in avenging the death of their lord. Moreover, he learns from a haiku teacher that Ōtaka Gengo, one of the retainers, is forgetting his loyalty toward his former lord, which makes Lord Matsuura furious. However, then his haiku teacher shows him the poem that Ōtaka Gengo had left. As Lord Matsuura is thinking over the meaning of the poem, the sound of the drum is heard in the distance​, signalling that the attack has begun​. Finally, Ōtaka Gengo comes to Lord Matsuura's mansion to report the success of the revenge.