Kabukiza Theatre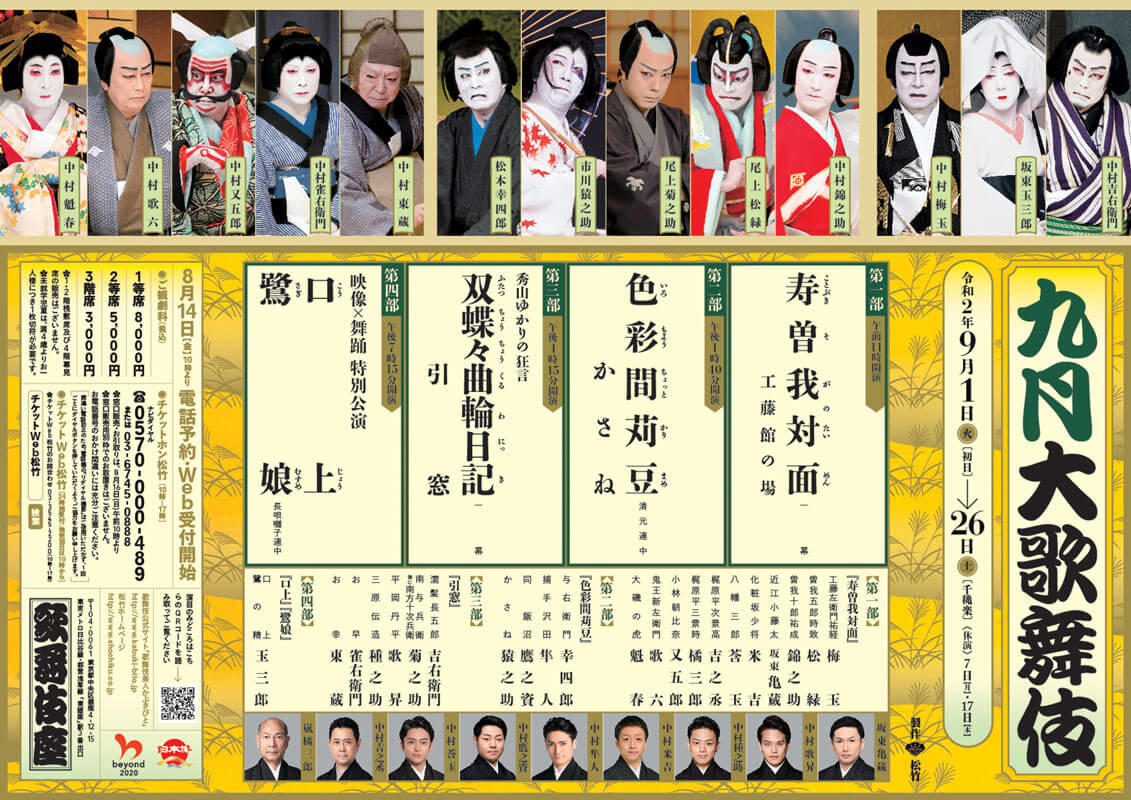 September

at the Kabukiza Theatre

Daily: Sep 01 (Tue) - Sep 26 (Sat), 2020

◇ Time Schedule

*No performances on the 7th (Mon) and the 17th (Thu).
*The theatre will open 40 minutes before the performance starts.

Time Schedule

On sale: from Aug 14 (Fri), 2020 10:00AM(JST) 2020:08:14:10:00:00

First Class Seat: 8,000 /Second Class Seat: 5,000 /
Upper Tier A/B (3F): 3,000
Unit: Japanese Yen (tax included)
*All Box Seats (1F/2F) and Single Act Seats are not for sale.
*Children over the age of 4 must purchase tickets to enter.

Kabukiza Theatre (at TOKYO) Theatre Information
*No English supporting guide available.
In September the Kabukiza Theatre will continue to ensure your health and safety by taking precautionary measures. The program will again be divided into four parts to shorten the length of your stay and to make sure the theatre can be sanitized after each play.
Nakamura Kichiemon II plays a role that was the specialty of his foster father Nakamura Kichiemon I in 'Skylight', while several actors play a variety of role types together in 'The Revenge of the Soga Brothers'. You can also enjoy 'Kasane and Yoemon,' a dance-drama that has the flavour of a ghost story, and in the final dance by Tamasaburō, for the first time at the Kabukiza Theatre you can see the remarkable combination of dance and projected imagery.
PART 1. START: 11:00 AM
KOTOBUKI SOGA NO TAIMEN
['The Revenge of the Soga Brothers']
CAST :
Kudō Saemon Suketsune

Nakamura Baigyoku

Soga no Gorō Tokimune

Onoe Shōroku

Soga no Jūrō Sukenari

Nakamura Kinnosuke

Ōmi no Kotōda

Bandō Kamezō

Kewaizaka no Shōshō

Nakamura Yonekichi

Yawata no Saburō

Nakamura Kangyoku

Kajiwara Heiji Kagetaka

Nakamura Kichinojō

Kajiwara Heizō Kagetoki

Arashi Kitsusaburō

Kobayashi Asahina

Nakamura Matagorō

Oniō Shinzaemon

Nakamura Karoku

Ōiso no Tora

Nakamura Kaishun
STORY :
This scene is one act of a history play based on the legend of the Soga brothers' vendetta. In the Edo period, plays about the vendetta carried out by the Soga brothers, Gorō and Jūrō, were performed every spring in the city of Edo. 'Soga no Taimen', in which the brothers meet their nemesis, has its roots in the earliest of these plays from the 17th century and it has continued to be staged ever since. This play has ceremonial aspects and features each of the important kabuki character types, including the bombastic 'aragoto' style of Gorō and the soft 'wagoto' style of Jūrō.
PART 2. START: 1:40PM
IROMOYŌ CHOTTO KARIMAME
['Kasane and Yoemon' ]
CAST :
Yoemon

Matsumoto Kōshirō

Sawada, a policeman

Nakamura Hayato

Iinuma, a policeman

Nakamura Takanosuke

Kasane

Ichikawa Ennosuke
STORY :
Yoemon is fleeing to the countryside, but Kasane, the woman he abandoned, refuses to let him go. She catches up with him at a lonely river bank. A skull stabbed with a scythe mysteriously appears floating on the river and Kasane is possessed by its spirit, actually the spirit of her dead father, and her face suddenly becomes disfigured. She pours out her feelings of jealousy and resentment until finally Yoemon kills Kasane, but even after her death he cannot escape her vengeful spirit.
PART 3. START: 4:15 PM
FUTATSU CHŌCHŌ KURUWA NIKKI
Hikimado
['The Skylight' from 'A Diary of Two Butterflies in the Pleasure Quarters']
CAST :
Nuregami Chōgorō

Nakamura Kichiemon

Nan Yohē, later Nanpō Jūjibē

Onoe Kikunosuke

Hiraoka Tanpei

Nakamura Kashō

Mihara Denzō

Nakamura Tanenosuke

Ohaya, Yohē's wife

Nakamura Jakuemon

Okō, Chōgorō's mother

Nakamura Tōzō
STORY :
Originally written for the puppet theatre, this play depicts the tragedy that so often befell commoners caught between their duty and their feelings for their loved ones. A sumō wrestler named Nuregami Chōgorō has killed a man to save another to whom he was indebted and is now on the run. He takes refuge at the home of his mother whom he has not seen in years. Unfortunately, her step-child Yohē is now a local magistrate and has been ordered to search for and arrest Chōgorō. The mother is caught in a dilemma between love for her real son and duty towards her stepson. Yohē realizes Chōgorō's true identity and, sympathizing with his step-mother, he lets him escape. Chōgorō departs, thanking Yohē for the favor to his family. These complicated conflicts are symbolized by the light and dark created by the humble skylight, as a rope is pulled to open or close its wooden shutter.
PART 4. START: 7:15 PM
Special performance combining projected imagery and dance
KŌJŌ and SAGI MUSUME
['Stage Announcement' and 'The Heron Maiden']
CAST :
The spirit of a heron

Bandō Tamasaburō
STORY :
Bandō Tamasaburō will greet the audience and explain about his special performance that merges the projected image and dance.

(SAGI MUSUME) A woman dressed in a white kimono and hood appears at the edge of a lake. Her dance includes bird-like movements resembling those of a white heron. She expresses the misery of one whose love was betrayed. A sudden onstage costume change begins a section in which the character transforms into a young girl preoccupied by thoughts of romance. Other costume changes follow, as the maiden expresses the difficulty of capturing a loved one's heart. Finally, the stage darkens and after another spectacular costume change, the maiden transforms into the spirit of a heron as she recalls her suffering in hell. In this special work, images will be projected onto a screen imparting a magical atmosphere to go with the beautiful and gorgeous dance.