Minamiza Theatre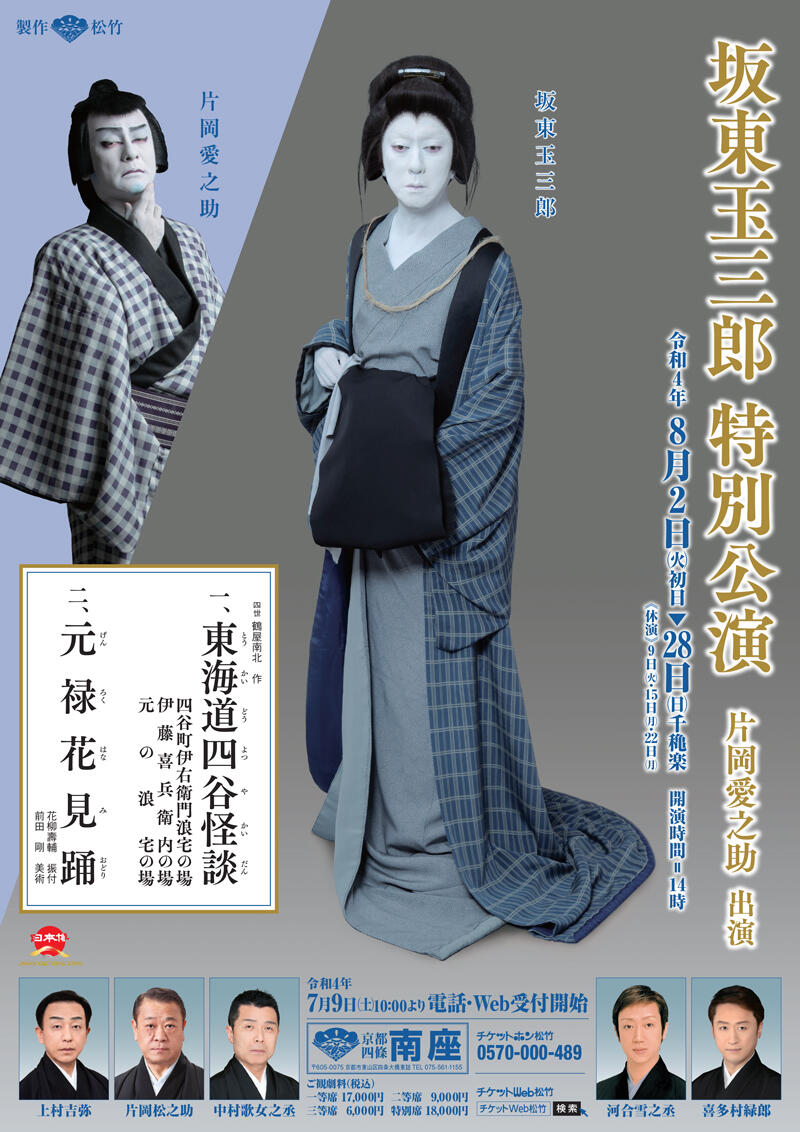 August Program

at the Minamiza Theatre

Daily: Aug 02 (Tue) - Aug 28 (Sun), 2022

Performance: 2:00 PM

*No performances on the 9th (Tue), 15th (Mon) and 22nd (Mon).

[Important Notice]
●Precautionary Measures at the Minamiza Theatre

Time Schedule

On sale: from Jul 09 (Sat), 2022 10:00AM(JST) 2022:07:09:10:00:00

Special Seat: 18,000 /First Class Seat: 17,000 /Second Class Seat: 9,000 /Third Class Seat: 6,000
Unit: Japanese Yen (tax included)

*Children over the age of 4 must purchase tickets to enter.

Minamiza Theatre (at KYOTO) Theatre Information
*No English supporting guide available.
In the August Kabuki Program at the Minamiza Theatre you will first see 'Tōkaidō Yotsuya Kaidan' by Tsuruya Nanboku IV (1755-1829), one of the greatest playwrights of kabuki. In Japan there is a convention of performing 'chilling' ghost stories to beat the summer heat, and even today, this is one of the most famous. In contrast, the latter half of the performance will be a lively dance under the cherry blossoms in full bloom at Ueno.
Performance Time:
2:00 PM - 3:30 PM
TŌKAIDŌ YOTSUYA KAIDAN
['The Ghosts of Yotsuya']
CAST :
Oiwa

Bandō Tamasaburō

Kobotoke Kohei

Kitamura Rokurō

Oyumi, a widow

Kawai Yukinojō

Oume

Kamimura Kichitarō

Omaki, Oume's wet-nurse

Nakamura Kamenojō

Takuetsu, a masseur

Kataoka Matsunosuke

Tamiya Iemon

Kataoka Ainosuke
STORY :
This is a masterpiece by Tsuruya Nanboku vividly depicting people at the mercy of karma. Tamiya Iemon is a masterless samurai of the En'ya clan. Bearing a grudge against his father-in-law Yotsuya Samon for taking his wife Oiwa back home, he kills him. Meanwhile, Naosuke Gonbē, whose love for Oiwa's sister Osode is unrequited, kills a man who seems to be Osode's fiancé Satō Yomoshichi. The sisters, who do not know the real culprits, are deceived by Iemon and Naosuke who promise to avenge their dearests' death. Oiwa is doing badly after childbirth, but Iemon is cold towards her. Taking medicine from her neighbor Itō, Oiwa thanks him, but her suffering increases. In fact, it is a poison that Itō Kihē sent her, because he plots to bring about the love marriage of his granddaughter Oume with Iemon. Iemon betrays Oiwa and consents to marry Oume. Oiwa is disfigured and finally expires, swearing to avenge herself upon them ...
Performance Time:
3:55 PM - 4:15 PM
GENROKU HANAMI ODORI
['A Dance of Cherry Blossom Viewing in the Genroku Period']
CAST :
A Genroku period woman

Bandō Tamasaburō

A Genroku period man

Kitamura Rokurō

A Genroku period woman

Kawai Yukinojō

A Genroku period woman

Kamimura Kichiya

A Genroku period man

Kataoka Ainosuke
STORY :
It is the Genroku period (1688-1704) and the cherry blossoms are in full bloom. People dressed up in showy outfits gather to view the cherry trees and begin to dance. After a song about the custom of flower viewing in Kyoto, some drunken people begin another lively dance.