Minamiza Theatre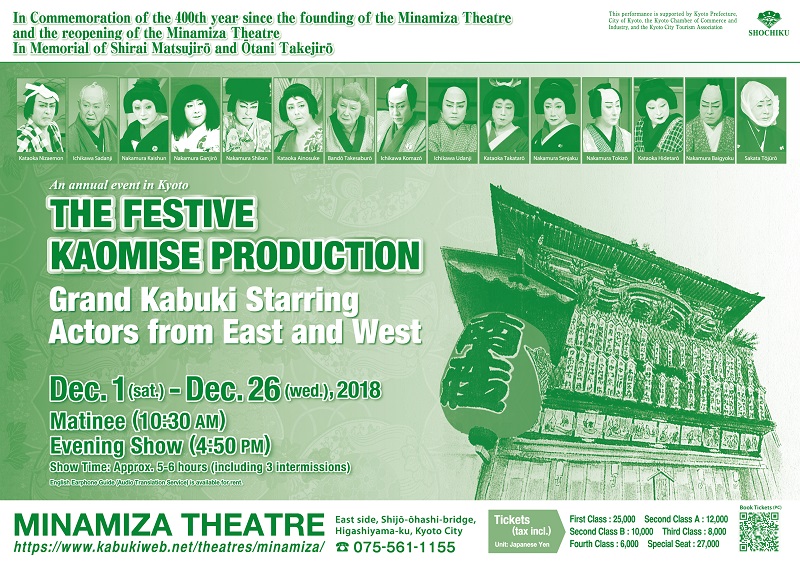 December

at the Minamiza Theatre

Daily: Dec 01 (Sat) - Dec 26 (Wed), 2018

Matinee:10:30 AM

Evening Show: 4:50 PM

Time Schedule

On sale: from Nov 05 (Mon), 2018 10:00AM(JST) 2018:11:05:10:00:00

Special Seat: 27,000 / First Class: 25,000 / Second Class A: 12,000 / Second Class B: 10,000 / Third Class: 8,000 / Fourth Class: 6,000


Minamiza Theatre (at KYOTO) Theatre Information
[In Commemoration of the 400th year since the founding of the Minamiza Theatre and the reopening of the Minamiza Theatre
In Memorial of Shirai Matsujirō and Ōtani Takejirō
An Annual Event in Kyoto
THE FESTIVE KAOMISE PRODUCTION
Grand Kabuki Starring Actors from East and West]

In the 400th year since the original theatre was licensed, the Kaomise Production is performed to commemorate the reopening of the recently refurbished Minamiza Theatre.
The 'Kaomise' ('face-showing') production which has been staged annually since the Edo period (1603-1868) is an all-star line-up and a big event for December in Kyoto. This month's program is also held in memory of Shirai Matsujirō and Ōtani Takejirō, the founders of Shochiku Co., Ltd.
SUGAWARA DENJU TENARAI KAGAMI
Terakoya
['The Village School' from 'Sugawara's Secrets of Calligraphy']
CAST:
Matsuōmaru

Nakamura Shikan

Takebe Genzō

Kataoka Ainosuke

Tonami, Genzō's wife

Nakamura Senjaku

Yotarō the dribbler

Nakamura Fukunosuke

Shundō Genba

Nakamura Kikaku

Chiyo, Matsuōmaru's wife

Nakamura Kaishun

Sono'o no mae, Kan Shōjō's wife

Kataoka Hidetarō
STORY:
Takebe Genzō was Kan Shōjō's most gifted disciple. Kan Shōjō has been exiled and his family are in grave danger. Genzō runs a small school in the country and shelters Kan Shōjō's son and heir, Kan Shūsai, whom they are trying to pass off as their own son. However, word has gotten out that Kan Shūsai is at their school and Genzō has been ordered to behead him. Moreover, the retainer Matsuōmaru who knows Kan Shūsai's face is to come to inspect the head. Genzō's only hope is to kill one of the other students as a substitute. On that day, a new student named Kotarō who has a refined bearing arrives. Genzō takes the terrible decision to kill him in place of his lord's son..
TORIBEYAMA SHINJŪ
[The Love Suicides at Mt.Toribe]
CAST:
Kikuchi Hankurō

Nakamura Baigyoku

Osome, a courtesan of Wakamatsuya

Kataoka Takatarō

Sakata Genzaburō

Ichikawa Udanji

Hachisuke, Hankurō's footman

Nakamura Jūjirō

Yohē, Osome's father

Kataoka Ichizō

Ohana, a courtesan of Wakamatsuya

Nakamura Kaishun

Sakata Ichinosuke

Ichikawa Sadanji
STORY:
This play by 20th century playwright Okamoto Kidō mixes old and new kabuki styles. The samurai Hankurō is in love with the courtesan Osome. Visiting her one night in the pleasure quarters of Kyoto, he gets into a drunken quarrel and ends up killing his best friend' s brother in a fight. Knowing this is not something that can be forgiven, Hankurō decides to kill himself. However, Osome comes to him and says that she wishes to die together. Hankurō and Osome travel the road to death in new kimonos that ironically were made for them to celebrate the New Year together.
JĪSAN BĀSAN
[The Old Couple]
CAST :
Minobe Iori

Kataoka Nizaemon

Shimojima Jin'emon

Nakamura Shikan

Miyashige Kyūya

Kataoka Ainosuke

A fellow samurai

Kataoka Ichizō

A fellow samurai

Nakamura Kikaku

A fellow samurai

Kataoka Matsunosuke

Miyashige Kyūemon

Ichikawa Komazō

Kiku, Kyūya's wife

Kataoka Takatarō

Run, Iori's wife

Nakamura Tokizō
STORY :
Based on a short story by Mori Ōgai, this modern play by Uno Nobuo shows the deep love of the couple, Iori and Run. The young samurai Iori travels to Kyoto with his lord, leaving Run, his beloved wife, behind. There, he attacks another man in a fight over a sword and is put under house arrest, which separates him from his wife. 37 years later, he returns to his home as an old man. There he meets an elderly woman. This turns out to be Run who has also aged. They do not recognize each other until the woman sees Iori's peculiar habit of putting his hand to his nose, the one thing that has not changed.
KOI BIKYAKU YAMATO ŌRAI
Ninokuchi Mura
['Ninokuchi Village' from 'The Love Messenger to Yamato']
CAST :
Kameya Chūbē

Sakata Tōjūrō

Umegawa, a courtesan

Nakamura Senjaku

Chūzaburō's wife

Kamimura Kichiya

Magoemon, Chūbē's father

Nakamura Ganjirō
STORY :
In danger of losing his lover, Umegawa, the money courier Chūbē breaks the seals on a package of money entrusted to him, even though this is a crime punishable by death. In this scene, they are on their way to commit lovers' double suicide. Before they meet their end, Chūbē wishes to take Umegawa to his hometown. The couple go through the snow-covered landscape when Chūbē's father Magoemon passes by. Chūbē and Umegawa hide themselves, but when Magoemon slips Umegawa runs out to help him...
YOSHITSUNE SENBON ZAKURA
Konomi
Kokingo Uchijini
Sushiya
['A Tree Nut', 'The Death of Kokingo' and 'The Sushi Shop' from 'Yoshitsune and the Thousand Cherry Trees']
CAST :
Igami no Gonta

Kataoka Nizaemon

Yasuke, in reality, Taira no Koremori

Nakamura Tokizō

Osato

Nakamura Senajku

Wakaba no Naishi

Kataoka Takatarō

Shume no Kokingo

Kataoka Sennosuke

Inokuma Dainoshin

Kataoka Matsunosuke

Oyone, Yazaemon's wife

Bandō Takesaburō

Kosen, Gonta's wife

Kataoka Hidetarō

Yazaemon, the owner of the sushi shop

Ichikawa Sadanji

Kajiwara Heizō Kagetoki

Nakamura Baigyoku
STORY :
Konomi [A Tree Nut]
Kokingo Uchijini [The Death of Kokingo]
Wakaba no Naishi, the wife of the Heike commander Koremori, travels with her young son and their retainer Kokingo, searching for her husband. After the war against the Genji, Koremori is now on the run. While resting at a small tea house, they are met by Gonta, a local bully, who skillfully swindles them out of their money. Later, they are set upon by Genji forces and in a spectacular fight scene, Kokingo sacrifices himself to save his mistress and her son.

Sushiya [The Sushi Shop]
With his clan defeated, Koremori now lives with Yazaemon's family disguised as Yasuke, a humble apprentice. Yazaemon runs a sushi shop and owes Koremori's father Taira no Shigemori a debt of gratitude. As it happens, Yazaemon is also Gonta's father. Not knowing Yasuke's true background, nor that he already has a wife and child, Yazaemon`s daughter innocently falls in love with Yasuke. One day, Gonta comes to the house. A short while later, Koremori's wife and child also appear miraculously at the sushi shop searching for a place to spend the night. Finding out that Yasuke is actually Koremori and knowing of the bounty on his head, Gonta hands the head together with Koremori's wife and daughter over to the Genji commander. Furious at his son, Yazaemon stabs him. Before he dies, however, Gonta reveals that he only pretended to kill Koremori. In fact, he sacrificed his own wife and son to save the real Koremori and his family.
MEN KABURI
[A Child with a Mask]
CAST :
Child

Nakamura Ganjirō
STORY :
This is a dance portraying a little boy at his games. An adult kabuki actor will depict skillfully the innocent cheerfulness of a child. He first dances showing how he plays usually, but will then put on the mask of a monkey, pretending to be one himself. However, as the lyrics mention about a horse, he pulls together the reigns and shows the movements of riding a horse. This dance is rarely performed.
BENTEN MUSUME MEO NO SHIRANAMI
[The Five Thieves -From the 'Hamamatsuya Clothing Store' scene to the 'Dobashi Bridge over the Nameri River' scene]
CAST :
Benten Kozō Kikunosuke, a thief

Kataoka Ainosuke

Nippon Daemon, a thief

Nakamura Shikan

Nangō Rikimaru, a thief

Ichikawa Udanji

Seiji, the chief of a fire brigade

Nakamura Kikaku

Sōnosuke, Kōbē's son

Nakamura Fukunosuke

Hamamatsuya Kōbē

Kataoka Ichizō

Akaboshi Jūzaburō, a thief

Kataoka Takatarō

Tadanobu Rihei, a thief

Nakamura Ganjirō
STORY :
A beautiful woman is suspected of shoplifting and is beaten. When it is proved that she was not stealing, her servant demands compensation. However, a samurai who happens to be present uncovers her ruse and reveals that the woman is actually a man. The former 'woman' and her accomplice are, in fact, Benten Kozō and Nangō Rikimaru, two members of the same infamous gang of thieves. Even the samurai who supposedly exposed their plot turns out to be none other than Nippon Daemon, the head of this gang. Finally, the gang is hunted down by officers and when they are surrounded, the five gang members remain defiant, delivering elaborate rhythmic speeches dressed in their finest kimonos and accompanied by beautiful music.
SANJA MATSURI
[The Sanja Festival]
CAST :
The spirit of 'evil'

Nakamura Takanosuke

The spirit of 'good'

Kataoka Sennosuke
STORY :
Two fishermen are casting nets over the Sumida river. This illustrates the legend of the origins of the Asakusa Temple, where two brothers fished a statue of the Buddhist deity Kannon out of the water. As the two perform a light-hearted dance, a cloud suddenly appears and they lose consciousness. When they wake up again, they are each possessed by the spirit of "good" and the spirit of "evil". They start to dance again...