Minamiza Theatre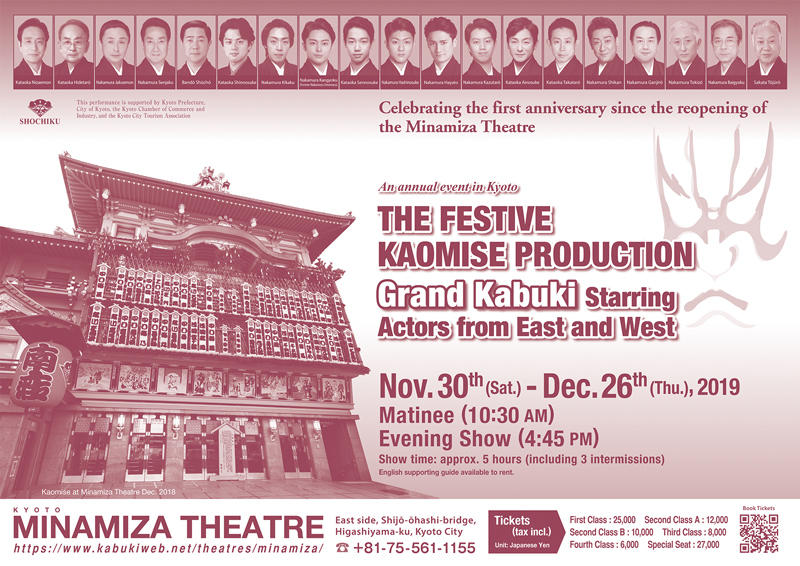 December

at the Minamiza Theatre

Daily: Nov 30 (Sat) - Dec 26 (Thu), 2019

Matinee:10:30 AM

Evening Show: 4:45 PM

[Backside of the flyer]
◇ Time Schedule

Time Schedule

On sale: from Nov 06 (Wed), 2019 10:00AM(JST) 2019:11:06:10:00:00

Special Seat(1F box seat & 2F front row) : 27,000 / First Class (1F & 2F): 25,000 / Second Class A (1F & 2F): 12,000 / Second Class B (1F & 2F): 10,000 / Third Class (3F middle): 8,000 / Fourth Class (3F back) : 6,000

Unit: Japanese Yen (tax included)
*Children over the age of 4 must purchase tickets to enter.


Minamiza Theatre (at KYOTO) Theatre Information
Celebrating the first anniversary since the reopening of the Minamiza Theatre
An annual event in Kyoto
THE FESTIVE KAOMISE PRODUCTION
Grand Kabuki Starring Actors from East and West

The 'Kaomise' ('face-showing') production which has been staged annually since the Edo period (1603-1868) is an all-star line-up and a big event for December in Kyoto. This year, both Matinee and Evening Shows contain a variety of four works each, including historic plays, domestic plays and dances, performed by top-ranking actors and young stars.


Shinshū Kawanakajima Kassen
TERUTORA HAIZEN
['Terutora Serves the Tray' from 'The Battle of Kawanakajima in Shinshū']
CAST :
Nagao Terutora

Kataoka Ainosuke

Okatsu, Kansuke's wife

Nakamura Jakuemon

Naoe Yamashiro no Kami

Nakamura Hayato

Karaginu, Naoe's wife

Nakamura Kazutarō

Koshiji, Kansuke's mother

Kataoka Hidetarō
STORY :
A rare performance of a historical play by Chikamatsu Monzaemon. The warlord Nagao Terutora wants the services of the great strategist Yamamoto Kansuke who is now working for his rival Takeda Shingen. The wife of one of Terutora's retainers is Kansuke's sister and so Terutora invites Kansuke's wife and mother to see her. When the two women arrive, Terutora brings the food tray himself. Knowing what he has in mind, the old woman Koshiji kicks it. The furious Terutora wants to kill them all, but is restrained by Kansuke's wife, Okatsu, who desperately defends her mother, despite the fact that she cannot speak and must express herself through koto music instead.
MODORIKAGO IRO NI AIKATA
['The Returning Palanquin']
CAST :
Naniwa no Jirosaku, in reality, Ishikawa Goemon

Nakamura Baigyoku

Tayori, a child apprentice to a courtesan

Nakamura Kangyoku, having changed names from Nakamura Umemaru 

Azuma no Yoshirō, in reality, Mashiba Hisayoshi

Nakamura Tokizō
STORY :
This classic is a popular dance filled with many highlights and a charming old-world atmosphere. Two palanquin bearers named Naniwa no Jirosaku and Azuma no Yoshirō return from the Shimabara pleasure quarters carrying a 'kamuro', a child apprentice to a courtesan. They stop to rest in Murasakino in Kyoto where a field of yellow rapeseed and cherry blossoms are in full bloom. They begin to boast to each other of their respective home towns in Osaka and Edo (present day Tokyo). Then they call out the 'kamuro' apprentice from the palanquin and talk about pleasure quarters in Kyoto, Osaka and Edo. Finally, however, the men retrieve objects concealed in each other's breast pockets, revealing their true identities. The objects are a precious incense burner, and a scroll of names of those who are plotting against the government. Only now do they realise that they are sworn enemies!
Gion Sairei Shinkōki
KINKAKUJI
['The Temple of the Golden Pavilion' from 'The Gion Festival Chronicle of Faith']
CAST :
Matsunaga Daizen

Nakamura Ganjirō

Konoshita Tōkichi, later, Mashiba Hisayoshi

Nakamura Senjaku

Yukihime

Nakamura Kazutarō

Kitōda, Daizen's brother

Nakamura Kikaku

Sogō Gunpei, in reality, Satō Masakiyo

Kataoka Ainosuke

Kanōnosuke Naonobu

Nakamura Shikan

Keijuin, the shogun's mother

Sakata Tōjūrō
STORY :
This is a 'jidaimono', a history play portraying the life of warriors in the 16th century. Matsunaga Daizen has defeated the shōgun and has set up base in the Golden Pavilion. The brilliant strategist Hisayoshi, disguised as a disgruntled retainer named Tōkichi, pretends to enter Daizen's employ to try to sabotage his plans. Yukihime is being held prisoner by Daizen. In a famous highlight of the play, she is bound to a cherry tree, but when she draws a mouse in the tree's petals, the mouse miraculously comes to life and chews the ropes that bind her. The role of Yukihime is considered to be one of the most difficult 'princess' roles in kabuki.
KANADEHON CHŪSHINGURA
Gion Ichirikijaya
['The Ichiriki Teahouse' from 'The Treasury of Loyal Retainers']
CAST :
Ōboshi Yuranosuke

Kataoka Nizaemon

Okaru, a courtesan

Kataoka Takatarō

Tominomori Suke'emon

Nakamura Hayato

Yazama Jūtarō

Nakamura Hashinosuke

Ōboshi Rikiya

Kataoka Sennosuke

Akagaki Genzō

Kataoka Shinnosuke

Teraoka Heiemon

Nakamura Shikan
STORY :
'Chūshingura' is one of the most popular plays in the repertoire. It depicts a true event when forty-seven masterless samurai avenged the death of their lord by killing his enemy. Act VII is one of the most famous of the play and focuses on the leader of the vendetta, Yuranosuke. Yuranosuke must hide his intention to avenge his lord's death by pretending to be interested only in pleasure as he encounters key figures on his own side and on the side of the enemy. Yuranosuke spends his days and nights in the pleasure quarters of Kyōto. However, his enemy Moronō is not so easily convinced and has sent spies to find out Yuranosuke's true intentions. Okaru, the wife of one of the retainers is now a courtesan at the Ichiriki Teahouse, unaware that her husband is dead. Without knowing that a spy lies hidden under the veranda, Yuranosuke reads a secret letter indicating his true intentions. It is read from below by the spy, but Yuranosuke realises this thanks to Okaru. Okaru's brother Heiemon, a servant in the Enya household, also comes to the teahouse and there he meets with his sister again. Finally, Heiemon is permitted to be an attendant during the revenge, and the act ends with Yuranosuke preparing to lead the vendetta.
HORIKAWA NAMI NO TSUZUMI
['The Drum of the Waves of Horikawa']
CAST :
Ogura Hikokurō

Kataoka Nizaemon

Otane

Nakamura Tokizō

Ofuji

Nakamura Kazutarō

Bunroku

Kataoka Sennosuke

Isobe Yukaemon

Nakamura Kikaku

Oyura

Nakamura Senjaku

Miyaji Gen'emon

Nakamura Baigyoku
STORY :
One of the three plays by Chikamatsu Monzaemon concerning adultery. Ogura Hikokurō's wife Otane leads a lonely life as Hikokurō takes turns in attending on the shōgun in Edo. She offers sake to her drum master to prevent him from revealing her makeshift answer to her husband's colleagues who try to seduce her. Then she also gets drunk and commits adultery with him. She stabs herself in the chest and is slayed by her husband, as adultery was punishable by death.
TSURIONNA
['Fishing for Wives']
CAST :
Tarōkaja

Kataoka Ainosuke

A master

Nakamura Hayato

A beautiful princess

Nakamura Kangyoku, having changed names from Nakamura Umemaru 

An ugly woman

Nakamura Ganjirō
STORY :
A dance based on a classical Kyōgen farce. A master longs for a wife and is told by the gods in a dream to go fishing for one. He is united with a beautiful princess. His servant Tarōkaja wants a wife as well, but when he goes fishing, he is stuck with a very surprising companion, played by an actor who specialises in male roles here playing a rare, humorous, female role.
Shin Sarayashiki Tsuki no Amagasa
SAKANAYA SŌGORŌ
['Sōgorō the Fishmonger']
CAST :
Sōgorō, a fishmonger

Nakamura Shikan

Isobe Kazuenosuke

Nakamura Ganjirō

Onagi, his maid

Kataoka Takatarō

Sankichi, Sōgorō's servant

Nakamura Hashinosuke

Urato Jūzaemon

Bandō Shūchō

Ohama, Sōgorō's wife

Nakamura Jakuemon
STORY :
This is a 'sewamono' play, a work portraying in a realistic way the lives of ordinary people in the Edo period. Sōgorō, a fishmonger, has made a vow not to drink. But when he learns about his sister's unjust murder at the hands of a daimyō lord, a death that they were told was execution for her wrongdoing, he starts to drink again. Becoming drunk, he storms into the lord's mansion to seek an apology. This play by the Meiji playwright Kawatake Mokuami is known for its realistic portrayal of members of the common class during the Edo period, and highlights their fierce pride as well as their frustration at the privileges of the dominant samurai class.
ECHIGO JISHI
['The Lion from Echigo']
CAST :
Kakubē, a lion dancer

Nakamura Hayato

Kakubē, a lion dancer

Nakamura Hashinosuke

Kakubē, a lion dancer

Kataoka Sennosuke

Kakubē, a lion dancer

Nakamura Kangyoku, having changed names from Nakamura Umemaru 
STORY :
This is a dance portraying a street performance by itinerant entertainers from Echigo Province (present day Niigata prefecture) who would wear shishi lion masks, put drums on the stomachs and do tumbling acts. First, the entertainer dances with a lion mask on, then performs to a piscatorial song and at last shows how one bleaches cloth in water by swinging two pieces of cloth to look like waves.