Minamiza Theatre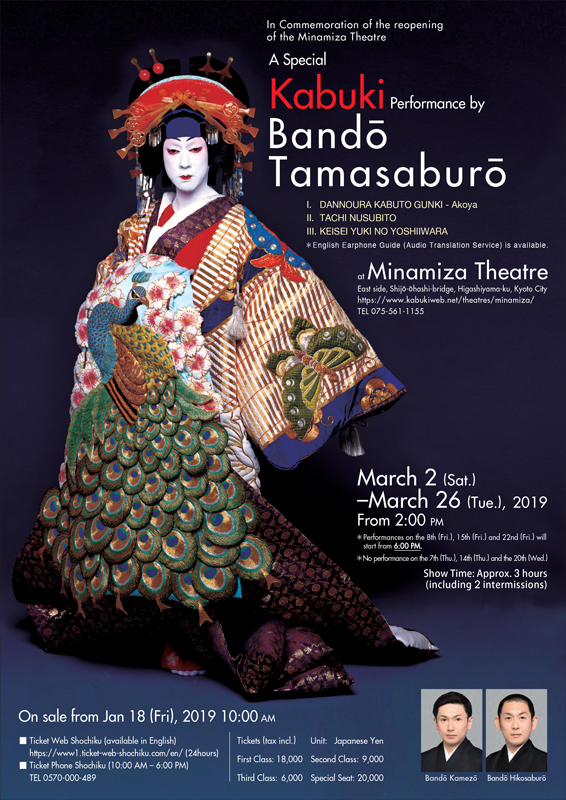 March

at the Minamiza Theatre

Daily: Mar 02 (Sat) - Mar 26 (Tue), 2019

Performance start: 2:00 PM

*Performances on the 8th (Fri), 15th (Fri) and 22nd (Fri) will start from 6:00 PM.
*No performance on the 7th (Thu), 14th (Thu) and the 20th (Wed)
◇ Time Schedule

◇[Backside of the flyer]

Time Schedule

On sale: from Jan 18 (Fri), 2019 10:00AM(JST) 2019:01:18:10:00:00

Special Seat: 20,000 / First Class: 18,000 /
Second Class: 9,000 / Third Class: 6,000
Unit: Japanese Yen (tax included)

Minamiza Theatre (at KYOTO) Theatre Information
[A Special Kabuki Performance by Bandō Tamasaburō] This month a special program featuring the legendary 'onnagata' (female role specialist) Bandō Tamasaburō is performed to commemorate the reopening of the Minamiza Theatre. In the first play he reprises one of his most successful roles. The next work is a dance play adapted from a kyogen comedy depicting the scramble for a sword between a thief and a country yokel played by Bandō Hikosaburō and Bandō Kamezō. The performance ends with a kabuki dance first performed in December 2018 at the Kabukiza. Enjoy the beautiful world created by Tamasaburō. You can see the stage pictures of the program from the news below! The March program at the Minamiza Theatre (Kyoto) has begun!
DANNOURA KABUTO GUNKI Akoya
['Akoya' from 'The War Chronicles at Dannoura' ]
CAST :
Akoya, a courtesan

Bandō Tamasaburō

Iwanaga Saemon

Bandō Kamezō

Chichibu no Shōji Shigetada

Bandō Hikosaburō
STORY :
The courtesan Akoya is the lover of the fugitive general Kagekiyo. She has been captured and is tortured by the wise Shigetada and the humorous villain Iwanaga in order to find out Kagekiyo's whereabouts, which she claims not to know. Shigetada forces Akoya to play three instruments since the slightest disturbance in the sound would indicate that she is lying. This is a showpiece for an 'onnagata' who must actually play the koto, the bowed kokyū, and the shamisen flawlessly as part of the drama.
TACHI NUSUBITO
['A Sword Thief' ]
CAST :
Suppa no Kurobē, a thief

Bandō Hikosaburō

Manbē, a country yokel

Bandō Kamezō
STORY :
This is a comic dance drama in which the thief Kurobē tries to steal a sword from a country bumpkin called Manbē. Each man must show the origin of the sword to prove that they are the true owner. Kurobē imitates Manbē, but Manbē notices what Kurobē is doing and ...
KEISEI YUKI NO YOSHIWARA
['A Courtesan of the Yoshiwara Pleasure Quarters in the Snow' ]
CAST :
Courtesan

Bandō Tamasaburō
STORY :
This is a brand-new dance, the highlight of which is when the beautiful courtesan in her gorgeous costume expresses her deep affection for her beloved, as well as romance in the pleasure quarters, and her poor life story in dance. Woven into this are lyrics describing the four seasons.