Minamiza Theatre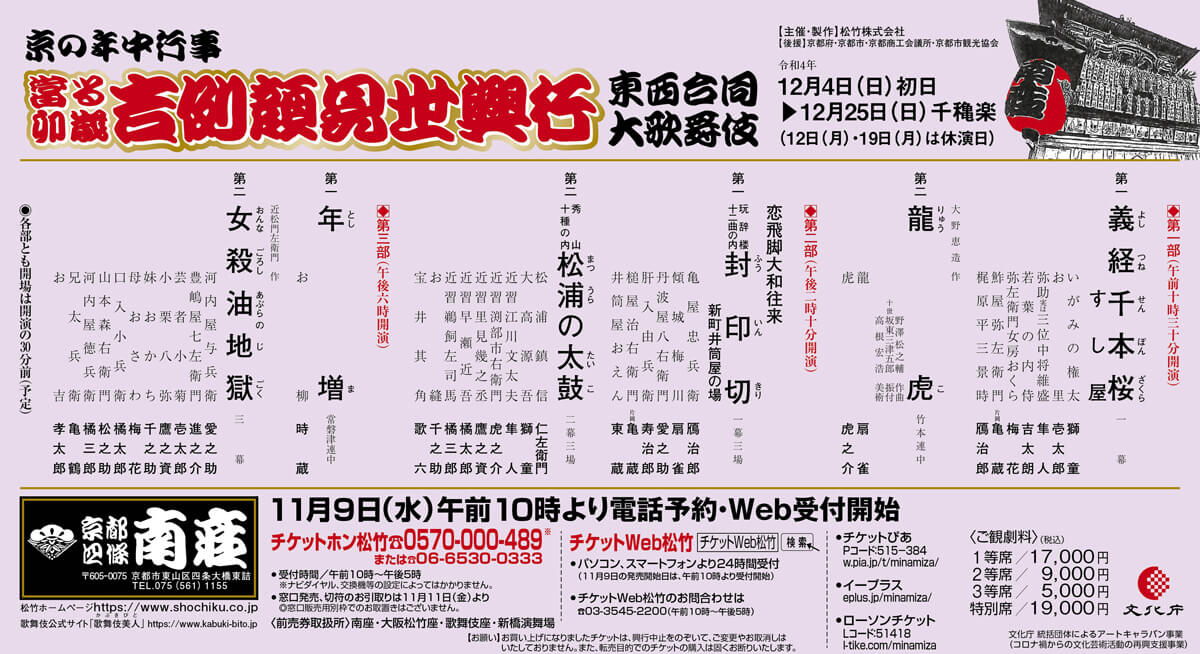 [An Annual Event in Kyoto - The Festive Kaomise Production, Grand Kabuki Starring Actors from East and West] The 'Kaomise' ('face-showing') production which has been staged annually since the Edo period (1603-1868) is an all-star line-up and a big event for December in Kyoto.
In Part 1, you will see a masterpiece with Gidayū musical accompaniment, and an elaborate and vigorous dance, while in Part 2, a play representative of the 'wagoto', 'soft' acting style from the Kamigata area (Kyoto/Osaka) that was adapted from an original work by Chikamatsu Monzaemon will be performed, as well as a masterpiece whose subject is a supplementary tale to that of 'Kanadehon Chūshingura' ('The Treasury of Loyal Retainers'). In Part 3, please enjoy a humorous dance drama which gives us a sense of the chic stylishness of Edo (old name for Tokyo), and a popular play from the Kamigata area.
Performance Time:
10:30 AM - 12:05 PM
YOSHITSUNE SENBON ZAKURA
Sushiya

['The Sushi Shop' from 'Yoshitsune and the Thousand Cherry Trees']
CAST :
Igami no Gonta

Nakamura Shidō

Osato

 
Nakamura Kazutarō

Yasuke, in reality, Taira no Koremori

 
Nakamura Hayato

Wakaba no Naishi

 
Kamimura Kichitarō

Okura, Yazaemon's wife

 
Nakamura Baika

Yazaemon, owner of the sushi shop

 
Kataoka Kamezō

Kajiwara Heizō Kagetoki

 
Nakamura Ganjirō
STORY :
Defeated by the Genji, the Heike clan commander Koremori is now disguised as Yasuke and lives with the sushi shop owner Yazaemon. Yazaemon owes Koremori's father a debt of gratitude. One day, Yazaemon's son Gonta, a local bully, comes home, and soon after, Koremori's wife and child who are searching for Koremori also appear miraculously at the sushi shop. Gonta hands over Koremori's severed head together with Koremori's family to the enemy Genji as bounty. Yazaemon stabs his own son Gonta in anger. Before he dies, however, Gonta reveals that Koremori's head was a substitute and that he sacrificed his own family to save the real Koremori and his wife and child.
Performance Time:
12:35 PM - 12:55 PM
RYŪKO

['The Eternal Struggle between the Dragon and the Tiger']
CAST :
The Dragon

Nakamura Senjaku

The Tiger

 
Nakamura Toranosuke
STORY :
This is a modern dance piece first performed as kabuki in 1953. It takes as its theme the unending fight between the dragon, the greatest power in the sky, and the tiger, the greatest power on land.
Performance Time:
2:10 PM - 3:35 PM
Koi Bikyaku Yamato Ōrai
FŪIN KIRI

['Breaking the Seal' from 'The Love Messenger to Yamato']
CAST :
Kameya Chūbē

Nakamura Ganjirō

Umegawa, a courtesan

Nakamura Senjaku

Tanbaya Hachiemon

Kataoka Ainosuke

Yoshibē, a pimp

Nakamura Jūjirō

Tsuchiya Jiemon

Kataoka Kamezō

Oen, proprietress of the Izutsuya

Nakamura Tōzō
STORY :
The main character Chūbē is performed in the 'wagoto' acting style. 'Wagoto' is representative of plays from the Kamigata area (Kyoto/Osaka). Often partnering courtesans, such characters are handsome male leads with gentle natures who also exhibit a slightly comical side. In the pleasure quarters, the most important possessions were money and reputation. In danger of losing his lover, the courtesan Umegawa, the money courier Chūbē breaks the seals on a package of money entrusted to him after being taunted by a rival, even though the use of such money is punishable by death.
Performance Time:
4:00 PM - 5:15 PM
MATSUURA NO TAIKO

['Lord Matsuura and the Drum of Chūshingura']
CAST :
Matsuura Shizunobu

Kataoka Nizaemon

Ōtaka Gengo

Nakamura Shidō

Egawa Bundayū, Shizunobu's attendant

Nakamura Hayato

Fuchibe Ichiemon, Shizunobu's attendant

Nakamura Toranosuke

Satomi Ikunojō, Shizunobu's attendant

Nakamura Takanosuke

Hayase Kingo, Shizunobu's attendant

Ichimura Kitsutarō

Ukai Sajima, Shizunobu's attendant

Arashi Kitsusaburō

Onui

Kataoka Sennosuke

Takarai Kikaku

Nakamura Karoku
STORY :
This play describes events that took place at the same time as the revenge of the forty-seven loyal retainers that was made famous by the play "Kanadehon Chūshingura". Lord Matsuura is disgusted because the loyal retainers do not seem to be interested in avenging the death of their lord. Moreover, he learns from a haiku teacher that Ōtaka Gengo, one of the retainers, is forgetting his loyalty toward his former lord, which makes Lord Matsuura furious. However, then his haiku teacher shows him the poem that Ōtaka Gengo had left. As Lord Matsuura is thinking over the meaning of the poem, the sound of the drum is heard in the distance, signalling that the attack has begun. Finally, Ōtaka Gengo comes to Lord Matsuura's mansion to report the success of the revenge.
Performance Time:
6:00 PM - 6:20 PM
TOSHIMA

['A Woman in her Prime']
CAST :
Oryū

Nakamura Tokizō
STORY :
This is a dance originally from a group of genre dances entitled 'Hanagoyomi Iro no Showake' in 1839. A former geisha arrives in a palanquin along the riverbank. She describes a former love affair in her dance. The word 'toshima' means a woman past the blush of youth and now at the height of her mature charm.
Performance Time:
6:45 PM - 8:30 PM
ONNA GOROSHI ABURA NO JIGOKU

['The Woman Killer and the Hell of Oil']
CAST :
Kawachiya Yohē

Kataoka Ainosuke

Teshimaya Shichizaemon

Kataoka Shinnosuke

Kogiku, a geisha

Nakamura Kazutarō

Oguri Hachiya

Nakamura Takanosuke

Okachi, Yohē's sister

Kataoka Sennosuke

Osawa, Yohē's mother

Nakamura Baika

Kohē, an agent of money lender

Ichimura Kitsutarō

Yamamoto Moriemon

Kataoka Matsunosuke

Kawachiya Tokubē

Arashi Kitsusaburō

Tahē, Yohē's brother

Nakamura Kikaku

Okichi, Shichizaemon's wife

Kataoka Takatarō
STORY :
This play by the great Chikamatsu Monzaemon was virtually ignored at the time it was written, but it has become phenomenally popular in modern times for its realistic sensibility and its sensuous killing scene in which the protagonists slip and struggle through puddles of spilt oil. Yohē, heir to the oil shop Kawachiya, is living a life of debauchery. He starts a fight in town and incurs debts at the pleasure quarters, and even hits his own stepfather and sister. Not being able to take this any longer, his mother finally disowns him. Troubled by this and needing to pay back the debts, he tries to borrow money from the wife of a neighboring oil merchant. He tries to blackmail her, but when he is rejected, he ends up killing her.