Other Theatres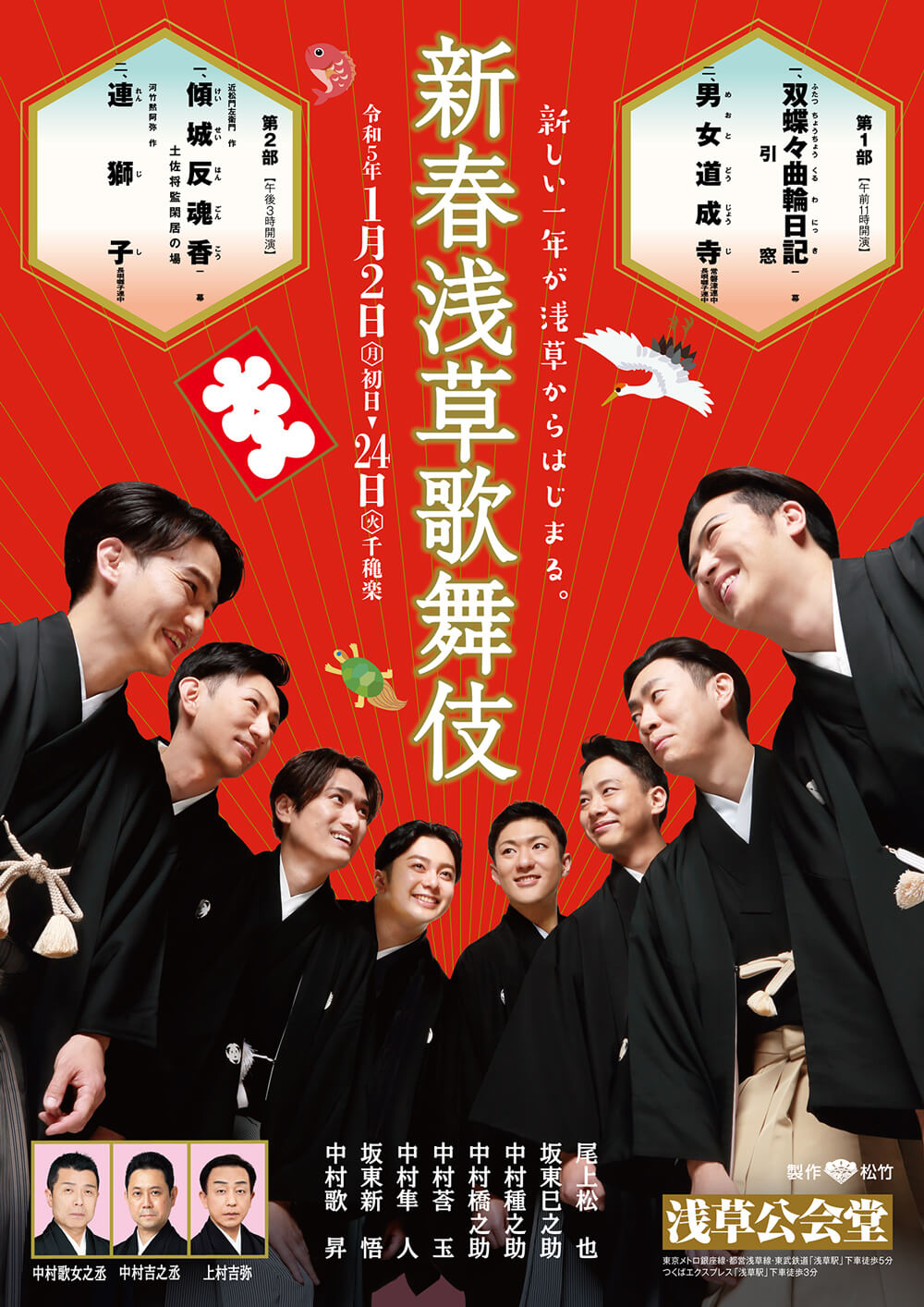 January Program

at the Asakusa Public Hall

Daily: Jan 02 (Mon) - Jan 24 (Tue), 2023

Part 1:11:00 AM

Part 2: 3:00 PM

*No performances on the 9th (Mon) and 19th (Thu).
*No Part 1 on the 12th (Thu) .
*No Part 2 on the 16th (Mon). 

[Important Notice]
●Precautionary Measures at the Asakusa Public Hall



On sale: from Nov 19 (Sat), 2022 10:00 AM(JST) 2022:11:19:10:00:00

First Class: 9,500 / Second Class: 6,000 /
Third Class: 3,000
Unit: Japanese Yen (tax included)
*Children over the age of 4 must purchase tickets to enter.
[Foreigner Discount tickets]
First Class: 7,000 / Second Class: 4,500
Unit: Japanese Yen (tax included)
*Sold only at the Box Office of the Asakusa Public Hall.
*Tickets are for the same day only.
*Only for foreign travelers to Japan. Customers will need to show their passports.
*No reservations can be made for this discount.
*Credit cards can be used at the Box Office.

*No English supporting guide available.
The Asakusa New Year's kabuki production will be staged for the first time in 3 years. Up and coming actors of the younger generation will play important roles in masterpieces of kabuki. In Part 1, a popular domestic play portraying the painful conflict between duty and familial love will be performed, followed by a gorgeous dance. In Part 2, you can see a historical play by Chikamatsu Monzaemon depicting a painter's strong resolve and the marital love that is his support, as well as a powerful lion dance. Please celebrate the New Year enjoying kabuki at Asakusa, which was once the center of kabuki in Edo (the old name for Tokyo).
Performance Time:
11:00 AM - 12:20 PM
FUTATSU CHŌCHŌ KURUWA NIKKI
Hikimado

['The Skylight' from 'A Diary of Two Butterflies in the Pleasure Quarters']
CAST :
Nan Yohē, later, Nanpō Jūjibē

Nakamura Hayato

Nuregami Chōgorō

Nakamura Hashinosuke

Ohaya, Yohē's wife

Bandō Shingo
STORY :
A sumō wrestler named Nuregami Chōgorō has killed a man to save another to whom he was indebted and is now on the run. He takes refuge at the home of his mother whom he has not seen in years. Unfortunately, her step-child Yohē is now a local magistrate and has been ordered to search for and arrest Chōgorō. The mother is caught in a dilemma between love for her real son and duty towards her stepson. Yohē realizes Chōgorō's true identity and, sympathizing with his step-mother, he lets him escape. Chōgorō departs, thanking Yohē for the favor to his family. These complicated conflicts are symbolized by the light and dark created by the humble skylight, as a rope is pulled to open or close its wooden shutter.
Performance Time:
12:50 PM - 1:40 PM
MEOTO DŌJŌJI

['Male and Female Dōjōji']
CAST :
Sakurako, a shirabyōshi dancer,
in reality, the Kyogen actor Sakon


Bandō Minosuke

Hanako, a shirabyōshi dancer

Bandō Shingo
STORY :
The original ''Musume Dōjōji'' is based on the legend of a woman who transformed into a serpent out of jealousy, and destroyed the temple bell that hid the man she loved. In that version, the woman changes her costume repeatedly while depicting various kinds of love through dance. In this version, however, there are two dancers, one of which is eventually revealed to be a man in disguise. The two portray the romantic feelings of a loving couple. The dance reaches its climax when the two reveal their true characters.
Performance Time:
3:00 PM - 4:30 PM
KEISEI HANGONKŌ
Tosa no Shōgen Kankyo

['Stuttering Matahei' from 'The Courtesan and the Hangon Incense']
CAST :
Ukiyo Matahei, later, Tosa no Matahei Mitsuoki

Nakamura Kashō

Otoku, Matahei's wife

Nakamura Tanenosuke

Tosa no Shurinosuke

Nakamura Kangyoku

Kanō Utanosuke

Onoe Matsuya
STORY :
A scene from Chikamatsu Monzaemon's play "Keisei Hangonkō", famous for its depiction of a couple's love in the face of adversity. Matahei has long studied painting, but because of his stutter, his master has refused to give him an artistic name. As a result, instead of being a respected artist, Matahei is forced to make a living drawing crude cartoons. Matahei and his wife come to beg his teacher for an official name once more, but when their request is turned down they decide that suicide is the only choice. Before dying, Matahei paints his portrait on a stone washbasin, and such is the strength of his spirit that the painting permeates through the stone and appears on the other side. Finally, Matahei receives a name and is overjoyed to be able to serve his teacher with valor.
Performance Time:
5:00 PM - 5:55 PM
RENJISHI

['Parent and Child Lion Dance']
CAST :
The actor Ukon, later, the spirit of the parent lion

Onoe Matsuya

The actor Sakon, later, the spirit of the lion cub

Nakamura Kangyoku

Rennen, a priest of the Nichiren Sect

Nakamura Tanenosuke

Hennen, a priest of the Pure Land Sect

Nakamura Kashō
STORY :
A dance adapted from a tale featuring the legendary 'shishi', a mythical lion-like beast. It is based on the idea that a 'shishi' will push its cubs over a steep cliff as a test of their strength, only nurturing those cubs strong enough to climb up by themselves. Two entertainers dance the tale of the legendary 'shishi' that live at the foot of a holy Buddhist mountain. The dance portrays a parent 'shishi' forcing its cub to undergo harsh training in order to grow up strong. In the finale, the 'shishi' themselves appear and perform their dance with the wild shaking of their long manes.