Other Theatres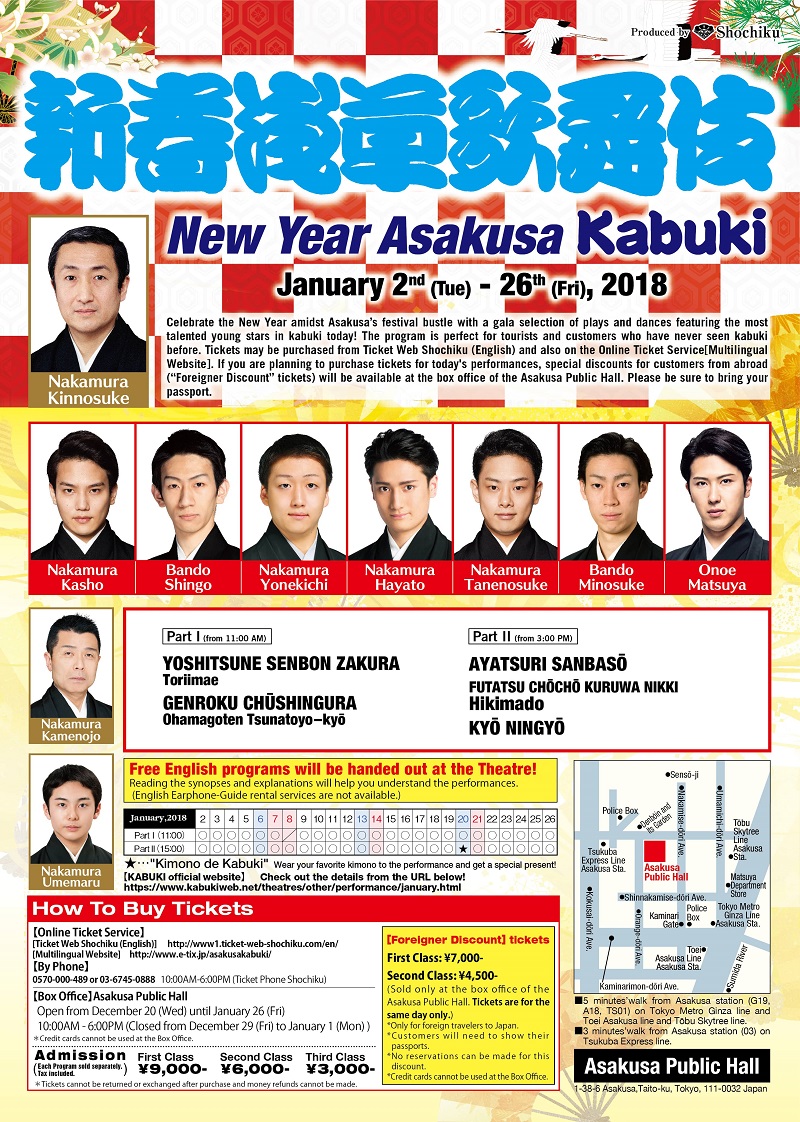 January

at the Asakusa Public Hall

Daily: Jan 02 (Tue) - Jan 26 (Fri), 2018

Part 1:11:00 AM

Part 2: 3:00 PM

*No Part 1 on the 8th.
*Part 2 on the 20th will be 'Kabuki in Kimono', a performance where customers are recommended to wear kimono.

◆Buy Tickets Online [For Non-Member/Multilingual Website]

Time Schedule

On sale: from Nov 20 (Mon), 2017 10:00AM(JST) 2017:11:20:10:00:00

First Class: 9,000 / Second Class: 6,000 /
Third Class: 3,000
Unit: Japanese Yen (tax included)

*No English supporting Guide available.
[New Year Asakusa Kabuki]
Celebrate the New Year in the midst of the festival bustle of Asakusa with a gala selection of plays and dances featuring the most talented young stars in kabuki today. Compared to other kabuki performances, the length of each show is shorter, the tickets are sold at very reasonable prices and there is also a cheerful event where you can watch kabuki in kimono. The program is perfect for tourists and customers who have never seen kabuki before. Free English programs will be handed out at the Theatre to help you understand the performances!
Tickets may be purchased from Ticket Web Shochiku (English) and also on the Online Ticket Service (For Non-Member/Multilingual Website).
If you are planning to purchase tickets for today's performances, special discounts for customers from abroad will be available at the box office of the Asakusa Public Hall. Please be sure to bring your passport. Discount tickets are available for First Class Seats and Second Class Seats only. (First Class: 7000 yen / Second Class: 4500 yen *Credit cards cannot be used at the Box Office.)
YOSHITSUNE SENBON ZAKURA - Toriimae
[ Yoshitsune and the Thousand Cherry Trees - In Front of the Fushimi Inari Shrine ]
CAST :
Satō Tadanobu, actually a magic fox

Nakamura Hayato

Minamoto no Yoshitsune

Nakamura Tanenosuke

Shizuka Gozen, Yoshitsune's lover

Nakamura Umemaru

Hayami no Tōda

Bandō Minosuke

Musashibō Benkei

Nakamura Kashō
STORY :
This short scene was originally performed as part of Act II of the famous play, 'Yoshitsune and the Thousand Cherry Trees'. It depicts the conflict between Yoshitsune and his brother, the shōgun Yoritomo, who has turned against him. Yoshitsune is forced to flee from the troops sent by Yoritomo. As the journey will be hard, he decides he must leave behind his lover Shizuka Gozen. As a memento, he presents her with a precious hand drum that he had received from the emperor. While Yoshitsune visits the shrine, Shizuka is attacked by enemy men, but she is rescued by the timely arrival of Yoshitsune's retainer Tadanobu, who is actually a magical fox in disguise. The fox Tadanobu longs for the hand drum which is made from its parents' skins.
GENROKU CHŪSHINGURA - Ohamagoten Tsunatoyo-kyō
[ Lord Tokugawa Tsunatoyo ]
CAST :
Lord Tokugawa Tsunatoyo

Onoe Matsuya

Tominomori Suke'emon

Bandō Minosuke

Ejima, a private secretary

Bandō Shingo

Okiyo, a lady-in-waiting

Nakamura Yonekichi

Urao, the top lady-in-waiting

Nakamura Kamenojō

Arai Kageyu

Nakamura Kinnosuke
STORY :
'Genroku Chūshingura' is a representative work by one of Japan's most important 20th century playwrights, Mayama Seika. On March 14th, 1701, when Japan was under the rule of the fifth shōgun Tokugawa Tsunayoshi, Asano Takuminokami, the lord of Akō, stabbed Kira Kōzukenosuke in Edo Castle. As punishment for this act he was ordered to commit ritual suicide, his domain was confiscated and his retainers all became masterless samurai. A group of these masterless samurai planned to avenge their lord's death by killing the man they held responsible, Kira.
The story takes place in March, the following year. Lord Tokugawa Tsunatoyo (the future sixth shōgun) is holding a beachside party. Feeling sympathy for the masterless samurai of the Akō Domain, Tsunatoyo considers reviving the Asano clan. Learning that Kira Kōzukenosuke will attend the party at Tsunatoyo's place, one of the masterless samurai, Tominomori Suke'emon, wants to observe the party. Tsunatoyo tells Suke'emon that he will ask Tsunayoshi to reinstate the Asano clan. Suke'emon is shocked to hear this, for if the Asano clan is reinstated it will be impossible for them to kill Kira. Suke'emon decides to kill Kira on his own. He ambushes Kira on his way to the Nō stage. However, the man he attacks turns out to be Tsunatoyo himself disguised as Kira. Tsunatoyo lectures Suke'emon, emphasizing that the important thing in revenge is its process.
AYATSURI SANBASŌ
[ The Marionette Sanbasō ]
CAST :
Sanbasō

Nakamura Tanenosuke

Senzai

Nakamura Hayato

A stage assistant

Nakamura Umemaru

Okina

Nakamura Kinnosuke
STORY :
Sanbasō (literally, 'Third Old Man') is one character in the ritual Nō play 'Okina', a prayer for prosperity. In kabuki, the Sanbasō dance appears in many different forms and in this particular version he is portrayed as a giant marionette. The stage assistant takes the marionette Sanbasō out of the box. He handles the strings and Sanbasō starts to dance in a sprightly manner.
FUTATSU CHŌCHŌ KURUWA NIKKI - Hikimado
[ The Skylight ]
CAST :
Nan Yohē, later Nanpō Jūjibē

Nakamura Kashō

Ohaya, Yohē's wife

Nakamura Yonekichi

Hiraoka Tanpei

Bandō Minosuke

Mihara Denzō

Nakamura Hayato

Okō, Chōgorō's mother

Nakamura Kamenojō

Nuregami Chōgorō

Onoe Matsuya
STORY :
Originally written for the puppet theater, this play depicts the tragedy that so often befell commoners caught between their duty and their feelings for their loved ones.
A sumō wrestler named Nuregami Chōgorō has killed a man to save another to whom he was indebted and is now on the run. He takes refuge at the home of his mother whom he has not seen in years. Unfortunately, her step-child Yohē is now a local magistrate and has been ordered to search for and arrest Chōgorō. The mother is caught in a dilemma between love for her real son and care for her stepson. Yohē realizes Chōgorō's true identity and, sympathizing with his step-mother, he lets him escape. Chōgorō departs, thanking Yohē for the favor to his family. These complicated conflicts are symbolized by the light and dark created by the humble skylight, as a rope is pulled to open or close its wooden shutter.
KYŌ NINGYŌ
[ Hidari Jingorō and His Courtesan Doll ]
CAST :
Hidari Jingorō, a sculptor

Bandō Minosuke

The spirit of the Courtesan Doll

Bandō Shingo

Omitsu, Jingorō's daughter,
in reality Princess Izutsu, Yoshiteru's sister


Nakamura Umemaru

Otoku, Jingorō's wife

Nakamura Tanenosuke

Teruhei, a servant

Nakamura Kashō
STORY :
This dance tells the story of Hidari Jingorō, a wood sculptor famous for carving the sleeping cat on the great gate of Nikkō Shrine.
Falling in love with a beautiful courtesan, he carves a doll that looks exactly like her. The doll suddenly starts moving, as though it is alive, and Jingorō enjoys his time with the statue. At the end of the dance, there is a spectacular fight scene in which Jingorō is set upon by carpenters brandishing their tools.