Other Theatres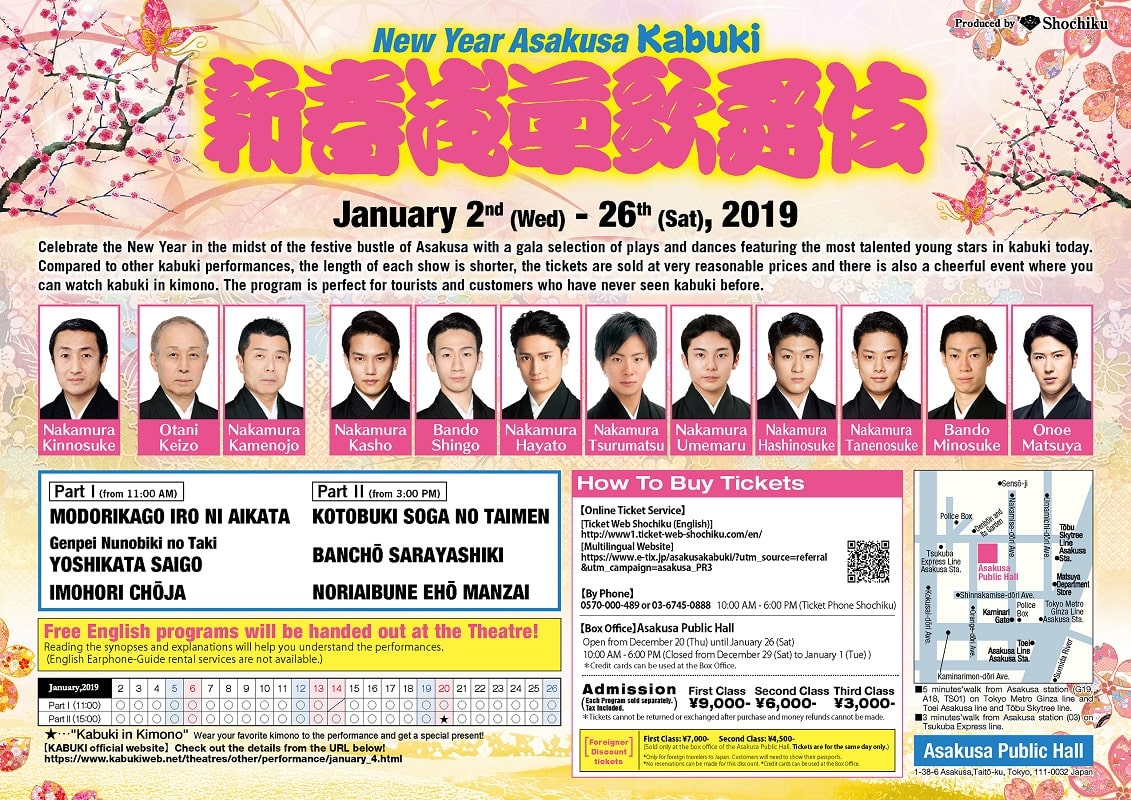 January

at the Asakusa Public Hall

Daily: Jan 02 (Wed) - Jan 26 (Sat), 2019

Part 1:11:00 AM

Part 2: 3:00 PM

*No Part 1 on the 14th.
*Part 2 on the 20th will be 'Kabuki in Kimono', a performance where customers are recommended to wear kimono.
[Backside of the flyer]
◆Buy Tickets Online [For Non-Member/Multilingual Website]

Time Schedule

On sale: from Nov 20 (Tue), 2018 10:00AM(JST) 2018:11:20:10:00:00

First Class: 9,000 / Second Class: 6,000 /
Third Class: 3,000
Unit: Japanese Yen (tax included)

[Foreigner Discount tickets]
First Class: 7,000 / Second Class: 4,500
Unit: Japanese Yen (tax included)
*Sold only at the box office of the Asakusa Public Hall.
*Tickets are for the same day only.
*Only for foreign travelers to Japan. Customers will need to show their passports.
*Credit cards can be used at the Box Office.

[New Year Asakusa Kabuki]
Celebrate the New Year in the midst of the festive bustle of Asakusa with a gala selection of plays and dances featuring the most talented young stars in kabuki today. Compared to other kabuki performances, the length of each show is shorter, the tickets are sold at very reasonable prices and there is also a cheerful event where you can watch kabuki in kimono. The program is perfect for tourists and customers who have never seen kabuki before.
MODORIKAGO IRO NI AIKATA
['The Returning Palanquin']
CAST :
Naniwa no Jirosaku, in reality, Ishikawa Goemon

Nakamura Kashō

Tayori, a child apprentice to a courtesan

Nakamura Umemaru

Azuma no Yoshirō, in reality, Mashiba Hisayoshi

Nakamura Tanenosuke
STORY :
This classic is a popular dance filled with many highlights and a charming old-world atmosphere.
Two palanquin bearers, Jirosaku and Yoshirō, return from the pleasure quarters carrying a 'kamuro', a child apprentice to a courtesan. They stop to rest and begin to boast to each other of their respective home towns in Osaka and Edo (present day Tokyo). Finally, however, the men retrieve objects concealed in each other's breast pocket, revealing their true identities. Only now do they realise that they are sworn enemies: a samurai and a notorious thief!
Genpei Nunobiki no Taki
YOSHIKATA SAIGO
['The Death of Yoshikata' from 'The Genji and the Heike at Nunobiki Falls']
CAST :
Kiso no Senjō Yoshikata

Onoe Matsuya

Orihei, Yoshikata's servant, in reality, Tada no Kurando Yukitsuna

Nakamura Hayato

Shinno Jirō Munemasa

Nakamura Hashinosuke

Lady Aoi, Yoshikata's wife

Nakamura Tsurumatsu

Princess Matsuyoi

Nakamura Umemaru

Yabase no Heinai

Nakamura Tanenosuke

Koman

Bandō Shingo
STORY :
This is one act from a history play which shows the early rise of the Genji clan after a time of oppression.
Yoshikata is the lone member of the Genji clan and pretends to have no interest in reviving its fortunes. However, Yoshikata is about to have a son who will eventually become the general, Yoshinaka, who will lead the Genji to victory. But, Yoshikata himself is attacked and surrounded, and he dies in a spectacular scene where he falls from the top of a flight of stairs.
IMOHORI CHŌJA
['The Success of a Potato-Digging Man']
CAST :
Tōgorō, the potato digger

Bandō Minosuke

Jirokurō, Tōgorō's friend

Nakamura Hashinosuke

Midori Gozen, the daughter of the Matsugae family widow

Bandō Shingo

Matsuba, a lady-in-waiting

Nakamura Tsurumatsu

Uhara Sanai

Nakamura Kashō

Sakigake Heima

Onoe Matsuya
STORY :
The widow of the Matsugae family who reigns over the district gives a dance party to choose a husband for her daughter Midori Gozen. They plan to choose the man who dances the best. Tōgorō the potato digger who is ardently in love with Midori Gozen attends the event. Unable to dance well, Tōgorō begins to describe the act of potato digging in his performance. The people have never seen such an interesting dance and praise him as the best in Japan.
KOTOBUKI SOGA NO TAIMEN
['The Revenge of the Soga Brothers']
CAST :
Soga no Gorō Tokimune

Onoe Matsuya

Soga no Jūrō Sukenari

Nakamura Kashō

Kobayashi Asahina

Bandō Minosuke

Ōiso no Tora

Bandō Shingo

Oniō Shinzaemon

Nakamura Hayato

Kewaizaka no Shōshō

Nakamura Umemaru

Kudō Saemon Suketsune

Nakamura Kinnosuke
STORY :
This scene is one act of a history play based on the legend of the Soga brothers' vendetta.
In the Edo period, plays about the vendetta carried out by the Soga brothers, Gorō and Jūrō, were performed every spring. 'Soga no Taimen', in which the brothers meet their nemesis, has its roots in the earliest of these plays. This play has ceremonial aspects and features each of the important kabuki character types, including the bombastic 'aragoto' style of Gorō and the soft 'wagoto' style of Jūrō.
BANCHŌ SARAYASHIKI
['The Dish Mansion at Banchō']
CAST :
Aoyama Harima

Nakamura Hayato

Okiku, lady-in-waiting

Nakamura Tanenosuke

Osen, lady-in-waiting

Nakamura Tsurumatsu

Hanaregoma Shirobē

Nakamura Hashinosuke

Mayumi, Harima's aunt

Nakamura Kinnosuke
STORY :
This is a new kabuki play, blending the ghost story of Okiku with a portrait of the interaction of different personalities. Aoyama Harima's aunt has arranged a marriage for him, but Harima is unable to admit that the reason he will not marry is because he is deeply in love with Okiku, a lady-in-waiting in his household. This makes Okiku wonder about the strength of Harima's love for her and she tests him by breaking one of a set of heirloom plates. When she tests Harima's feelings, this seals her fate and sets the tragedy of the play in motion.
NORIAIBUNE EHŌ MANZAI
['Manzai Entertainers on a Ferry Boat']
CAST :
Manzai

Bandō Minosuke

Saizō

Nakamura Tanenosuke

Sweet white saké seller

Bandō Shingo

Carpenter

Nakamura Hayato

Boatwoman

Nakamura Hashinosuke

Geisha

Nakamura Tsurumatsu

Baby-sitter

Nakamura Umemaru

Young master

Nakamura Kashō

Man-about-town

Onoe Matsuya
STORY :
A dance depicting the manners of Edo townsfolk in the Tenpō era (1830-1844).
At New Years a group of merrymakers happen to meet on a ferry boat. They are compared to the Seven Gods of Good Fortune and include a pair of manzai entertainers, who would go from door to door performing auspicious songs and dances.