Other Theatres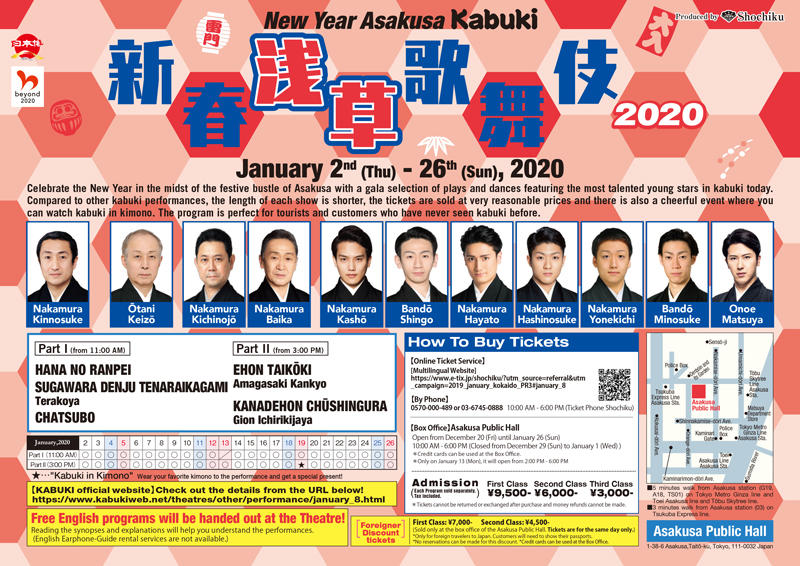 January

at the Asakusa Public Hall

Daily: Jan 02 (Thu) - Jan 26 (Sun), 2020

Part 1:11:00 AM

Part 2: 3:00 PM

*No Part 1 on the 13th.
*Part 2 on the 19th will be 'Kabuki in Kimono', a performance where customers are recommended to wear kimono.

◇ Time Schedule

Time Schedule

On sale: from Nov 20 (Wed), 2019 10:00AM(JST) 2019:11:20:10:00:00

First Class: 9,500 / Second Class: 6,000 /
Third Class: 3,000
Unit: Japanese Yen (tax included)
*Children over the age of 4 must purchase tickets to enter

[Foreigner Discount tickets]
First Class: 7,000 / Second Class: 4,500
Unit: Japanese Yen (tax included)
*Sold only at the box office of the Asakusa Public Hall.
*Tickets are for the same day only.
*Only for foreign travelers to Japan. Customers will need to show their passports.
*No reservations can be made for this discount.
*Credit cards can be used at the Box Office.

*No English supporting guide available.
[New Year Asakusa Kabuki]

Celebrate the New Year in the midst of the festive bustle of Asakusa with a gala selection of plays and dances featuring the most talented young stars in kabuki today. Compared to other kabuki performances, the length of each show is shorter, the tickets are sold at very reasonable prices and there is also a cheerful event where you can watch kabuki in kimono. The program is perfect for tourists and customers who have never seen kabuki before.
HANA NO RANPEI
['Gorgeous Ranpei']
CAST :
Ranpei

Nakamura Hashinosuke
STORY :
This is a dance adaptation of Act IV of YAMATOGANA ARIWARA KEIZU, commonly known as RANPEI MONOGURUI ('The Madness of Ranpei') which is sometimes performed in kabuki. The footman Ranpei goes mad at the sight of anaked blade. After losing consciousness, he is awoken by his comrades and suddenly gets up and dances madly in a comical manner.
SUGAWARA DENJU TENARAIKAGAMI
Terakoya
['The Village School' from 'Sugawara's Secrets of Calligraphy']
CAST :
Matsuōmaru

Onoe Matsuya

Takebe Genzō

Nakamura Hayato

Tonami

Nakamura Yonekichi

Shundō Genba

Nakamura Kashō

Chiyo

Bandō Shingo
STORY :
Takebe Genzō was a loyal retainer of Kan Shōjō, a former imperial minister. Genzō and his wife Tonami now run a small school in the country and are sheltering Kan Shōjō's son and heir, Kan Shūsai. However, Genzō has been ordered to behead Kan Shūsai. Moreover, the retainer Matsuōmaru who knows Kan Shūsai's face is to come to inspect the head. Seemingly by chance, a new student named Kotarō arrives that day who has a more refined bearing, and Genzō takes the terrible decision to kill him in place of his lord's son. Matsuōmaru inspects the head and, surprisingly, confirms it to be that of Kan Shūsai. As it turns out, Matsuōmaru had sent his own son to be sacrificed...
CHATSUBO
['The Tea Canister']
CAST :
Kumataka Tarō

Bandō Minosuke

Magoroku, a simple man from the country

Nakamura Kashō

The local magistrate

Nakamura Kinnosuke
STORY :
This is a dance adapted from a Kyōgen comedy. Magoroku, a simple man from the country, is on his way back from Togano'o where he packed his tea canister with tea leaves. He is drunk and decides to take a nap with the tea cannister strapped to his back. When the thief Kumataka Tarō tries to steal it, Magoroku notices and stops him. However, Kumataka also insists that the tea canister is his own. The local magistrate questions both, but Kumataka copies Magoroku and says the exactly same thing repeatedly...
EHON TAIKŌKI
Amagasaki Kankyo
['The Retreat in Amagasaki' from 'The Picture Book of Taikō']
CAST :
Takechi Mitsuhide

Nakamura Kashō

Takechi Jūjirō

Nakamura Hayato

Hatsugiku     

Nakamura Yonekichi

Satō Masakiyo

Nakamura Hashinosuke

Misao     

Bandō Shingo

Mashiba Hisayoshi

Nakamura Kinnosuke
STORY :
This is a 'jidaimono' history play portraying General Akechi Mitsuhide's life after his rebellion. Mitsuhide has killed his lord Oda Harunaga and taken over the country, but after a few days, he is in danger of losing all that he has gained to his rival general Hisayoshi. Mitsuhide intends to attack Hisayoshi with a bamboo spear, only to find that he has fatally wounded his own mother. His mother and wife reprimand him for the disloyal act of killing his lord, but he refuses to repent. His will of steel is only broken when his son arrives to report on the battle and dies from his injuries.
KANADEHON CHŪSHINGURA
Gion Ichirikijaya
['The Ichiriki Teahouse' from 'The Treasury of Loyal Retainers']
CAST :
Ōboshi Yuranosuke

Onoe Matsuya

Okaru     

Nakamura Yonekichi

Ōboshi Rikiya

Nakamura Hashinosuke

Tominomori Suke'emon

Nakamura Hayato

Akagaki Genzō

Nakamura Kashō

Teraoka Heiemon

Bandō Minosuke
STORY :
'Chūshingura' is one of the most popular plays in the repertoire. It depicts a true event when forty-seven masterless samurai avenged the death of their lord by killing his enemy. Act VII is one of the most famous of the play and focuses on the leader of the vendetta, Yuranosuke. Yuranosuke must hide his intention to avenge his lord's death by pretending to be interested only in pleasure as he encounters key figures on his own side and on the side of the enemy. Yuranosuke spends his days and nights in the pleasure quarters of Kyōto. However, his enemy Moronō is not so easily convinced and has sent spies to find out Yuranosuke's true intentions. Okaru, the wife of one of the retainers is now a courtesan at the Ichiriki Teahouse, unaware that her husband is dead. Without knowing that a spy lies hidden under the veranda, Yuranosuke reads a secret letter indicating his true intentions. It is read from below by the spy, but Yuranosuke realises this thanks to Okaru. Okaru's brother Heiemon, a servant in the Enya household, also comes to the teahouse and there he meets with his sister again. Finally, Heiemon is permitted to be an attendant during the revenge, and the act ends with Yuranosuke preparing to lead the vendetta.