Other Theatres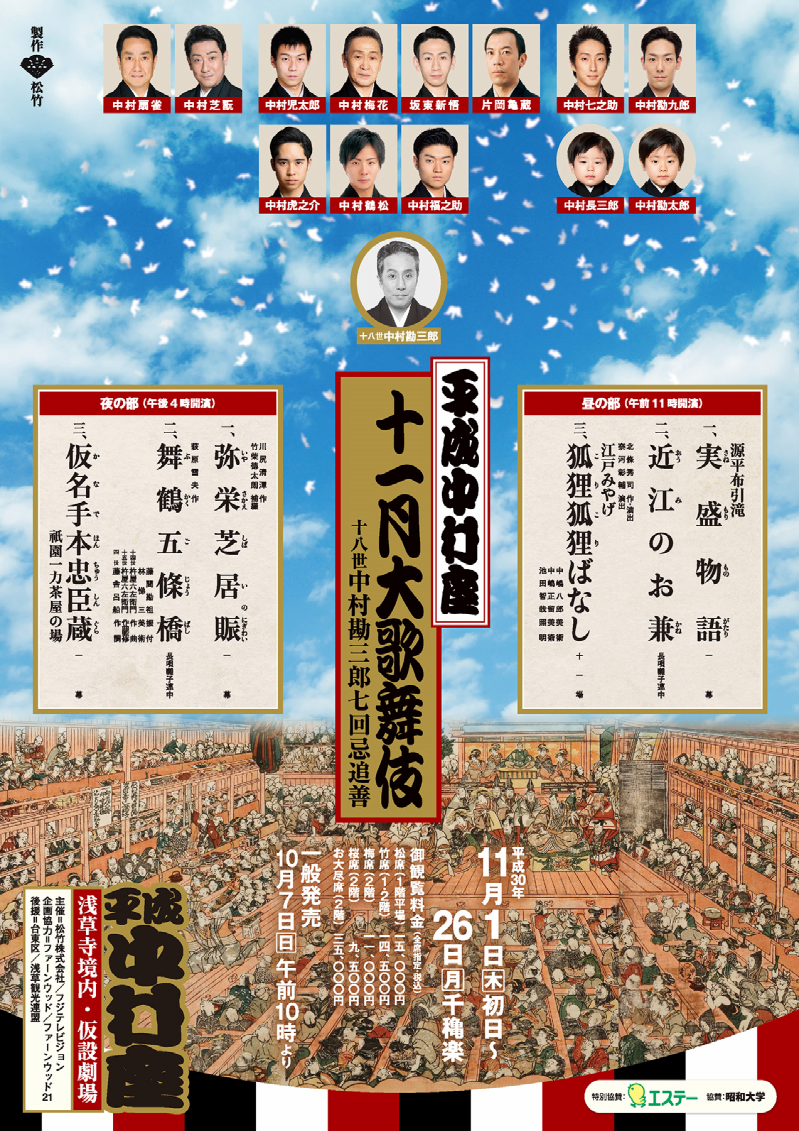 November

at the Heisei Nakamuraza Theatre

Daily: Nov 01 (Thu) - Nov 26 (Mon), 2018

Matinee:11:00 AM

Evening Show: 4:00 PM

[Backside of the flyer]
◆Schedule and caution
◆Buy Tickets Online [For Non-Member/Multilingual Website]

Time Schedule

On sale: from Oct 07 (Sun), 2018 10:00AM(JST) 2018:10:07:10:00:00

ODAIJIN Seat (Level 2): 35,000
MATSU Seat (Level 1): 15,000
TAKE Seat (Level 1, Level 2): 14,500
UME Seat (Level 2): 11,000
SAKURA Seat (Level 2): 9,500
Unit: Japanese Yen (tax included)

※In the 'Matsu' seats you will be seated on the floor with 'zabuton' cushions. There are special seats for the Odaijin seats, and benches for all other areas.
*No English supporting guide available.
This month's program continues from last month at the Kabukiza in commemorating the 7th year anniversary of the death of Nakamura Kanzaburō XVIII. Therefore, plays and dances associated with Kanzaburō are featured.
The Heisei Nakamuraza Theatre, a troupe that performs in a temporary theatre building, was founded by him in 2000 in Asakusa, Tokyo. The structure is a reproduction of a theatre in which his ancestors would have acted in the Edo Period. It has been rebuilt in many different places, including Osaka, Nagoya, New York and so on, where the troupe has performed. This month, the theatre comes back to its birthplace in Asakusa.
Genpei Nunobiki no Taki
SANEMORI MONOGATARI
['Sanemori's Tale' from 'The Genji and the Heike at Nunobiki Falls']
CAST :
Saitō Sanemori

Nakamura Kankurō
STORY :
The play's subject concerns the early days of the rivalry between the Genji and the Heike military clans. Knowing that Lady Aoi, widow of the Genji clan's leader Kiso Yoshikata, is pregnant and in Kurosuke's house, Sanemori, a warrior who was once of the Genji clan but has now joined the Heike, visits there with the Heike warrior Seno'o. Sanemori is ordered to kill her baby if it is indeed male. But to everyone's surprise, the 'baby' turns out to be a woman's severed arm. The highlight of this play is when Sanemori recounts how he severed the woman's arm.
ŌMI NO OKANE
['Okane of Ōmi Province']
CAST :
Okane of Ōmi Province

Nakamura Shichinosuke
STORY :
This is a dance. Okane was a famous strong woman living on the shores of Lake Biwa and was known for stopping a runaway horse with her bare hands. This has become a kabuki dance that combines strength and charming femininity.
Edo Miyage
KORIKORI BANASHI
['Bewitching Foxes and Badgers', or 'A Souvenir from Edo']
CAST :
Inosuke

Nakamura Senjaku

Okiwa

Nakamura Shichinosuke

Jūzen

Nakamura Shikan
STORY :
In Japan, foxes and tanuki badgers are said to have the power to take on human shape, and in that form, they play mischievously, sometimes causing great harm. In this play by Hōjō Hideji (1902-1996), they do not appear, but the scheming of human beings is no less crafty than theirs.
A former geisha is living with a former kabuki 'onnagata' (a female role specialist), but she is tired of him and plots with her boyfriend, a dissolute Buddhist priest, to poison him. Her husband tries to teach her a lesson by pretending to have been killed and then to come back to life. The fight is on.
IYA SAKAE SHIBAI NO NIGIWAI
['In front of the Theatre']
CAST :
Nakamura Kankurō Nakamura Shichinosuke Nakamura Shikan Nakamura Senjaku together with other cast members
STORY :
This play is what is called 'Shibai Mae'. The stage is made to resemble the area in front of the Nakamuraza theatre in the Edo Period and the principal actors of the troupe gather here to share their memories of Nakamura Kanzaburō XVIII.
BUKAKU GOJŌBASHI
['Benkei on the Gojō Bridge']
CAST :
Musashibō Benkei

Nakamura Kankurō
STORY :
This is a dance play originally written for the actor Nakamura Kanzaburō XVII.
Hearing the rumor that Ushiwakamaru is slaying many people every night at Gojō Bridge, his mother Tokiwa Gozen tells him to stop killing or she will disown him. However, she forgives him when he tells her that he is striving to excel at the military arts in order to restore of the Genji clan.
One night, he encounters Benkei on Gojō Bridge, and Ushiwakamaru knocks him down with his sword. Impressed by his strength and skill, Benkei finally swears allegiance to Ushiwakamaru.
KANADEHON CHŪSHINGURA
Gion Ichirikijaya
['The Ichiriki Teahouse in Gion' from 'The Treasury of Loyal Retainers']
CAST :
Ōboshi Yuranosuke

Nakamura Shikan

Okaru, a courtesan

Nakamura Shichinosuke

Teraoka Heiemon

Nakamura Kankurō
STORY :
'Chūshingura' is one of the most popular plays in the repertoire. It is adapted from a historical incident in which forty-seven masterless samurai avenged the death of their lord, Enya Hangan by killing his enemy.
Yuranosuke spends his days and nights in the pleasure quarters of Kyōto in an effort to make their lord's enemy believe he has given up any thought of a vendetta. One night, he notices Okaru, a courtesan at the Ichiriki Teahouse, reading a secret letter indicating his true intentions and he thinks he must kill her. However, she is related to the Enya household....