Other Theatres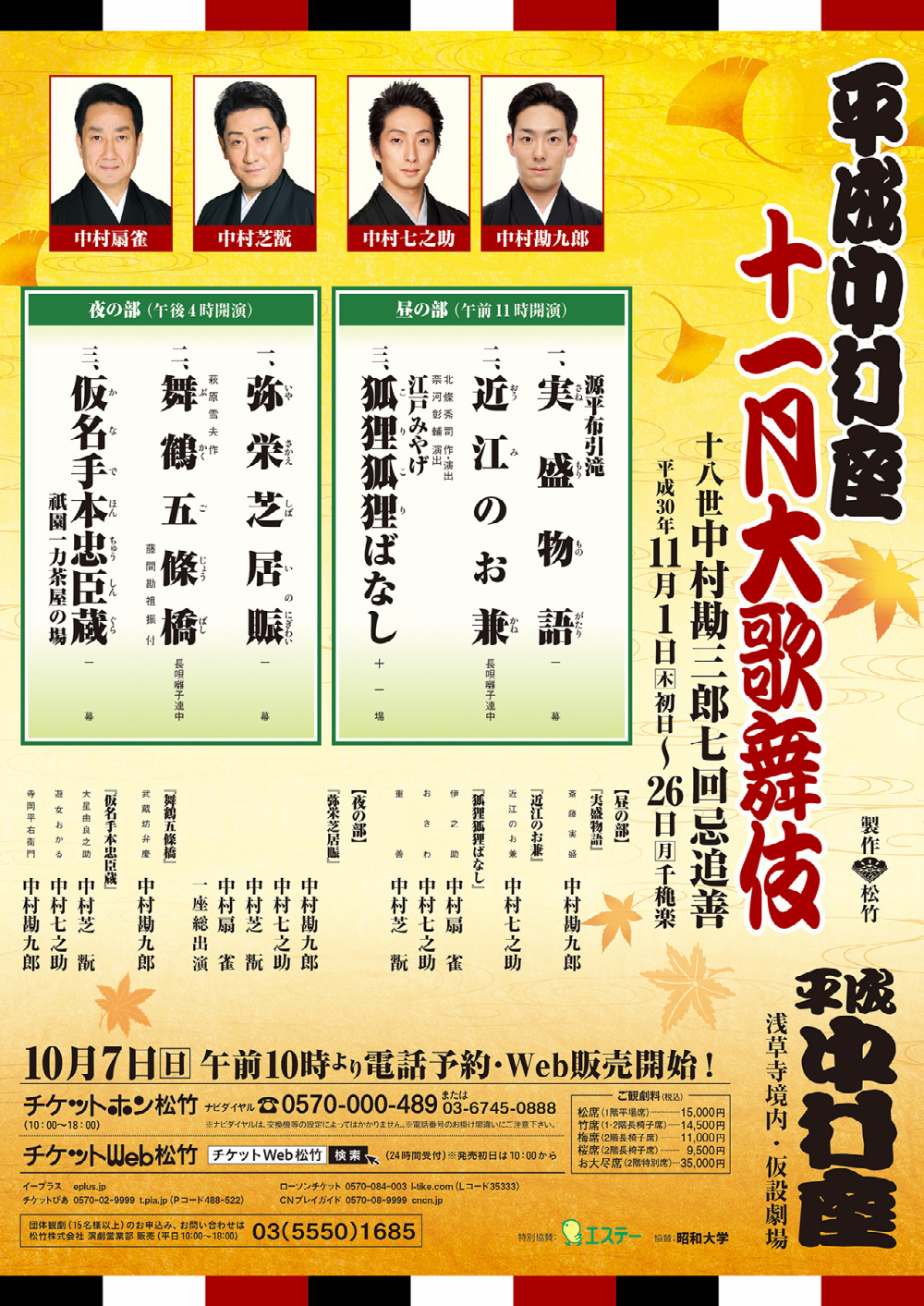 November

at the Heisei Nakamuraza Theatre

Daily: Nov 1 (Thu) - Nov 26 (Mon), 2018

Matinee:11:00 AM

Evening Show: 4:00 PM

[Backside of the flyer]
◆Schedule and caution
◆Buy Tickets Online [For Non-Member/Multilingual Website]

On sale: from Oct 7 (Sun), 2018 10:00AM(JST) 2018:10:07:10:00:00

ODAIJIN Seat (Level 2): 35,000
MATSU Seat (Level 1): 15,000
TAKE Seat (Level 1, Level 2): 14,500
UME Seat (Level 2): 11,000
SAKURA Seat (Level 2): 9,500
Unit: Japanese Yen (tax included)

※In the 'Matsu' seats you will be seated on the floor with 'zabuton' cushions. There are special seats for the Odaijin seats, and benches for all other areas.
*No English supporting guide available.
This month's program continues from last month at the Kabukiza in commemorating the 7th year anniversary of the death of Nakamura Kanzaburō XVIII. Therefore, plays and dances associated with Kanzaburō are featured.
The Heisei Nakamuraza Theatre, a troupe that performs in a temporary theatre building, was founded by him in 2000 in Asakusa, Tokyo. The structure is a reproduction of a theatre in which his ancestors would have acted in the Edo Period. It has been rebuilt in many different places, including Osaka, Nagoya, New York and so on, where the troupe has performed. This month, the theatre comes back to its birthplace in Asakusa.
Genpei Nunobiki no Taki
SANEMORI MONOGATARI
[Sanemori's Tale]
CAST :
Saitō Sanemori

Nakamura Kankurō
STORY :
In preparation
ŌMI NO OKANE
[ Okane of Ōmi Province ]
CAST :
Okane of Ōmi Province

Nakamura Shichinosuke
STORY :
In preparation
Edo Miyage
KORIKORI BANASHI
['Bewitching Foxes and Badgers', 'A Souvenir from Edo' ]
CAST :
Inosuke

Nakamura Senjaku

Okiwa

Nakamura Shichinosuke

Jūzen

Nakamura Shikan
STORY :
In preparation
IYA SAKAE SHIBAI NO NIGIWAI
[In front of the Theatre]
CAST :
Nakamura Kankurō Nakamura Shichinosuke Nakamura Shikan Nakamura Senjaku together with other cast members
STORY :
In preparation
BUKAKU GOJŌBASHI
[Benkei on the Gojō Bridge]
CAST :
Musashibō Benkei

Nakamura Kankurō
STORY :
In preparation
KANADEHON CHŪSHINGURA
Gion Ichirikijaya
['The Ichiriki Teahouse in Gion' from 'The Treasury of Loyal Retainers']
CAST :
Ōboshi Yuranosuke

Nakamura Shikan

Okaru, a courtesan

Nakamura Shichinosuke

Teraoka Heiemon

Nakamura Kankurō
STORY :
In preparation