Shinbashi Enbujo Theatre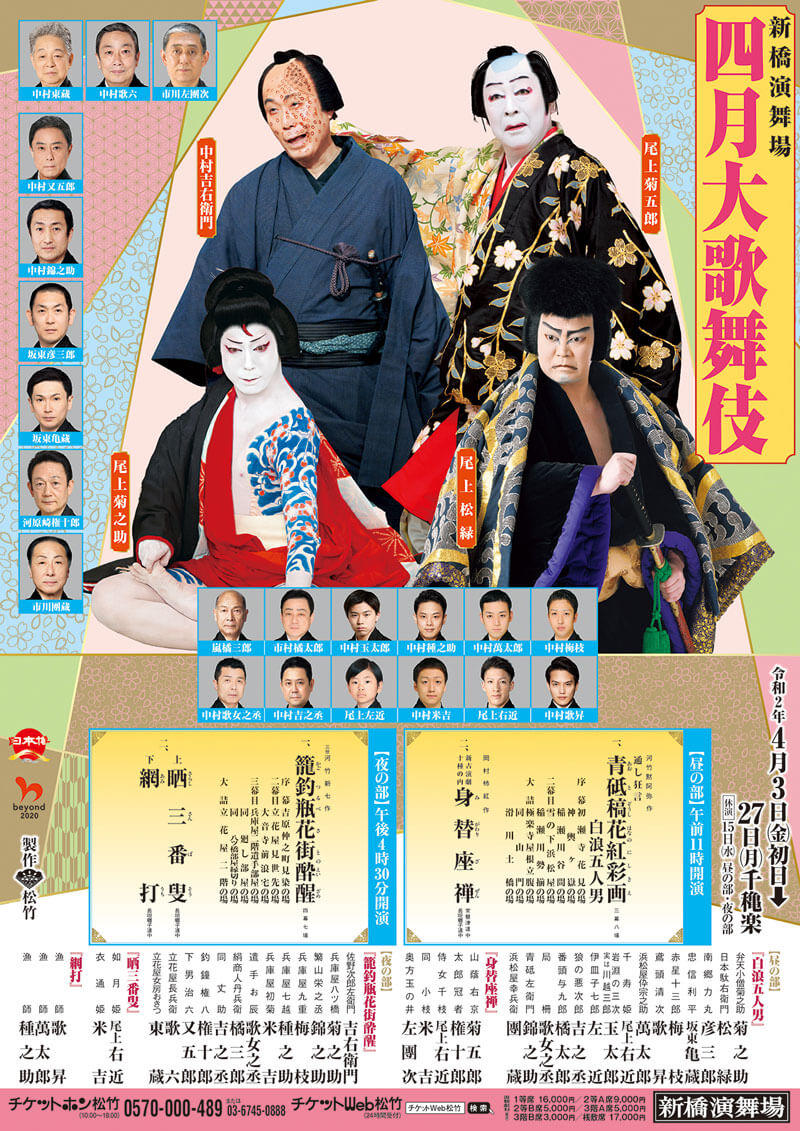 April

at the Shinbashi Enbujo Theatre

Daily: Apr 03 (Fri) - Apr 27 (Mon), 2020

Matinee:11:00 AM

Evening Show: 4:30 PM

[Important notice](Updated: April 7th)
Notification of the cancellation of all April performances due to coronavirus (COVID-19)

*No Matinee and Evening Show on the 15th (Wed).

Time Schedule

Box Seat: 17,000 / First Class Seat: 16,000 /
Second A Class Seat: 9,000 /
Second B Class Seat: 5,000 /
Upper Tier A: 5,000 / Upper Tier B: 3,000
Unit: Japanese Yen (tax included)
*Children over the age of 4 must purchase tickets to enter.

Shinbashi Enbujo Theatre (at TOKYO) Theatre Information
*No English supporting guide available.
The April Grand Kabuki is performed this year at the Shinbashi Enbujo Theatre due to maintenance work at the Kabukiza Theatre.
Both in the Matinee and the Evening Show, famous 'sewamono' domestic plays and dances will be performed. The Matinee will include a full-length performance of a masterpiece by Kawatake Mokuami, a playwright famous for his skill at writing plays about bandits. This is a popular play depicting the fate of five gallant bandits who must eventually suffer for their evil deeds. The Evening Show, by contrast, will include a masterpiece based on a cruel mass murder in the Edo Period. Do not miss the scene of Yatsuhashi's rejection which is famously full of pathos.
Come and enjoy this Japanese traditional performing art at our theatre, along with the beautiful cherry blossoms that will bloom in the spring.
AOTOZŌSHI HANA NO NISHIKI-E
Shiranami Gonin Otoko
['The Brocade Picture Book of Aoto's Exploits' commonly known as 'The Five Thieves']
CAST :
Benten Kozō Kikunosuke

Onoe Kikunosuke

Nippon Daemon

Onoe Shōroku

Nangō Rikimaru

Bandō Hikosaburō

Tadanobu Rihei

Bandō Kamezō

Akaboshi Jūzaburō

Nakamura Baishi

Seiji, Chief of a fire brigade

Nakamura Kashō

Sonosuke, son of the Hamamatsuya owner

Nakamura Mantarō

Princess Senju

Onoe Ukon

Aoto Saemon

Nakamura Kinnosuke

Kōbē, owner of Hamamatsuya 

Ichikawa Danzō
STORY :
Written by the famous playwright Kawatake Mokuami, this play is a perfect display of kabuki's stylized beauty. It includes a dynamic fight scene that is performed on a particularly gorgeous stage set. A beautiful woman is suspected of shoplifting and is struck on the head. When it is proved that she was not stealing, her servant demands compensation. However, a samurai who happens to be present uncovers her ruse and reveals that the woman is actually a man. The former 'woman' and her accomplice are, in fact, Benten Kozō and Nangō Rikimaru, two members of the same infamous gang of thieves. Even the samurai who supposedly exposed their plot turns out to be none other than Nippon Daemon, the head of this gang. Finally, the gang is hunted down by officers and when they are surrounded, the five gang members remain defiant, delivering elaborate rhythmic speeches dressed in their finest kimono and accompanied by beautiful music. The final showdown is shown in one of kabuki's most famous and spectacular fight scenes that even incorporates a temple rooftop that flips up to reveal another beautiful set below.
MIGAWARI ZAZEN
['The Zen Substitute']
CAST :
Yamakage Ukyō

Onoe Kikugorō

Tarōkaja, Ukyō's servant

Kawarasaki Gonjūrō

Chieda, a maid

Onoe Ukon

Saeda, a maid

Nakamura Yonekichi

Tamanoi, Ukyō's wife

Ichikawa Sadanji
STORY :
This is a dance drama adapted from a classical kyōgen comedy. Lord Yamakage Ukyō wants nothing more than to visit his lover Hanago, but he has one important problem: his homely and overbearing wife will not leave his side. Thinking of several excuses to leave the house, when these are rejected he finally insists that he will practice zen meditation all night. However, he cheats by making his servant Tarōkaja take his place so that he can go off secretly to see Hanago. When he returns, giddy from a night of pleasure, and tells his story to Tarōkaja in dance, he is unaware that his wife has discovered his deception.
KAGOTSURUBE SATO NO EIZAME
['The Courtesan Yatsuhashi and Sano Jirozaemon']
CAST :
Sano Jirozaemon     

Nakamura Kichiemon

The Courtesan Yatsuhashi

Onoe Kikunosuke

Shigeyama Einojō, Yatsuhashi's lover

Nakamura Kinnosuke

Kokonoe, a courtesan

Nakamura Baishi

Nanakoshi, a young courtesan

Nakamura Tanenosuke

Hatsugiku, a young courtesan

Nakamura Yonekichi

Tsurigane Gonpachi

Kawarasaki Gonjūrō

Jiroku, Jirozaemon's servant

Nakamura Matagorō

Chōbē, proprietor of the Tachibanaya brothel

Nakamura Karoku

Okitsu, proprietress of the Tachibanaya

Nakamura Tōzō
STORY :
One of the most sensational kabuki plays in the Meiji Period (1868-1912), this shows the story of a humble, pockmarked merchant from the country named Jirozaemon. He is wealthy, but because of the way he looks, he has never thought it would be possible to have a woman. He and his servant go sightseeing in the Yoshiwara pleasure quarters and get a chance to look at the top courtesan Yatsuhashi, who smiles at him and makes Jirozaemon fall in love. However, the pleasure quarters are full of intrigue, and on the eve of the day that Jirozaemon is to buy up Yatsuhashi's contract, her true love Einojō forces her to reject and humiliate Jirozaemon in the middle of the celebratory banquet. Jirozaemon seems to forgive her, but returns with the sword 'Kagotsurube' to exact his revenge.
SARASHI SANBASŌ
['Sanbasō Dance Bleaching Cloth']
CAST :
Princess Kisaragi

Onoe Ukon

Princess Sotōri

Nakamura Yonekichi
STORY :
At the Hakone Gongen Shrine at the foot of Mt. Hakone, a commotion is caused by the loss of the treasured white banner belonging to the Genji clan that had been dedicated to the shrine. Two women appear and, claiming it is also in dedication to the shrine, they start dancing a Sanbasō dance. When a piece of cloth drops out of one of the women's pocket, they are accused of stealing the white Genji banner. In fact, they are princesses related to the Heike clan, and they stole the banner to curse their archrival Genji clan. In dance form, they swing the white banner above their heads as though it was a long strip of cloth being bleached in the sun.
AMIUCHI
['Cast Net Fishing']
CAST :
A fisherman

Nakamura Kashō

A fisherman

Nakamura Mantarō

A fisherman

Nakamura Tanenosuke
STORY :
This is a dance portraying a fisherman casting for fish with his net. It shows the daily lives of fishermen in a lively and nimble dance with brisk movements. While costumes in Kabuki dances are often concealing, in this case, the bare leggings and hand guards the actors wear reveal their skill as they perform.