Shinbashi Enbujo Theatre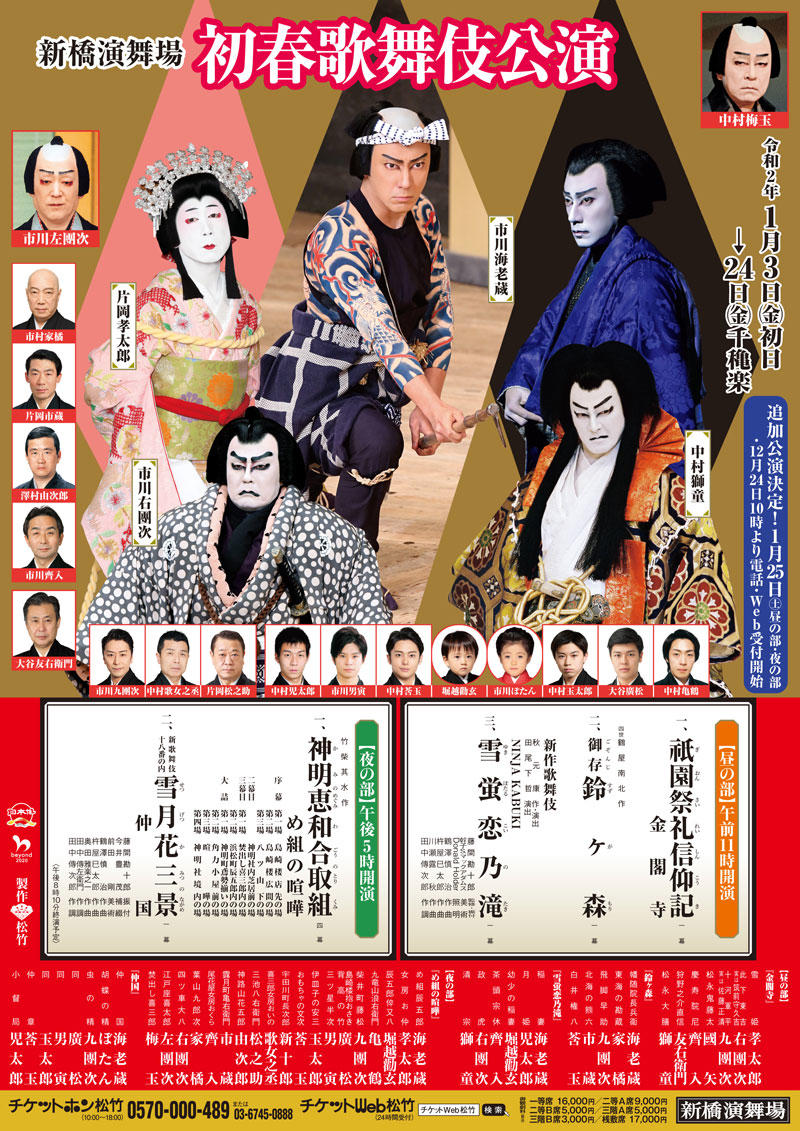 January

at the Shinbashi Enbujo Theatre

Daily: Jan 03 (Fri) - Jan 24 (Fri), 2020

Matinee:11:00 AM

Evening Show: 5:00 PM

*No Evening show on the 6th (Mon), 8th (Wed), 15th (Wed) and the 22nd (Wed).
*No Matinee on the 16th (Thu).

◇ Time Schedule

Time Schedule

On sale: from Dec 06 (Fri), 2019 10:00AM(JST) 2019:12:06:10:00:00

Box Seat: 17,000 / First Class Seat: 16,000 /
Second A Class Seat: 9,000 /
Second B Class Seat: 5,000 /
Upper Tier A: 5,000 / Upper Tier B: 3,000
Unit: Japanese Yen (tax included)
*Children over the age of 4 must purchase tickets to enter.

Shinbashi Enbujo Theatre (at TOKYO) Theatre Information
*No English supporting guide available.
The New Year performances feature the troupe led by star actor Ichikawa Ebizō, who will succeed to the name of Ichikawa Danjūrō XIII in May.
The Matinee begins with 'Kinkakuji' in which a princess dressed in a beautiful kimono and a sparkling tiara must struggle for her life in a magnificent setting. This is followed by a play by a famous Edo Period playwright that has remained very popular until today. The Matinee ends with a noteworthy new production, 'Ninja Kabuki' by one of the most famous creators of Japanese pop-culture.
The Evening Show begins with 'Megumi no Kenka', in which the life of commoners in Edo, their dashing manners and speech, as well as fight scenes characteristic of kabuki are portrayed. The Evening Show ends with a dance of great scenic beauty.


GION SAIREI SHINKŌKI
Kinkakuji
[ 'The Golden Pavilion' from 'The Gion Festival Chronicle of Faith' ]
CAST :
Yukihime

Kataoka Takatarō

Konoshita Tōkichi, in reality, Chikuzen no Kami Hisayoshi

Ichikawa Udanji

Matsunaga Daizen

Nakamura Shidō
STORY :
This is a 'jidaimono', a history play portraying the life of warriors in the 16th century.
Matsunaga Daizen has defeated the shōgun and has set up base in the Golden Pavilion. The beautiful Yukihime is being held prisoner ​there by Daizen. The brilliant strategist Hisayoshi, disguised as a disgruntled retainer named Tōkichi, pretends to enter Daizen's employ to try to sabotage his plans from within. In a famous highlight of the play, she is bound to a cherry tree, but when she draws a mouse in the tree's petals the mouse miraculously comes to life and chews the ropes that bind her. The role of Yukihime is considered to be one of the most difficult 'princess' roles in kabuki.
GOZONJI SUZUGAMORI
[ 'Gonpachi and Banzui'in Chōbē' ]
CAST :
Banzui'in Chōbē

Ichikawa Ebizō

Shirai Gonpachi

Nakamura Kangyoku
STORY :
This is a short scene from Tsuruya Nanboku's play 'Ukiyozuka Hiyoku no Inazuma'.
The young samurai Gonpachi is ambushed near the execution grounds of Edo on a dark night, but he manages to escape after a gruesome but humorous fight scene. Watching from a nearby palanquin, Chōbē, a chivalrous townsman, is impressed with Gonpachi's fighting skills and agrees to give him shelter in the city. This meeting between the handsome young Gonpachi and the heroic Chōbē is one of the most famous meetings in kabuki.
YUKI BOTARU KOI NO TAKI - NINJA KABUKI
[ 'Fireflies in the Snow and the Waterfall of Love' ]
CAST :
Inazuma

Ichikawa Ebizō

Tsukihime

Nakamura Kotarō

Masatora

Ichikawa Udanji

The lord

Nakamura Shidō
STORY :
This is a brand-new kabuki play created and directed by Akimoto Yasushi who is one of the most famous creators of Japanese pop-culture.
KAMI NO MEGUMI WAGŌ NO TORIKUMI
Megumi no Kenka
[ 'The Fight between Firefighters and Sumō Wrestlers' ]
CAST :
Megumi Tatsugorō

Ichikawa Ebizō

Onaka, his wife

Kataoka Takatarō

Yotsuguruma Daihachi

Ichikawa Udanji

Matahachi, Tatsugorō's son

Horikoshi Kangen

Edoza Kitarō

Ichikawa Sadanji

Takidashi Kisaburō

Nakamura Baigyoku
STORY :
They used to say that fights and fires were the flowers of the city of Edo. This particular play depicts a rivalry between the members of the Megumi firefighting brigade and a group of sumō wrestlers. Ultimately, this is a confrontation between the firefighters, who represent the commoner class, and the samurai patrons of the sumō wrestlers. The fight begins with a minor incident but grows into a situation of such tension that when Tatsugorō, the leader of the firefighting gang, goes to his final fight, he prepares for death and has an emotional parting from his family. The 'tachimawari' (fight scene) between firefighters and sumō wrestlers is very spectacular!
SETSUGEKKA MITSU NO NAGAME
Nakakuni
[ 'The Seasonal Beauty of Snow, Moon and Flowers' ]
CAST :
Ichikawa Ebizō

Ichikawa Botan
STORY :
This is a play selected as one of the 'Shin Kabuki Jūhachiban' ('The New Eighteen Favorite Kabuki Plays of the Ichikawa Danjūrō Family'). It has not been performed for a long time. On this occasion, Ichikawa Ebizō revives it and performs with his daughter.