Shinbashi Enbujo Theatre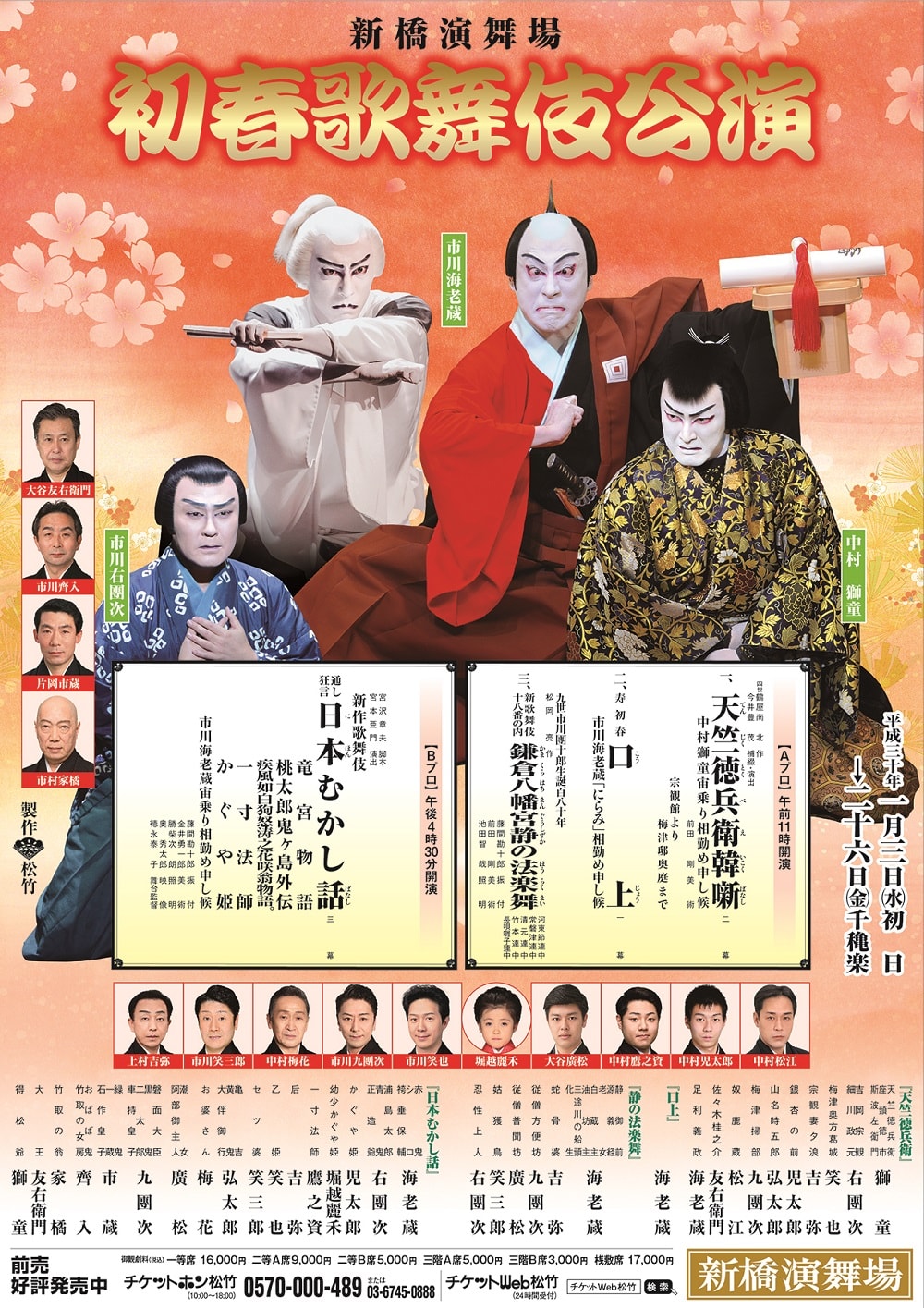 January

at the Shinbashi Enbujo Theatre

Daily: Jan 03 (Wed) - Jan 26 (Fri), 2018

Program A:11:00 AM

Program B: 4:30 PM

※Tickets are available for Program A only on the 15th (Mon), 16th (Tue) and 26th (Fri).
※Program B is sold out on the 18th (Thu).

Time Schedule

On sale: from Nov 25 (Sat), 2017 10:00AM(JST) 2017:11:25:10:00:00

Box Seat: 17,000 / First Class Seat: 16,000 / Second A Class Seat: 9,000 / Second B Class Seat: 5,000 / Upper Tier A: 5,000 / Upper Tier B: 3,000
Unit: Japanese Yen (tax included)

Shinbashi Enbujo Theatre (at TOKYO) Theatre Information
*No English supporting Guide available.
The New Year Program at the Shinbashi Enbujo Theatre is filled with exciting highlights both in Program A and Program B. Program A opens with a daring and novel work featuring a sorcerer who has mastered toad magic. What follows next is a stage announcement celebrating the New Year including a special pose called 'nirami' (a glare) which is said to drive away evil spirits. Commemorating the 180th anniversary of the birth of Ichikawa Danjūrō IX, Program A ends with a revival of one of the Shin Kabuki Jūhachiban, 'The New 18 Favourite Kabuki Plays' that were chosen by Danjūrō IX to represent the best of his acting family. Program B is a new kabuki production based on various Japanese folk tales that have been popular from long ago.
Enjoy a merry program of works typical for the New Year and featuring the young stars Ichikawa Ebizō, Nakamura Shidō and Ichikawa Udanji.
TENJIKU TOKUBEI IKOKU BANASHI
[ Tenjiku Tokubei's Adventures in Foreign Countries ]
CAST :
Tenjiku Tokubei /
Tokuichi, a blind musician /
Sakuramachi Chūnagon Yoshiteru


Nakamura Shidō

Yoshioka Sōkan /
Hosokawa Masamoto

Ichikawa Udanji

Katsuragi, Umezu Kamon's wife

Ichikawa Emiya

Yūnami, Sōkan's wife

Nakamaura Kotarō

Yamana Tokigorō

Ichikawa Kōtarō

Umezu Kamon

Ichikawa Kudanji

Shikazō, a footman

Nakamura Matsue

Sasaki Katsuranosuke

Ōtani Tomoemon

Ashikaga Yoshimasa

Ichikawa Ebizō
STORY :
This is a 'jidaimono' history play set in the Muromachi period (approx. 1336-1573). It is a play on a grand scale about Tenjiku Tokubei, a man who plans to overthrow Japan with the help of toad sorcery. The play was written by Tsuruya Nanboku IV, and includes many spectacular effects such as a giant toad, collapsible stage sets, quick changes, a flight through the air, and so on. Sasaki Katsuranosuke goes to the mansion of his retainer Yoshioka Sōkan in search of an heirloom sword named 'Namikirimaru' which has been stolen. A boatman named Tokubei who has been to India appears and entertains Katsuranosuke for a while with his adventures. When he hears that the envoy of the shogun has come, he conceals himself. Sōkan commits ritual suicide by disembowelment to atone for the escape of his lord Katsuranosuke. He discloses to Tokubei that he is, in reality, Mokusokan, who plans to restore the Ming dynasty....
KOTOBUKI HATSUHARU KŌJŌ
[ Stage Announcement celebrating the New Year ]
CAST :
Ichikawa Ebizō
STORY :
A 'kōjō' is a special greeting and stage announcement made by actors directly to the audience. In Program A at the Shinbashi Enbujō Theatre in January, Ichikawa Ebizō will make one such 'kōjō' announcement which will include a special glaring pose called 'nirami'. It is said that if you see the kabuki 'nirami', you won't catch a cold for the whole year. Please enjoy an act perfect to celebrate the New Year.
KAMAKURA HACHIMANGŪ SHIZUKA NO HŌRAKUMAI
[ Shizuka's Dedication Dance at the Kamakura Hachimangū Shrine ]
CAST :
Shizuka Gozen
Minamoto no Yoshitsune
An Old Woman
Hakuzōsu
Aburabōzu
A boatman on the River of the Dead
Keshō, a mighty demon




Ichikawa Ebizō

Jakotsu Baba

Kamimura Kichiya

Hōbenbō, a Buddhist priest serving Ninshō Shōnin

Ichikawa Kudanji

Fumonbō, a Buddhist priest serving Ninshō Shōnin

Ōtani Hiromatsu

Ubume

Ichikawa Emisaburō

Ninshō Shōnin

Ichikawa Kudanji
STORY :
This dance is included as one of the 'Shin Kabuki Jūhachiban', 'The New 18 Favourite Kabuki Plays' that were chosen by Ichikawa Danjūrō IX. Danjūrō IX was praised as a 'gekisei' (Holy Actor). This work has been reconceived for this occasion. 5 types of kabuki music will be performed together in this dance play.
The Priest Ninshō and his attendants visit a desolate temple in Kamakura because he has heard a rumor that a specter is appearing there every night. Suddenly, a threatening wind blows and an old woman appears. As she says she was a court dancer in days gone by, they ask her to perform a dance. After she disappears and they go into the inner room, specters gather one by one and....
NIHON MUKASHI BANASHI - Ryūgū Monogatari, Momotarō Onigashima Gaiden, Hayate no Gotoki Shiroinu Dotō no Hanasaki Okina no Monogatari, Issun Bōshi and Kaguyahime
[ Old Japanese Tales - 'The Dragon Palace Story', 'The Peach Boy at Onigashima Island', 'A White Dog and the Old Man Who Made Cherry Trees Bloom', 'The One-Inch Boy' and 'Princess Kaguya' ]
CAST :
Red Demon/ Shiro, a white dog/ Shigenobu no Mikoto

Ichikawa Ebizō

Urashima Tarō/ Blue Demon/ Shōzō Jii, an honest old man

Ichikawa Udanji

Princess Kaguya

Nakamura Kotarō

Princess Kaguya (as a child)

Horikoshi Reika

One-Inch Boy

Nakamura Taknosuke

Empress

Kamimura Kichiya

Princess Otohime

Ichikawa Emiya

Setsu Bā, an old woman

Ichikawa Emisaburō

Kamekichi/ Yellow Demon/ Imperial Prince Carriage Owner

Ichikawa Kōtarō

Grandma

Nakamura Baika

Shiome/ Master Abe

Ōtani Hiromatsu

Minister Stone Face/ Black Demon/ Nitarō/ King of the Evil Demons

Ichikawa Kudanji

Green Demon/ Ichizō/ Imperial Prince Stone Maker

Kataoka Ichizō

Old Woman Demon/ Wife of the Bamboo Cutter

Ichikawa Sainyū

The Bamboo Cutter, an old man

Ichimura Kakitsu

The Emperor

Ōtani Tomoemon

Old Man Greed

Nakamura Shidō
STORY :
This is a new kabuki production adapted from folktales and nursery tales that are familiar to all Japanese. It was created out of the desire to make a kabuki play that anyone, from children to adults, could enjoy. The script was written by Miyazawa Akio who is active in many genres, and it was directed by Miyamoto Amon, one of the greatest directors in Japan. One night, a grandmother begins to tell some children a mysterious story which begins on a distant star. A wonderful stone which is the symbol of happiness goes missing, and in despair, the empress of that star pins all her hopes for its retrieval on her new-born daughter. Eventually, the daughter lands on the blue earth where she comes across characters and scenes from familiar Japanese folktales: Urashima Tarō and Lady Otohime in the Dragon Palace, the Peach Boy who defeats ogres, a White Dog and the Old Man who made Cherry Trees bloom, the One-Inch Boy and Princess Kaguya. How will this tale concerning the wonderful stone, interwoven with so many people and animals conclude?