Shinbashi Enbujo Theatre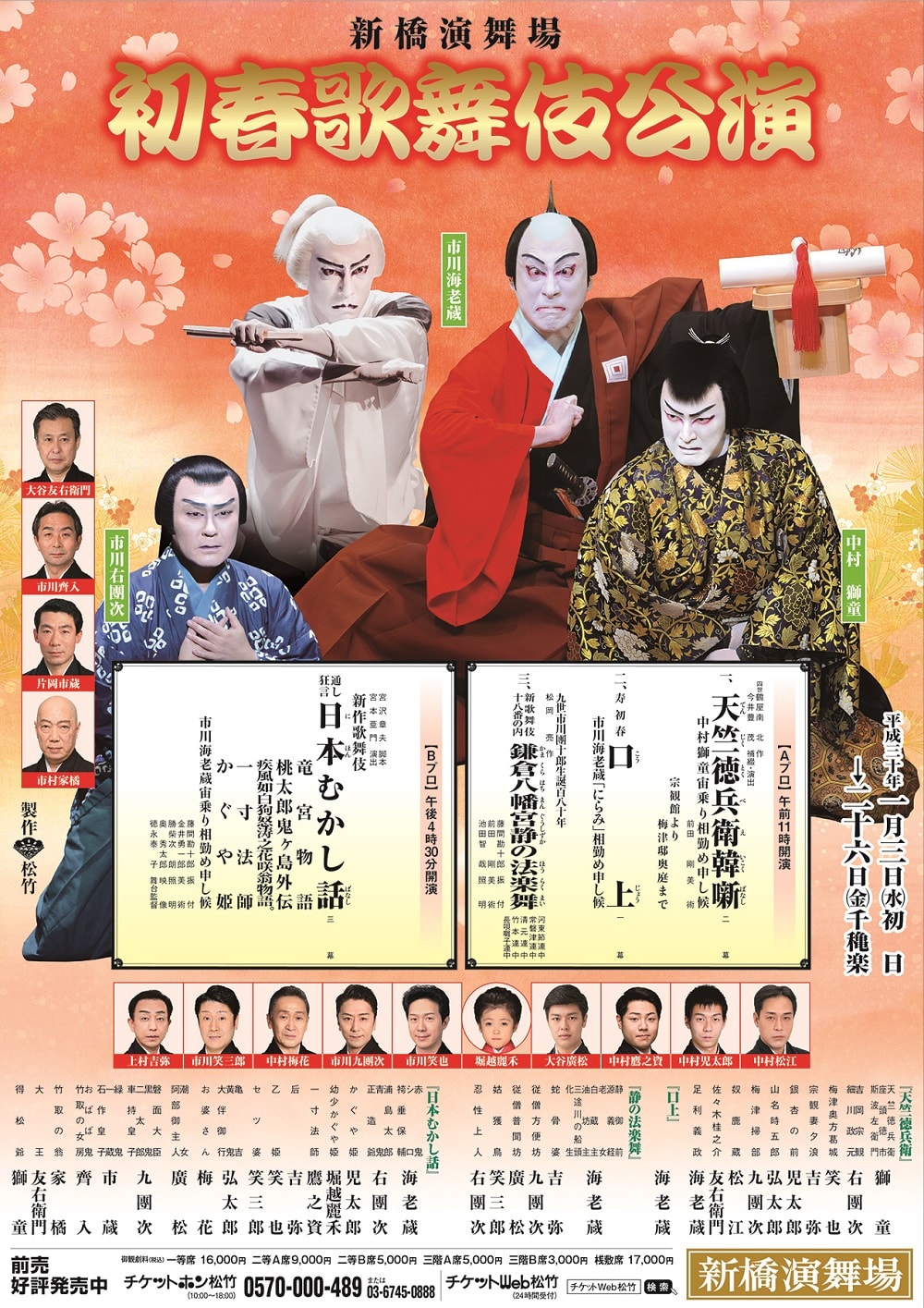 January

at the Shinbashi Enbujo Theatre

Daily: Jan 3 (Wed) - Jan 26 (Fri), 2018

Program A:11:00 AM

Program B: 4:30 PM

※Tickets are available for Program A only on the 15th (Mon), 16th (Tue) and 26th (Fri).
※Program B is sold out on the 18th (Thu).

On sale: from Nov 25 (Sat), 2017 10:00AM(JST) 2017:11:25:10:00:00

Box Seat: 17,000 / First Class Seat: 16,000 / Second A Class Seat: 9,000 / Second B Class Seat: 5,000 / Upper Tier A: 5,000 / Upper Tier B: 3,000

Shinbashi Enbujo Theatre (at TOKYO) Theatre Information
*No English Earphone Guide available.
The New Year Program at the Shinbashi Enbujō Theatre is filled with exciting highlights both in Program A and Program B. Program A opens with a daring and novel work featuring a sorcerer who has mastered toad magic. What follows next is a stage announcement celebrating the New Year including a special pose called 'nirami' (a glare) which is said to drive away evil spirits. Commemorating the 180th anniversary of the birth of Ichikawa Danjūrō IX, Program A ends with a revival of one of the Shin Kabuki Jūhachiban, 'The New 18 Favourite Kabuki Plays' that were chosen by Danjūrō IX to represent the best of his acting family. Program B is a new kabuki production based on various Japanese folk tales that have been popular from long ago.
Enjoy a merry program of works typical for the New Year and featuring the young stars Ichikawa Ebizō, Nakamura Shidō and Ichikawa Udanji.
TENJIKU TOKUBĒ IKOKU BANASHI
[ Tenjiku Tokubē's Adventures in Foreign Countries ]
CAST :
In preparation
STORY :
In preparation
KOTOBUKI HATSUHARU KŌJŌ
[ Stage Announcement celebrating the New Year ]
CAST :
In preparation
STORY :
In preparation
KAMAKURA HACHIMANGŪ SHIZUKA NO HŌRAKUMAI
[ Shizuka's Dedication Dance at the Kamakura Hachimangū Shrine ]
CAST :
In preparation
STORY :
In preparation
NIHON MUKASHI BANASHI - Ryūgū Monogatari, Momotarō Onigashima Gaiden, Hayate no Gotoki Shiroinu Dotō no Hanasaki Okina no Monogatari, Issun Bōshi and Kaguyahime
[ Old Japanese Tales - 'The Dragon Palace Story', 'The Peach Boy at Onigashima Island', 'A White Dog and the Old Man Who Made Cherry Trees Bloom', 'The One-Inch Boy' and 'Princess Kaguya' ]
CAST :
In preparation
STORY :
In preparation