Shinbashi Enbujo Theatre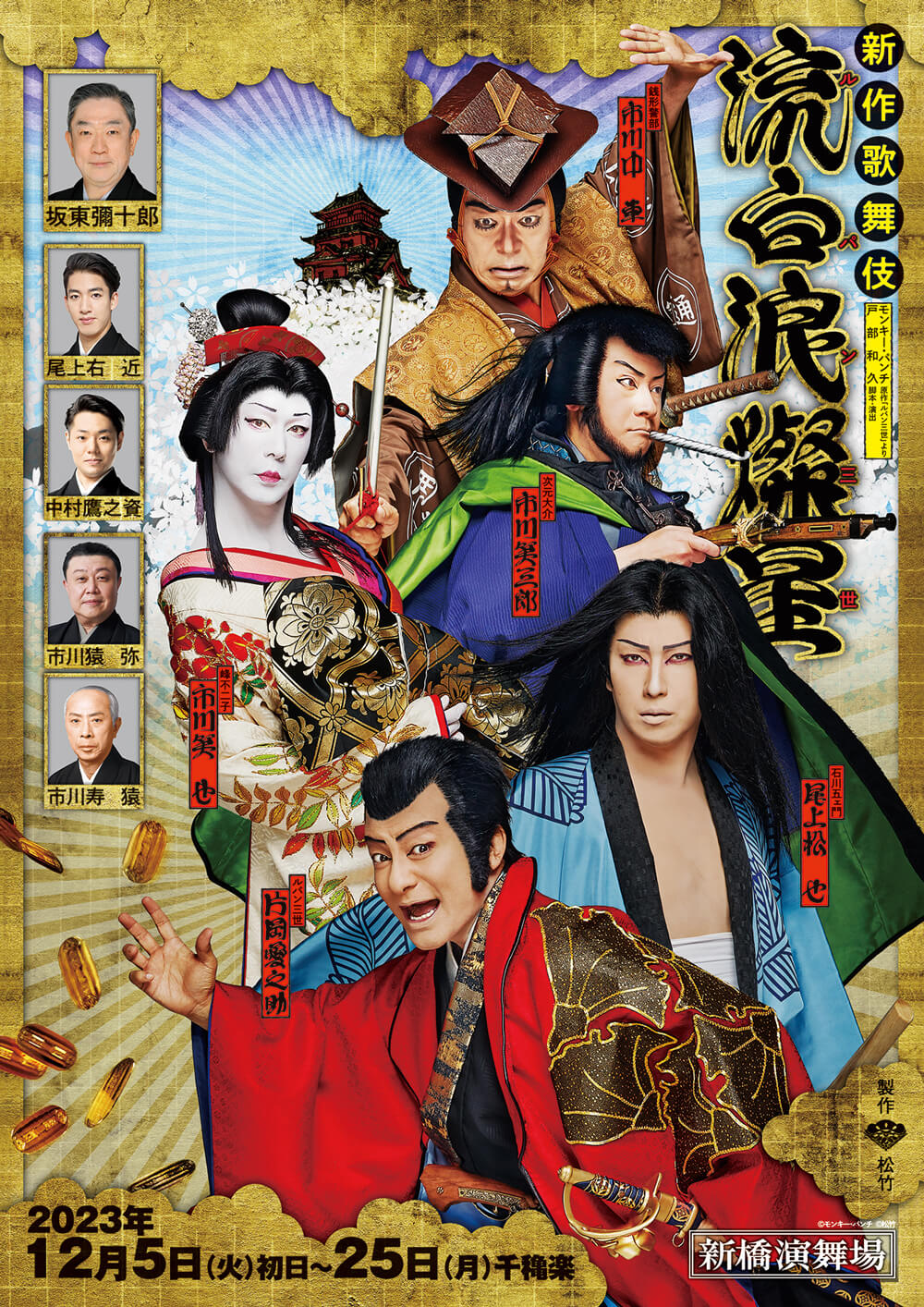 December Program

at the Shinbashi Enbujo Theatre

Daily: Dec 05 (Tue) - Dec 25 (Mon), 2023

Matinee:11:30 AM

Evening Show: 4:30 PM

*No Matinee and Evening Show on the 11th (Mon) and the 18th (Mon).
*Reserved seats for Evening Show are sold out on the 13th (Wed).

◇ Schedule
*Additional performance: December 24th (Sun) Evening Show. Not available for sale at the Shochiku Multilingual Online Ticket.

On sale: from Oct 25 (Wed), 2023 10:00 AM(JST) 2023:10:25:10:00:00

Box Seat: 16,000 /First Class Seat: 15,000 /Second Class Seat A: 9,000 /Second Class Seat B: 5,000 / Upper Tier A 5,000 /Upper Tier B : 3,000
Unit: Japanese Yen (tax included)
*Children over the age of 4 must purchase tickets to enter.

Shinbashi Enbujo Theatre (at TOKYO) Theatre Information
Based on the original work by the popular manga artist Monkey Punch, the "Lupin III" series boasts numerous fans both domestically and abroad, with manga and TV anime at the forefront. Over the years, several masterpieces have been created through collaborations with other genres, and this month it will be at last be adapted as a brand-new kabuki production at the Shinbashi Enbujo Theatre.
The story is newly written for this performance. Set in the Azuchi Momoyama period (the last third of the 16th century) when Ishikawa Goemon lived, it portrays Lupin and other characters boldly with the techniques and stage tricks of kabuki.

Please look forward to this performance which unites the world of Lupin III with kabuki and is being much talked about.
Performance Time:
11:30 AM - 12:55 PM
(Intermission: 30 minutes)
1:25 PM - 2:10 PM
(Intermission: 15 minutes)
2:25 PM - 3:00 PM
LUPIN III

CAST :
Lupin III

Kataoka Ainosuke

Goemon Ishikawa

Onoe Matsuya

Daisuke Jigen

Ichikawa Emisaburō

Fujiko Mine

Ichikawa Emiya

Inspector Zenigata

Ichikawa Chūsha
Performance Time:
4:30 PM - 5:55 PM
(Intermission: 30 minutes)
6:25 PM - 7:10 PM
(Intermission: 15 minutes)
7:25 PM - 8:00 PM
LUPIN III

CAST :
Lupin III

Kataoka Ainosuke

Goemon Ishikawa

Onoe Matsuya

Daisuke Jigen

Ichikawa Emisaburō

Fujiko Mine

Ichikawa Emiya

Inspector Zenigata

Ichikawa Chūsha