Shinbashi Enbujo Theatre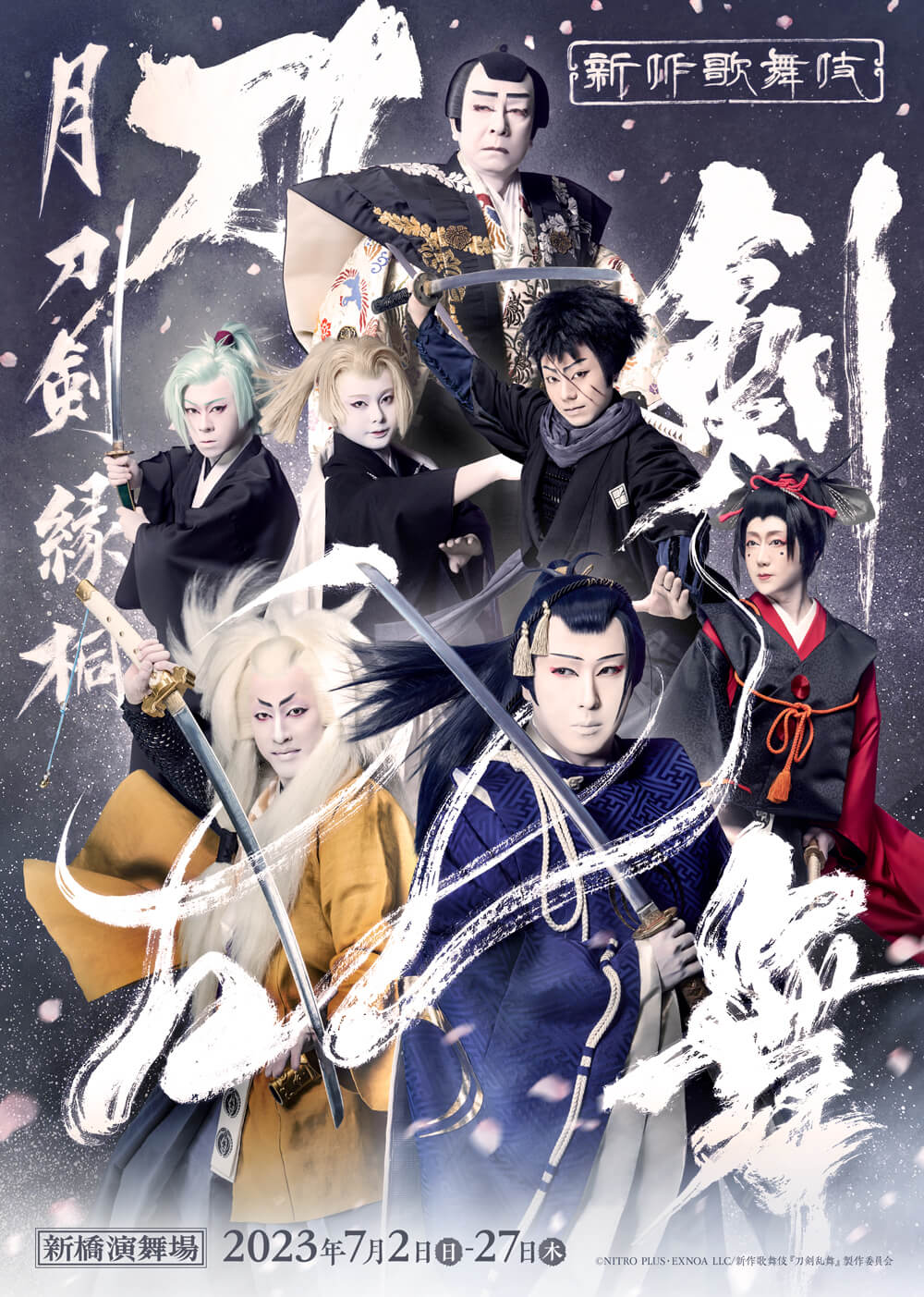 July Program

at the Shinbashi Enbujo Theatre

Daily: Jul 02 (Sun) - Jul 27 (Thu), 2023

Matinee:12:00 PM

Evening Show: 4:30 PM

*No Matinee and Evening Show on the 10th (Mon) and the 18th (Tue).

◇ Schedule

(Updated) Notification of the absence and cast replacement of Ōtani Ryūsei for the July performances (Jul 15)



On sale: from Jun 05 (Mon), 2023 10:00 AM(JST) 2023:06:05:10:00:00

Box Seat (Lunch box included) : 18,000 /First Class Seat: 15,000 /Second Class A: 9,000 /Second Class B: 5,000 /Upper Tier A 5,000 /Upper Tier B : 3,000
Unit: Japanese Yen (tax included)
*Children over the age of 4 must purchase tickets to enter.

*Tickets for the Box seats are sold at Ticket PIA (available in Japan only)

Shinbashi Enbujo Theatre (at TOKYO) Theatre Information
'Touken Ranbu' is a popular online browser game. Players bring famous historical swords to life as 'touken danshi', 'sword warriors', to defeat evil forces that are trying to change the course of history. The game gave rise to a sword boom, which were the models for the 'touken danshi', and it has been adapted for different genres such as the theater, anime and movies. It is now one of the most popular entertainment phenomena, of which Japan can be proud.

This month, 'Touken Ranbu' is at last adapted as a brand-new kabuki production. The 'touken danshi' who will appear in kabuki's central castle compound are Mikazuki Munechika, Kogitsunemaru, Dōdanuki Masakuni, Higekiri, Hizamaru and Kogarasumaru. The story is based on the Eiroku Incident, an historical event in which Ashikaga Yoshiteru, the 13th Muromachi shogun, was assassinated. This has been adapted in a bold and daring way that is typical of kabuki.
Evil forces that are trying to change the course of history attempt to assassinate the next shogun Ashikaga Kikudōmaru and his sister Princess Kōbai, but Mikazuki Munechika and others guard them against their wicked schemes. In time, Kikudōmaru comes of age and assumes the shogunate as Ashikaga Yoshiteru, assisted by Matsunaga Danjō, but he is possessed by an evil spirit. Danjō's son Matsunaga Hisanao remonstrates with Yoshiteru, and …
Please look forward to this exciting play filled with all the charm and fascination of traditional kabuki and which has become a much talked about topic.
Performance Time: 12:00 PM - 1:20 PM
(Intermission: 30 minutes)
1:50 PM - 3:20 PM
TOUKEN RANBU
Tsuki no Tsurugi Enishi no Kiri no Ha

['Crescent Moon Sword associated with Paulownia' from 'Swords boisterous dance']
CAST :
Mikazuki Munechika

Onoe Matsuya

Ashikaga Yoshiteru / Kogitsunemaru

Onoe Ukon

Matsunaga Hisanao / Dōdanuki Masakuni

Nakamura Takanosuke

Princess Kōbai, Yoshiteru's sister / Higekiri

Nakamura Kangyoku

Hizamaru

Kamimura Kichitarō

Kogarasumaru

Kawai Yukinojō

Yamaguchi Sajima

Ōtani Ryūsei

Shigarami, Danjō's wife

Nakamura Kamenojō

Zenpōji Shunsei

Ōtani Keizō

Matsunaga Danjō

Nakamura Baigyoku
Performance Time: 4:30 PM - 5:50 PM
(Intermission: 30 minutes)
6:20 PM - 7:50 PM

TOUKEN RANBU
Tsuki no Tsurugi Enishi no Kiri no Ha

['Crescent Moon Sword associated with Paulownia' from 'Swords boisterous dance']
CAST :
Mikazuki Munechika

Onoe Matsuya

Ashikaga Yoshiteru / Kogitsunemaru

Onoe Ukon

Matsunaga Hisanao / Dōdanuki Masakuni

Nakamura Takanosuke

Princess Kōbai, Yoshiteru's sister / Higekiri

Nakamura Kangyoku

Hizamaru

Kamimura Kichitarō

Kogarasumaru

Kawai Yukinojō

Yamaguchi Sajima

Ōtani Ryūsei

Shigarami, Danjō's wife

Nakamura Kamenojō

Zenpōji Shunsei

Ōtani Keizō

Matsunaga Danjō

Nakamura Baigyoku