Osaka Shochikuza Theatre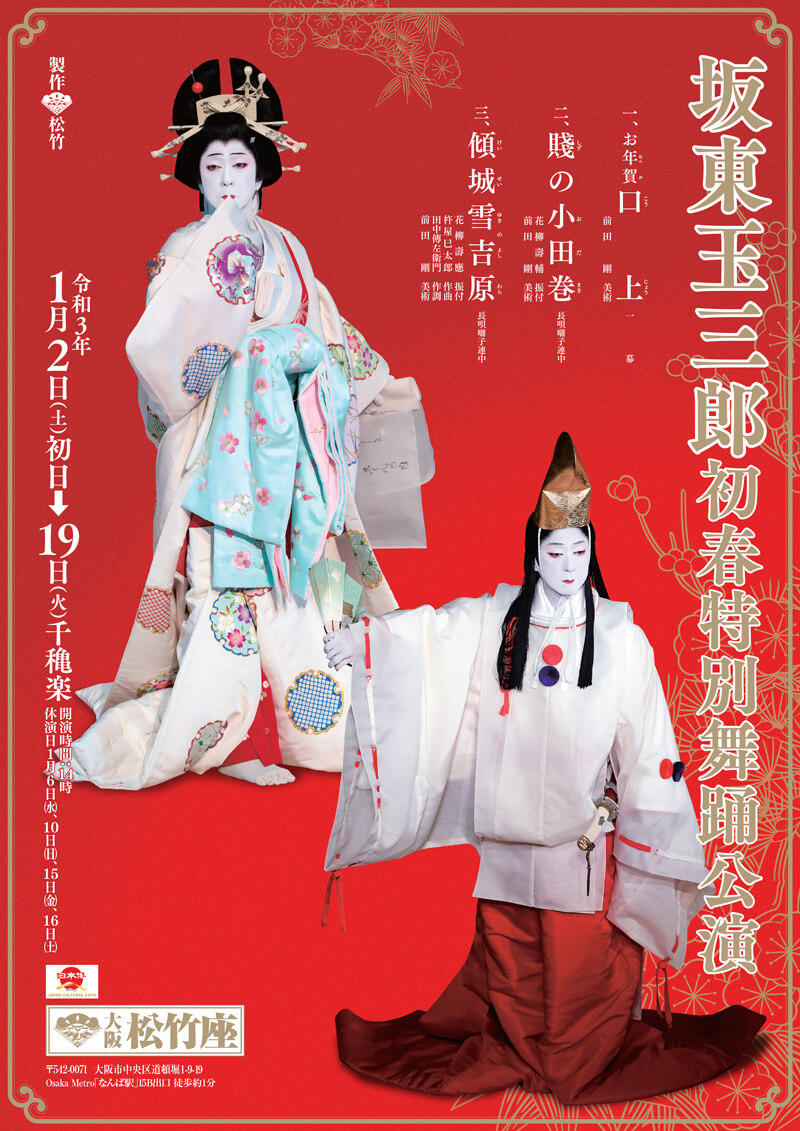 January

at the Osaka Shochikuza Theatre

Daily: Jan 02 (Sat) - Jan 19 (Tue), 2021

Performance: 2:00 PM

*No performance on the 6th (Wed), 10th (Sun) , 15th (Fri) and the 16th (Sat).

Precautionary Measures at the Osaka Shochikuza Theatre

On sale: from Dec 02 (Wed), 2020 10:00AM(JST) 2020:12:02:10:00:00

First Class (1F & 2F): 18,000 / Second Class (3F): 7,000
Unit: Japanese Yen (tax included)
*Children of pre-school age may not enter.

Osaka Shochikuza Theatre (at OSAKA) Theatre Information
*No English supporting guide available.
The New Year in 2021 at the Osaka Shochikuza Theatre begins with a Special Dance Recital by the leading female role specialist Bandō Tamasaburō. After the New Year's greeting by Tamasaburō, you can enjoy two dances: the first a dance of delicate sentiment and splendor featuring Shizuka Gozen yearning after her lover, and then a new work depicting the pleasure quarters in winter, first performed in 2018 at the Kabukiza Theatre. Please don't miss these colorful dances suitable for the New Year as the production only runs for a short period, until January 19th.
Performance Time:
2:00 PM - 2:25 PM
ONENGA KŌJŌ
['Stage Announcement celebrating the New Year']
CAST :
Bandō Tamasaburō
STORY :
Bandō Tamasaburō will appear to make a stage announcement in celebration of the beginning of the New Year.
Performance Time:
2:40 PM - 3:00 PM
SHIZU NO ODAMAKI
['The Spool of Hemp']
CAST :
Bandō Tamasaburō
STORY :
After sadly parting from her lover Yoshitsune on Mt. Yoshino and being sent to Kamakura, Shizuka Gozen was captured by the retainers of Yoshitsune's brother Yoritomo. At the demand of Yoritomo and his wife Masako, she performed the dance of a 'shirabyōshi' (a dancer courtesan) at Tsurugaoka Hachimangū Shrine. While dancing, she expressed her love for Yoshitsune and, instead of praising Yoritomo, she danced to pray for Yoshitsune's safety.
Performance Time:
3:20 PM - 3:45 PM
KEISEI YUKI NO YOSHIWARA
['A Courtesan of Yoshiwara Pleasure Quarters in the Snow']
CAST :
Bandō Tamasaburō
STORY :
This is a brand-new dance, the highlight of which is when the beautiful courtesan in her gorgeous costume expresses her deep love for her beloved. In dance, she goes on to describe romance in the pleasure quarters, as well as her own poor life story. Woven into this are lyrics describing the four seasons.