Osaka Shochikuza Theatre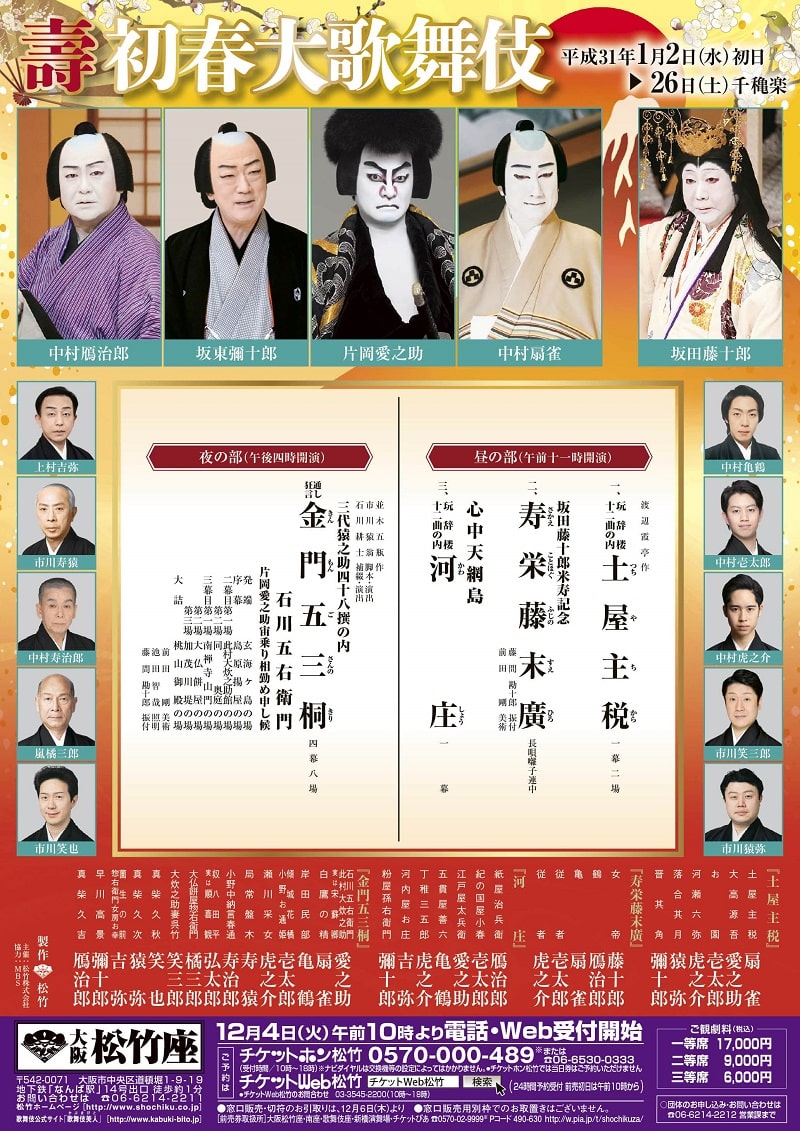 January

at the Osaka Shochikuza Theatre

Daily: Jan 02 (Wed) - Jan 26 (Sat), 2019

Matinee:11:00 AM

Evening Show: 4:00 PM

Time Schedule

On sale: from Dec 04 (Tue), 2018 10:00AM(JST) 2018:12:04:10:00:00

First Class: 17,000 / Second Class: 9,000 /
Third Class: 6,000
Unit: Japanese Yen (tax included)

Osaka Shochikuza Theatre (at OSAKA) Theatre Information
*No English supporting guide available.
The Matinee will start with a touching spin-off drama about one of the 47 ronin who plan to take part in the vendetta for their late lord. A dance then follows celebrating Sakata Tōjūrō's 88th birthday. The last play is about lovers who have once decided to commit love suicide and portrays a typical 'wagoto' role. The Evening Show is a rare full-length performance of 'KINMON GOSAN NO KIRI'. It is a play about a legendary thief named Ishikawa Goemon and is one of the most spectacular plays of kabuki. You can also see a spectacular flight in the air.
TSUCHIYA CHIKARA
['Lord Tsuchiya Chikara and the Chūshingura Vendetta']
CAST :
Tsuchiya Chikara

Nakamura Senjaku

Ōtaka Gengo

Kataoka Ainosuke

Osono

Nakamura Kazutarō

Kawase Mutsuya

Nakamura Toranosuke

Ochiai Kigetsu

Ichikawa En'ya

Shin Kikaku

Bandō Yajūrō
STORY :
Lord Tsuchiya Chikara lives next door to Kira, the man who caused the death of the master of the 47 loyal retainers. He is disgusted because the retainers do not seem to be interested in avenging the death of their lord. He learns from his haiku teacher that Ōtaka Gengo, one of the retainers and one of his students, left a poem suggesting that he was forgetting his former master and going to take service with another samurai lord. However, the secret of the vendetta is hidden behind this poem....
SAKAE KOTOHOGU FUJI NO SUEHIRO
['Celebrating Tōjūrō's Prosperity']
CAST :
Empress

Sakata Tōjūrō

Crane

Nakamura Ganjirō

Tortoise

Nakamura Senjaku

Attendant

Nakamura Kazutarō

Attendant

Nakamura Toranosuke
STORY :
This is a dance celebrating Sakata Tōjūrō's 88th birthday performed by himself, his sons and his grandsons.
The Empress appears in the palace at the time of the spring festival. A crane and a tortoise dance in front of her to celebrate longevity; the crane is believed to live for 1,000 years while the tortoise is said to live for 10,000 years.
Shinjū Ten no Amijima
KAWASHŌ
['The Kawashō Teahouse' from 'The Love Suicides at Amijima']
CAST :
Kamiya Jihē

Nakamura Ganjirō

Kinokuniya Koharu

Nakamura Kazutarō

Edoya Tahē

Kataoka Ainosuke

Gokan'ya Zenroku

Nakamura Kikaku

Sangorō, apprentice to Kamiya

Nakamura Toranosuke

Kawachiya Oshō

Kamimura Kichiya

Koya Magoemon

Bandō Yajūrō
STORY :
Despite he is married, the paper seller Jihē is in love with the courtesan Koharu and all those around them are afraid that they will commit lovers' suicide. Jihē's brother Magoemon masquerades as a samurai to find out Koharu's true feelings. Jihē listens in from the outside and is astonished to hear her say that she does not want to commit suicide. In a rage, Jihē breaks off all relations with her, while Magoemon is moved to learn that she has done this out of consideration for the feelings of Osan, Jihē's wife.
KINMON GOSAN NO KIRI
['The Golden Gate and the Paulownia Crest']
CAST :
Ishikawa Goemon / Konomura Ōinosuke

Kataoka Ainosuke

The spirit of the white hawk

Nakamura Senjaku

Kishida Minbu

Nakamura Kikaku

Hanatachibana, a courtesan / Princess Otsū

Nakamura Kazutarō

Segawa Uneme

Nakamura Toranosuke

Kuretake

Ichikawa Emisaburō

Mashiba Hisaaki

Ichikawa Emiya

Mashiba Hisatsugu

Ichikawa En'ya

Sonoo no mae / Okō

Kamimura Kichiya

Hayakawa Takakage

Bandō Yajūrō

Mashiba Hisayoshi

Nakamura Ganjirō
STORY :
This is a historical play about Ishikawa Goemon, a legendary thief in the 16th century.
Sō Sokei, a retainer of the late Ming Emperor, plots to take over Japan, but his plan is discovered and he commits ritual suicide by disembowelment. As Ishikawa Goemon sits on the upper story of Nanzenji Temple's gate in Kyoto admiring the fine view, a white hawk flies to him with a cloth on which Sō Sokei's testament is written. He learns that both his natural father Sō Sokei and his foster father Takechi Mitsuhide were destroyed by Mashiba Hisayoshi (known in history as Toyotomi Hideyoshi) and he vows to avenge them by killing Hisayoshi, now the ruler of Japan. Just then, Hisayoshi appears disguised as a humble Buddhist pilgrim.
Finally, Goemon is surrounded by Hisayoshi's retainers, but Goemon and Hisayoshi exhibit generosity towards each other and promise to fight later again on the battle field.