Osaka Shochikuza Theatre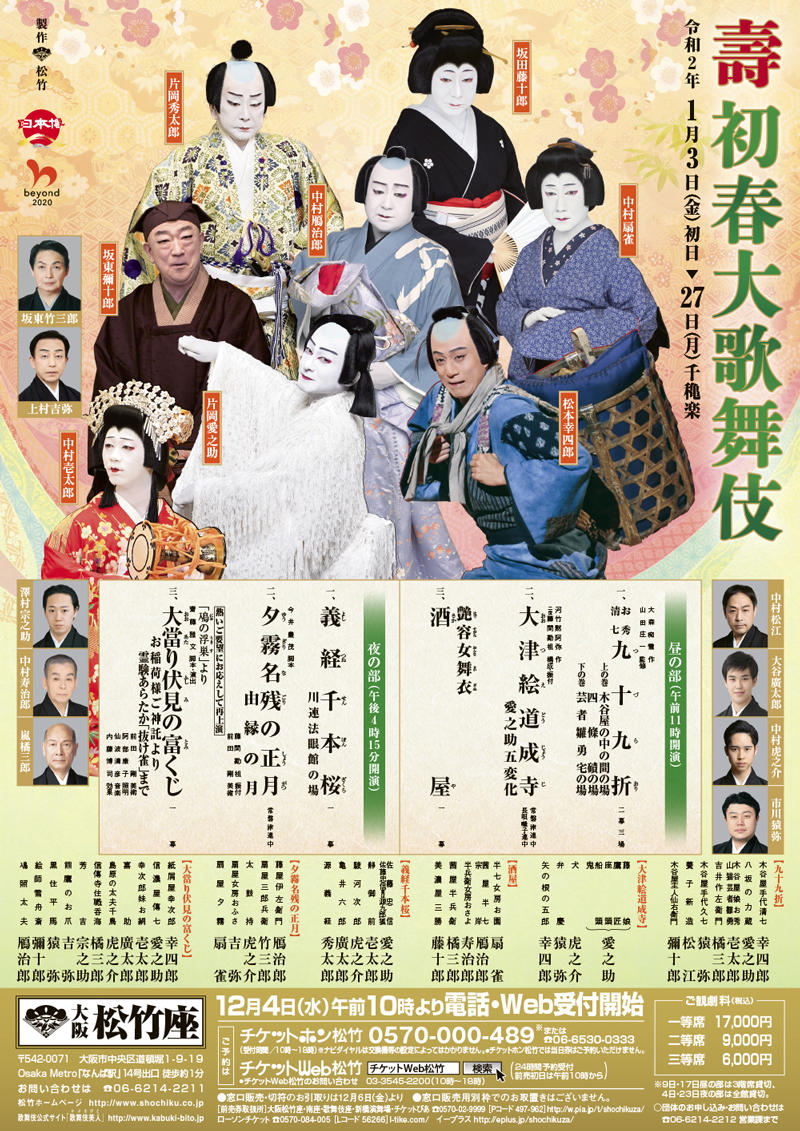 January

at the Osaka Shochikuza Theatre

Daily: Jan 03 (Fri) - Jan 27 (Mon), 2020

Matinee:11:00 AM

Evening Show: 4:15 PM

*Reserved seats for the Evening Show are sold out on the 4th(Sat) and 23rd(Thu).

◇ Time Schedule

Time Schedule

On sale: from Dec 04 (Wed), 2019 10:00AM(JST) 2019:12:04:10:00:00

First Class: 17,000 / Second Class: 9,000 / Third Class: 6,000
Unit: Japanese Yen (tax included)
*Children over the age of 4 must purchase tickets to enter.

Osaka Shochikuza Theatre (at OSAKA) Theatre Information
*No English supporting guide available.
In the Matinee, there will be a modern kabuki play that has not been performed for many years, a dance drama in which an actor plays five roles and a masterpiece of the 'domestic play' category that is based on a real love suicide. In the Evening Show, there will be a popular history play, a dance drama portraying a man cherishing the memory of his lover, and finally the revival of a comedy performed at the Osaka Shochikuza Theatre in 2012 about a man who wins a lottery but then appears to lose his ticket.


TSUZURAORI
['The Meandering Path of Seishichi's Life']
CAST :
Seishichi, a salesclerk of the Kitaniya

Matsumoto Kōshirō

Ohide, the daughter of the Kitaniya's master/
Hinayū, a geisha


Nakamura Kazutarō

Yasaka no Rikizō

Kataoka Ainosuke
STORY :
At the End of the Edo Period in Kyoto, the shogunate blames the financier Kitaniya Sen'emon for having financed the pro-Imperial (anti-shogunate) party. Seishichi, a salesclerk of the Kitaniya, bears the blame and goes into hiding. Deeply moved by Seishichi's loyalty, the master Sen'emon promises to marry his daughter Ohide to Seishichi. However, five years later when Seishichi returns to Kyoto, he finds that Sen'emon has adopted Shinzō as her husband. Shinzō is the nephew of the local governor of Kyoto, Yoshii Sakuzaemon, and this marriage is agreed on condition that the Yoshii family save the difficult situation in which Sen'emon finds himself. Now, Sen'emon does not want Seishichi to return and gives him 300 ryō in compensation for cutting connections with him. As Seishichi walks along the Shijō Riverbed, disappointed and drunk, he encounters Hinayū, a geisha who looks exactly like Ohide, and ....
ŌTSU-E DŌJŌJI
['The Dance of Ōtsu-e Characters']
CAST :
Wisteria Maiden
Falconer
Blind Masseur
Boatman
Demon





Kataoka Ainosuke

'Arrow-head' Gorō

Matsumoto Kōshirō
STORY :
With lyrics by Kawatake Mokuami, this is a five-part 'transformation piece' that is based on the famous dance 'Kyōkanoko Musume Dōjōji'. A special service for a new temple bell is to be held today, so Gehō, who is one of the Seven Gods of Good Fortune is about to hold a drinking party. The Wisteria Maiden appears and wishes to see the new temple bell. In exchange, Gehō requests that she dance. She begins to perform straight away, but a falconer, a blind masseur and a chic boatman then appear in turn. As the Wisteria Maiden appears once more, her dance causes the temple bell to fall down and she disappears beneath it. Benkei dashes towards the bell and prays fervently, causing a demon to materialize and 'Arrow-head' Gorō enters to force back the demon.
Hadesugata Onna Maiginu
SAKAYA
['The Saké Shop' from 'The Colourful Figure of the Dancing Girl']
CAST :
Osono, Hanshichi's wife

Nakamura Senjaku

Akaneya Hanshichi/Sōgan, Osono's father

Nakamura Ganjirō

Minoya Sankatsu

Sakata Tōjūrō
STORY :
Hanshichi, the son of Akaneya Hanbē who runs a liquor shop in Osaka, has a wife named Osono. However, he stays away from home, preferring instead to spend his time with the dancer Sankatsu with whom he even has a daughter called Otsū. Hanbē cannot bear to see this and disowns Hanshichi. Meanwhile, Osono's father Sōgan takes her back to their home. Then, seeing her sorrow, he reconsiders and both visit Akaneya hoping that Hanshichi will reconcile with her. The most famous moment of this play is the lament of Osono. Even though she has never been loved by Hanshichi, there is only selfless love and concern for him in her heart.
YOSHITSUNE SENBON ZAKURA
Kawatsura Hōgen Yakata
['The Mansion of the Priest Kawatsura' from 'Yoshitsune and the Thousand Cherry Trees']
CAST :
Satō Tadanobu
Satō Tadanobu, in reality, Genkurō, the fox


Kataoka Ainosuke

Shizuka Gozen

Nakamura Kazutarō

Minamoto no Yoshitsune

Kataoka Hidetarō
STORY :
This is one scene from a classic history play that is full of quick-changes of role and costume. A magical fox takes the guise of a warrior named Tadanobu in order to get close to a precious drum made from the skins of his fox parents. But his mysterious activities throw suspicion on the real Tadanobu and finally the fox reveals his true identity. In the end, he flies away joyously when he receives the drum.
YŪGIRI NAGORI NO SHŌGATSU
Yukari no Tsuki
['Yūgiri and Memories of Love']
CAST :
Fujiya Izaemon

Nakamura Ganjirō

Yūgiri, a courtesan of the Ōgiya House

Nakamura Senjaku
STORY :
The roots of this play go back to the earliest days of kabuki. The young lover Izaemon has been disowned by his family for loving a courtesan. This role is a classic example of 'wagoto', the gentle style of acting that was popular in the Kyoto and Osaka region. His lover Yūgiri, the fabulous courtesan, died pining away with love for him. As he prays to Amida Buddha to hold a memorial service for her, he faints and Yūgiri appears before him. They celebrate their reunion and reminisce about the past, but she disappears. He is pleased that he was reunited with her even though it was only in a dream.
ŌATARI FUSHIMI NO TOMIKUJI
['A Winning Lottery Ticket of Fushimi']
CAST :
Kōjirō, a waste paper man

Matsumoto Kōshirō

Shinanoya Denshichi

Kataoka Ainosuke

Okinu, Kōjirō's sister

Nakamura Kazutarō

Nioteru, a courtesan

Nakamura Ganjirō
STORY :
This is a light comedy portraying Kōjirō, now a waste paper man but who was originally a clerk in a large business that went bankrupt. Now he dreams of restoring the shop of his old master. He has also lost his heart to the courtesan Nioteru. It looks like his dreams will come true when he buys a winning lottery ticket, but it seems that the ticket gets lost among his wastepaper. This month's performance is a revival of this play, giving new life to old-fashioned Osaka comedy.