Osaka Shochikuza Theatre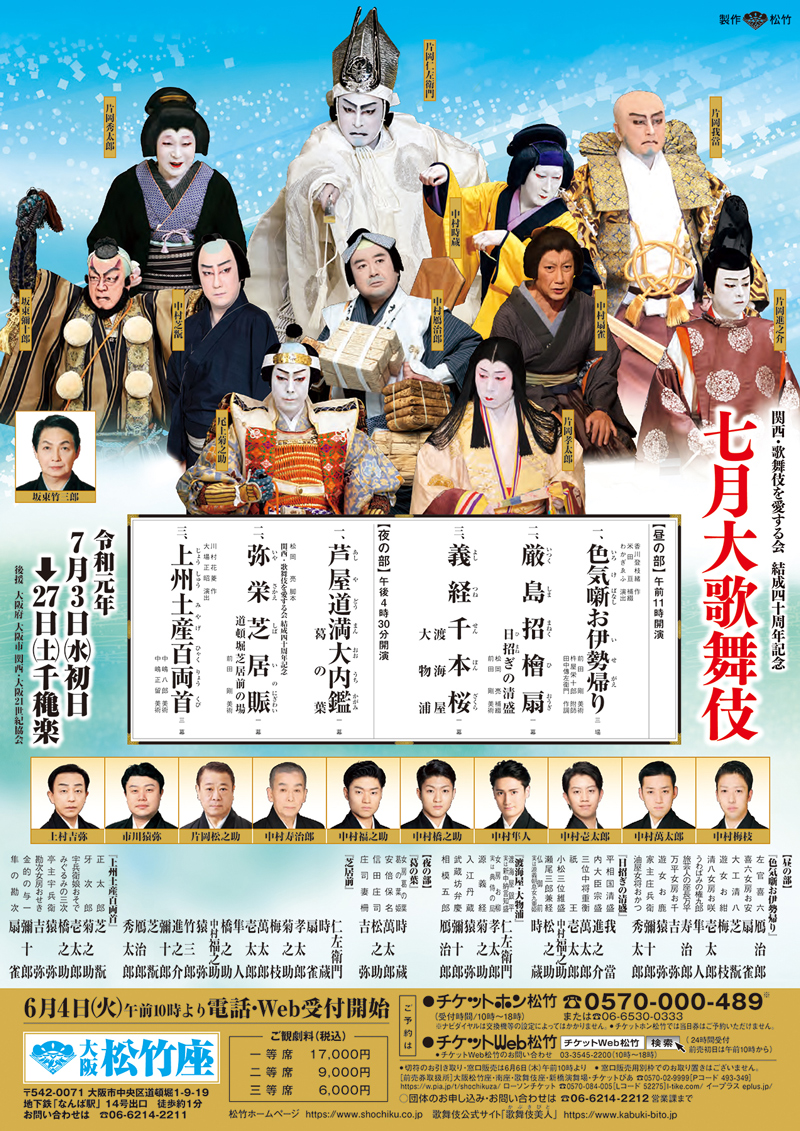 July

at the Osaka Shochikuza Theatre

Daily: Jul 03 (Wed) - Jul 27 (Sat), 2019

Matinee:11:00 AM

Evening Show: 4:30 PM

Time Schedule

On sale: from Jun 04 (Tue), 2019 10:00AM(JST) 2019:06:04:10:00:00

First Class: 17,000 / Second Class:9,000 / Third Class: 6,000
Unit: Japanese Yen (tax included)
*Children over the age of 4 must purchase tickets to enter.

Osaka Shochikuza Theatre (at OSAKA) Theatre Information
*No English supporting guide available.
This month, many actors, ranging from young stars to veterans, with Kataoka Nizaemon as the central character, will be appearing on the stage.
In the Matinee you can enjoy the history play "YOSHITSUNE SENBON ZAKURA" starring Nizaemon, as well as a comedy typical of the Kansai region, and a story which takes place at the Itsukushima Shrine.
In the Evening Show, the festive play "IYA SAKAE SHIBAI NO NIGIWAI" starring top-ranking actors, a history play with quick changes of costume, and a 'sewamono' play depicting the sad endings of two pickpockets will be performed.
You can see the stage pictures of the program from the news below! The July program at the Osaka Shochikuza Theatre (Osaka) has begun!
IROKE BANASHI OISE GAERI
['A Story of Love on the way back from a Pilgrimage to Ise Shrine']
CAST :
Kiroku, a plasterer

Nakamura Ganjirō

Oyasu, Kiroku's wife

Nakamura Senjaku

Shōbē, a landlord

Bandō Yajūrō

Seihachi, a carpenter

Nakamura Shikan

Okatsu, proprietress of the Aburaya

Kataoka Hidetarō
STORY :
This is a kabuki play adapted from a kind of comedy which was born and evolved in Osaka.
The idiotic plasterer Kiroku and the handsome carpenter Seihachi drop in at the Aburaya brothel in Ise on their way back to Osaka from their pilgrimage to Ise Shrine. Kiroku is under his wife's thumb, so, in order to make her jealous, he asks Seihachi to tell his wife Oyasu: "Kiroku was embarrassed as the best courtesan Okon loved him". Though being Okon's customer, warmhearted Seihachi does as Kiroku asks him and mystifies Oyasu with his smooth talk, but then Okon comes to see Seihachi ....
ITSUKUSHIMA MANEKU HIŌGI
Himanegi no Kiyomori
['Kiyomori calls back the setting Sun']
CAST :
Hei Shōkoku Kiyomori

Kataoka Gatō

Munemori, Minister of the Imperial Household

Kataoka Shinnosuke

Hotoke Gozen, in reality Princess Kokonoe, daughter of Minamoto no Yoshitomo

Nakamura Tokizō
STORY :
Taira no Kiyomori is the powerful dictator who rules Japan in the 12th century. At the Itsukushima Shrine, the construction of some shrine buildings has not been completed yet. Kiyomori is so powerful, however, that he is able to call back the setting sun by beckoning to it with his fan so that the building work can be finished before sunset.
YOSHITSUNE SENBON ZAKURA
Tokaiya, Daimotsu no Ura
['Tokaiya Inn and Daimotsu Bay' from 'Yoshitsune and the Thousand Cherry Trees']
CAST :
Tokaiya Ginpei, in reality Taira no Tomomori

Kataoka Nizaemon

Oryū, Ginpei's wife, in reality Suke no Tsubone

Kataoka Takatarō

Minamoto no Yoshitsune

Onoe Kikunosuke

Musashibō Benkei

Bandō Yajūrō

Sagami Gorō

Nakamura Ganjirō
STORY :
This is a 'jidaimono' history play portraying the life of General Minamoto no Yoshitsune during the 12th century civil wars between the Genji and the Heike clans.
After recent battles, the Genji are victorious and their leader Yoritomo is now shōgun. But there is a falling out between Yoritomo and his brother Yoshitsune. As a result, Yoshitsune is fleeing through the country from his brother's forces.
Yoshitsune books passage on a boat to Kyūshū. However, the captain is actually the Heike commander Taira no Tomomori who, in this play, is living in disguise with the child emperor Antoku and his nursemaid. At first, the captain seems to be a gallant commoner but soon he reveals himself to be Tomomori who uses this opportunity to try to take his revenge on Yoshitsune, but is defeated again. Finally, Tomomori fastens the rope of a giant anchor around his body and plunges to his death in the sea.
ASHIYA DŌMAN ŌUCHI KAGAMI
Kuzunoha
['The Fox Kuzunoha and her Parting from her Son']
CAST :
Fox Kuzunoha/Princess Kuzunoha

Nakamura Tokizō
STORY :
Abe no Yasuna, a court astrologer in disgrace, has married a beautiful woman named Kuzunoha, not knowing that she is actually a fox that has taken human form to repay his kindness in saving her life. The couple have a child and live happily together until the real woman whose form the fox borrowed appears. Knowing that she can no longer stay, Kuzunoha writes a tearful farewell poem on the paper screen and returns to the wilderness.
IYA SAKAE SHIBAI NO NIGIWAI
Dōtonbori Shibai Mae
['In Front of the Theatre']
CAST :
Kataoka Nizaemon
and other top-ranking actors are present.
STORY :
This play is of the type called 'Shibai Mae' ('In Front of the Theatre'). The stage is made to resemble the Dōtonbori area in Osaka where five theatres are gathered. Top-ranking actors line up to celebrate the 40th anniversary of the 'Association for Loving Kabuki in Kansai' and to pray for kabuki's everlasting prosperity.
JŌSHŪ MIYAGE HYAKURYŌ KUBI
['The Hundred Ryō Reward for a Man's Head as a Souvenir from Kōzuke Province']
CAST :
Shōtarō

Nakamura Shikan

Gajirō

Onoe Kikunosuke

Kinteki no Yoichi

Bandō Yajūrō

Hayabusa no Kanji

Nakamura Senjaku
STORY :
Two childhood friends meet for the first time in fifteen years. While one prides himself on his skill as a pickpocket, the other has always been very clumsy. The clever pickpocket steals his friend's purse, only to find that there is nothing in it and that his clumsy friend has stolen his purse instead. The two meet again and decide to live honestly, vowing to meet again in ten years. The play shows the lives of the two during the turbulent final years of the Tokugawa regime.