Osaka Shochikuza Theatre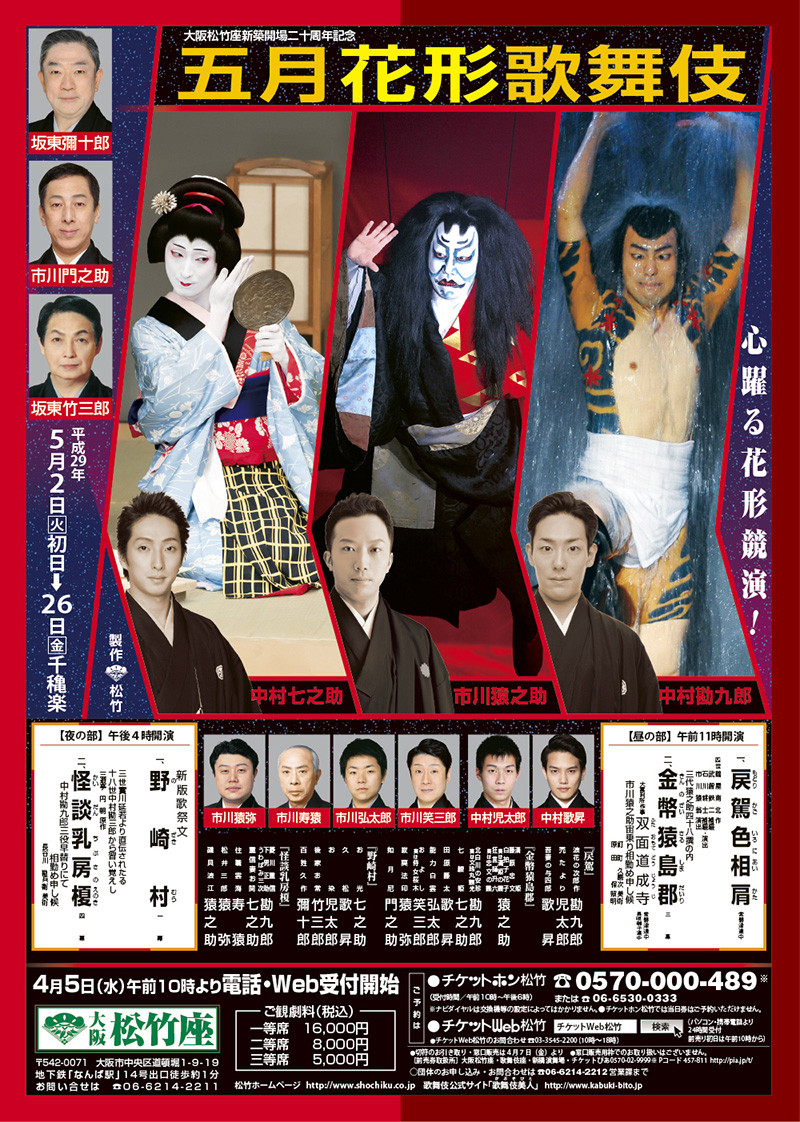 May

at the Osaka Shochikuza Theatre

Daily: May 02 (Tue) - May 26 (Fri), 2017

Matinee:11:00 AM

Evening Show: 4:00 PM

Time Schedule

On sale: from Apr 27 (Thu), 2017 10:00AM(JST) 2017:04:27:10:00:00

First Class Seat: 16,000 / Second Class: 8,000 / Third Class: 5,000
Unit: Japanese Yen (tax included)

Osaka Shochikuza Theatre (at OSAKA) Theatre Information
*No English supporting Guide available.
A performance featuring Ichikawa Ennosuke, Nakamura Kankurō, and Nakamura Shichinosuke, three of the most talented young stars in kabuki today. They are all meeting the challenge to keep kabuki's culture going and to pass it on to the next generation. In this month's run, the three will be performing classical pieces along with plays that use flying scenes and quick costume changes.
MODORIKAGO IRO NI AIKATA
[The Returning Palanquin]
CAST :
Naniwa no Jirosaku

Nakamura Kankurō

Tayori, a kamuro child apprentice in the pleasure quarters

Nakamura Kotarō

Azuma no Yoshirō

Nakamura Kashō
STORY :
This classic is a popular dance filled with many highlights and a charming old-world atmosphere.
Two palanquin bearers named Naniwa no Jirosaku and Azuma no Yoshirō return from the Shimabara pleasure quarters carrying a kamuro, a child apprentice to a courtesan. They stop to rest in Murasakino in Kyoto where a field of yellow rapeseed and cherry blossoms are in full bloom. They begin to boast to each other of their respective home towns in Osaka and Edo (present day Tokyo). Then they call out the kamuro apprentice from the palanquin and talk about pleasure quarters in Kyoto, Osaka and Edo. Finally, however, the men retrieve objects concealed in each other's breast pocket, revealing their true identities. The objects are a precious incense burner, and a scroll of names of those who are plotting against the government. Only now do they realise that they are sworn enemies!
KINNOZAI SARUSHIMA DAIRI
Futa Omote Dōjōji
['The Old Imperial Palace', with the Dance Finale 'Double Ghosts']
CAST :
Kiyohime
Fujiwara no Tadafumi
Hanako, a shirabyōshi court dancer, in reality, Kiyohime's ghost

Ichikawa Ennosuke

Kiyohime's ghost
Anchin, a priest from Kita-Shirakawa, in reality Monjumaru Raikō

Nakamura Kankurō

Nanaayahime

Nakamura Shichinosuke

Tawara no Tōta

Nakamura Kashō

Oyoshi, in reality Sakuragi, a lady-in-waiting

Ichikawa Emisaburō

Jakumaku Hōin

Ichikawa Enya

Nyogetsu, a nun

Ichikawa Monnosuke
STORY :
The actor Ichikawa Ennosuke III (now En'ō II) directed a series of revivals of neglected kabuki plays that allowed him to display his distinctive theatrical style, full of lightning-fast costume changes and acrobatic stunts. He first revived this play in 1969.
"KINNOZAI SARUSHIMA DAIRI" combines the story of two plotters for the Imperial throne with that of the famous Dōjōji legend in which passion turns a young woman into a jealous serpent. The treacherous pirate Fujiwara no Sumitomo brings the proud Taira no Masakado back from the dead to continue their plot to take over Japan. A forlorn court noble spurned in love and a beautiful young girl turned into a jealous spirit through rejection find their spirits combined in the form of an evil serpent. All the plots are brought together in a beautiful and spectacular dance finale that combines some of kabuki's greatest dances.
SHIMPAN UTAZAIMON - NOZAKIMURA
[Nozaki Village]
CAST :
Omitsu

Nakamura Shichinosuke

Hisamatsu

Nakamura Kashō

Osome

Nakamura Kotarō

Otsune, the widow of the wealthy oil merchant

Bando Takesaburō

Kyūsaku

Bando Yajūrō
STORY :
This is a sewamono play, a work portraying in a realistic way the lives of ordinary people in the Edo period.
Osome, the daughter of a wealthy merchant, falls in love with Hisamatsu, an apprentice at her father's shop. Hisamatsu has been sent away to his home in the country where Omitsu, a simple country girl to whom he is betrothed, has been happily awaiting the day when she and Hisamatsu can become husband and wife. But on the day they are due to marry, Osome comes to see Hisamatsu. Seeing the strength of the love between the two, Omitsu sacrifices her own happiness and becomes a nun in order that Osome and Hisamatsu can be united.
KAIDAN CHIBUSA NO ENOKI
[The Ghost and the Milk-Giving Tree]
CAST :
Hishikawa Shigenobu
Shōsuke, Shigenobu's servant
Uwabami Sanji

Nakamura Kankurō

Oseki, Shigenobu's wife

Nakamura Shichinosuke

Unkai, the head priest

Ichikawa Juen

Matsui Saburō

Ichikawa Enya

Isogai Namie

Ichikawa Ennosuke
STORY :
Based on a Rakugo story by Sanyūtei Enchō, this is a showpiece for the star actor who plays three roles, culminating in a thrilling fight scene beneath a waterfall. An artist named Hishikawa Shigenobu lives with his wife Oseki and their infant son, but the handsome samurai Isogai steals his wife. Isogai plots to kill Shigenobu with the help of his honest but simple-minded servant Shōsuke, and with the cooperation of the tattooed villain Uwabami Sanji. After Isogai and Oseki become husband and wife, Isogai orders Shōsuke to throw the baby into a waterfall. There is a spectacular fight in the waterfall that takes place on a huge set using real water, with the actor changing instantly between his three characters. Finally, the baby is rescued by the ghost of Shigenobu, who orders Shōsuke to take care of the child. Shōsuke raises the child with the help of the miraculous dew from a tree, and finally the boy avenges the death of his father by killing Isogai.