Osaka Shochikuza Theatre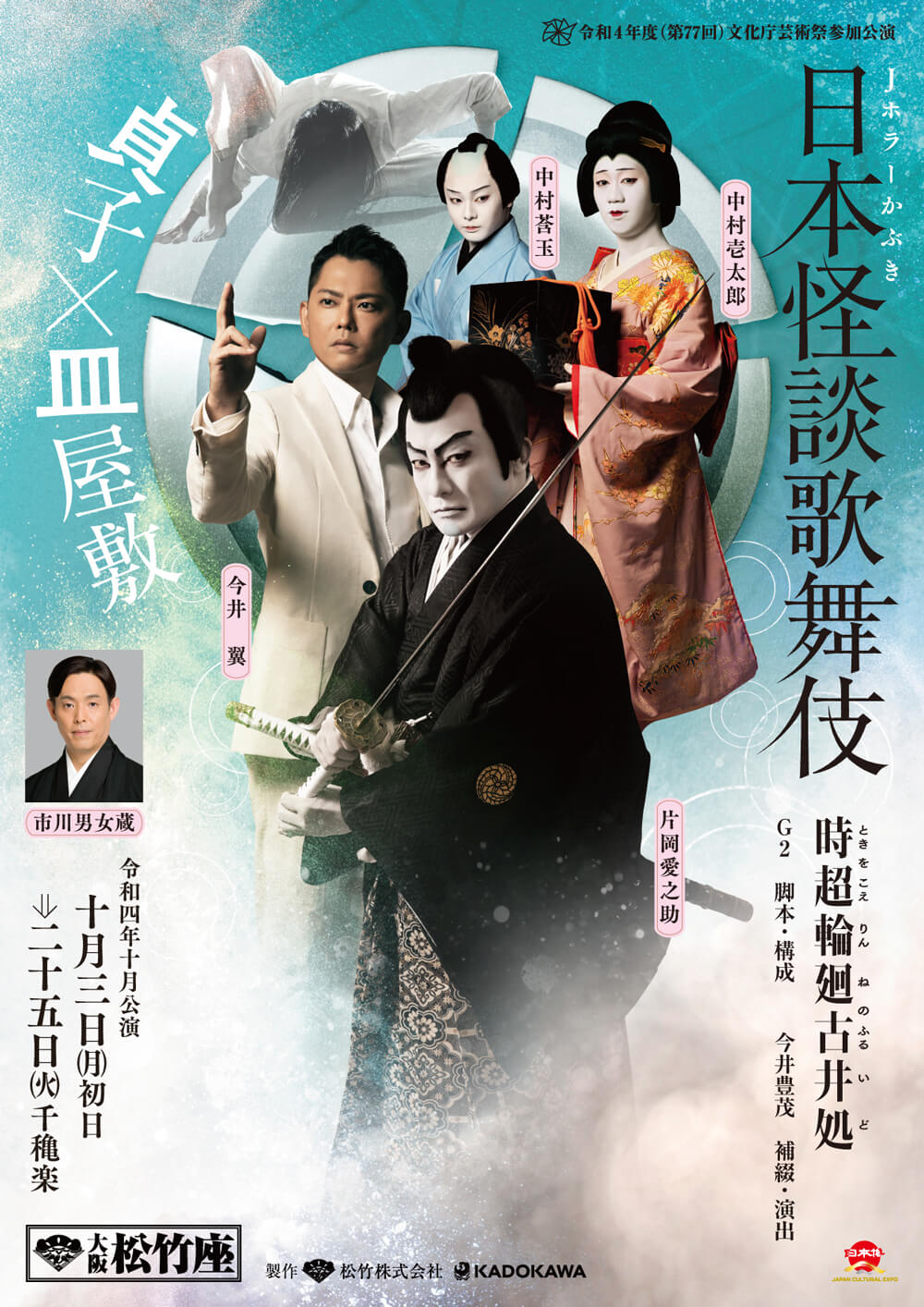 October Program

at the Osaka Shochikuza Theatre

Daily: Oct 03 (Mon) - Oct 25 (Tue), 2022

Matinee:11:00 AM

Evening Show: 3:30 PM

*No performances on the 13th (Thu) and 19th (Wed).
*The performance on the 3rd (Mon) will start from 2:00 PM.

◇Schedule


[Important Notice]
●Precautionary Measures at the Osaka Shochikuza Theatre

On sale: from Aug 24 (Wed), 2022 10:00AM(JST) 2022:08:24:10:00:00

First Class Seat: 14,000 /Second Class Seat: 7,000 /Third Class Seat: 4,000
Unit: Japanese Yen (tax included)
*Children over the age of 4 must purchase tickets to enter.


Osaka Shochikuza Theatre (at OSAKA) Theatre Information
*No English supporting guide available.
The brand new kabuki play named 'Japanese Horror Kabuki' will be performed in October at the Shochikuza Theatre in Osaka. Sadako, a revengeful spirit in the "Ring" series and known worldwide, will make her appearance on the stage of Japan's traditional performing art "kabuki". Please look forward to the play, in which Sadako and kabuki's 'Legend of the Dish Mansion' go beyond time and space by way of an old well.
Performance Time:
11:00 AM - 11:55 PM
(Intermission: 30 minutes)
12:25 PM - 1:05 PM
(Intermission: 10 minutes)
1:15 PM - 2:00 PM
TOKI WO KOE RINNE NO FURU IDO

['Transmigration over the Times through the Old Well']
CAST :
Asayama Tessan / Hosokawa Tomoenosuke

Kataoka Ainosuke

Muroto Mitsuru

Imai Tsubasa

Okiku / Lady Oharu

Nakamura Kazutarō

Funase Sanpei / Takamatsu Kōhei

Nakamura Umemaru, taking the new name Nakamura Kangyoku

Yamana Sozen

Ichikawa Omezō
STORY :
The story is first set in the latter half of the Muromachi period. The Ashikaga shogunate no longer functions effectively as the central government and the country is in turmoil. It is divided between the daimyō of two powerful provincial military clans that are now at war: the Hosokawa clan and the Yamana clan. Taking advantage of this, Asayama Tessan, the chief retainer of the Hosokawa clan, has the ambition to rule over the whole country. He kills the loyal retainer Funase Sanpei and Sanpei's fiancée Okiku who stand in his way and throws them into a well, but he himself is also dragged into the well by a mysterious power. 500 years pass, and now, in modern times, young people are dying from mysterious causes near the same old well. What is common to all the victims is that they watched the same old videotape. Informed of this case, the Shintō priest Muroto Mitsuru begins to investigate, but …
Performance Time:
3:30 PM - 4:25 PM / *2:00 PM- 3:00 PM
(Intermission: 30 minutes)
4:55 PM - 5:35 PM / *3:30 PM - 4:05 PM
(Intermission: 10 minutes)
5:45 PM - 6:30 PM / *4:15 PM - 5:00 PM *The performance on the 3rd (Mon) will start from 2:00 PM.
TOKI WO KOE RINNE NO FURU IDO

['Transmigration over the Times through the Old Well']
CAST :
Asayama Tessan / Hosokawa Tomoenosuke

Kataoka Ainosuke

Muroto Mitsuru

Imai Tsubasa

Okiku / Lady Oharu

Nakamura Kazutarō

Funase Sanpei / Takamatsu Kōhei

Nakamura Umemaru, taking the new name Nakamura Kangyoku

Yamana Sozen

Ichikawa Omezō
STORY :
The story is first set in the latter half of the Muromachi period. The Ashikaga shogunate no longer functions effectively as the central government and the country is in turmoil. It is divided between the daimyō of two powerful provincial military clans that are now at war: the Hosokawa clan and the Yamana clan. Taking advantage of this, Asayama Tessan, the chief retainer of the Hosokawa clan, has the ambition to rule over the whole country. He kills the loyal retainer Funase Sanpei and Sanpei's fiancée Okiku who stand in his way and throws them into a well, but he himself is also dragged into the well by a mysterious power. 500 years pass, and now, in modern times, young people are dying from mysterious causes near the same old well. What is common to all the victims is that they watched the same old videotape. Informed of this case, the Shintō priest Muroto Mitsuru begins to investigate, but …